Soft Dramatic: Soft and statuesque with a diva essence
I assume if you're here you've fallen down the kibbe rabbit hole, attempted to type yourself, and have now come to the conclusion (or hope to have finally come to the conclusion) that you are a soft dramatic body type.
Now what? Well, the kibbe body IDs can be extremely helpful in understanding style lines, silhouettes, and overall personal style essence. If you're not sure, here's a breakdown of all the kibbe ids and the kibbe system in general.
What is the Kibbe Soft Dramatic ID?
The Soft Dramatic is dramatic with a romantic undercurrent.
As you know the Kibbe body system types people based on their yin/yang balance. For the soft dramatic you have bold yang and yin undercurrent. Your bone structure is long and angular, but your flesh softens your overall shape.
Your facial features are marked by large eyes and full lips, which are both parts of your yin influence.
The soft dramatic is yang dominant and your yin is a secondary feature.
You are technically a combination of the Dramatic ID and the Romantic ID. However, you are not equal parts, and will always have more dramatic dominance.
You are bold and alluring, so embrace that!
What are the physical characteristics of the Soft Dramatic?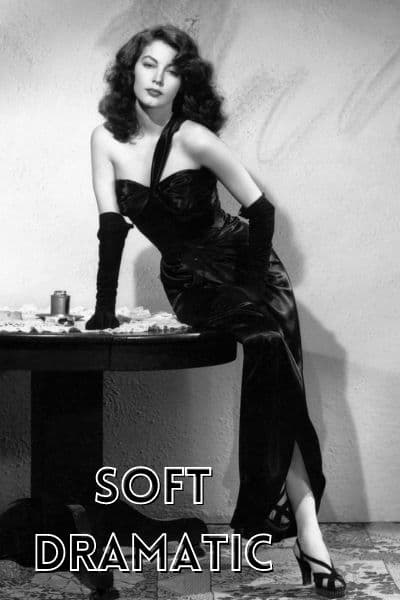 Remember that while the Kibbe system is very detailed, it is also full of nuance. So, if you don't check all the boxes for one type you could still be that type. It's best to refer back to the quiz (I added detailed pictures to help!) or get outside help to be sure.
Keep in mind the kibbe system is based on three main aspects- your bone structure, the flesh on your body, and your facial features.
The Soft Dramatic has the following physical traits:
Height: You are usually taller than 5ft 5 inches
Soft Dramatics usually have long limbs
Most fleshy through the hip and bust (although not always if you are extremely thin)
Moderate fleshiness on upper arms and thighs
A defined waist that is moderate in width in comparison to the rest of your body
Your bone structure:
Long limbs, larger hands and feet. You can have either wide or narrow hands or feet, but they are most prominently described as having length.
You often appear taller than you are
Long and angular qualities
Facial Features:
Full features, exotic essence
Large eyes
Full lips
Fleshy Cheeks
Prominent facial features
Wide range of hair types from wavy, coarse, or fine (don't use this is a determining factor)
When you gain weight you tend to gain it in your bust, hips, waist, upper arms, and upper thigh area. Your face may also become more round if you gain weight or are overweight.
Soft Dramatics do not have:
They are not petite
They do not have short limbs
They do not have a boyish figure
They do not have delicate facial features
Soft Dramatic Coloring:
For the most part, soft dramatics can have a variety of seasonal color palettes. They usually have a distinct coloring that has vivid or rich contrast. While I would not use your coloring as a qualifying trait for determining your kibbe ID, it is very helpful to guide you on color palettes. So if you're interested in figuring out your seasonal color, check out my in-depth guide.
Soft Dramatic Style Guide
One of the main benefits of the (albeit complex) Kibbe system is understanding your natural silhouette and being able to pinpoint your style lines more strategically.
All of a sudden, you realize why a certain trend doesn't work in its natural form for your body type. Or why you just can't seem to make a certain dress work on your body.
Personally, I see a lot of value in the Kibbe system concept and the in-depth look at our entire essence. However, I also believe there are ways to make certain silhouettes and trends work for each kibbe ID. Fashion is personal, and you shouldn't view this as putting yourself in a box.
Instead, look at this style guide as a great place to start your fashion journey and a great place to create a "comfort zone" or foundational fashion style.
And if there is a trend or look outside your Kibbe ID that you'd like to try, drop a photo in the comments and I'll do my best to help make that style a reality for you.
This information is based on David Kibbe's book and opinions. I have added my own take on it and recommendations I feel make it more modern.
Style Goals for a Soft Dramatic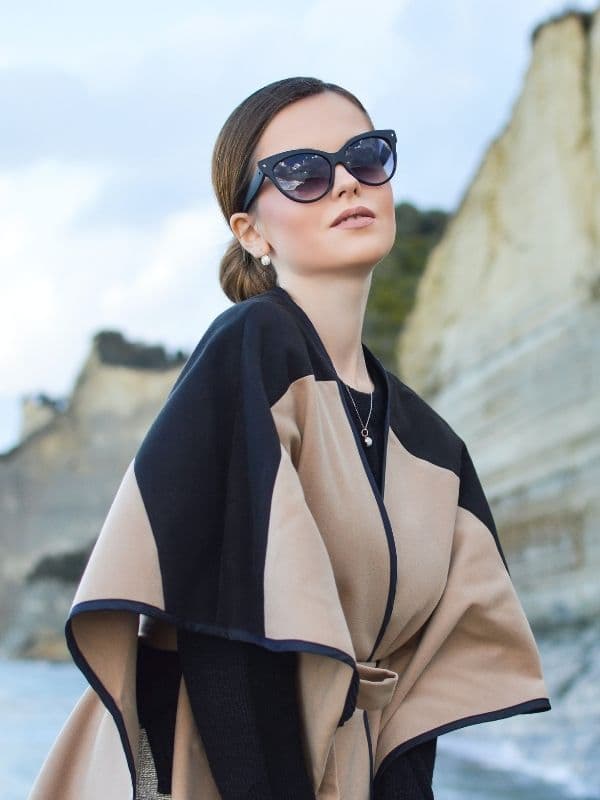 When I think of a Soft Dramatic, I see a unique and exotic blend of the Dramatic body type (extreme Yang) and Romantic undercurrent (extreme Yin). You are bold, dramatic, and incredibly charismatic.
To translate that into a style goal or style identity, it might best be described as Diva Chic.
Your style silhouettes are bold and best described as "T" shape. You have strong geometric silhouettes that are softened by drapey, flowing fabrics. This reflects your yang/yin balance.
Overly embellished and ornate accessories are essential for your look, and you always make an impact with your entire look.
Lightweight fabrics that create subtle elegance and drape over your strong lines create the perfect symbiotic style balance.
Soft Dramatic Style Do's and Don'ts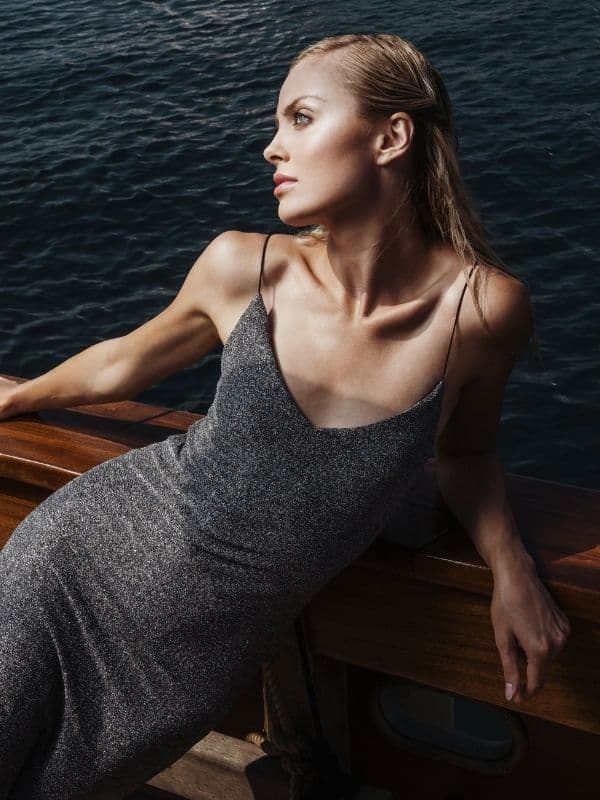 When it comes to their style Soft Dramatics should:
Lightweight, drapey fabrics are essential
Lavish, flamboyant details and embellishments
Oversized, soft lapels
Cowl necklines
Slits
Sensual femininity
Jewelry (don't be afraid of those statement pieces!)
Sparkly, ornate details
Glamorous
Subtle elegance and sophistication
Polished Sophistication
Strive for a "full" ensemble and not quirky mix and match look
Soft Dramatics should avoid:
Understated or conservative pieces, this just doesn't work for your style essence
Heavyweight fabrics that make you appear boxy and shapeless
Wide, oversized silhouettes that don't show off your natural lines
Tailored pieces with stiff fabric or overly sharp lines (see examples of what tailoring works below)
Rough textured fabrics
NOTE: A lot of the kibbe types, especially in the dramatic family, were not originally created with casual clothing in mind. This is a reflection of the 80s fashion goals at the time. Whereas, currently, casual clothing and everyday clothing has made a huge leap in terms of style and necessity. So, take my suggestions for casual options with a grain of salt and understand they slightly deviate from the "strictly" kibbe soft dramatic. However, I find them wholly necessary to actually develop a style around your ID.
Verified Celebrity Kibbe Soft Dramatics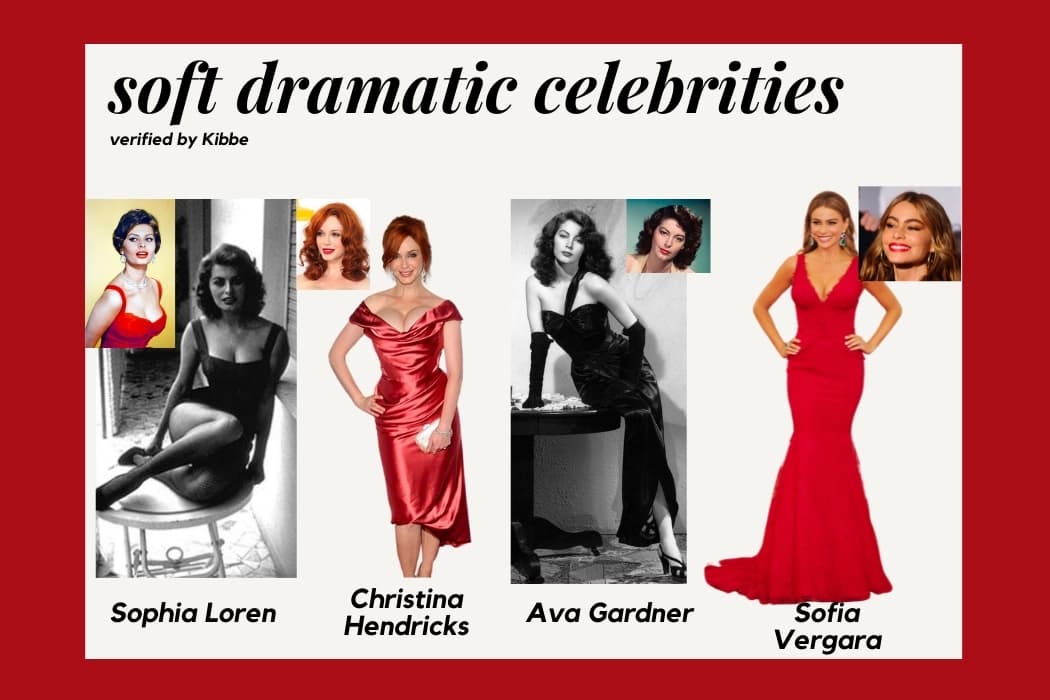 Some of these are in Kibbe's book, others have been added more recently by Kibbe himself.
Anita Ekberg
Anita Morris
Anne Bancroft
Ava Gardner
Barbara Carrera
Barbra Streisand
Christina Hendricks
Diahann Carroll
Jacqueline de Ribes
Kim Novak
Mae West
Marlene Dietrich
Michelle Lee
Raquel Welch
Rachel Weisz
Sofia Vergara
Sophia Loren
Valerie Perrine
Un-Verified Diverse Soft Dramatic Icons
Now, if you're a strictly-kibbe fan, then you might want to skip this section. However, diversity is not a strong suit within the original Kibbe text. So I think it is worthwhile to show a more diverse array of Soft Dramatic icons that David Kibbe may not have personally verified, but fit all the criteria of this ID.
Tyra Banks
Monica Bellucci
Ashley Graham
Kajal Aggarwal
Jameela Jamil
Chou Tzuyu
Kim Hye Soo
Nia Franklin
Denis Bidot
Chinquinquira Delgado
Eliza Gonzalez
Aurora James
Salma Abu Deif
We may earn a commission from you clicking a link in this post. And as an amazon associate, we earn on qualifying purchases. Full affiliate policy, here.
Building a Wardrobe: Soft Dramatic
Silhouettes: As we already mentioned the "T" silhouette really shines on the soft dramatic. I also think outfits that draw out your long vertical line work perfectly with this ID. You want "draped, flowing lines".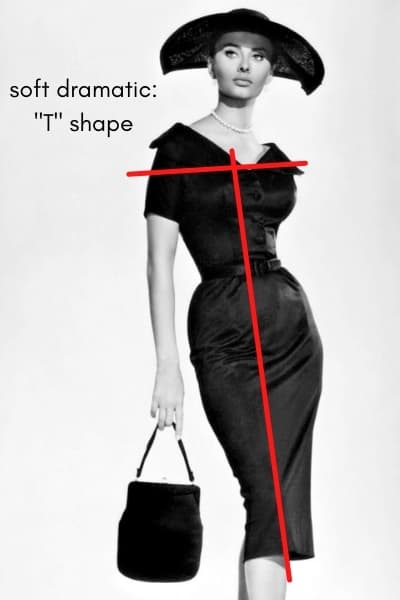 Fabrics: This guide is based originally on David Kibbe's book Metamorphosis which was published in the 1980s. And he had a detailed outline of what fabric each ID should wear. However, the fabric section of the book has been amended by Kibbe himself. As fabric technology and options have grown so much since the '80s the exact fabrics are less critical.
As a soft dramatic you should look for softer fabrics. While lightweight fabrics are probably the easiest choice for you. You can also try medium-weight fabrics as long as they "bend" and shape around your body. What you want to avoid are those stiff, rough, or unbending heavyweight fabrics. Your fabrics should have a soft, or round feeling to them, and should be able to hug your body.
Soft Dramatic's dynamic balance of Yin and Yang is best embodied by balanced, yet flowing looks. Fabrics such as drapey jerseys, silks, and crepes provide the softness that your secondary lush yin demands while also adding a sensual touch for subtle elegance.
You can also try soft, plush textures that have a deep pile. And shiny, metallic fabrics also work well to up the glamour level.
Necklines: Soft Dramatic
It is important to remember that with the kibbe style system we are going with general recommendations to help point you in the right direction. But it is not overly strict and Kibbe himself has mentioned not to be overly concerned about the necklines of a garment. It is more about the balance of the entire look.
For Soft Dramatic your "recommended" necklines are the necklines with a bit more "sharpness" to them or necklines that have some drama to them. V-necks, plunging necklines, square necklines, large cowls, or necklines with flamboyant details all work really well for you.
If you opt for higher necklines like crew, turtleneck, or mock-turtleneck make sure it is in a lightweight, soft fabric so it hugs your frame.
Jackets: Soft Dramatic
Soft and wide lapels are a great option for the Soft Dramatic. While jackets often come in medium-weight fabrics, you still want your jacket to have a soft feel and hug your body. So make sure the fabric bends around your body and is not too stiff.
Mid-thigh jackets are the easiest for your type and help elongate your height. Wrap jackets, waterfall collars, and shawl collars are all great options.
Clean lines are the easiest to integrate into your wardrobe. You can add more drama through accessories or the use of color.
Outerwear: Soft Dramatic
Similar to the jacket suggestions, soft and wide collars and lapels are best. Wrap coats, shawl collars, fur-trimmed collars all add broadness to your shoulder line and drama to your silhouette without being overly fussy.
Waterfall collars also work.
Outwear with subtle waist definition or details like a simple belt or tie are good options. But you can also do a more straight silhouette as long as it isn't too stiff (soft fabric).
Skirts: Soft Dramatic
The best skirts for the SD are longer, skirts that are made out of soft materials or have a straight (but soft) silhouette. Shorter skirts (about knee-length) work but you need to be aware of the verticality of your entire outfit and adjust accordingly. Remember, we don't want to shorten our vertical line! This is why mini-skirts shouldn't be your first choice.
Wrap skirts, slip skirts, and bias-cut skirts are going to be your go-to's. Bonus points if they have vertical or diagonal lines or details.
You should also avoid large, full skirts and full A-lines. There are some exceptions to this remember and you should take a holistic approach to your entire outfits' balance.
Extremely fitted or fussy skirts tend to overcomplicate your outfit and make your outfits too delicate.
Dresses: Soft Dramatic
Dresses for a Soft Dramatic should be broad in the shoulder, slimming at the waist, and flowing. A dropped waist is a great option for this body type. If you want to add drama you can use an exaggerated waist as long as the entire dress is balanced visually (remember that T-silhouette). The same goes for dress details which should be oversized, ornate, or otherwise eye-catching. Shirring, ruffles, gemstones, and embroidery are all great embellishment options.
Narrow, clingy shapes also work well to bring out that sensual femininity. Just be sure they are visually balanced and your outfit still feels sophisticated.
You want dresses that have a long silhouette to draw out your vertical line. The dresses should be in a soft fabric that drapes along your body, but the cut itself often has some sharper angles (think v-necks, slits etc). Larger patterns also work well on you because of your height and limbs.
Pants: Soft Dramatic
Remember our goals with this body ID? It's all about soft structure, and drape. So we want to avoid those stiff-tailored pants, baggy pants, or pants that have too many structural elements.
Pants that work well for the SD are soft fabric pants, straight legs, wide legs, and draped pants.
We want to avoid tight, and restrictive silhouettes.
Jeans: Soft Dramatic
So far, a lot of the clothing styles we have mentioned seem very elegant and almost formal. This is definitely where your ID shines, however that's not always a workable style.
We will get into more Soft Dramatic casual outfit ideas soon, but let's start with some jeans that will work well with your type.
Jeans should hug your hips and thighs and have a straight or flared leg. Generally a mid to high rise will help you emphasize your beautiful verticality. Skinny jeans should mostly be avoided unless paired with a tonal knee high boot.
Tops & Shirts: Soft Dramatic
Subtle elegance is your theme for tops. You want soft edges and draped lines. You want to avoid tops that add excess bulk to your lines.
Large wide collars, wrap-silhouettes, and strong draping all work well for you. Large bows, side knots, or ties are also great options. These "details" are all oversized and not overly fussy.
Soft fabrics, satin textures, and drapey materials are your sweet spot. However, for more casual options, look for softer kinds of cotton that still hug your curves and round edges.
Overly fussy blouses, wide shapes, and unconstructed silhouettes should all be avoided.
Sweaters: Soft Dramatic
Knits with draped necklines, flowing silhouettes, and trim or embellishments are best. Kibbe-Identifying clothing features, such as broad shoulders and an elongated waistline, tend to be dramatic and ornate but are also closely identified with Romanticism. This works perfectly for your yin/yang balance.
You should avoid chunky knits that feel rough or heavy. Knits that feel overly delicate, overly fussy, or are very fitted don't work well with your Kibbe ID.
Eveningwear : Soft Dramatic
The best evening wear for soft dramatics is satin, silk, or brocade evening gowns.
Again we want to play into that long vertical line, and silhouettes that hug our hips.
Draped dresses, dresses that hug our hips, and dropped waist dresses are all great options. These are especially effective when combined with a wide v-neckline or anything with broad shoulders. Remember our "T" shape goals.
Body-con or clingy dresses also work but should be used cautiously with your style essence in mind.
Slits are also a great style detail to integrate as it helps your vertical line.
Color Palette: Soft Dramatic
While, generally, I suggest you determine your seasonal color palette for the most customized wardrobe options, here are some things to keep in mind with the soft dramatic color choices.
Soft Dramatics work well with bold, dramatic, and vivid colors. You can also wear pastel tints, but make sure your outfit has enough boldness in silhouette to balance out the lighter hues. Pastels work well in a monochromatic outfit look.
You want a polished color palette, which is why mixing dark bases with vivid and bright hues works well for you.
Generally, you want to avoid neons, multi-color hues, and any watercolor blended shades. We want our colors to feel strong and bold.
For prints, you can try animal prints, bold shapes, abstracts, and oversized florals. While avoiding anything too symmetrical, delicate, cute, or overly "fussy".
Accessories for the Soft Dramatic
Shoes should be tailored and angular with a tapered toe and heel. High, narrow heels are best. Bare styles are also excellent.
Avoid: Chunky styles. Overly delicate styles with frilly trim.
Simple pointy-toe mules and pointy boots are also great options for a more casual look.
Nude-style shoes also work well as they allow your jewelry and color palette to take center stage.
You want to avoid the chunky boot or shoe trend that is so popular right now. It will shorten your verticality and create a heavy visual weight at the bottom of your look
Overly girly, fussy, or delicate shoes should generally be avoided.
Bags for the Soft Dramatic
Kibbe recommends soft-shaped and oversized bags and any bags with ornate details.
However, personally, with the soft dramatic I think you have more bag options than this. As long as your entire look falls in the subtly sophisticated look with bold elements, I think you can opt for a streamlined structure bag, clean leather textures, and interesting handles.
I would avoid overly small or fussy bags. But a streamlined clutch would work well within the evening category.
Hats for the Soft Dramatic:
You want drama and presence exuded with any hat choices. Try glamorous hats that are oversized, round, and even have ornate details.
Belts for the Soft Dramatic
Don't be afraid of a bold belt. Wide belts, ornate buckles, and interesting details are all made for your style essence.
Jewelry for the Soft Dramatic:
Jewelry is going to be one of the most important accessories for the soft dramatic. Anything with sparkle, statement, or shine works well for you!
This is one of those accessory categories where "toning it down" will hurt your style efforts rather than help. Instead, it will feel timid and out of place with your style lines and essence. You don't want to lose the strength and brilliance of your ID.
Large, bold, and ornate earrings, necklaces, and rings are all perfect. Hunks of metal, colorful gems, or intricate execution are all details in jewelry you should aim for. Costume jewelry also works well for you!
If you're struggling to find "everyday" jewelry that works, here are my suggestions: (fancy, but still wearable)
All of these pieces have enough glitz and presence to fit the bill without being so over the top they look out of place.
I would avoid simple jewelry, anything that has a rough texture or feel to it (leather, studs, etc), and any jewelry that is made to look like it's not even there.
Best Makeup for the Soft Dramatic
Just like with our clothing and style lines, we want boldness and strong lines. So naturally, we want to emphasize the full lips and large eyes. A strong high-cheekbone also works flawlessly.
Looking polished is part of the overall aesthetic vibes of the soft dramatic. And if you need more help pulling all those pieces together, I have an entire article breaking down how you can look polished every day, with very little effort!
Liquid eyeliner, strong brows, and bright-colored lips are perfect formal makeup options. But, for daytime, I would do an overall "polished" makeup look and emphasize one of your facial features. So if you opt for a strong brow, have light mascara, and a neutral lip shade to make it more daytime.
Kibbe generally discourages minimal makeup, smoky colors, and neutrals. However, I find this a bit outdated and difficult to translate for daytime. As long as your look feels "finished" and you emphasize one feature on your face, I think you're good.
Hairstyles for the Soft Dramatic
If you haven't been paying attention, polished perfection is the feel of the soft dramatic. So whatever hairstyle you choose, make sure it feels elevated, tamed, and put together.
You'll want to avoid blunt cuts, overly layered cuts (like the wolf cut), sharp geometric styles, or asymmetrical hairstyles.
Unfortunately (for us lazy hair folk) Kibbe also recommends that you not opt for natural, wash-then-wear styles. But, I think this isn't necessarily practical. If you feel your hair dries well and can look "polished" with minimal effort, go for it.
Because Kibbe's system was created in the 80s, some of the hairstyle suggestions are bit…well…outdated.
If we were to modernize it and take the root of his suggestions to heart, I would say that clean, soft styles work best.
A soft wave with "medium-level" volumes would work: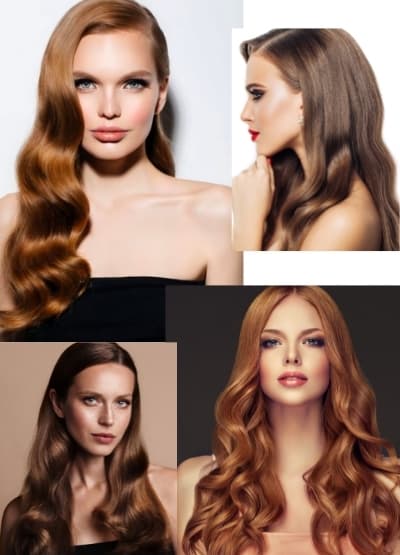 But a simple pulled-back bun would also be totally in line for the soft dramatic.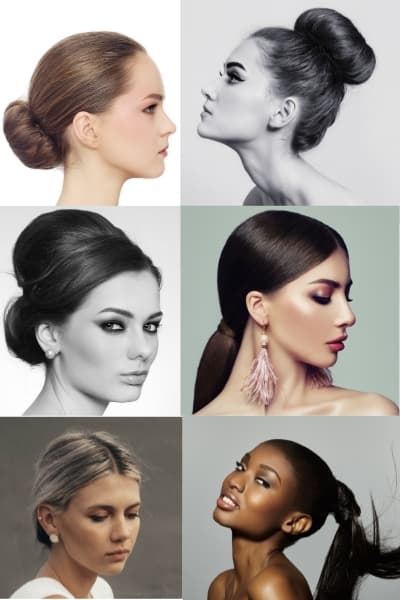 Your ultimate hair goals should be understated elegance, polished, and put-together.
Hair Color for the Soft Dramatic
Again, we should take Kibbe's original text on hair color with a grain of salt, since it came from the '80s. I personally don't think dramatic streaks are the way to go for highlights, as they don't scream sophistication to me…
However, I do agree that if you are dying your hair your best hair color choices are going to be rich and bold. So don't be afraid of a strong red, platinum color, or a rich brunette or black.
"Sun-kissed" highlights should be used cautiously if at all, as they give a more relaxed vibe to your look. Especially if they are overly delicate or subtle.
Soft Dramatic Outfit Ideas
Kibbe has some crucial style tips that can change your relationship with clothes and improve your style.
However, everything needs a bit of modernization. So here are some modern-day styles and casual outfit ideas for the soft dramatic ID.
Now, remember, these are my interpretations of the style and essence of the soft dramatic. Everybody (no matter what type they fall into) has unique qualities and not every outfit or style suggestion will work for you.
Have questions? Don't agree? Feel free to leave a comment and we can discuss!
I think this outfit works for the soft dramatic because it has the right styles lines- the soft wrap cardigan, the silk camisole that hugs your body, and a wrap skirt that not only keeps your vertical line strong but also has a waist tie for curve accomodation and "sweeping lines". Now the shoes and bag may not be exactly what Kibbe recommends, but I think their style essence fits the glamorous and sophisticated style of the soft dramatic.
While Kibbe might not want the soft dramatic to be "casual", life often calls for some casual outfits and I think this one is perfect. The soft blouse with a boatneck cowl helps maintain that "T" silhouette and hugs the body appropriately. The jeans are flattering and the shoes (while flat) are angular enough. And the jewelry is bold, yet workable for the daytime. You get polished AND casual with this outfit.
This does break your "vertical line", which is generally supposed to be avoided. However, I don't think every outfit you wear will always uphold your vertical line unless you always want to go monochrome/tonal. So take this outfit suggestion and either tweak it to be monochrome or accept this outfit may shorten you a bit.
A great t-shirt option for the soft dramatic is a boat neck cap sleeve top. It keeps that "T" silhouette and looks polished. Paired with a bold-color, silk skirt that hugs the body, this outfit is a great warm-weather option. Plus we have a little glamorous touch with the gold hair clip.
I think the white shoe helps extend the vertical line slightly, even if we have broken it with the skirt. While this outfit veers a bit more classic, I think it's still a nice casual option for the soft dramatic.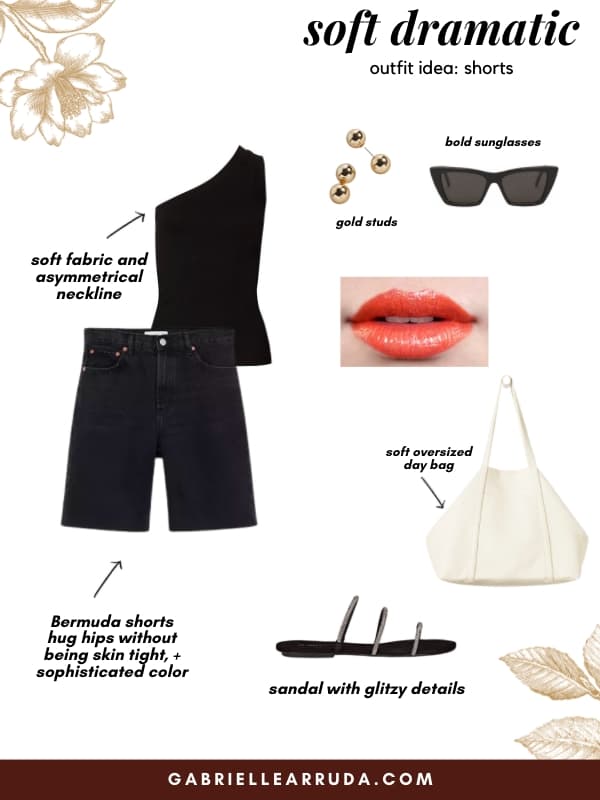 The soft dramatics are kind of left out of summer fashion, but no longer! This is a great outfit idea for you in the warm weather months. The longer Bermuda shorts hug your hips but are not skin-tight. And the asymmetrical one-shoulder top has that dramatic sharpness. And the accessories keep a casual and sophisticated vibe.
This outfit is best in a monochrome look because with the shorts you're already shortening your vertical line.
There are so many silhouette variations that can work for the soft dramatic, as long as the overall essence is still diva chic. This silk blouse fits with most of the style lines for the soft dramatic, but not all of them. However, paired with either the dressy or daytime pieces, it achieves the soft dramatic style goals.
In order to accommodate your curves, you should tuck in the blouse.
The skirt is a bit shorter than the average SD skirt, however, because of the long wrap tie detail and the matching black shoe, the vertical line remains extended.
Monochrome, especially all-black monochrome really helps you lengthen your vertical line, which is perfect for the soft dramatic. And the accessories keep it sophisticated and glamorous. Don't be afraid to use your shoes, accessories, hairstyle, and make-up to elevate a casual outfit.
I think this dress works for the SD because of the longer length, angular neckline, and the curve accomodation. It has draping that doesn't over-emphasizes the waist (like a dress for TR would).
The simple sandal is nude and won't really distract from your vertical. This outfit is great for a middle ground between casual and formal.
Kibbe has mentioned shoulder bags are find for the daytime, and I think this one is great because it has a tonal quality and won't distract from your vertical line.
But honestly! Soft dramatics are made for glamour. This evening or cocktail outfit screams elegant diva and fits all of the recommended guidelines for soft dramatics while still looking modern.
With any fashion journey, don't be afraid to take some wardrobe basics and find ways to use them for both casual and evening affairs. This wrap coat and the basic black dress fit the soft dramatic and as you can they can be easily dressed for a put-together daytime look, or for a more formal affair.
Now, yes, the soft dramatic is about glamour and boldness. However, at the office, you can't go too bold. I find this outfit a great middle ground. It has the general style guidelines of the soft dramatic with the soft silk blazer, the soft wide-leg pants, but the color palette and limited bling keep it office-appropriate (and also extremely CHIC!).
Generally, the outfit also honors the vertical. Some soft dramatics may not like the mock neck tank, and can switch that out for something a bit softer. However, I think this depends on your unique proportions and preferences.

The soft dramatic ID is all about bold elegance, subtle sophistication, and a luxe look.
This takes getting out of your comfort zone and experimenting with new outfits. But as you tweak things here and there, eventually you will have a collection of outfits that work perfectly for the soft dramatic ID.
Now, go give Sophia Loren a run for her money!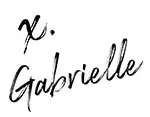 Be sure to pin the below image so you can keep your wardrobe goals in line with the soft dramatic style lines!