One of the best things you can do for your style is to create a wardrobe that has a strong foundation of capsule wardrobe essentials. These are pieces that will carry over from season-to-season and lay the groundwork for most of your outfits.
These wardrobe staples help you to get dressed easily, makes your closet versatile, and can be easily mixed-and-matched. No more outfit fatigue, untenable closets, and pieces that never, ever get worn.
So, what is a capsule wardrobe and why do I need these core closet essentials?
A capsule wardrobe is a unique closet that is streamlined and allows you to mix and match all your style staples easily.
It is usually composed of about 20-33 items for each season. And while some of the items will change from season to season (like winter coats, and shorts), the capsule wardrobe basics will carry through.
Capsule wardrobes are NOT about having boring style or wearing the same thing everyday. And if you need help starting a capsule wardrobe that reflects your individual style, check out my capsule wardrobe guide: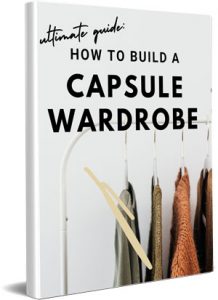 In this post we will go over what a chic capsule wardrobe needs to feel modern and also function as a streamlined, flexible closet.
Capsule Wardrobe Examples
Every season I create a capsule wardrobe that is stylish, modern, and composed of capsule wardrobe essentials. Here are some examples of them:
You can find them all here. And if you want the outfit ideas for each season (which really shows how versatile the capsules can be), sign up below:
How basics create a rounded-out wardrobe
If you're new to capsule wardrobes go ahead and peruse your closet. I bet it is full of items you barely ever wear, pieces that no longer fit, and a slew of impulse purchase you thought were a good idea.
Investing in wardrobe essentials will help your closet have a foundation and your outfits will be more stylish because of them. This is not about eliminating your statement pieces or more personal style choices. But rather it is giving them the opportunity to shine because they have a closet staple paired with them.
A great statement blouse works best with a neutral, subtle pair of pants because it allow the outfit focus to be on your blouse. So no matter your personal style, you should have these essential pieces in your closet.
Finding the perfect essentials for your closet
Part of developing a unique capsule wardrobe that fits your style perfectly is accessing what looks good on your body and what YOU feel confident in. This is not a one size fits all.
These capsule wardrobe essentials should be inspiration for you and allow you to get a picture of your closet needs.
First, know that you need to understand your body shape. And from there I would suggest you look at what your closet already gravitates toward.
Evaluate your current closet as follows: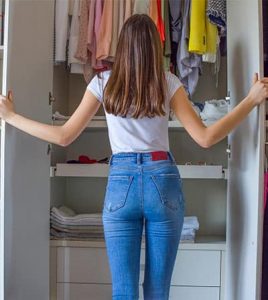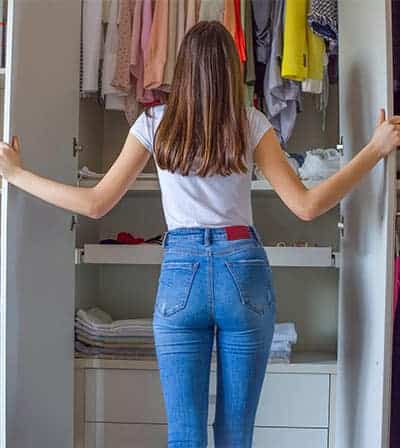 What silhouettes do I gravitate towards? Boxy or fitted? Note: This can be silhouette specific. For instance, I have a lot of boxy tops, but tend to be more fitted with my bottoms.
What necklines do I like best on me? If you frequently take pictures, scroll through and see what tops you always wear out. This should indicate your preferences fairly quickly.
What fabrics do I love? Are you a silk gal, or do you enjoy cottons more? Check your closet and see the fabrics you wear and buy the most.
And, if perusing your closet makes you feel even more lost or hopeless, you should check out my Craft the Closet of Your Dreams Playbook. A step-by-step guide to finding your ideal style, cleaning out your closet, strategically adding pieces, and putting it into your daily wardrobe.
Why should I invest in wardrobe essentials?
These capsule wardrobe basics are pieces that will carry over each season and be worn very regularly. They are foundational pieces that are versatile and will see more wear and tear than your average closet piece.
Because of this, it is worthwhile to invest a little more into them. Now, this does not just mean financially. You don't need to spend a fortune, but you should invest in pieces that are good quality and comfortable. You should also invest the time in making sure they fit perfectly.
related: how to look polished and put-together everyday
Whether you spend a few more shopping trips hunting down your perfect pair of jeans, or you invest in some alterations. These pieces should fit you perfectly, be comfortable to wear, and last.
We may earn a commission from you clicking a link in this post. And as an amazon associate, we earn on qualifying purchases. Full affiliate policy, here.
How do I make my basic pieces last longer?
Because you are investing in these wardrobe basics, we want them to last. Nothing is more frustrating than finding the perfect capsule wardrobe piece only to have it looking shabby 6 months later.
The easiest way to take care of your items is to pay attention to the care instructions and to not wash an item after every wear. Unless it has a stain or odor, most garments can be worn a few times before they need to be cleaned.
Next, pay attention to the care label. Hand-wash were appropriate, and don't try to avoid the dry cleaner if that is what is instructed.
You should also make sure you are folding your knit pieces, and buttoning/zipping your bottoms so that they keep their shape.
Quality hangers, like these, will help your closet staples keep their shape, as well.
Capsule Wardrobe Essentials
Blazer
A blazer is a capsule wardrobe must-have. It is a great layering piece for all seasons, can be dressed up or down, and makes your outfit look put-together in an instant.
You will need to find what style of blazer works for you, and your style goals.
Capsule wardrobes do not have to only apply to a classic style. In fact, I think every capsule wardrobe should have notes of modern style and trends.
A slightly boxier blazer, like the ones I'm wearing can easily transition into a capsule wardrobe staple. If you want to integrate something that feels a bit more "trendy" just remember that all trends have spectrums and to opt for a middle-ground version of them.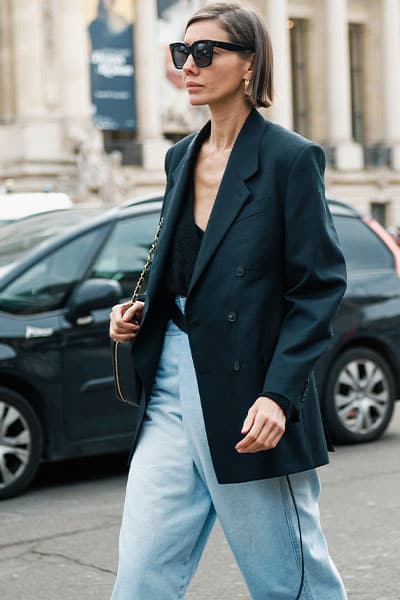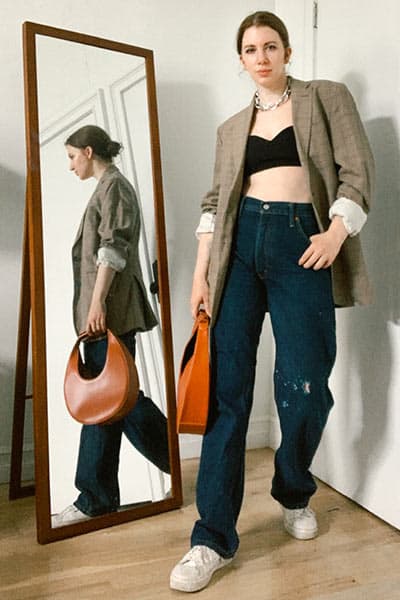 Large padded-shoulder blazers in bright colors are very popular this season. However, a boxy fit, neutral color blazer still fits the oversized blazer trend while working as a basic in your capsule wardrobe.
Men's White Button-Down
You might be surprised at this capsule wardrobe basic. But a men's white button down or boxy white shirt is a must-have for effortless style.
Parisian women love wearing these shirts because they create an effortless look and can be styled in so many different ways.
Plus, they are timeless.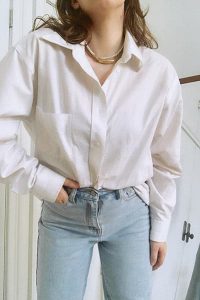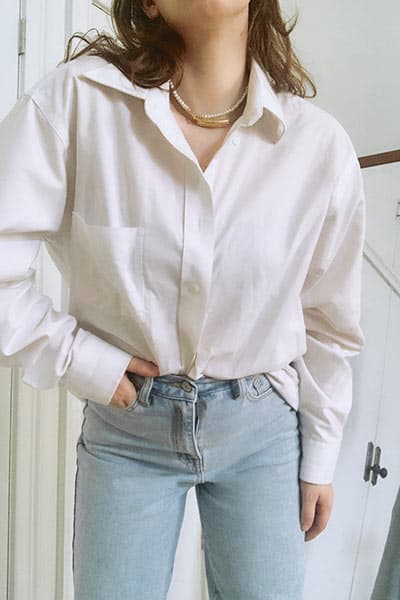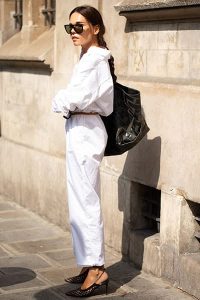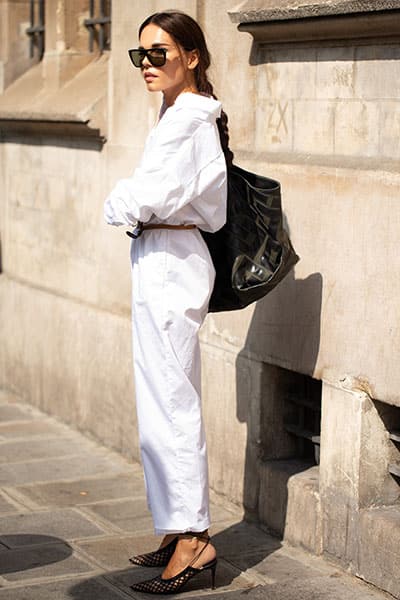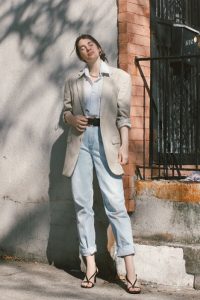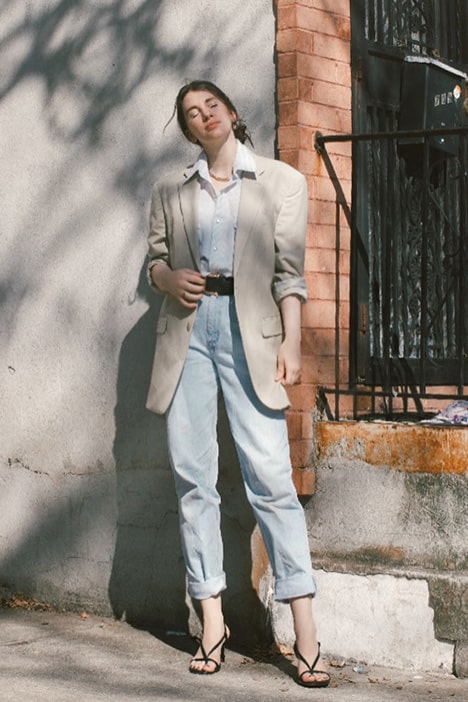 If you want to style an oversized shirt but feel swallowed up by them, try a french tuck styling technique. This creates a polished, yet easy look.
Basic t-shirt
A basic t-shirt is one of the easiest and most versatile wardrobe staples. It can be worn on the weekends, running errands, or even at a business casual workplace.
The basic t-shirt also helps you provide a resting place for you eye when you are styling a statement jacket or trouser. Not every piece in your outfit should be an "attention-grabber" and the t-shirt can help balance this out.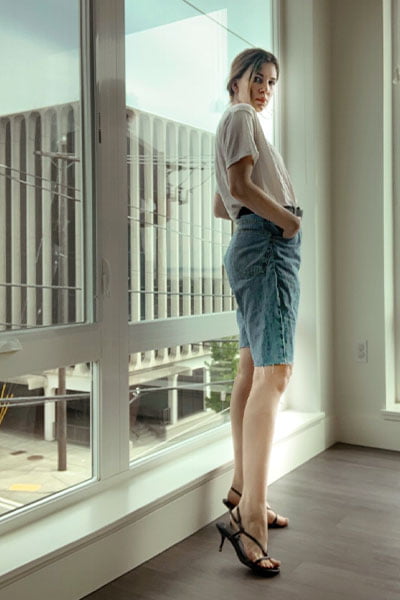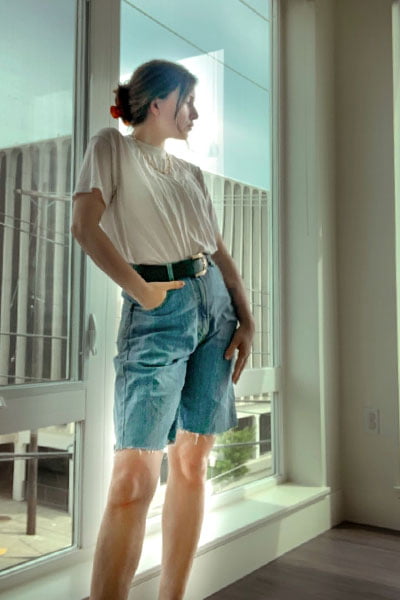 For more creative ways to wear a white t-shirt, check out this post.
You don't have to necessarily go with a white colored t-shirt, but it should be a generally neutral-color. If you want to create a colorful or print filled capsule wardrobe, check out my Start a Capsule wardrobe Guide, here, that has some troubleshooting tips for that.
Straight-leg jeans
Obviously you need a pair of go-to jeans in your perfect capsule wardrobe. And I find a classic straight leg has the most versatility. The straight-leg silhouette is sophisticated and easy to pair with all your other closet basics.
Slim-fit jeans
Now, if straight-leg jeans aren't your go-to then a slim fit jean will be a good style staple to have.
I prefer to have both types of jeans in my basic wardrobe because I wear jeans a lot and find my style works well with both silhouettes.
I think it wise to have two different washes if you have multiple pairs of jeans. I opt for a light-wash in my straight leg-jeans. And for my slim-fit/skinny jeans I opt for a black or dark-wash.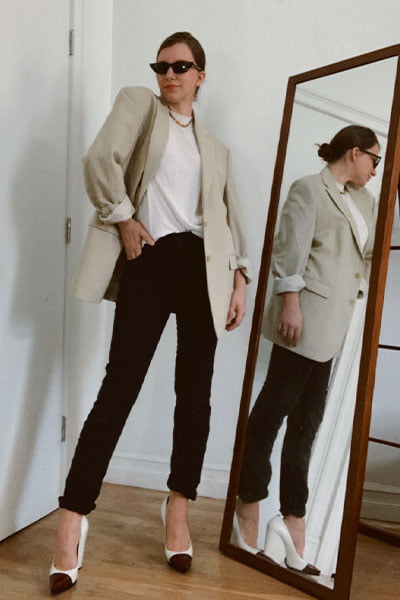 Basic bodysuit (or fitted tank)
Bodysuits can be controversial, because we have this image in our head of plunging necklines and uncomfortable bathroom trips. But, a great staple bodysuit helps you get a clean and polished look.
I prefer a higher neckline, or a neckline that doesn't show off too much cleavage to make this a more versatile style.
They eliminate bunching, and can be worn with a pair of jeans or under a blazer or layering-piece.
If you are whole-heartedly against the bodysuit, opt for a slim-fitting, lightweight tank.
Neutral dress
A neutral dress is great option and base piece for all year-round. The type of dress you choose will depend on your personal style and lifestyle needs. However I find a basic knit dress, and a silk slip dress to be the most timeless and versatile.
These dressed can be worn practically year-round by adding layers or tights, and adjusting the shoes/accessories. And they also work very well for day-to-evening.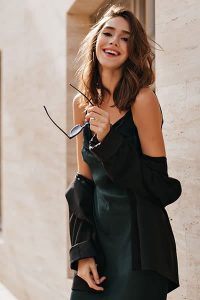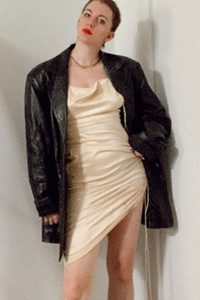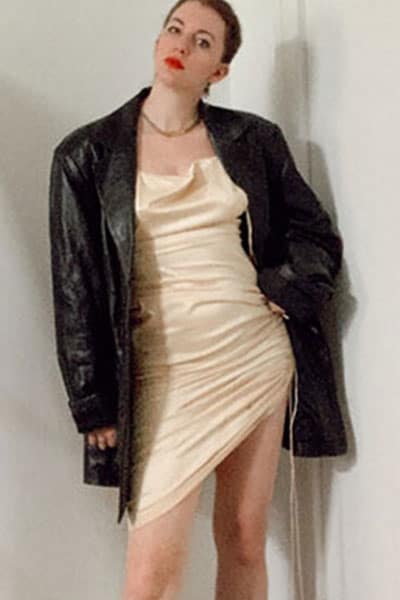 Sweater
Knitwear has a lot of variety to it, and is definitely an area that you will want to explore further.
However, the two knitwear pieces I find compliment a capsule wardrobe best and help you create stylish, easy outfits are a crew-neck knit sweater and a cardigan.
You don't necessarily need to have both in your wardrobe, but you should have at least one. For my capsule wardrobe basics I opted for a medium-weight crew neck sweater that is worn most frequently in fall, winter, and early spring. And then a light weight cardigan that would work best for spring, cool summer evenings, and early fall.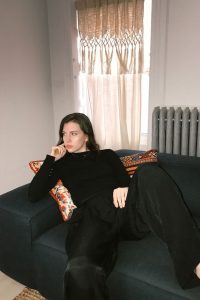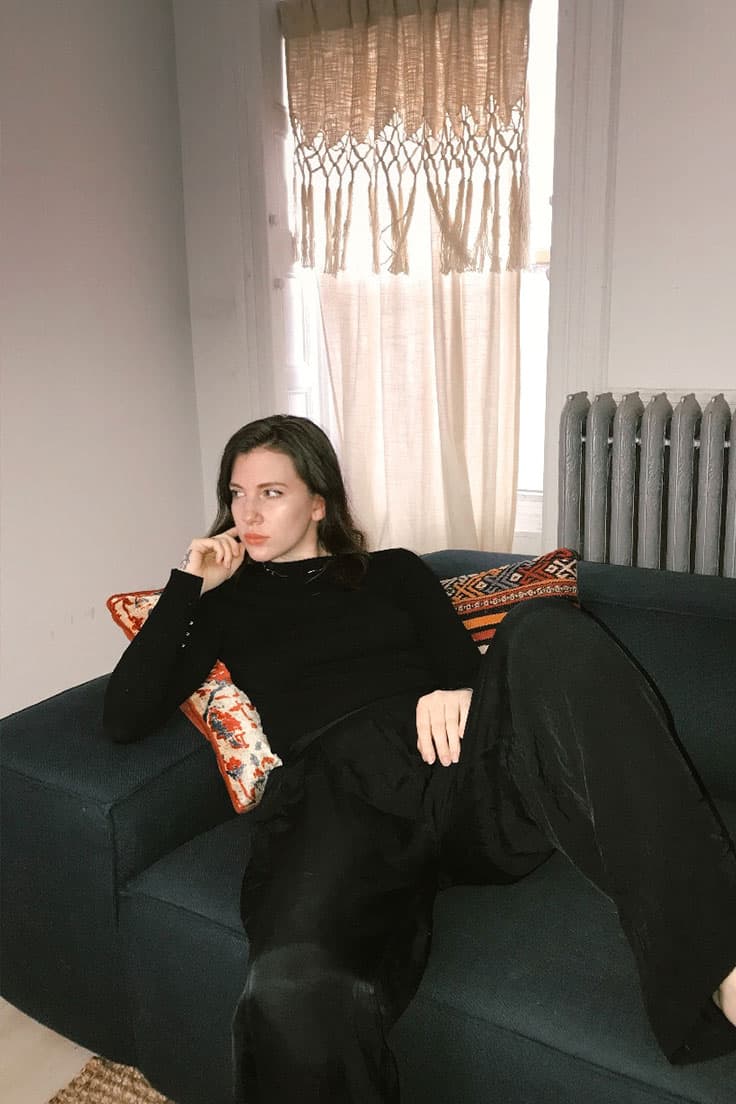 Trouser
Most of you will probably need at least one non-denim trouser in your foundational closet. For my body type I prefer a higher waist, loose trouser that slightly tapers at the ankle. This silhouette is comfortable, and not too extreme, so it will have longevity style-wise.
If you live in a colder climate you might want to opt for a wool-based trouser. Otherwise, a classic cotton trouser should suffice. The trouser material choice might also be dictated by your office attire. If you plan to wear these trousers to work, make sure they air more on the formal side.
Skirt
A great midi-length skirt will be a style life-saver. I prefer the midi-length because of my lifestyle needs (chasing around a toddler), and because it is the easiest to move around in while still keeping me cool.
If you have office attire to think about, a neutral colored pencil skirt might be a better option (this does not have to be body-conscious).
Blouse
While I love my oversized shirt, a great polished blouse is also a must-have in your closet. This provides a nice feminine note to your wardrobe, and provides you a flexible light-weight secondary item.
This is a great place to add a subtle print, if your style aesthetic veers to print. Subtle strips, pinstripes, small polka dots, or even floral print can add a lot to your style while still being a "capsule wardrobe basic".
Turtleneck
So while a turtleneck is not a summer piece, it does work very well for fall, winter, and early spring. And it happens to be one of my favorite layering pieces.
For more ways to wear a turtleneck, check out this style guide.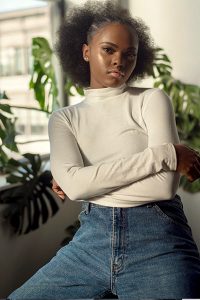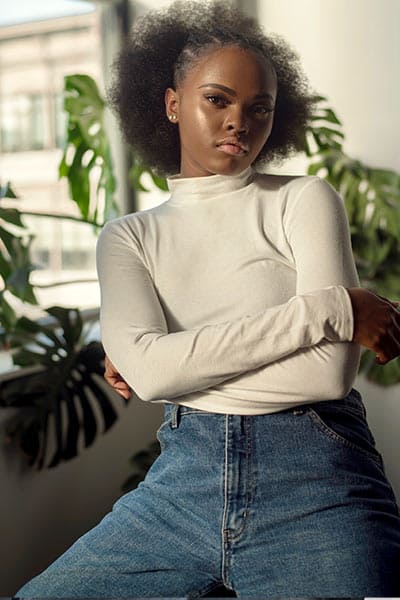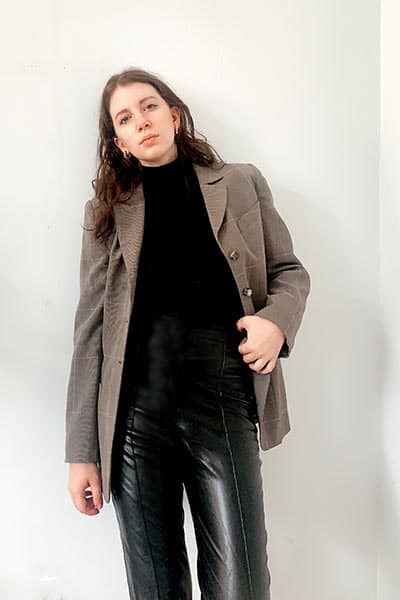 Whether you opt for a mock turtleneck or a full one, the layering possibilities are endless and it creates a very polished silhouette. It also never goes out of style, which is a closet bonus.
SHOP these capsule wardrobe pieces:
Ok, so what about coats?
Coats will likely be switched out each season, so they are not a part of the capsule wardrobe essentials. If you want some ideas on what coats you might need, check the capsule wardrobe checklist below. Or, check out how to build a wardrobe from scratch.
Accessories and shoes for a capsule wardrobe
Your shoes will also change based on the season, but it is a good idea to do a shoe inventory and see what shoes you always try to integrate year-round. For me, I found that a classic pair of sneakers, and lace-up boots to be the most worn shoes in my closet. So I invested in those two shoe styles as my "go-to's". Then, I filled out my seasonal capsule wardrobe with one or two more shoe options that are weather and season appropriate.
For accessories, I personally like to have flexibility. Accessories are a great way to add some modern touches to your capsule wardrobe or integrate some current trends. It's good to have a few classic accessories, but don't hold yourself back.
Capsule Wardrobe Checklist
Now, obviously these are not the only pieces you need in a capsule wardrobe, and this checklist should help you narrow down some of the pieces you might be missing for a full, rounded out wardrobe.
Are capsule wardrobes boring?
Capsule wardrobes are not boring. They are composed of foundational pieces that help you create a versatile closet, and should not constrain your style.
You should be adding in pieces that speak to your personal style, in addition to the capsule wardrobe essentials. This will create a closet full of items you can mix-and-match, while also allowing your to wear your entire wardrobe regularly.

With these essential pieces in your wardrobe I have no doubt that you will master your closet and create outfits easily every morning.
Stop stressing over your outfits, and give yourself more time to pick up your favorite Starbucks order. Try a capsule wardrobe, today.