Let me guess… You put on an outfit you think is going to look fantastic, stare in the mirror, and your first thought is, "oh, I look like a door". 🚪
But, there is so much hope for you yet! So don't give in to your doubts and assume you will look like a straight door no matter what you wear. It is all about emphasizing your strengths, picking the correct style lines, and learning how your body works with different styling techniques.
The rectangular body shape is characterized by a straight silhouette with not many curves, shoulders and hips of similar width, little to no waist definition, and very long legs.
The shoulders, chest, and hips are fairly uniform.
The upper and lower parts of the rectangle body are well-proportioned and create a balanced silhouette.
The focus of this body shape should be on defining the waist by breaking up the rectangle shape.
The Rectangle Body Shape: Building a Wardrobe
You've pulled out your tape measure, painstakingly measured your body, and confirmed it. You have a rectangle body shape. No wonder those body con dresses weren't doing you any favors! Now what?
Wait, if you're not sure, I have an easy way to determine your body shape in less than 5 minutes.
Well, building a wardrobe for your rectangle body type will change the versatility of your style and closet. No more second-guessing outfits because something just looks off, and no more racks of clothes going unworn because you were influenced to buy them.
Instead, here's how you start building a wardrobe full of silhouettes that show off your best self.
We may earn a commission from you clicking a link in this post. And as an amazon associate, we earn on qualifying purchases. Full affiliate policy, here.
What is a rectangle body type?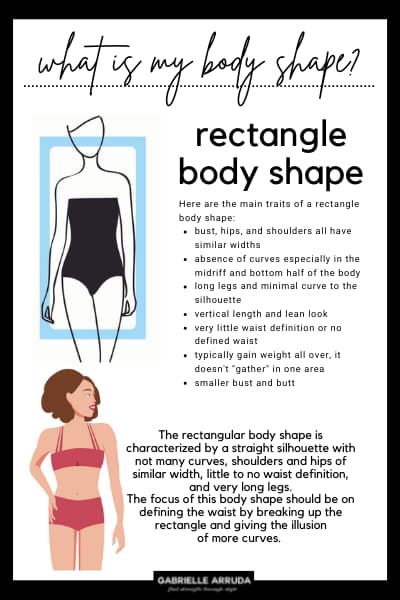 The rectangle body shape, like its moniker implies, is a straight silhouette that has almost equal widths in the shoulders, waist, and hips. This means you have very little if any, curves.
You may also have a straight, minimally flared silhouette.
The rectangular body shape is the opposite of the hourglass figure where curves and definition are key. Because of this, rectangle body types tend to reject their classification.
But, it's time to stop thinking about body types as "good" or "bad" and recognize the information they can provide. Rectangle body types are known for their long legs, and silhouettes, which give them a very long vertical line. We will use this to our advantage when creating outfits and choosing silhouettes.
The rectangle shape also tends to have an undefined waist and a flatter bottom. But because of this, your body shape is very balanced visually. This will come in handy!
Struggling with these traditional body types and feeling like you don't fit into any one type? You could also try the Kibbe body system, I have an introduction to it here.
Characteristics of the Rectangle Body Shape
Here are the main traits of a rectangle body shape:
bust, hips, and shoulders all have similar widths
absence of curves especially in the midriff and bottom half of the body
long legs and minimal curve to the full silhouette
vertical length and lean look
very little waist definition or no defined waist
typically gain weight all over, it doesn't "gather" in one area
smaller bust and butt
Rectangle Body Style Goals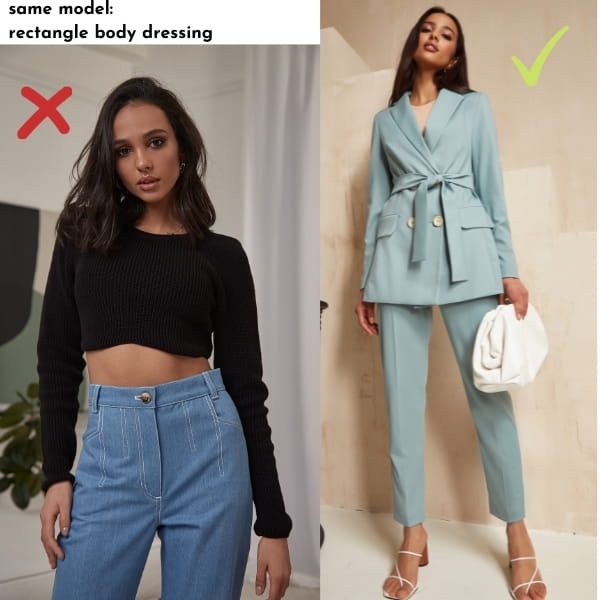 There are a few styling techniques you need to be aware of to make the most of your body shape. Here are your style goals to keep in mind:
aim to create curves and break up the straight, horizontal lines
create a V-shaped silhouette that's more hourglass in appearance
avoid shapeless silhouettes
add volume where necessary on top and bottom
opt for silhouettes that extend your long vertical line and embrace your lean shape
minimize or elongate big shoulders
defining your waist is very important
you will be using volume, silhouette breaks and "faux" curvature to accomplish this. Not all of these techniques are necessary for every outfit, but can create balance when strategically placed.
try adding color to the top or bottom of your look, but not around your waist. A solid-neutral belt can help acheive this.
a well-structured bra can help define your bust, if you're comfortable with this
define the waist
avoid cropped clothes that end at the waist, as this will highlight the width of your waist
build up the visual appearance of your bust and hips using the right silhouettes to soften your straight shape
Following the natural silhouette
The most flattering silhouettes for this body type are determined by the natural shape of your body.
We want to work with your rectangle shape rather than against it. This implies we play to our body's advantages and take into account our body's proportions when building a wardrobe.
Remember, your body is uniquely you and beautiful. We aren't concealing it, we are trying to find a symbiotic relationship between style, proportions, and the rectangle shape. Which consists of emphasizing and de-emphasizing certain areas.
Rectangle Body Shape Needs to:
Emphasize:
add volume, especially on the top half of your body
work with a variety of textures and fabrics to add dimension and depth
add color and pattern throughout your entire look – implement accessories
break up your silhouette horizontally from top to bottom on both your top and bottom halves. use volume in the right areas for example – with your bottom half, opt for silhouettes that gently flare out
add color to the top half of your body
De-emphasize:
avoid shapeless clothing that will only accentuate all the straight lines
avoid waistlines that are low or dropwaist, as this will shorten your verticality and lengthen your "rectangle"
minimize/soften your shoulders
don't add a lot of volume/fabric to your lower half- a flared lower silhouette works but it can't be "voluminous" or heavy
don't forget about layering if it's cold
add color and pattern on the bottom half of your body, but not around your waist
don't use straight silhouettes that give you a long, vertical line
The Rectangle Body Shape: Building a Wardrobe
Necklines for the Rectangle Body Shape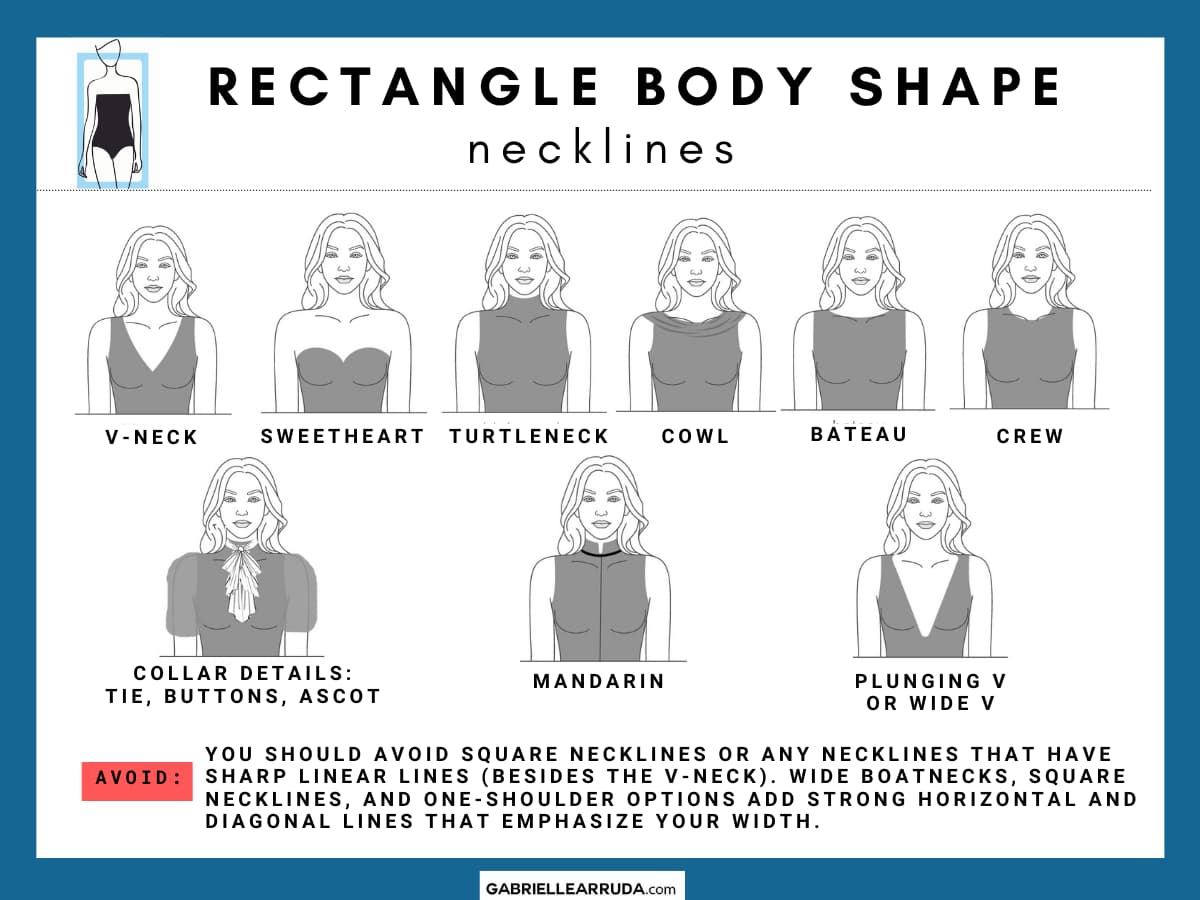 Believe it or not, you have a lot of neckline options, and which one you choose depends on what part of your body you want to emphasize.
There are necklines that can play up your "curves" and there are necklines that will elongate your lean shape.
You have such a nice long vertical line to your shape that you further emphasize this with v-necks and anything that draws the eye vertically. Higher necklines like turtlenecks can help accomplish this, as well.
Or you can play around with curvier necklines that can help add some shape to your body. This can be done with scoop, round, or bateau necklines.
Depending on your style goals you can also add some visual weight to your top half by embracing embellishments around your neckline. This means you can try large collars, ruffles, and any trim that draws the eye in.
Best Necklines for the Rectangle Body Shape
V-neck
Plunging or wide v-neck
Scoop
Sweatheart
Turtleneck
Mandarin Collar
Collar details- ascot, tie detail or buttons
Bateau
Cowl
Crew
Avoid: You should avoid square necklines or any necklines that have sharp linear lines (besides the v-neck). Wide boatnecks, square necklines, and one-shoulder options add strong horizontal and diagonal lines that emphasize your width.
Sleeves for the Rectangle Body Type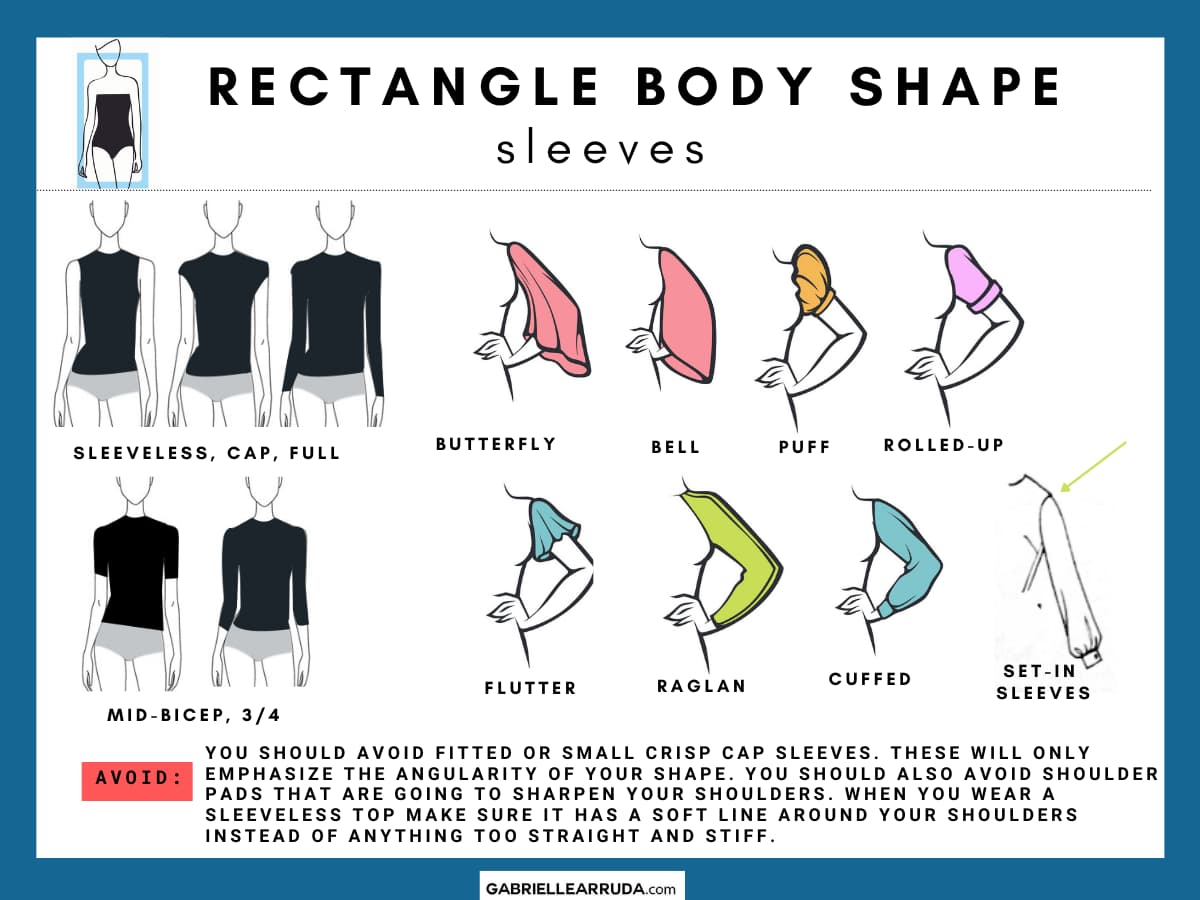 Don't be afraid of playing around with your sleeves too! The best style of sleeves for the rectangle shape are sleeves that have open volume and are not completely fitted.
‍Avoid slim, fitted sleeves, and anything with a column-like shape. This can add too many sharp lines to your already straight body.
Fabric that falls in soft drapes, such as jersey or silk crepe de chine work well for this shape as they allow subtle volume and softness to your shape.
In terms of length of sleeves, you can pretty much do anything from sleeveless to full-length. Just make sure they aren't too fitted or straight.
You can also play around with embellished sleeves or larger silhouette sleeves like puff sleeves or bell sleeves. Just remember that when you are choosing an outfit it is best to have one focal area, so don't add embellishments everywhere!
Best Sleeves for the Rectangle Body Shape
Sleeveless, cap sleeve, mid-bicep, 3/4, full-length
Bell sleeve or butterfly sleeve
Puff sleeve
Rolled- up
Flutter or circular cap
Cuffed ( can be used to alter the appearance of a fitted sleeve)
Raglan sleeves
Set-in sleeves- best in softer fabrics to not create a sharp line at the shoulder seam
Avoid: You should avoid fitted or small crisp cap sleeves. These will only emphasize the angularity of your shape. You should also avoid shoulder pads that are going to sharpen your shape further. When you wear a sleeveless top make sure it has a soft line around your shoulders instead of anything too straight and stiff.
Shirts, Tees, and Knits for the Rectangle Body Shape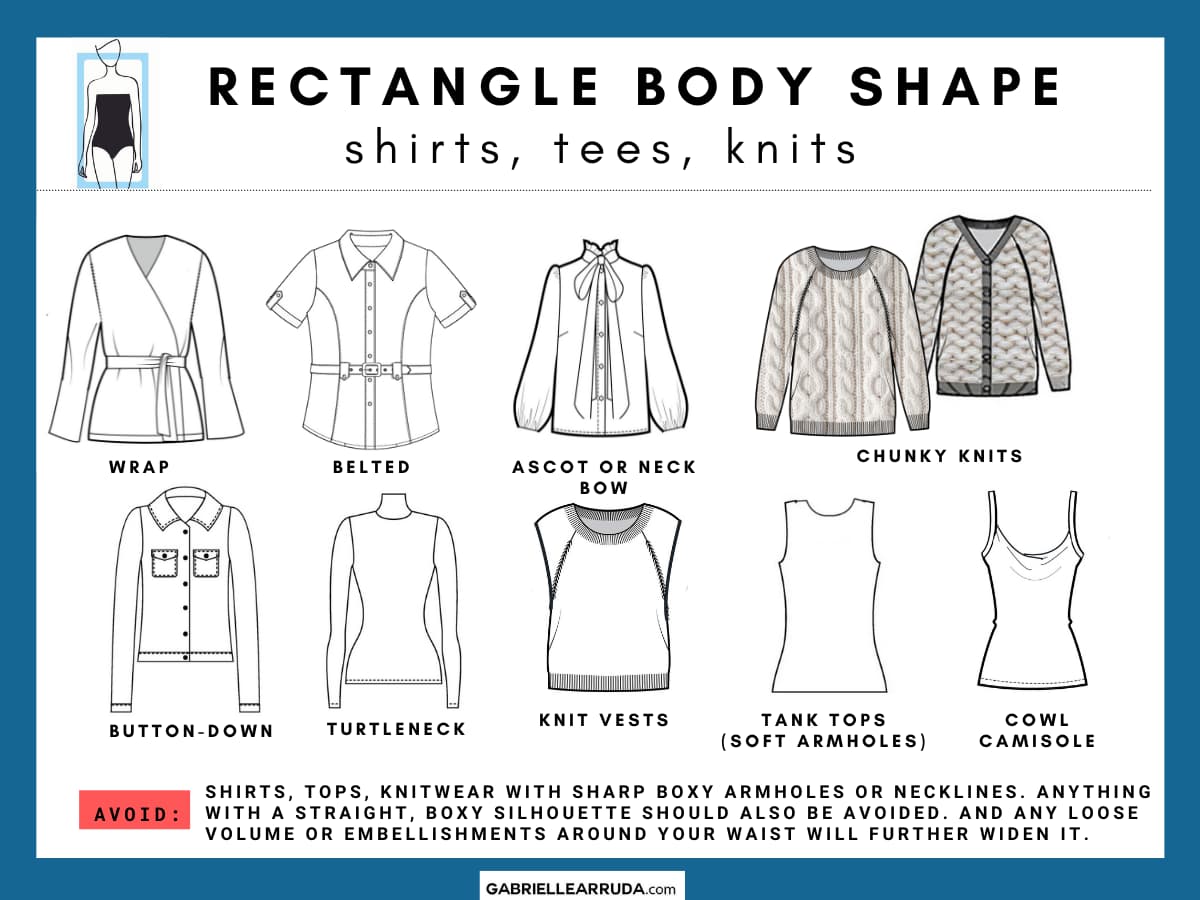 When dressing for your shape you want to create volume and interest around the hips and bust, while defining your waist.
This can be done by wearing softer, looser tops that flow easily over your body and give the illusion of curves. This will keep any stiff lines away from your body and keep them soft and gentle.
You don't want anything too clingy as these will only emphasize your straight shape.
This is achieved by wearing shirts that nip in at the waist, have a belted waist, and shirts that flare out at the bottom giving the illusion of more curve at the hip. As mentioned previously, belts are also a wonderful method to create a waistline.
In terms of hemline you want to avoid overly cropped and longer hems. You want shirts, and tops to end around your hipline. If they end at your mid-thigh it will create a straight, top-heavy proportion. And if they end at your waist it will further emphasize the width of your waist.
In terms of knitwear, you are one of the few body shapes that can really pull off heavy and chunky knits.
Also feel free to try tops that have details on the bust like bibs, plackets, and front pockets. Anything that gives your bust emphasis is great. Just make sure these details don't add any volume to your waist. We want to define our waist but draw less attention to it visually. This means allowing a slimmer shape to shine through, without the eye being immediately drawn to its existence.
related: Check out my 19 style tips to look slimmer and taller, and all the things that don't work!
Best Tops, Shirts, and Knits for the Rectangle Body Shape
Belted
Wrap
Ascot or Bow Neck Detail
Button-down (bonus points for bust pockets)
Turtleneck
Chunky knit sweaters
Sweater vests
Tank tops with soft shape armholes
Cowl camisoles
Avoid: Shirts, tops, and knitwear with sharp boxy armholes or necklines. They will emphasize the squareness of your shape and further emphasize your straight shape. Anything with a straight, boxy silhouette should also be avoided. And any loose volume or embellishments around your waist will further widen it.
Jackets for the Rectangle Body Shape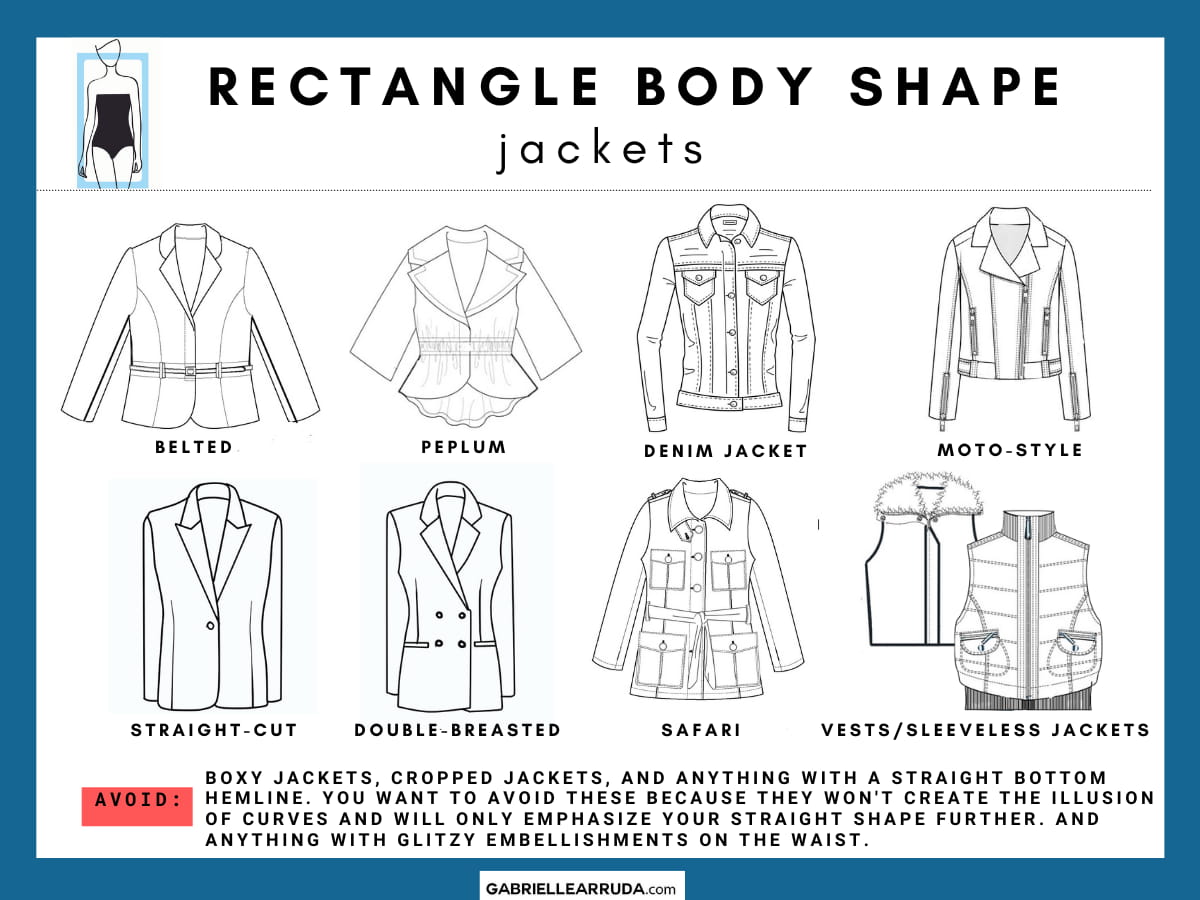 Jackets are going to be a crucial layering piece for your wardrobe and can help you add more dimension to your straight frame. You want to opt for jackets that gently curve in towards your waist, or are belted at the waist.
You can also try straighter cut jackets (not boxy) because your strong shoulders give them a nice platform to hang from.
Sleeveless jackets (or vest style jackets) can work help you add some dimension to your shape during transitional months.
And, don't be afraid of bust or neck embellishments that can help create some emphasis and volume on your upper half.
You'll want to avoid boxy or cropped jackets that will over-emphasize your rectangle shape and can make you appear stockier than you are.
In terms of hem, you want to shoot for jackets that end around your hip line. Although I would recommend trying jackets on in person, to see the exact hemline that works for you. Depending on your height and how long (visually) your vertical line is, you may find a few inches above or below your hipline work best.
Best Jackets for the Rectangle Body Type
Belted Jacket
Straight- cut
Peplum
Double-breasted (watch the shape on this silhouette and don't go too boxy)
Denim Jacket
Safari jacket (with waist definition)
Moto-jacket
Avoid: Boxy jackets, cropped jackets, and anything with a straight bottom hemline. You want to avoid these because they won't create the illusion of curves and will only emphasize your straight shape further. And anything with embellishments on the waist.
REMEMBER: These are not the only* silhouettes you can wear, but they are a good starting point. And hopefully, you will begin to learn your lines and unique proportions and be able to identify garments that follow these general style guidelines.
Outerwear and Coats for the Rectangle Body Shape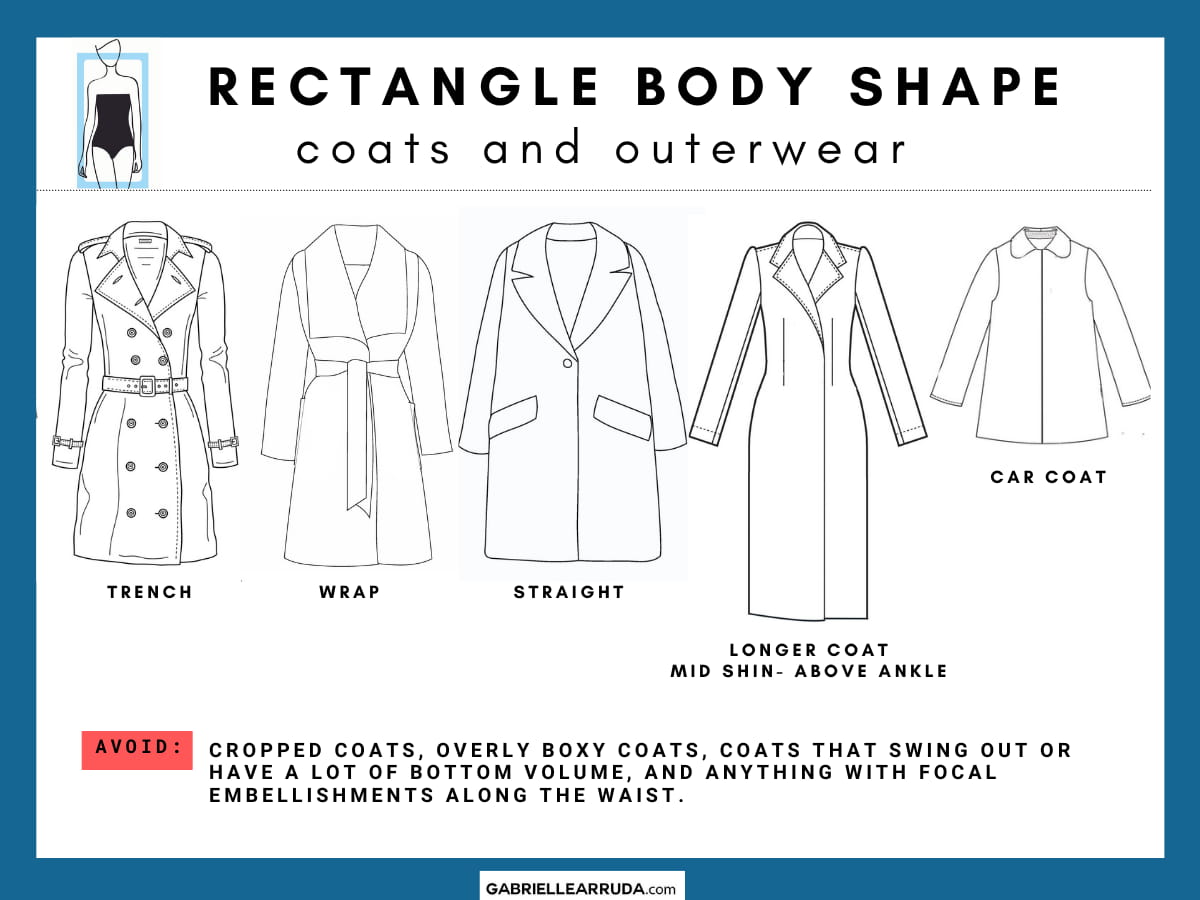 Outerwear and coats are another way to add some dimension to your outfit and your silhouette. And they follow many of the principles of your jacket selections.
Belted, or coats that nip in at the waist are great options. As well as straight (not boxy) coats.
Because you have long legs and a generally lean silhouette, you can also pull off longer coats.
Be mindful of where the embellishments and volume are placed in your coats. You want to avoid both on your waistline. As I've mentioned before, we want to define our waist, without making it a focal point.
You can also play around with larger collars and lapels that add some volume to your bust and shoulders. Your strong shoulder line can carry them.
Best Coats for the Rectangle Body Type
Trench Coat
Wrap Coat
Straight Coat
Longer coat (mid- shin or above ankle)
Car Coat (has that straight silhouette, simple layering piece)
Avoid: Cropped coats, overly boxy coats, coats that swing out or have a lot of bottom-volume, and anything with embellishments along the waist.
Dresses for the Rectangle Body Shape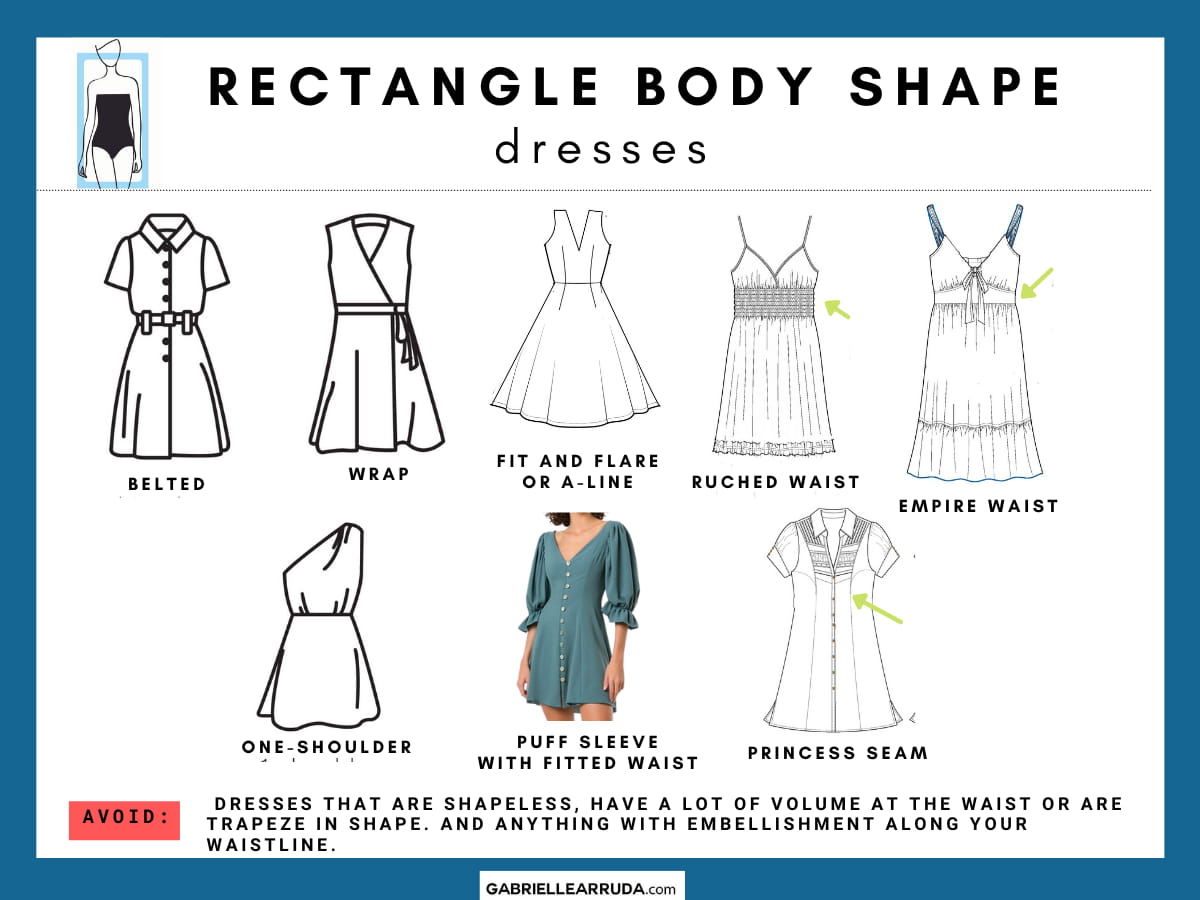 While you have a lot of dress styles to choose from you also want to be cognizant of your style goals. You want your dress silhouettes to balance out your top and bottom half while defining your waist (not emphasizing, remember? we talked about the difference).
Wrap dresses, fit and flare styles, A-line, and even princess seam dresses are in your wheelhouse. And color blocking can also help you visually create emphasis and definition within your upper and lower half. But one of the most important accessories you can invest in is a belt to make sure your waist always has that defined shape.
You want to avoid shapeless, trapeze style or tent dresses, generally. While you have a strong shoulder line that can hold those shapes, the volume tends to widen out the appearance of your entire frame.
Depending on your proportions you could also integrate a peplum style dress. Although this works best if you have a long peplum detail that doesn't overly emphasize your waist and if you are tall or have a visually long vertical line.
Color-blocked dresses with strategically placed lines that balance out your proportions can be a great way to experiment. Just watch where the colors break and avoid anything that cuts you up in half. If you're curious about how to color block outfits, I break it down here.
Best Dresses for the Rectangle Body Shape
Belted dress
Wrap dress
Fit and flare or A-line dress
Color-blocked dress
Empire
Princess Seam
Ruched Waist
Puff sleeve dress (fitted waist)
One shoulder dress (helps break up those horizontal lines)
Avoid: Dresses that are shapeless, have a lot of volume at the waist, or are trapeze in shape. And anything with embellishments along your waistline.
Bottoms for the Rectangle Body Shape
Jeans for the Rectangle Body Type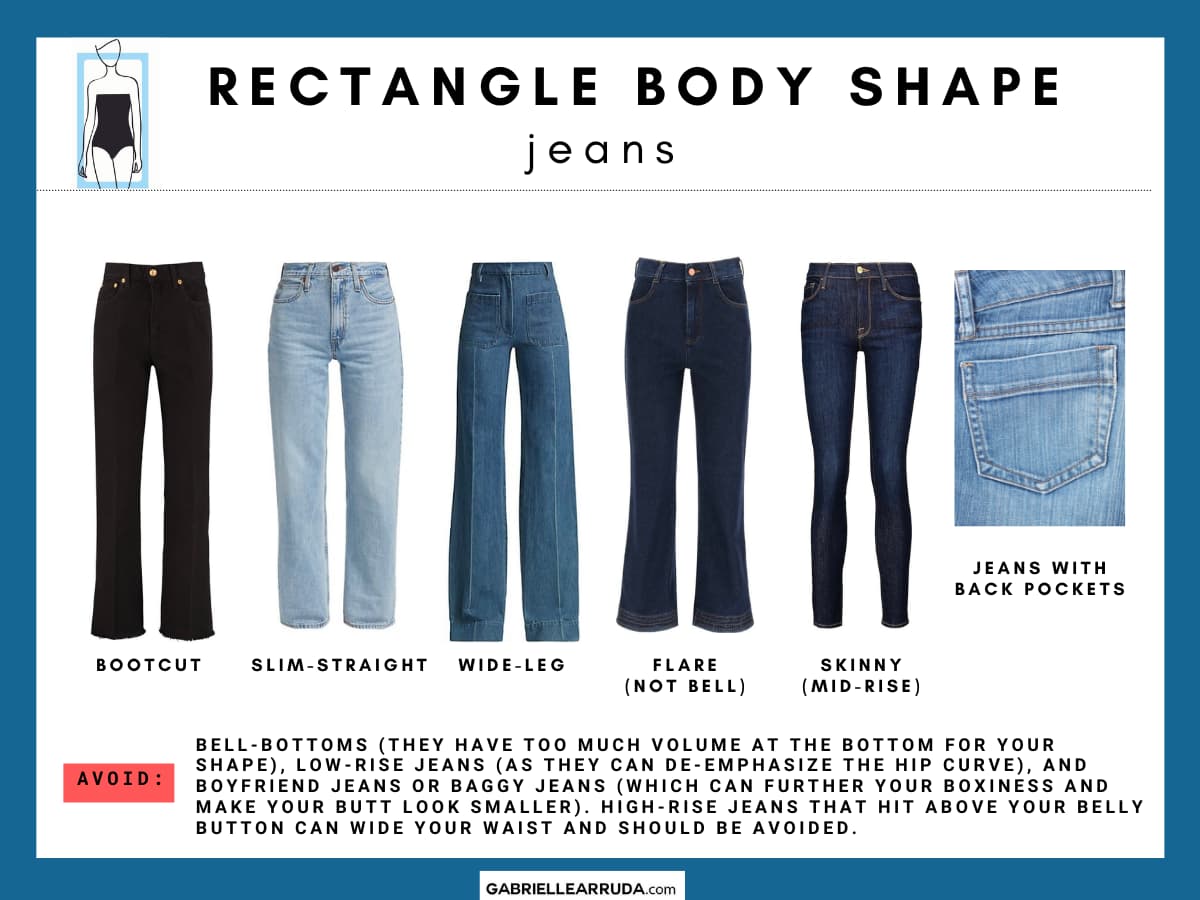 When it comes to jeans, the key is balance. As you've learned above, your bottom half can benefit from some added visual curve to break up all those straight lines.
Do not fear back pockets! They are your best friend when it comes to creating curves along without adding any extra size to your rear or thighs.
Whiskering at the hips is another easy way to add the appearance of a visual curve; essentially a few bleached lines draw attention away from your body's vertical straight lines.
In terms of silhouette, bootcut will be a great option for you, as it helps balance out your proportions, without squaring off your body too much.
Jeans that are fitted through the hips will help give the appearance of more curves. So a slim pair of jeans works for you as well. If you opt for a super skinny jean just make sure it has a mid-rise, to help balance out your top and bottom half. A darker shade, mid-rise jean can really help you lengthen your vertical line.
Best Jeans for Rectangle Body Type
bootcut
slim-straight
wide-leg
skinny (in mid or high-rise)
flare (not bell-bottom)
jeans with back pockets
trouser style jeans (similar to wide-leg but fitted in the butt area)
Avoid: bell-bottoms (they have too much volume at the bottom for your shape), low-rise jeans (as they can de-emphasize the hip curve), and boyfriend jeans or baggy jeans (which can further your boxiness and make your butt look smaller). High-rise jeans that hit above your belly button can widen your waist and should be avoided.
Rectangle Body Shape Trousers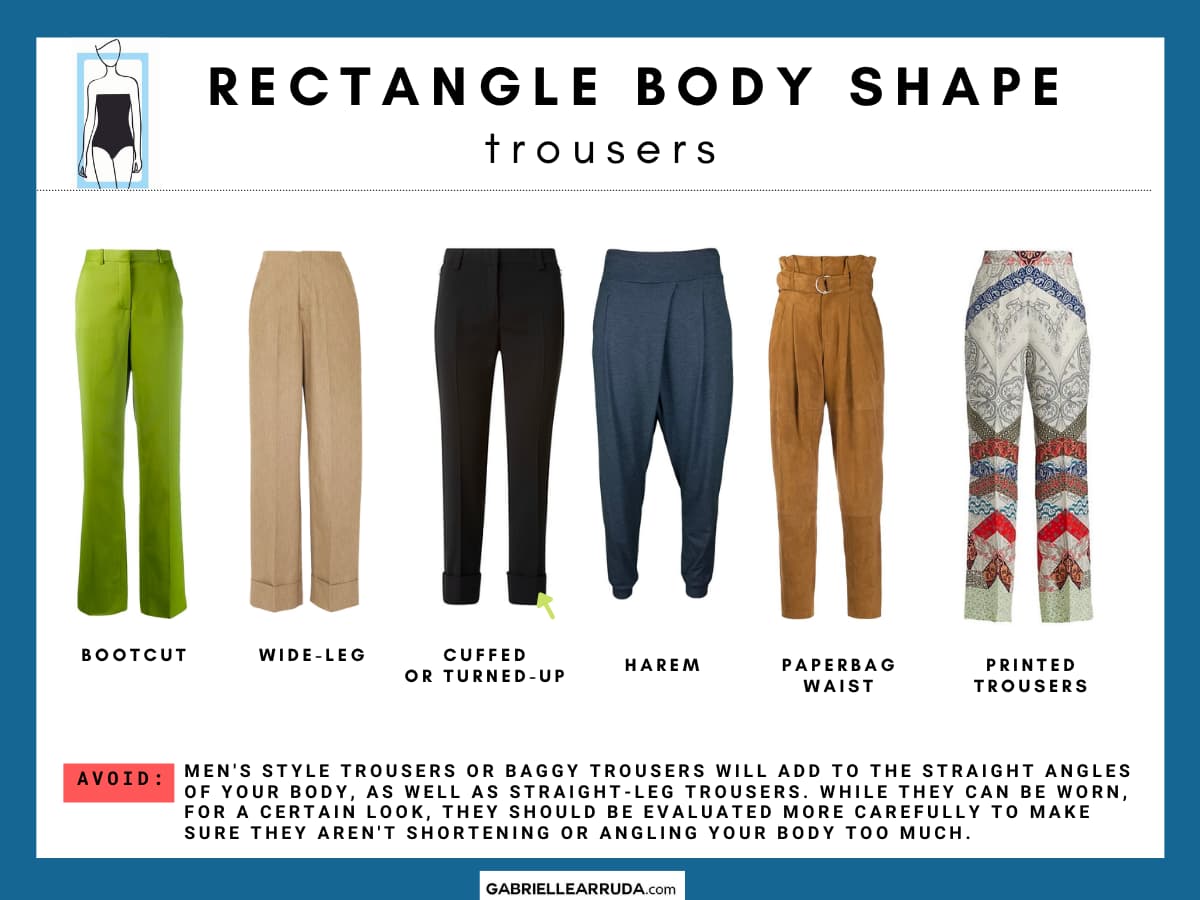 Trousers are a little bit easier to work with than jeans, as they tend to offer more variety and flexibility in terms of silhouettes and fabric types. Soft fabrics work well for your as they can smooth out some of the sharp lines of your frame.
From culotte, trouser, and even wide-leg styles you can find plenty of options out there for your frame.
When shopping for trousers the same rules apply: You need balance and to create a visual curve from your waist to hips.
Mid-rise trousers are perfect for you. They give the appearance of a longer leg line and can help balance out your top half with your bottom half. And don't be afraid to try a trouser with embellishments along the hip area, anything to add a bit more curvilinear volume.
Best Trouser Styles for the Rectangle Body Shape
Bootcut
Wide-leg
Cuffed or turn-up
Harem
Paper bag waist
Pleated
Printed (adds some visual weight and keeps the eye moving)
Avoid: Men's style trousers or baggy trousers will add to the straight angles of your body, as well as straight-leg trousers. While they can be worn, for a certain look, they should be evaluated more carefully to make sure they aren't shortening or angling your body too much.
Rectangle Body Shape Skirts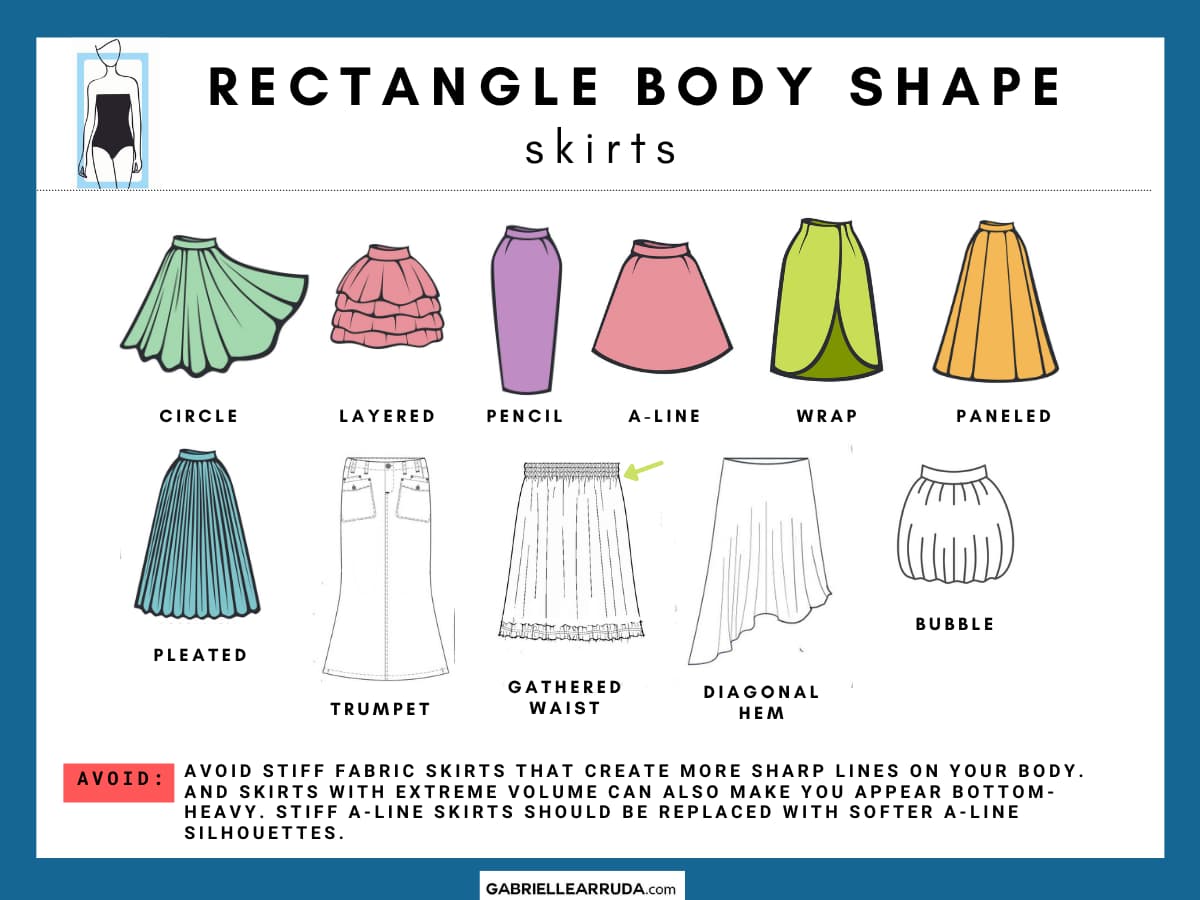 If you are looking for a skirt that is going to work with your shape, then the best thing for you is one that features pleats or gathers along your hip region- this will give you some more volume and the illusion of curves.
You can also opt for diagonal lines in your skirts, which will help to soften some of those straight edges More full circle skirts (with large pockets) are great to help balance out your hips.
The easiest skirts for you will have an A-line, full circle, or trumpet-style silhouette since they will give you the most volume in your hip area. However it is essential they are in softer fabrics, and don't create more harsh angles ( so no overly stiff or structured fabrics!)
You can wear straight skirts and pencil skirts, but you need to be more mindful of defining your waistline and balancing out your top half if you opt for these silhouettes.
Skirts offer a lot of unique ways to help soften the straightness of your body and create visual curves, so don't avoid them!
Prints, bright colors, and even light colors are all great choices as they will draw the eye and create more visual width ( in a soft way).
Best Skirt Styles for Rectangle Body Shape
Circle skirt
A-line skirt
Layered skirt
Pencil skirt
Straight skirt (soft fabric)
Trumpet style skirt
Pleated skirt
Gathered waist skirt
Bubble skirt
Paneled skirt
Diagonal hem skirt
Wrap skirt
Avoid: Avoid stiff fabric skirts that create more sharp lines on your body. And skirts with extreme volume can also make you appear bottom-heavy. Stiff A-line skirts should be replaced with softer A-line silhouettes.
Rectangle Body Shape Shorts
Similar to the other bottoms, we are going to be sticking mostly with mid-rise or low-rise shorts (if that's your jam).
You can wear higher-rise shorts but they would need to have some flare or an A-line shape to create a faux hip curve and defined waist. And they should ideally have a paperbag waistband.
You'll want to generally avoid fitted shorts that further emphasize the angles of the body. Instead, opt for a looser fit to add some illusory curve.
The best type of shorts for you will also have some hip or butt details like pockets, embellishments, wear marks, or buttons to add some visual weight to your hips and soften that area.
Best Shorts Styles for Rectangle Body Shape
Low-rise or mid-rise cuffed
Flared short
Bubble short
Patterned short
Loose or releaxed fit
Paperbag waist
Avoid: Bike shorts or overly fitted shorts should be avoided. As well as higher-rise shorts that will further "square" your body off. Belts at the waist should be avoided unless it is complemented with a flared or loose leg.
Accessories for the Rectangle Body Shape
If you're a reader of my site, you probably know my emphasis on adding accessories to complete a look. And you might even be thinking "here she goes again", but this analogy is helpful… So.
Let's think about a birthday cake. Without the frosting, message, and candles, it's just a cake. Those decorative pieces don't change the flavor of the cake itself, but they complete the intentionality behind the cake- to wish someone a happy birthday.
Accessories are the finishing touches on an outfit, and they solidify what you want to say with your outfit and that it is "done".
For the rectangle body shape I recommend:
Pointed boots: These are a great option as they help lengthen your body and give a visual "end" to your outfit.
Ankle strap heels: Not every body type can pull ankle straps off but because of your slim calves and long legs, you can absolutely rock these.
Belts: If you opt for a belt it should be a thin, neutral color belt to help define your waist but not draw too much attention to it.
Statement earrings: Because of your long verticality a statement earring is a great choice. It is a great visual starting place for someone to land on and then take in the rest of your outfit. It's like the capital letter at the beginning of a sentence.
Obviously, you can opt for other accessories, these are just some to note since they work really well with your body shape.
Rectangle Body Shape Outfits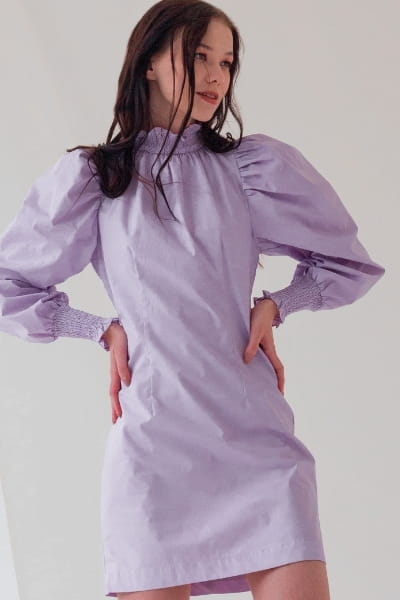 This is a great example of using the puff sleeve to help round out the rectangle body shape. This purple dress is fitted and helps define the waist, but is not body-con (so it doesn't overly emphasize her straight lines). The higher neckline and the large puffed sleeves really round out the top half of her body.
Not only does it soften the shape of her body, but it is a great focal point to her entire look.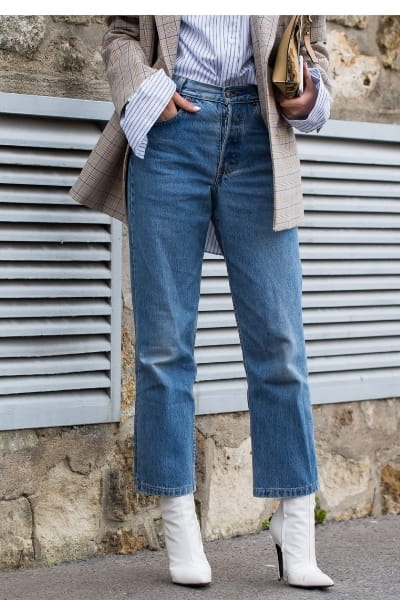 Rectangle body shapes are blessed with a long, lean look. And that means you can pull off pieces like cropped straight-leg jeans and pointed boots.
The pointed boots create a nice visual end to the outfit and the straight leg jeans (that are not fitted snuggly in the hips) create an easy-going visual line around her hips.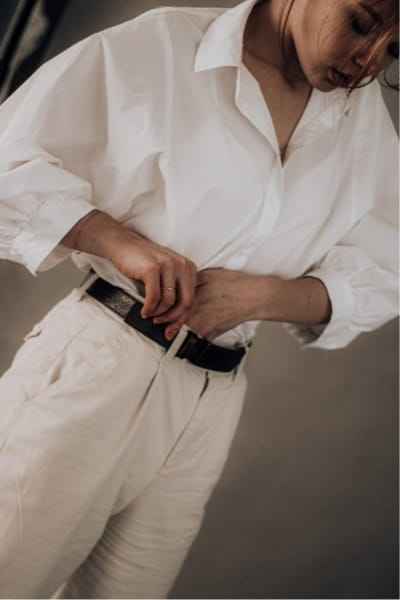 Soft, oversize shirts can work on the rectangle body shape because you have the shoulder line to hold them. Just make sure they are not in a stiff fabric. In the outfit above, we see this billowy shirt, that is tucked into loose trousers with a belt. The soft shoulder line and the soft hip line allow the belt to gently define the waist.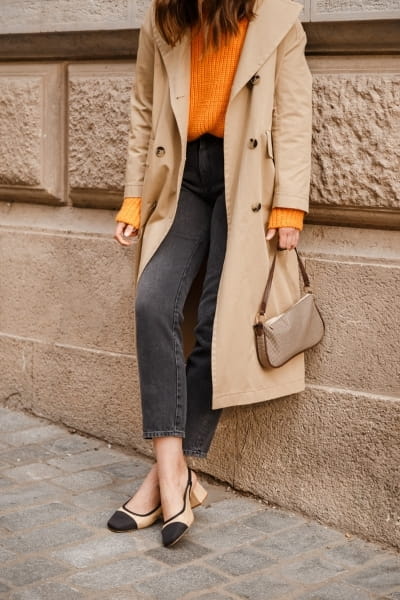 When you dress for your body shape, it becomes increasingly difficult to identify what type you are at first glance. Because you are using your style lines to help balance out your shape.
This outfit has a soft, wide lapel coat that rectangle shapes can carry. The chunky, loose-knit sweater that is tucked in creates a defined waist. While the darker bottom jeans, create a streamlined look that still embraces your length.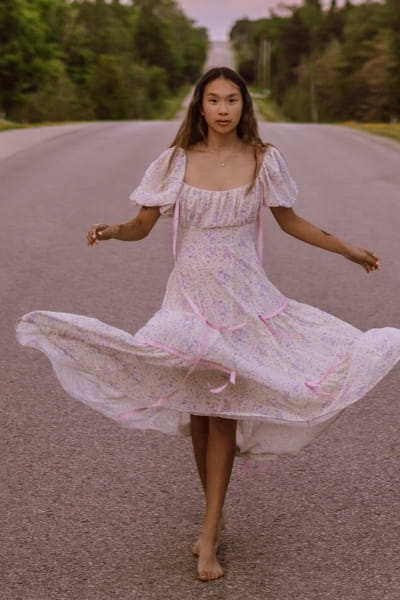 So, you don't need to go barefoot in the middle of the road to get this look. But, I included this outfit because the dress is a great example for the rectangle body type.
The puff sleeve, soft neckline, and empire waist all help soften the top half of her body. And the gathering along the bust area creates more softness in the bust area.
The flowy skirt (that doesn't overwhelm) adds some curve through the hips and lower half.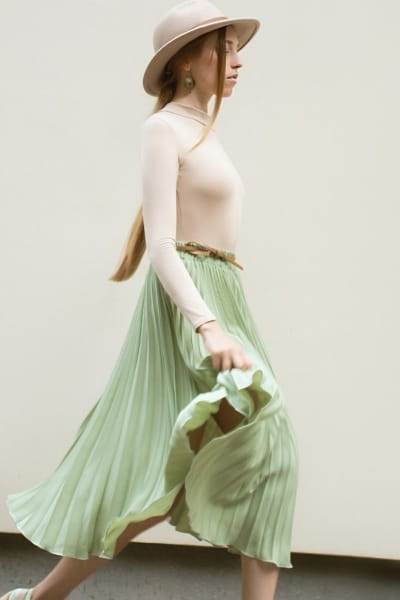 So this is a great starting point outfit for the rectangle body shape. The flowy skirt, adds volume to her lower half. The turtleneck creates a longer vertical line. And the hat is a nice accessory that draws your eye vertically.
If I were to improve this outfit, I would add a layering piece to soften the fitted quality of the turtleneck. A blazer or coat would work nicely.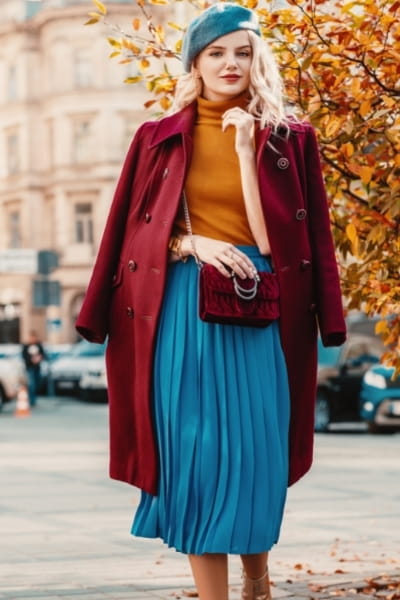 Here's a similar outfit to the one above, but she's using a coat to further soften her lines. She also uses color-blocking really effectively to distract one's eyes from her rectangle shape.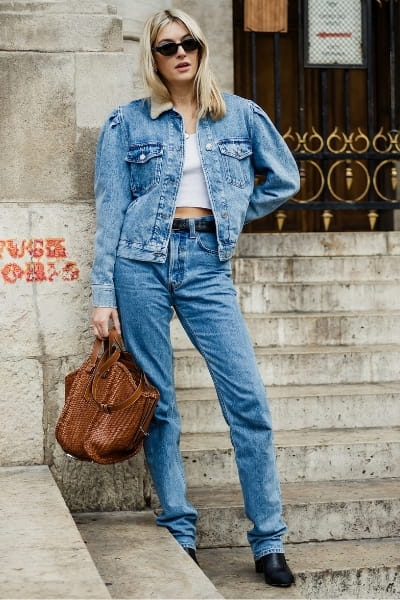 It's also totally ok to embrace your shape and opt for a long, lean outfit. While this outfit does emphasize her rectangle shape, it also totally works. The Canadian tuxedo is a fun choice and she's still applying some of the rectangle body shape style lines (like the denim coat and straight jeans).
The cropped top, oversized quality of the jacket, and the dark belt don't necessarily soften her shape. But, it's an outfit that shows you don't "always" need to play by these style rules.
Find your own personal style, and use these silhouettes as a starting point.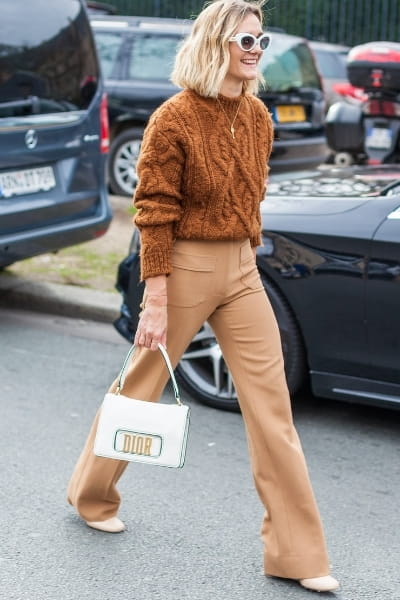 Chunky knits and trousers are a great outfit for the rectangle body shape. And because the above knit is substantial and not fitted, the french tucked styling technique helps her waist become loosely defined.
The monochromatic or tonal dressing also helps streamline this look and plays into her vertical line.
Rectangle Body Shape Celebrities
If you're still feeling a bit bummed that you have a rectangle body shape, just know you are in good company. Here are some famous celebrities that share your rectangle shape:
Cameron Diaz
Natalie Portman
Meghan Markle
Sheryl Crow
Jada Pinkett Smith
Kate Moss
Jane Fonda
Kate Hudson
Jennifer Garner
Anne Hathaway
Eva Longoria

I swear, we never like our body shape when we first hear it. And that is normal. And it is probably why so many of us avoid finding the silhouettes that actually work with our shape. Because ya know, you would have to admit to being a rectangle.
But, knowing your body shape, and embracing it, will let your show off your best features. It's the first step in building a strong personal style foundation.
An amateur cook needs to learn the basics and follow recipes before they can successfully freestyle or create their own dishes. The same is true with your style.
So, take this guide and learn how your shape works with different silhouettes. Then, spread your style wings and fly.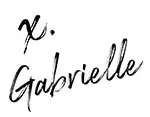 It's best to pin the image below so you can reference it while shopping and doing your closet cleanouts!