Dramatic Classic: Balanced yin/yang with a yang influence
Style ID: Tailored Chic
Welcome! You've probably fallen down the Kibbe rabbit hole, and have now landed into the actual meat of the process.
You've taken your proper ID photo, analyzed your yin/yang balance, and landed on the beautiful, elegant Dramatic Classic as your ID.
So… now what?
Well, the Kibbe system is all about finding clothes that harmonize with your body, instead of against. It can be an eye-opening experience to start to understand why that trend just wasn't looking right, or why you feel like you never have anything to wear.
And, if all of this is sounding new to you, I suggest you start here with your Kibbe ID and style journey.
Let's start by going over the Dramatic Classic ID profile to make sure you are in the right place.
Now, this is a journey, not a sprint. David Kibbe, currently recommends a 6 month + journey if you are IDing yourself, and that you should not rush into any one ID quickly. This is because it is incredibly difficult to see your body objectively and without bias.
What is the Kibbe Dramatic Classic Body Type
The Dramatic Classic is one of Kibbes 13 Body Types and is part of the Classic family.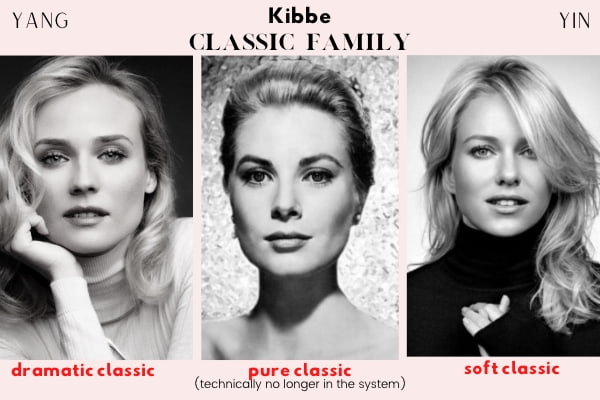 The Classic family is known for its balanced yin/yang and an overall moderate and symmetrical appearance. Within the classic family, there is the Dramatic Classic (DC) which is balanced yin/yang with a yang influence.
At one point there was pure Classic, but David Kibbe has since removed it stating that no one is perfectly balanced and they usually lean towards yang or yin influences, at least slightly. So while Grace Kelly used to be the prime example of pure Classic, she has now been re-assigned to Soft Classic.
And then there is the Soft Classic, which is balanced yin/yang with a yin influence.
Here is where the Dramatic Classic falls on the yin/yang scale: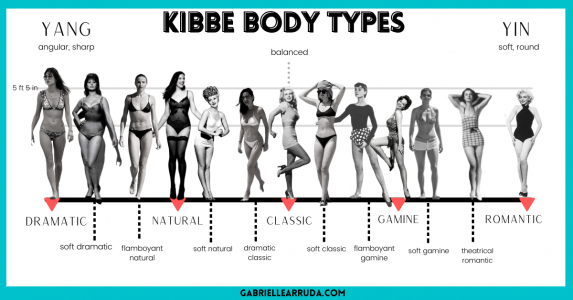 We may earn a commission from you clicking a link in this post. And as an amazon associate, we earn on qualifying purchases. Full affiliate policy, here.
Here's a breakdown of the difference between Dramatic Classics and Soft Classics
Dramatic Classic ID Overview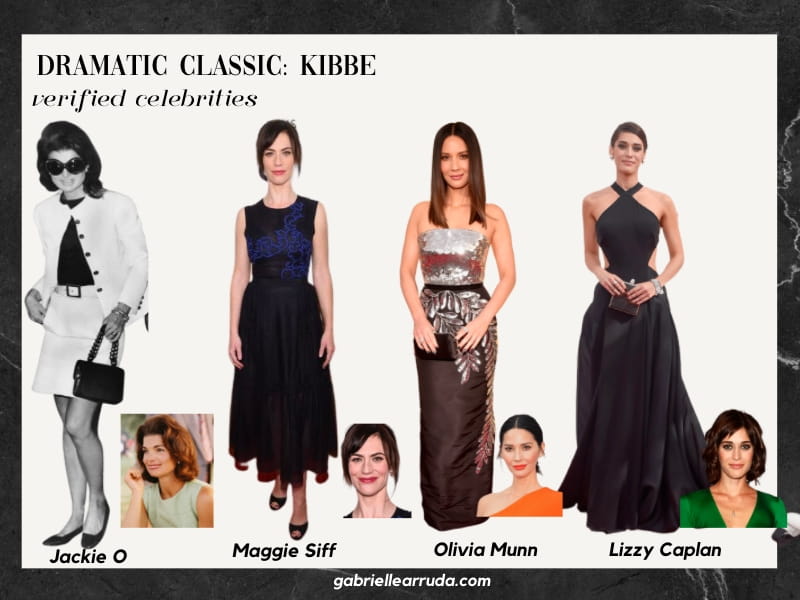 If you've landed on Dramatic Classic as your ID, just know that the following characteristics are general guidelines. If one trait doesn't line up (as long as it doesn't upset your overall yin/yang balance) it should not exclude you from this (or any) ID.
Also, remember that these physical attributes are all in relation to your own body, not anyone else. So comparing yourself to a verified celebrity or your best friend will not necessarily give you any more ID clarity.
The Dramatic Classic is basically symmetrical with slightly angular edges which can be seen in your bone structure and your facial features. Although David Kibbe has since removed the face as a typing factor because the fabric doesn't "lay" over your face, it can still be helpful in a lot of cases for ID confirmation. I find the face usually* helps one see their sharpness more easily. But again, don't be discouraged if you face doesn't fit DC.
The Dramatic Classic is a classic first and foremost with a slightly Dramatic influence. This means at times, you may relate to the style recommendations of the Dramatic ID as well. However, you are in the Classic family which means balance and moderation are your dominant traits. You should generally only use touches of dramatic influence, which nods at your yang leaning balance.
David Kibbe does not recognize his system as a traditional body typing system and refers to it more as an Image Identity system. It strives to both match your inner essence and your outer physicality and creates a symbiosis between the two.
Verified Dramatic Classic Celebrities
Jackie Kennedy Onassis (prime example from the book)
Jill Biden
Jane Wyman
Lana Turner
Lizzy Caplan
Maria Shriver
Maggie Siff
Olivia Munn
Phylicia Rashad
Suzanne Pleshette
Tracy Scoggins
Diana Rigg
Gena Rowlands
Note: This information is taken from David Kibbe's original book "Metamorphosis: Discover Your Image Identity and Dazzle As Only You Can", and over the years he has made comments or changes in the Strictly Kibbe Facebook group. If you want to "purest" information, it is best to hear it directly from him. I recognize this is not always possible, so I do my best to keep this article updated, but please understand while I am citing his book, I am also including my own interpretation of it at times.
Dramatic Classic Physical Profile
Height: Moderate (this is a theme for the classic family), up to 5 ft 7 inches
Bone Structure: The Dramatic Classic will have the following bone structure traits:
Symmetrical, but with slightly angular/sharp edges
Straight and slightly wide (this is from the text, but it is not "kibbe width" like in the Natural family)
Shoulders have a tapered quality or are slightly square, and can appear narrow
Hands and feet can be slightly squarish
Slightly sharp, square, or angular facial contours (especially in the jawline, nose, and cheekbones)
Dramatic Classic Body Type:
When at an "ideal" (his words, not mine) weight the Dramatic Classic will appear fairly trim and compact
They can appear slightly muscular when at an "ideal" weight
DCs have a bustline, waist, and hips that are somewhat straight and even in proportion
They can be short-waisted
Their legs and arms tend to be moderate/average or slightly long.
Dramatic Classic Facial Features:
Moderate to Large eyes
Moderate lips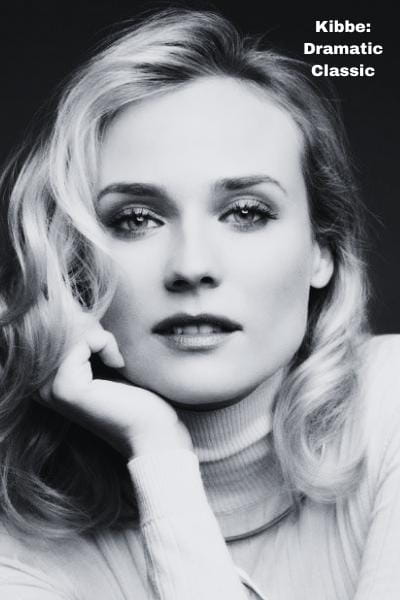 A Dramatic Classic Will Not:
Have extremely long limbs
Have overly lush facial features
Have extremely large hands or feet
Have extremely large bones
Have an "hourglass" figure
Have delicate bones
Have extremely small hands and feet
Have a boyish straight figure
Dramatic Classic Weight Gain Pattern:
I have an entire article dedicated to weight gain patterns with some mid-to-plus size examples of each ID, here.
And it should be noted that you cannot ID yourself solely on weight gain patterns.
Dramatic Classics (DC) when they gain weight their body type seems to radically change, even if they only gained a little bit. This is more of an illusion because your bone structure remains the same.
When they gain weight it will show up immediately and collect from the waist down.
Dramatic Classic Coloring
Any coloring is possible. I find it best to find your own seasonal color palette instead of operating under the DC color suggestions, solely.
Dramatic Classic Style Lines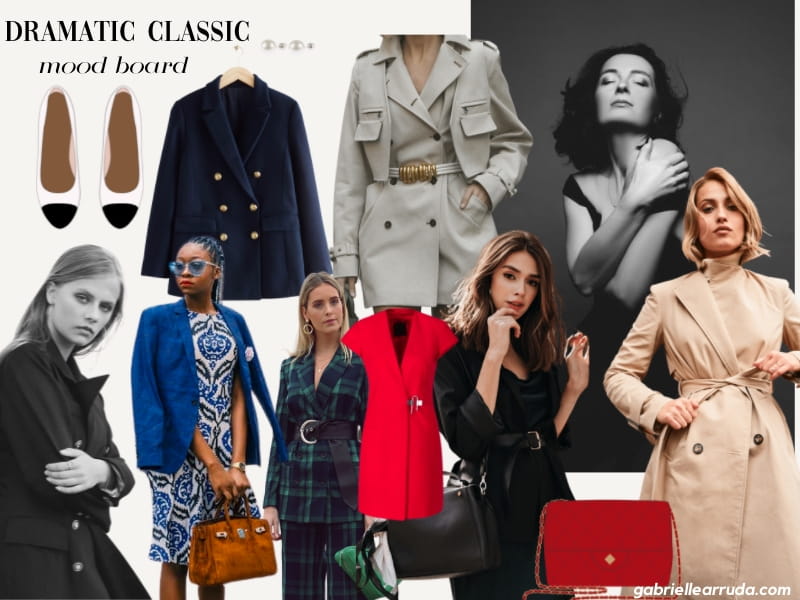 The Dramatic Classic style lines could best be described as "Tailored Chic". And before we proceed to all of the ID style recommendations, I want to first talk about creating a "head-to-toe" outfit.
Kibbe has evolved his system since the book and addressed the complaints that people feel "boxed-in" by these recommendations. However, any ID can wear any piece of clothing. They just need to keep in mind the entire outfit's impact and honor their specific dominant traits. In the Dramatic Classics case, that would be balanced (yin/yang), and slight vertical.
I have a video on the concept of head-to-toe outfits and how they relate to the kibbe ID families, here.
That being said, understanding his original recommendations can help you match up your understanding of silhouettes and details and harmonize them with your DC traits.
For silhouette, it is recommended that the DC keep a sculpted and geometric look, with sleek lines that are clean (not severe). Dramatic Classics thrive with sharp and angular edges and shapes, particularly in the shoulder area. This does not necessarily mean you need shoulder pads, but it does mean you need to pay attention to the fabric and seam shapes of your garments, which we will discuss.
Because the Dramatic Classic is part of the Classic family, they need to keep their overall looks fairly clean. If they lean into a more loud or trendy look they can easily be overwhelmed or look too stark. Similarly, if they opt for pieces that are too soft, they can appear more matronly or the outfit can give a fussy vibe.
You have angular symmetry, which should be honored by your clothes. Let's get into some specifics on how to achieve this.
How to Dress the Dramatic Classic: Style Guide
Yin/Yang Balance: Balanced with a yang influence
Dramatic Classic Shape
The Dramatic Classic will want to keep a triangular shape in their clothing silhouette, with the widest line or focal point being at their shoulders and narrowing towards the hem.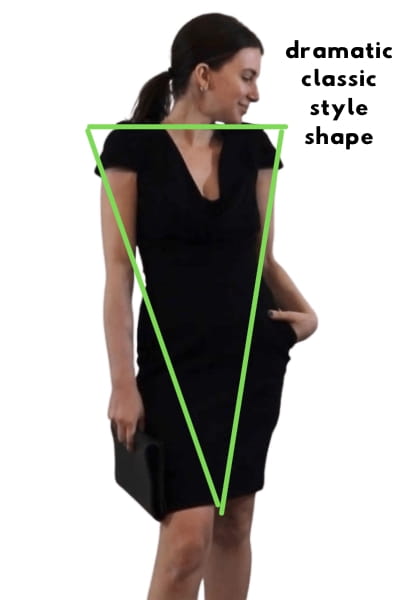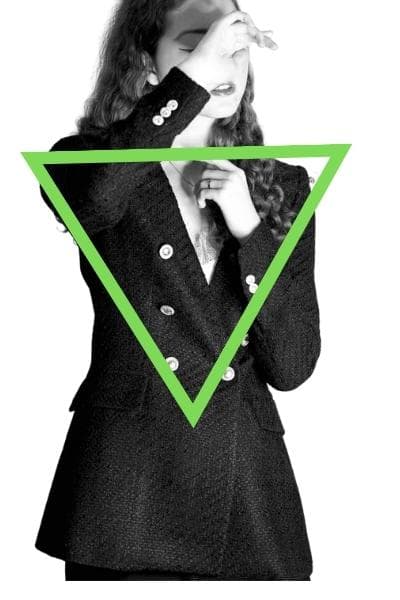 Your DC shape can include symmetrical geometrics (both sculpted or sharp). The shape should be trim, tailored, crisp, and even taut. If you opt for a curvier silhouette make sure it is streamlined and not overly fitted.
NOTE: Take any "avoids" with a grain of salt, as I mentioned the head to toe or holistic view of your outfit matters more.
Avoid: Dramatic Classics should generally avoid ornate, intricate, or delicate shapes. Irregular, unconstructed, and boxy shapes should also be avoided. And any simple symmetrical shapes that don't have sharper edges ( to honor your yang influence) or any pieces that don't honor your elongated line should not be worn.
Dramatic Classic Line and Silhouette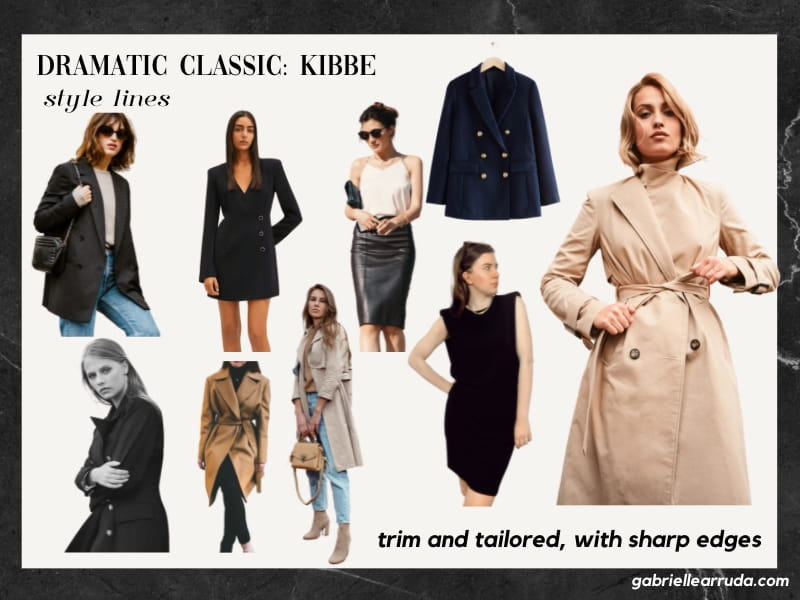 The DC thrives with a silhouette that is trim and tailored with sharper edges. You shine in clean, sleek, and straight lines. You can pull off elongated draping, and pieces that have strong vertical and diagonal lines. You can also handle pieces with a strong and defined shoulder line or pieces with "crisp" edges.
Dramatic Classic Fabric
Fabrics are often overlooked when we choose items, but they can play a huge part in how a garment lays on top of your body and how your head-to-toe look is perceived.
DCs often look best in higher-quality fabrics that have moderate weights. Soft-weight fabrics tend to look flimsy on your sharper edges, and super heavyweight fabrics weight down your delicate yin/yang balance.
In terms of textures, you want to look for lighter textures like raw silks, crisp linens, and sleek cotton. Generally, matte textures work best for your day-to-day wardrobe. However, you can go metallic or ultra-shiny for eveningwear or in small accents.
Avoid: DCs should generally avoid lightweight fabrics that cling, ultra-sheer fabrics, and heavyweight fabrics that are stiff and bulky. Rougher textures that are thick or coarse are generally not recommended.
Dramatic Classic Details
You're going to start noticing a theme with the DC and that is: crisp, tailored, and geometric with sharper edges. And that is true for your details as well. ( The trick is to start recognizing those details in garments, and this video might help).
Sharp and sculpted shoulders are especially important for the DC. Kibbe originally recommends "shoulder pads are a must in everything you own", but I think even he would agree that is a 1980s fashion sentiment and not applicable for today's style.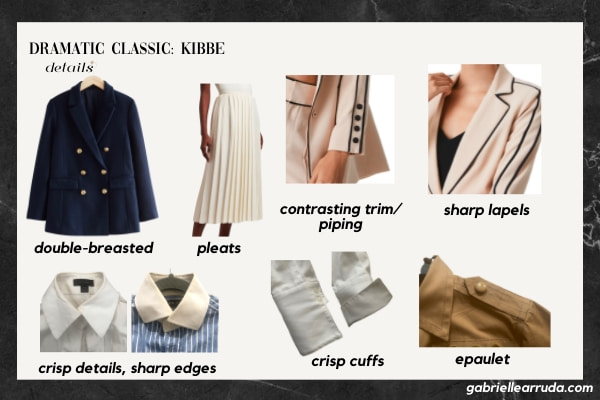 DC Sharp Details Examples :
Pleats
Crisp cuffs
Peaked, notched, or cleanly streamlined lapels
Double-breasted jackets
Contrasting trim
Epaulets
Piping
Clean braiding
Dramatic Classic Necklines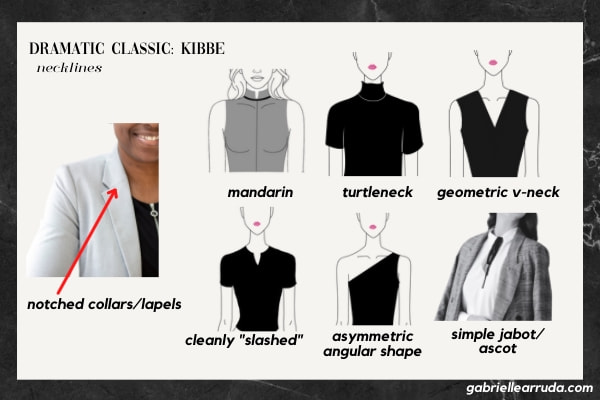 Your necklines should be cleanly tailored.
Notched collars
Crisp mandarin necklines
Simple jabots or ascots
Cleanly "slashed" necklines
Geometric v-necklines
Asymmetric angular shaped
Turtlenecks
Narrow cowls ( fabric is important here)
Dramatic Classic details can also include sharp color contrast within a piece or outfit (not traditional color blocking that is more in line with gamine style lines). Contrasted color buttons, lapel piping, or pop color pumps work well.
Avoid: DCs should generally avoid ornate, intricate, and fussy details, including "frilly" pieces. Animated or perky details tend to overwhelm your balance. Plain, symmetrical without sharp edges can look drab on a DC.
DC Styling Tips Regarding Waist
The waist may be sharply defined with a moderate or wide belt
You can wear drop-waist dresses
You can also try narrow dresses that eliminate the waist altogether (chemise effect)
Dramatic Classic and Separates
The goal of dressing (regardless of how true to Kibbe you are) is to create intentional outfits, and this is especially sage advice for the DC. DCs can shine in separates and matching sets but they must feel put-together and embrace a head-to-toe appearance. Haphazard separates will overwhelm or distract from your elegance. (Think Jackie O's use of separates)
Dramatic Classic Jacket Recommendations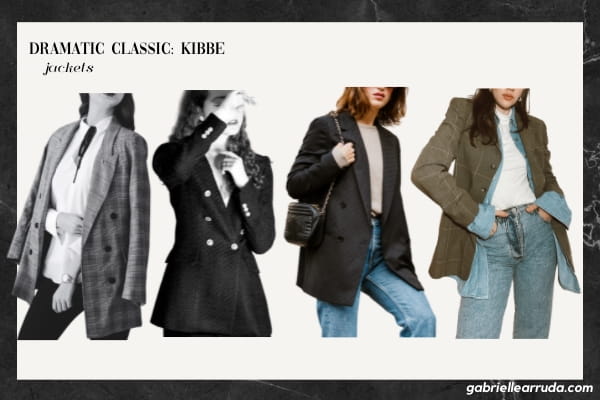 The DC thrives in jackets and they should be a staple in your wardrobe. That doesn't mean you need to be "business-casual" 24/7, but rather that you have a sophisticated layering piece that compliments your look and creates a polished silhouette.
Jackets should be crisp and tailored for the easiest integration into your DC closet. We want them to have sharper shoulders and a longer hem/line so that they harmonize with your body (which has the same traits).
If you opt for an unconstructed (fewer seams, softer fabric, less structure) jacket then it is easiest if it is a narrow silhouette that has a hem below the widest part of your hips.
Double-breasted jackets are also an easy yes for you.
When dealing with cropped jackets, aim for a hem that hits you around the top of the hipbone. If you go too short you are veering into the gamine accommodations of petit and it can shorten your overall length.
However, sleek streamlined jackets that are cropped (around your hip), look fantastic. Jackie O made these a mainstay style for DCs.
Avoid: Jackets that have a flouncy feel to them or ones that have a lot of frills or trim. They tend to feel too soft on your frame and the trim/details can overwhelm your beautiful balance. Peplum jackets and jackets that are ultra-nipped in at the waist tend to disrupt your balance and the elongated line. Super cropped jackets (like boleros) do not highlight your best features. And overly wide or boxy jackets can swallow you up.
Dramatic Classic Skirt Recommendations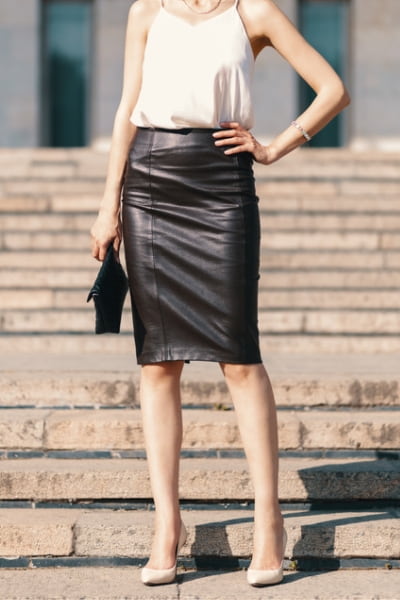 The best style of skirt to harmonize with your balance and vertical is a skirt that is straight and narrow. You generally need skirts that are flat from the hips to the upper thigh area, so they don't disrupt your long line. You can try skirts that have slits in them and any tailored details such as flaps, pockets, contrasting stitching, etc.
Generally, for hemlines, you will look best in lengths that are either one inch below the knee or hit just above your calf. This keeps your vertical more intact than a shorter mini skirt. However, remember that if you create an intentional head-to-toe you can certainly play around with different hem lengths.
You can also try a bias cut skirt because they tend to be narrow and long. Their hemlines are often angled, so shoot for the longest part of your skirt to be mid-calf or below.
Avoid: Full and flouncy skirts, fussy details like shirring, draping, and gathers, and wide unconstructed skirts. A-lines can also disrupt your vertical and sharpness as well.
Dramatic Classic Pant Recommendations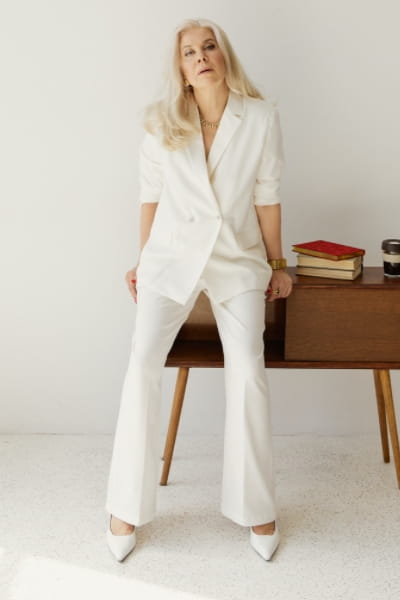 Simple, tailored pants are best, and menswear-inspired details can be a mainstay in your style.
Ultimately we want trousers that are clean, sleek, and elegant.
While Kibbe doesn't specify what style of jeans most IDs should wear, I have a video all about that here. Ultimately, clean simple cuts like straight-leg jeans without any wear marks or whispering are easiest to integrate into your style lines.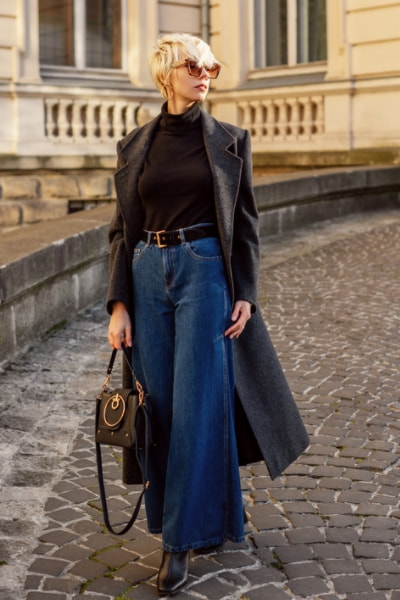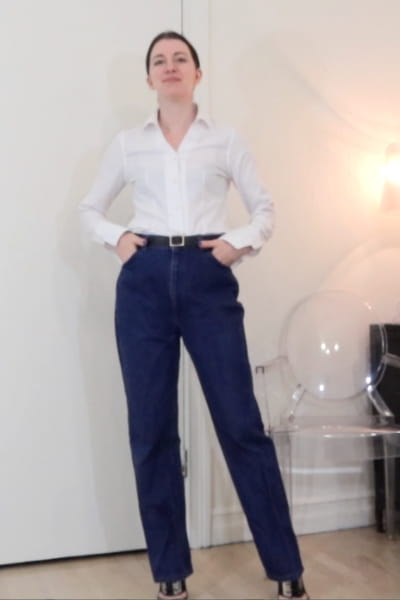 Avoid: For pants, you want to again avoid fussy or ornate details. Wide, baggy, or unconstructed pants will also overwhelm you. Tapered or pegged style should be used with caution as they can tend to shorten your line.
Dramatic Classic Top Recommendations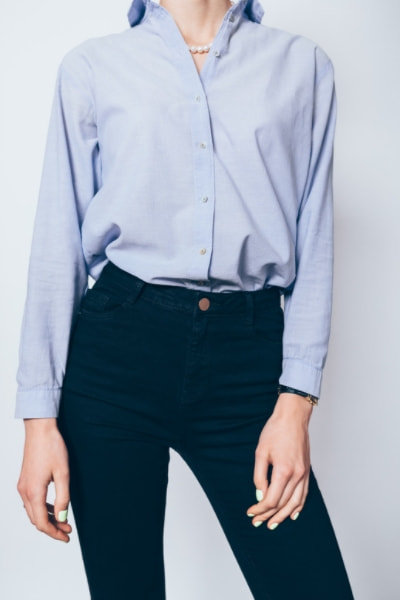 Blouses for Dramatic Classic
Elegant and tailored blouses with sharp edges and crisp details (nothing too soft or frilly)
The fabric should be crisp and smooth. Sleek cotton (moderate weights most often), chartreuse, or a softly woven challis all work.
Stock-tie blouses can be worn underneath your jackets, but they can look a bit too soft without a structured layering piece underneath.
Sweaters for Dramatic Classic (DC)
Lightweight, elegant cut sweaters
Skinny-ribbed sweaters
Sweaters should be slightly elongated (not too short of a hem)
Longer cardigans or jacket style sweaters can be successful as long as they are not too soft/pliable
Avoid: You should generally avoid thick, heavy, or rough knits which lend themselves more to the natural family. Fluffy knits with ornate trims, and cropped sweaters or sweater vests are also not ideal.
Casual Top Recommendations
While David Kibbe certainly embraces a more open-ended interpretation of style lines these days, insisting that any ID can wear any piece of clothing, his book doesn't include a lot of options for "casual clothes".
Here are some of my recommendations for casual tops that work well for the DC.
Ultimately, you want clean sharp lines even in your casual pieces. Fabric weights (more moderate), and sharper-edged necklines, and seaming can help this.
Dramatic Classic Dress Recommendation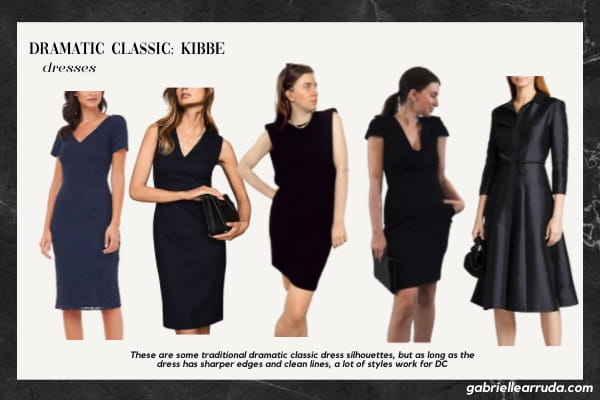 DCs have some beautiful dress options that not only look polished and elegant but also timeless.
Tailored, sleek, narrow dresses
Coatdresses, chemises, and slinky sheath dresses
Elongated draping or bias-cut dresses also work
Dresses with sharp and sculpted shoulders (shoulder pads do this but you can also ache this through fabric weight and seaming)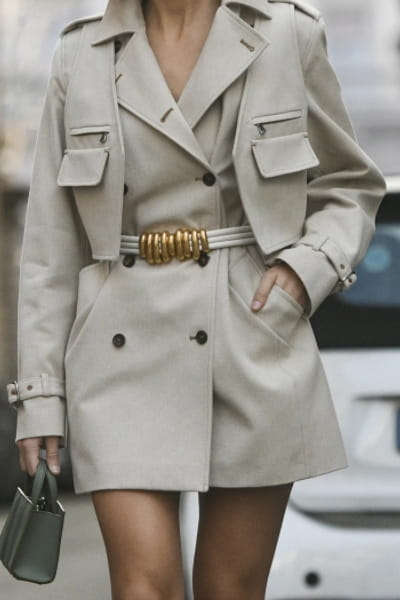 In my opinion, the two things I would look for are a moderate-weight fabric and crisp seaming/details. Below you can see the difference it can make in silhouette.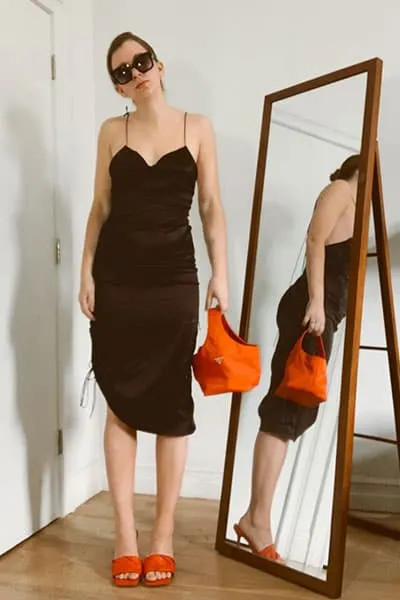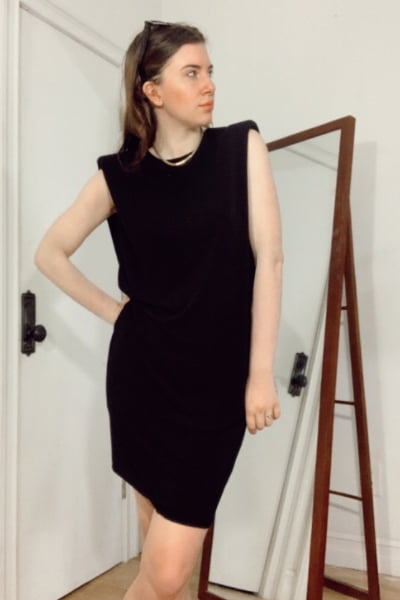 Avoid: Dresses with ornate or intricate trim, flouncy dresses, overwhelming details (shirring, gathering, ribbons, bows), and wide or unconstructed shapes.
Dramatic Classic Eveningwear
Dramatic Classics shine in clean, angular evening wear.
Slinky sheaths
Jacketed gowns
Tailored dinner suits
Long gowns with sharp details and shoulders
Tailored cocktail dresses
Evening pants with a sleek jacket
Dramatic Classic Color Palette Recommendations
If you've figured out your seasonal color placement, then I would personally stick to those choices first and foremost.
However, if you haven't, or just want to know the general DC color recommendations and combinations it is as follows…
Dramatic Classics should use bold and sophisticated colors. They look fantastic in neutrals and deep colors that show off their simple elegance.
Pastels can be an effective choice as well, but fabric choice is key here. You want fabrics that are more moderate in weight (moderate within the fabric category- ie heavier weight silk over lightweight silk, even though silks are lighter than wool).
You do well with tonal outfits that keep your vertical intact and blend the colors of your outfit into one.
You can try contrasting color details or trim in moderation (but it is best to limit this to 2-color options). The best way to do this is to pick your accent color and carry it through in more than one spot. In the outfit below, her use of matching neutral accessories (coat, shoes, bag) creates a harmonious color palette.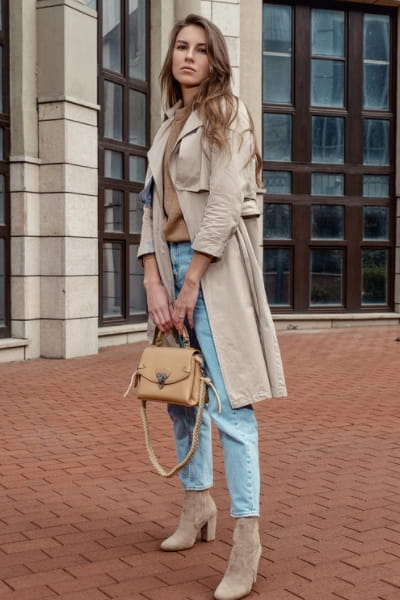 Avoid: Generally avoid multicolor "splashes" of color, any mix-and-match color palettes, and neutrals/monochrome outfits that have no accent colors (this will look too severe/matronly).
Dramatic Classic Print Recommendations
I bet by now you are starting to see the trends, which is great. The more you understand these style guidelines, the easier it will be to create your own head-to-toe using pieces that might fall outside these suggestions.
Prints for the DC should be bold in color contrast, geometric, angular, and even slightly oversized.
Stripes, zig zags, slashes, and sleek asymmetric work as well.
Avoid: Flowery prints, soft and flowing prints, ornate prints, irregular prints, "cute" prints, and small symmetrical prints.
Dramatic Classic Accessories
Shoes:
Angular
Italian style pumps
Tailored, narrow styles
Tailored flats (sharper ones too)
Sleek, sling-backs
Two-toned styles (think Chanel 😉 )
Avoid: Overly delicate or strappy styles, heavy/chunky styles, overly plain pumps.
Bags:
Crisply, tailored bags
Structured clutches
Box-shaped bags
Envelope clutches
Metallic evening clutches
Within the book narrow to medium briefcases are recommended. However, I think this is especially not relevant for today's fashion. In my opinion, a clean leather tote or structured larger handbag would be more applicable, like this one.
Belts:
Moderate to wide belts with geometric buckles
Contrasting color belts (that ideally match your other accessories)
Avoid: Overly ornate belts, delicate/narrow styles, and waist-cinchers
Hats: Opt for crisply tailored hats with sharper edges. You want to opt for a hat that is more moderate or smaller in size, as a larger hat can overwhelm you.
Avoid: Oversized styles, severe hats, unconstructed or floppy styles, and fussy hats with a lot of trim.
Hosiery:
Kibbe generally recommends sheer, silky stockings. He suggests avoiding opaque stockings, lacy stockings, and ornate stockings. And in terms of color keep a blended approach from your garments to stockings to keep the vertical line intact.
I think stocking preferences have changed a lot over the years and are especially prescient as a fashion trend (although you might not immediately think so). So, I would suggest you opt for stockings that feel current, as they can modernize your elegant look.
Jewelry:
Sleek, elegant, and slightly chunky
Geometric shapes with sharp edges
Smooth circles designs as long as they are crisp
Earrings should be on the ear or "spray up". I'm not sure what he means by this in terms of 1980's aesthetics… But ultimately he says avoid dangly or "down" earrings. I'm not sure I agree with this, especially since jewelry design has come very far.
Necklaces should be slightly chunky, crisp, and rest around the collarbone area.
Moderately sized wrist cuffs
You generally only need one elegant piece of jewelry to suffice
Avoid: Overly intricate jewelry, ornate or antique-style jewelry, heavy pieces, and "minimal" jewelry.
Dramatic Classic Beauty Recommendations
An essential part of creating a head-to-toe look is your hair and makeup. Especially if you are reaching for an outfit that doesn't "fit" into the traditional DC guidelines, your hair and makeup can help keep the overall impression of the look more harmonious.
Dramatic Classic Hair Suggestions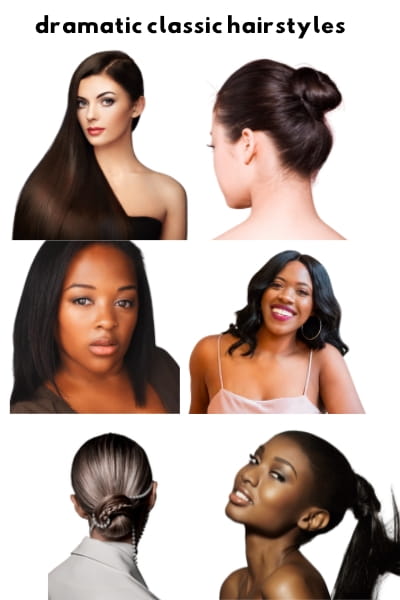 You want to opt for sculpted and sleek hairstyles.
In terms of cuts, blunt cuts or very minimal layering (depending on how fine your hair is) work best. Moderate to shorter length is usually easiest to pull off.
If you have longer hair, it is recommended to keep it "sculpted" and not too flat.
There are some other recommendations, but I don't think they are very "now". They include back-teasing your hair, and if you perm your hair also set it daily to keep it sculpted and sleek. He also says asymmetrical details like a sweep or dip are excellent. I'm unclear on these and find them to generally be a bit dated.
Avoid: Boyish cuts, "wild mane" hair, overly layered styles, wash-n-go styles, and symmetrical cuts with no angles.
DC Makeup Recommendations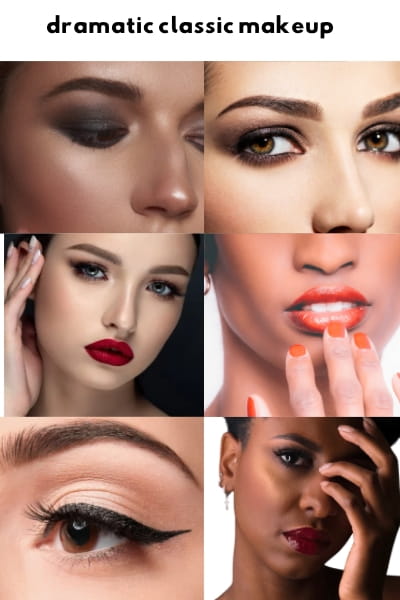 Obviously, makeup trends change constantly and even though Kibbe did his best to make evergreen suggestions, I think a lot of your makeup will depend on your lifestyle needs and what year it is.
In the book, it is recommended that DCs opt for a smoky face with strong cheekbones. They should have sultry eyes and a vivid mouth. He says that matte colors are best.
But overall the goal is to just harmonize with your sharp angles so contoured and contrast are great.
I also think liquid eyeliner could be a nice touch for more daytime looks (as long as it wasn't too extreme of a tail).
Dramatic Classic Outfit Ideas
So, these outfit recommendations are just my personal interpretation of modern DC looks. They may not hit "every" style guideline mentioned above. However, I do think they keep in line with the main DC accommodations which are balance and some verticality.
Holistically speaking, I think these are great starting points or inspirations. Feel free to respectfully disagree or agree in the comments!
This outfit has tailored, sleek lines all over the place. The dark, solid jeans and bodysuit are close enough in color (both dark) that they maintain the vertical line for the most part. And the accessories are sleek and crisp.
DCs can play with some seriously cool tailored dress styles. I love this look, it feels classic and modern at the same time.
This is a great example of using a pop color in more than one place (the shoes and handbag matching creates a classic, put-together vibe). The dress is sharper, a heavier weight, and the outfit has a lot of great contrast color without being too scattered.
For this look be sure to tuck in the top to keep your vertical line intact. This is a great example of a casual, easygoing DC outfit.
Dramatic Classics can shine in a sharp, tailored jumpsuit. I love this for a more formal gathering. It still has the DC essence, it feels modern, and is a nice deviation from a traditional black gown.

And just remember, that narrowing down your ID will take time… So even if you are 80% sure you are Dramatic Classic, if you have not spent about 6 months exploring the terms and concepts, don't automatically assume.
Often times people convince themselves they are an ID, try the style lines, don't understand why they are not looking quite right, and then ditch the system completely.
The Kibbe system CAN be super helpful in your basic fashion knowledge and understanding of style. In my opinion, this should be building blocks for you to create your own personal look that is unique to your essence, beauty, and what you want to communicate to the world.
Now, if you really are a Dramatic Classic- go forth in your most tailored chic ensemble. And if you're not, well there are equally gorgeous style lines for your ID that suit your natural beauty.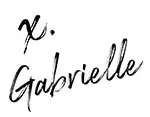 Be sure to pin the below image so you have the DC style guide handy when you need it!