Soft Autumn: Soft And Muted
Have you ever followed a youtube makeup tutorial and looked at the mirror with dismay as the hour spent carefully contouring and accomodating your hooded eyes were all for naut? You couldn't put your finger on it, but it just looked… off.
Or maybe you eagerly opened your latest online shopping purchase only to find it's making you look a bit like death. You can see in the image below that my skin tone leans cool, and while I do have contrast, I am not bright. Therefore, a bright warm-toned orange is really making me look a bit sallow and tired (or more tired than I actually was).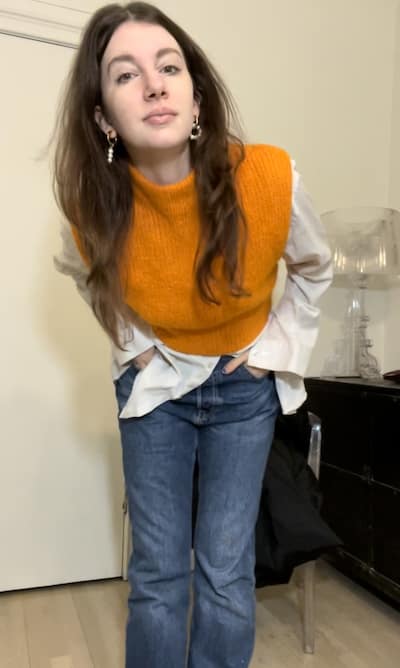 Well, seasonal color analysis is a great way to prevent these color missteps.
Let's be honest, our visual representation to the world is crafted laregly by our clothes and appearance. It's not shallow to want to craft these highly impactful elements of our lives, and in fact, can help you immensely communicate and achieve your goals.
Now, if you've landed on Soft Autumn, or have maybe fallen down a rabbit hole of exploring all the 12 color seasons, then this article will be your ultimate guide to the Soft Autumn color palette.
Please note: There are many different color theories out there and some systems have more or less options. They also go by different names at times. Soft Autumn is is sometimes referred to as Soft Autumn Light or Tinted Autumn (although there are slight variations). I have based this information on the 12 seasonal color palettes (not the 16), so for the sake of cohesion I will only be referring to it as Soft Autumn.
Let's go over some color basics to make sure you are looking at the correct season.
Are you warm or cool?
Honing your seasonal color can be a process in training your eye. And one of the first tasks you will need to evalute is whether you are warm or cool.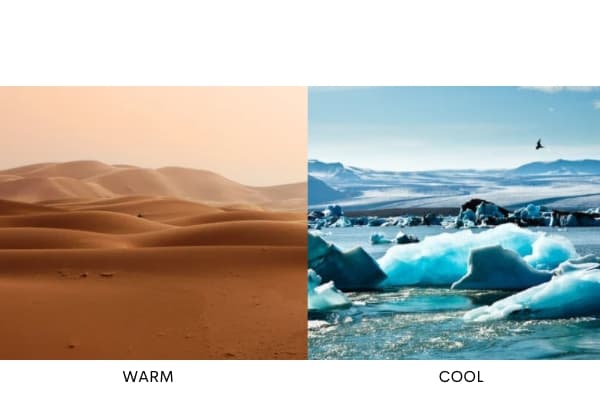 Look at the two images above. The dessert landscape evokes a completely warm sensibility whereas the artic image is most definitely cool.
Now, if only our faces were as easy to decipher. Well, as your train your eyes to see colors more concisely, you will get there.
There are many ways to begin to determine this but the most beginner friendly ones are the following:
Gold or Silver Jewelry: It may be subtle but gold jewelry will usually look best on warm-toned people, and silver will shine on cool-toned people.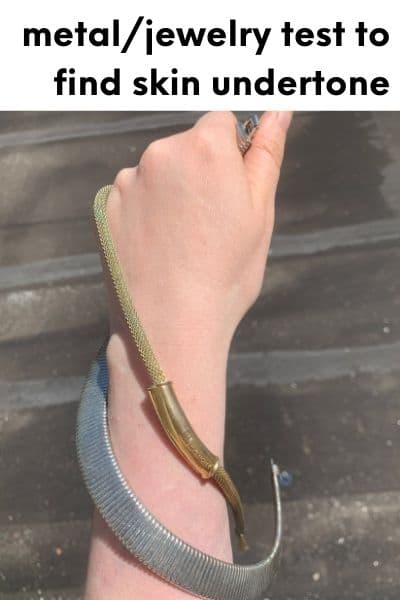 Veins: Take a look at the veins in your wrist. If they appear green, then you are most likely warm. If they appear blue, then you are cool. This can be helpful if your veins are clearly one color, but don't use it as a singular definitive factor.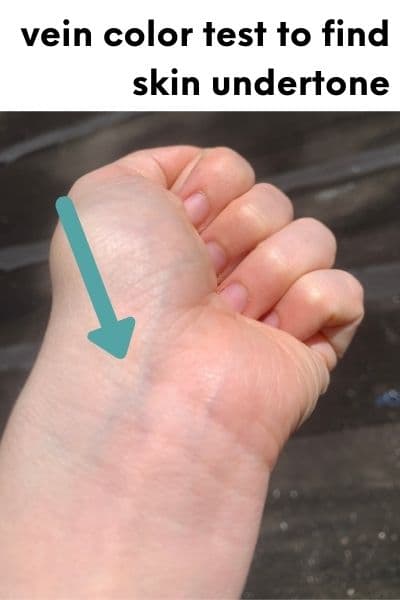 If you can't tell or it's a mix of both, here's a quick litmus test:
Do you tan or burn? If you burn, you are most likely cool. If you tan, you are warm.
Pink/Orange Test: This is especially helpful.
Drape fabric (next to your face) that is true orange and hot pink. Now, these colors are strong, so take that into consideration. But generally, there should be a clear winner in terms of which color works. If you the orange suits you, you are warm. If the pink looks better you are cool, and should go back to this article.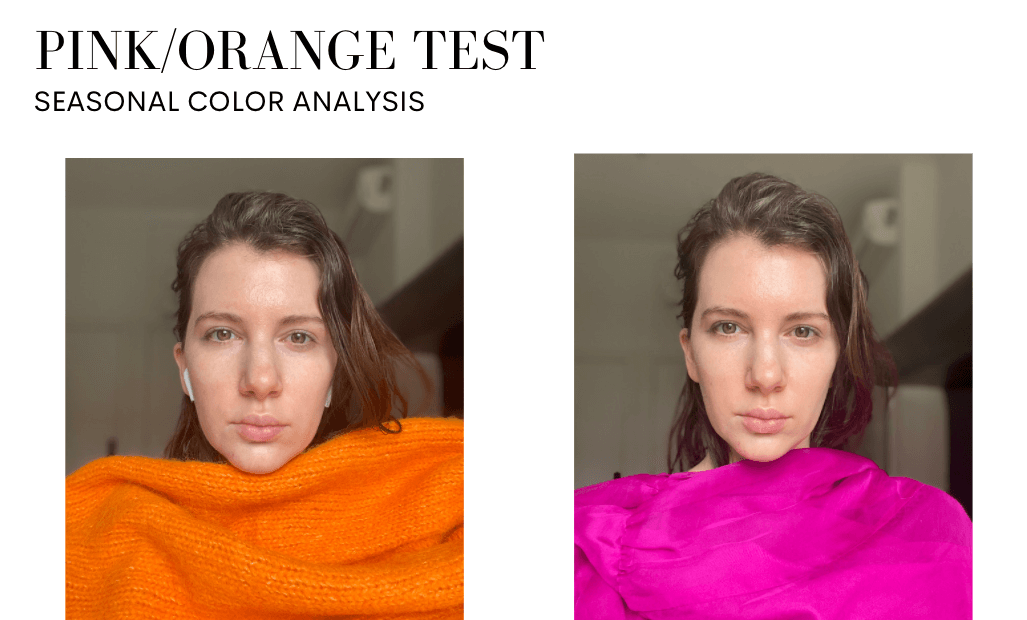 Now, even if you haven't trained your eye yet, this color test/draping will help. Both of these photos were taken with no makeup, natural light, and with the same camera settings. You can see that the orange makes my skin look blotchy and highlights a red patchiness on my nose and cheeks. Whereas the pink makes my skin look clear and bright. I am cool-toned.
If you are in fact a Soft Autumn you will most likely have these answers: gold jewelry looks best on you, greenish colored veins, you can tan, and orange suits you best.
We may earn a commission from you clicking a link in this post. And as an amazon associate, we earn on qualifying purchases. Full affiliate policy, here.
What is a Soft Autumn?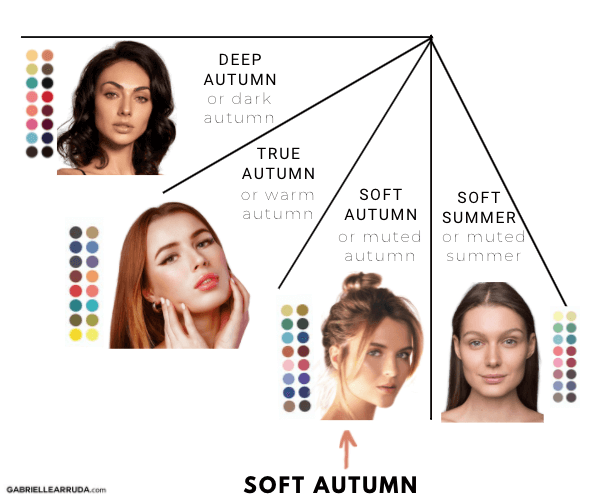 The Soft Autumn Color palette is within the Autumn Season but sits between the True Autumn and the Soft Summer. Whereas soft summer leans cool, the Soft Autumn will be warm-based (hence the previous section).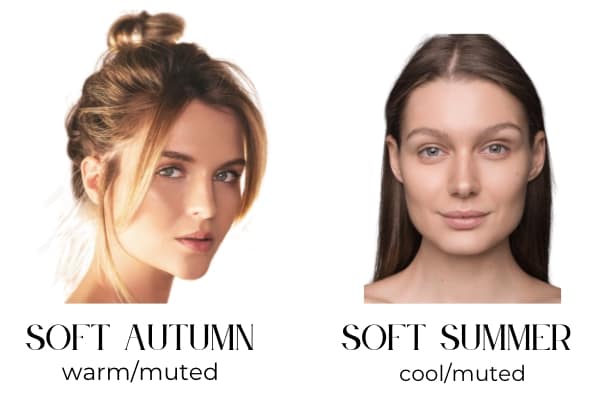 So your color palette will be composed of warm and muted colors.
In terms of contrast, the Soft Autumn has moderate to low contrast. Your hair, eyes, and skin will blend into each other. To see this more clearly, you can take a well lit photo and turn it to grayscale. As you can see below there is little contrast in the left photo, while the right image has stark contrast between their features.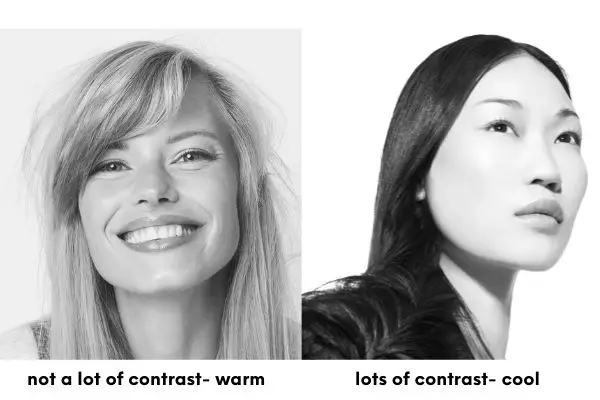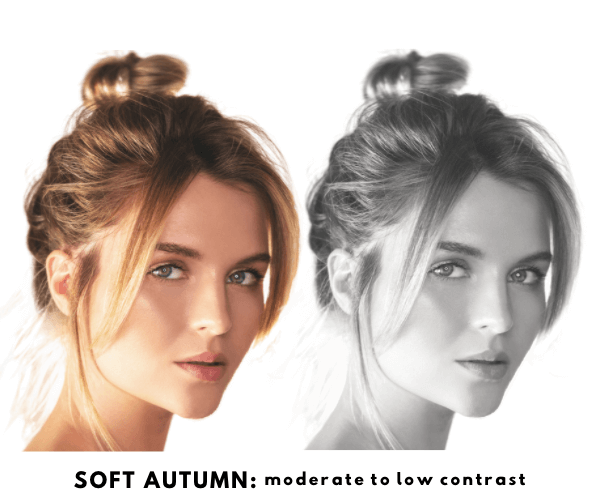 If you're confused about terms like muted/bright and contrast, this video can help clarify it.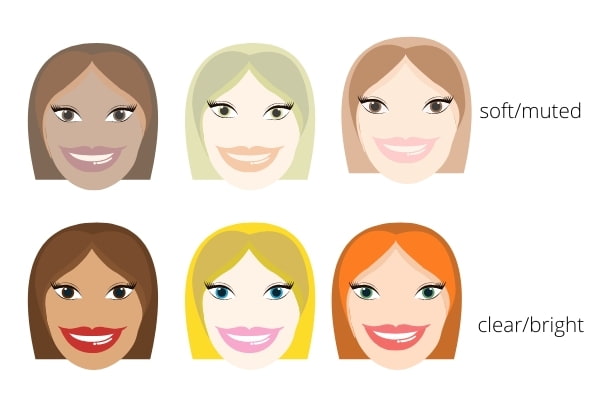 Soft Autumn Color Characteristics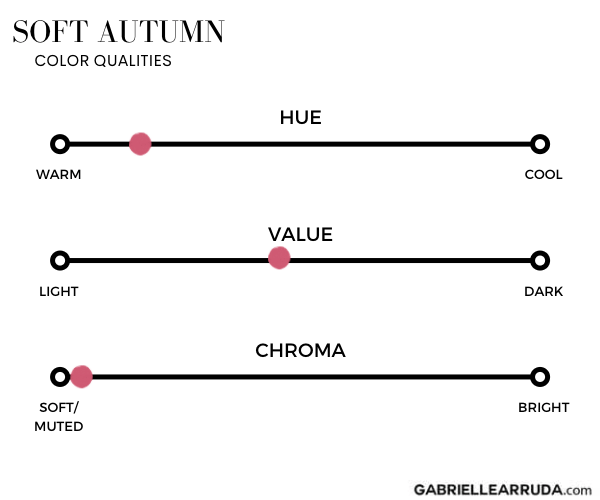 Hue: Warm
Value: Light/Medium
Chroma: soft/muted
Soft Autumn Coloring
Here is a general overview of the Soft Autumn features. However, please note that one characteristic deviating from this list will not eliminate Soft Autumn as your season. It is more about the entire holistic view of your traits and colors.
Soft Autumn Skin Tone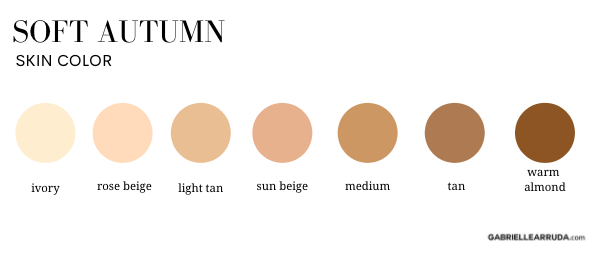 The Soft Autumn usually has neutral or neutral-warm skin tones. When we did the silver/gold test above, gold will most likely be your better metal. Now, if you have a more neutral leaning skin tone, then you may look good in both silver and gold. So don't let one test derail you.
Warm Ivory
Rosey Beige
Pale Tan
Medium
Tan
Almond (warm)
Soft Autumn Eye Colors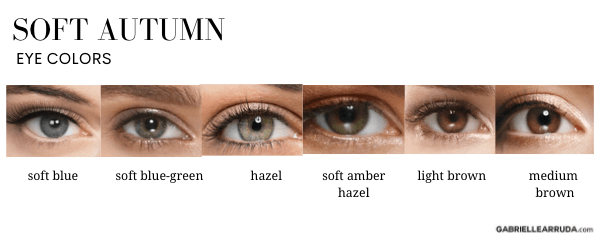 Remember that soft autumn is basically a true autumn that has had their colors de-saturated a bit, so they will have a more toned down look.
Soft Blue
Soft Blue-Green
Hazel
Soft Amber/Topaz
Light to Medium Brown
The eye color is not the only determing factor in seasonal color analysis. Many analysts believe that the shapes created within your eye can also guide you towards your exact season.
Autumns in general tend to have warmer rust, orange, and brown shades, or warmer blue/green shades. The iris pattern most commonly associated with Autumns is called the "Aztec Sun". It creates a sun like shape of mixed warm colors that essentially have "separate rings".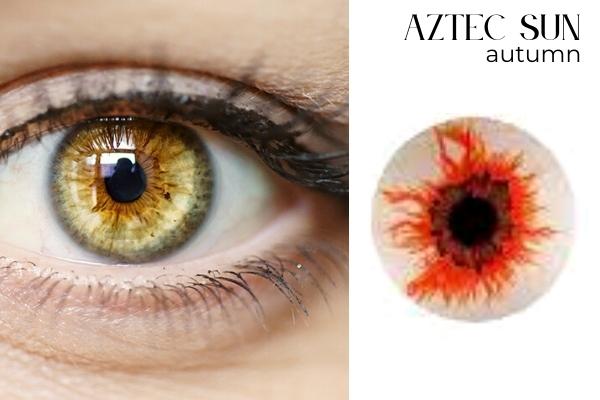 Soft Autumn Hair Colors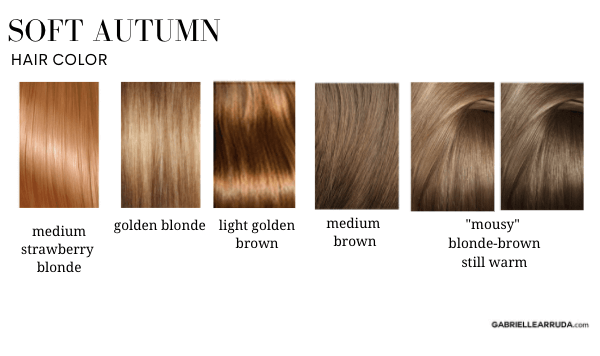 Golden Blonde
Light Golden Brown
Medium Brown
Strawberry Blonde
"Mousy" Brown ( I reject this terminology, but it's what many color analysts use to refer to this specific shade of brown)
Look for golden or warm highlights. It's important to note that you need to look at any naturally occuring highlights and hair colorings, not any died, bleached, or bayalaged sections of your hair.
Now, you've confirmed you have muted colorings, but could you possibly be a soft summer?
Soft Autumn Versus Soft Summer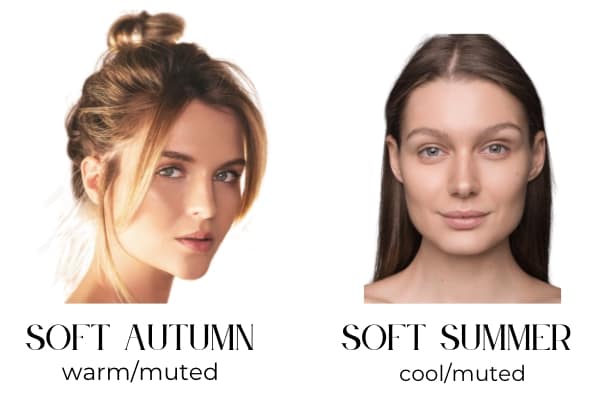 So it is important before diving headfirst into all the facial colorings, to firmly determine whether you are warm or cool.
While Soft Autumn and Soft Summer are both muted coloring palettes, the Soft Autumn is warm. This means the color palette will have warm undertones whereas the Soft Summer will lean towards cooler based colors.
Soft Summers will go for soft fuschia (cool), where Soft Autumns will go for salmon pinks (warm).
Comparing colors (color draping) close to your face can help you determine this if the tests above were not clear.
Soft Autumn Celebrities with Palettes
Now that you've determined your season, let's look at some examples of people with coloring similar to yours.
Gigi Hadid
Giselle Bundcheon
Drew Barrymore
Toni Colette
Mischa Barton
Devon Aoki
Adele
Rihanna (suspected)
Storm Reid
Kirby Griffin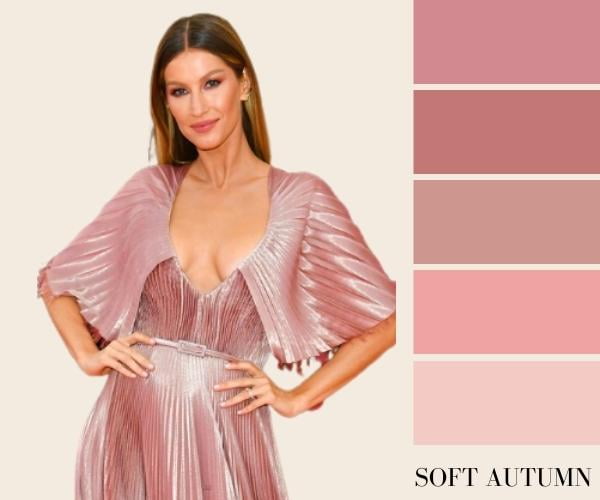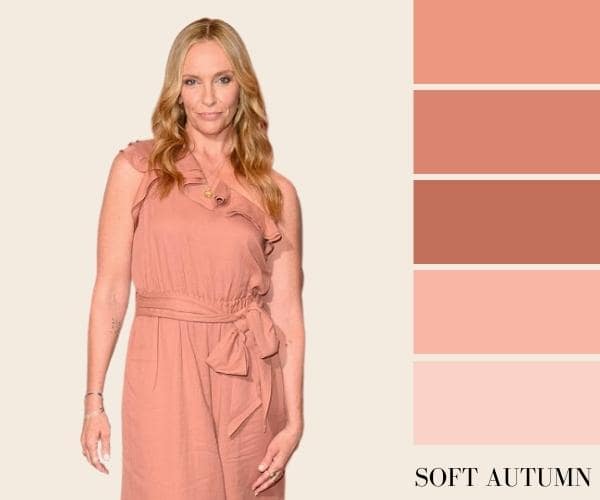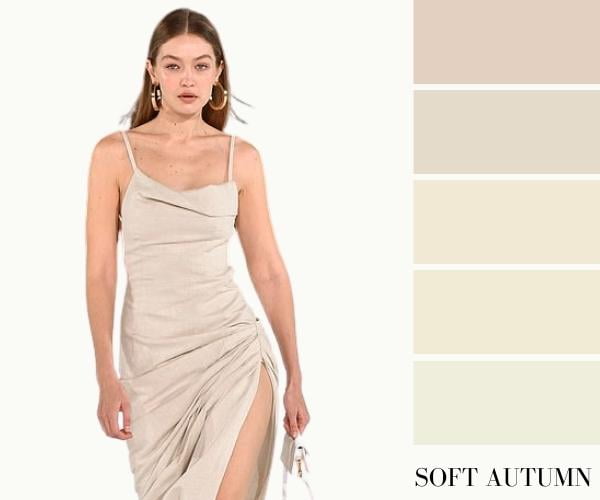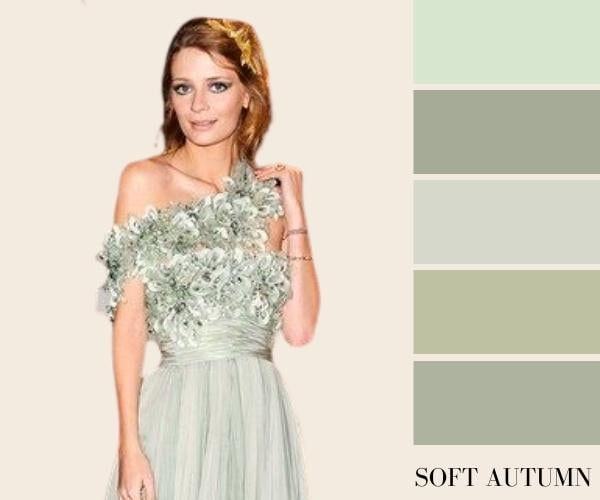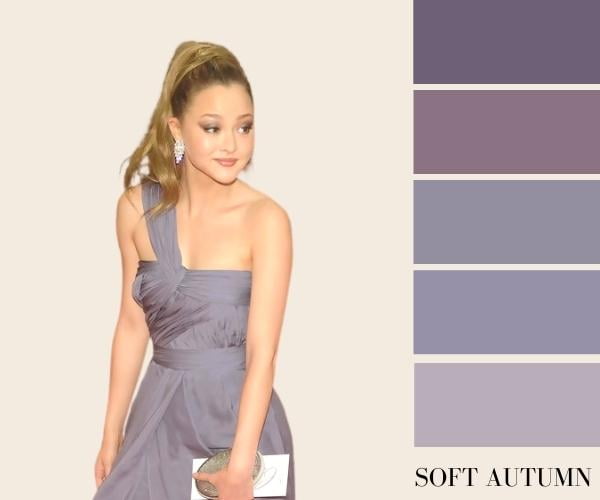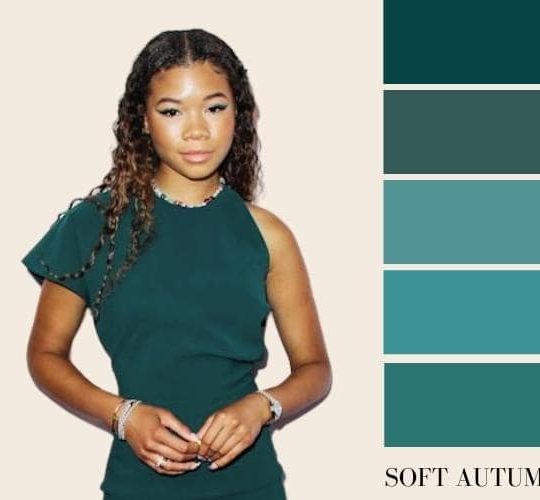 Soft Autumn Color Palette
The Soft Autumn needs colors that reflect their muted warmth, so they opt for more de-saturated warm colors. They tend to be overwhelmed by vibrant hues like pure emerald and would look much better in a moss or olive green.
Dark colors also tend to overwhelm your muted delicate blend. Especially high chroma dark colors like pure black or navy. But muted dark shades like aubergene or mahogany work as long as they don't have too much pigment.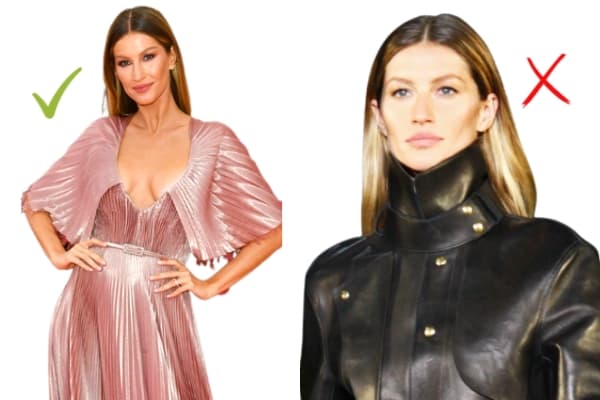 You can see in the above photo the warmer, muted pink makes Giselle look like she's glowing whereas the harsh black makes her look washed out and sallow. The same thing happened to me when I wore the bright orange in the first photo.
Soft Autumns tend to do best in soft, rich, warm, and inviting shades. You want colors that make you look more alive and not drain the warm tones from your face.
Here are the best colors for a Soft Autumn:
light milk chocolate
antique gold
butterscotch
dusty turquoise
moss
olive green
warm pastel pink
baked clay
teal
rich spruce green
antique rose
rich warm grey (almost brown)
mahogany
coffee brown
camel
stone,
light navy,
deep periwinkle
aubergine
mint
salmon
light pink
rust
warm off-whites
sand
Soft Autumn Color Palette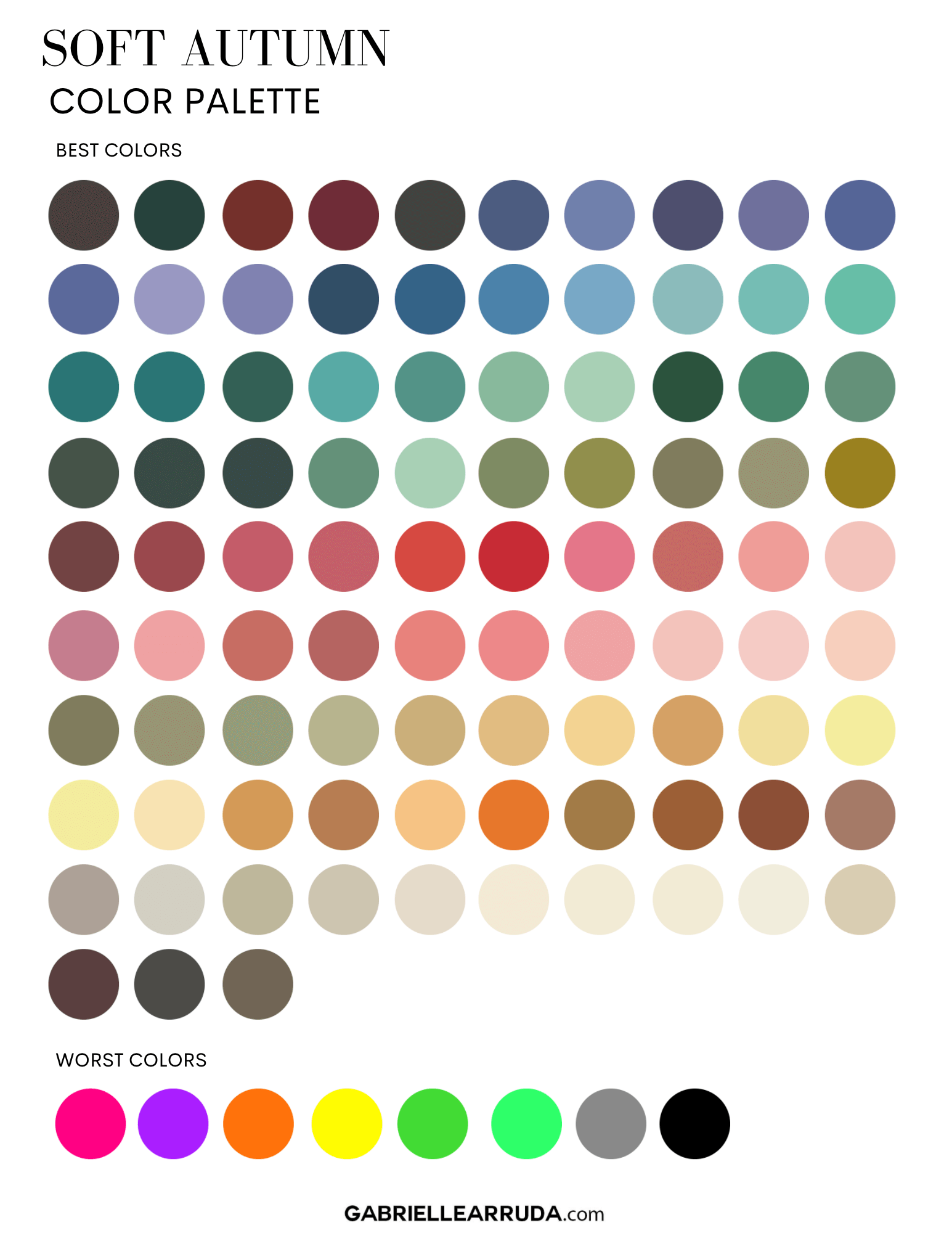 Soft Autumn Neutral Colors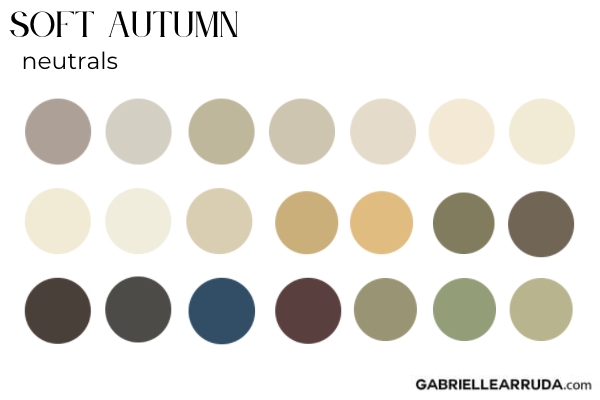 The Soft Autumn needs to take special care when choosing their neutrals because the traditional black, navy, and gray wash them out.
Opt for light tans, beiges, and taupes or dark warm browns for neutrals if you can.
You can also try swapping in a warm pewter for any traditional gray pieces.
Colors to Avoid as a Soft Autumn

Soft Autumns have a delicate beauty to them and any stark colors or extremely vibrant colors will drain this quality.
Stay away from stark white, black, and any jewel tones like emerald or sapphire.
You also want to avoid anything with a blue undertone as well as anything that is more pastel.
Pale pinks can look good on you as long as they are not too cool-toned and have some warmth to them.
A good rule of thumb is to stay away from anything that makes you look drained, sallow, or washes you out. This would include all high chroma, cool-toned colors.
Soft Autumn Business Color Palette
Here are some neutrals and acccents that work well for a corporate or business casual wardrobe. Depending on your office style expectations, the neutral color palette may be more appropriate, however.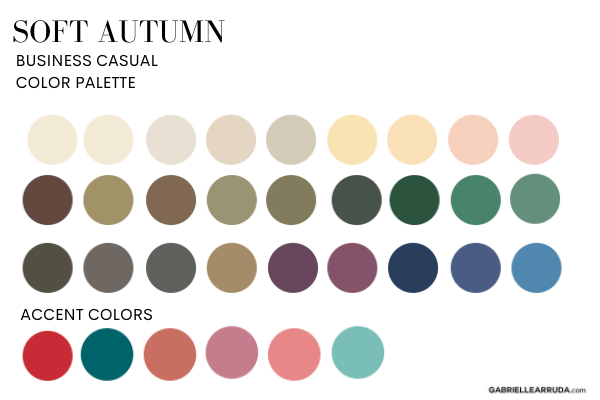 Soft Autumn Color Combinations
Because you have a lot of soft tonal colors in your palette outfits that are monochrome, tonal, or analogous look amazing on you. They tend to match your moderate contrast and don't distract from your delicate blend.
If you want slightly more color differentiation in your outfit I would opt for colors with the same hue intensity. So you pair a medium hue muted pink with a medium hue muted orange.
Complimentary colors (even within your palette) will create a bit too much juxtaposition in your look and draw the eye away from your beautiful gentle aesthetic. But they can be accomplished depending on your style goals (you'll see some examples below).
If you need a more business professional outfit or want to opt for an outfit with a bit more contrast you can try a lighter neutral paired with a darker accent within your color palette.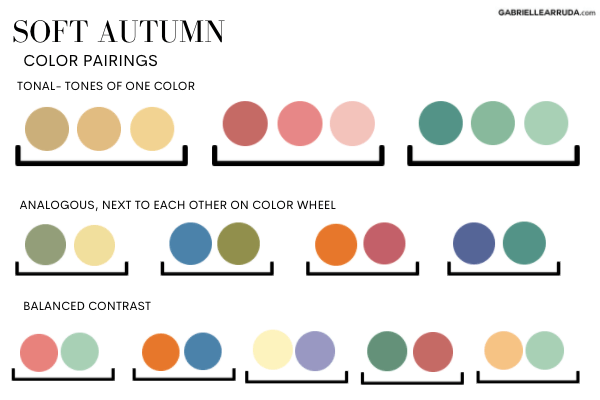 How to Use the Soft Autumn Palette
Now that you know what colors work best for you, let's talk about how to use them.
The best way to start is by finding a color palette that you love and starting with that.
You can also look for pieces in your wardrobe that you know work well with your coloring and build from there.
Once you have a good foundation, you can start to experiment with different ways to style your looks.
Soft Autumn Outfit IDeas
Now, your best outfits will come from learning your body types, proportions, and overall personal style. However, here are some outfit combinations and ideas just to get your creative juices flowing.
Pair a light milk chocolate top with an warm ivory skirt and nude heels for a warm and inviting look.
Try a muted spruce green blouse with a pair of light jeans and nude pumps for a casual yet stylish outfit.
Wear a warm stone-colored dress with aubergine heels and a light warm ivory clutch for a feminine and glamourous look.
Rock a warm pastel pink blouse with a pair of dark denim jeans and nude flats for a romantic and soft look.
Style a (muted) rust-colored sweater with camel-colored pants and brown boots for a cozy and chic outfit.
Here are a few more ideas with the items linked below each images.
Soft Autumn Jewelry and Metals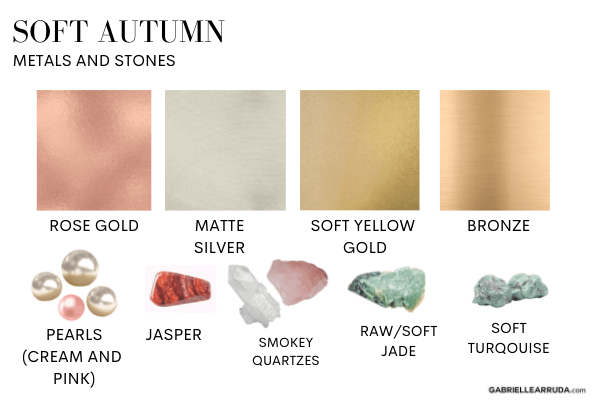 When it comes to jewelry and metals, the best bet for a Soft Autumn is going to be soft and muted (are you surprised?😉).
Brushed metals, matte metals, antique metals, and textured metals (like hammering) are great. They cut down on the overwhelming shine and tend not too overpower your coloring.
Rose golds, soft yellow golds, matte silvers, pewters, and bronze can all work for the Soft Autumn. Copper (while it is warm) usually has too much orange in it for it to work.
Cream and pink pearls also look fantastic, as well as any natural elements.
For stones, you can try smokey quartzes, light/soft turquoise, light corals, jaspers, and soft jade. Opt for rounded stones over faceted stones to create a softer appearance and less shine and contrast.
Soft Autumn Prints
Choosing prints for your wardrobe can trip anyone up because you can't always find a print that includes only your season's colors. So here are some tips to help you navigate this hurdle.
Because Soft Autumns have low to moderate contrast you want that to be reflected in your prints as well. Depending on how much contrast you specifically have, you may be able to handle a slightly more moderate contrast print.
You also want to pay attention to how much of an impact a "wrong" color has within the print. You can see an example below.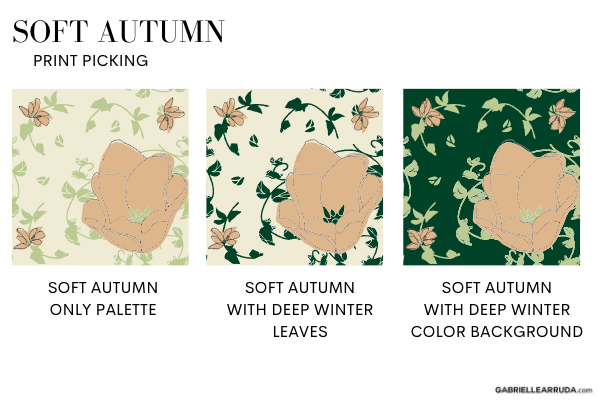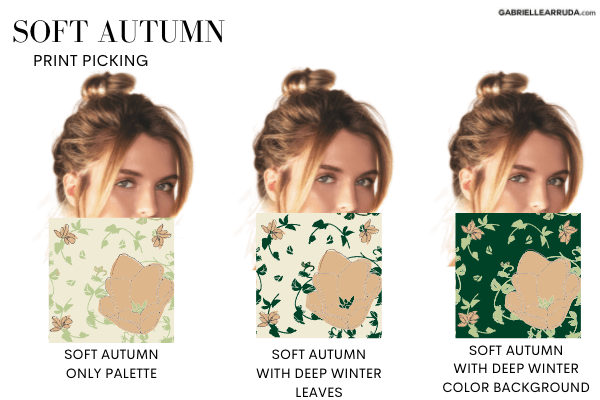 The first print is a low contrast print with all colors from the Soft Autumn Palette. The second print has that same Soft Autumn flower but has a deep and rich cool green within the leaves creating a high contrast print that is too contrasted for the Soft Autumn. However, in a pinch, a Soft Autumn might be able to make it work since the leaves are not the largest design element. Whereas in the third image, that same green is a background color, this print would drown out a Soft Autumn.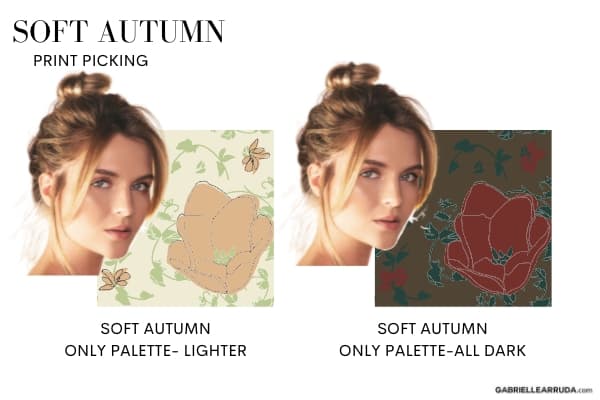 Contrast and the overall aesthetic weight of a print are important, as well. If we look at the two prints above, while they are both within the SA palette, the second print has a very dark quality to it overall. This will most likely overwhelm the Soft Autumns delicateness.
So keep in mind the overall contrast of the print, the impact of a color outside your palette, and the overall effect of the print. You usually have more flexibility if the color outside your palette is a neutral, in a sister color palette, or is a smaller design feature.
Soft Autumn Print Ideas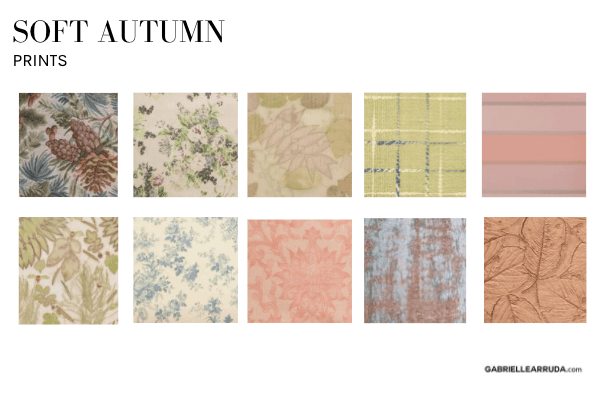 Soft autumns look amazing in the following styles of prints
low contrast prints
loosely arranged prints
natural elements (flowers, woods, leaves, etc)
soft shapes
smaller arrangements
Soft Autumn Makeup
As a Soft Autumn, you want to focus on creating looks that are gentle, romantic, and natural.
Your makeup should enhance your features without being too harsh or overly done. This includes your eye makeup which many of us lean automatically towards black mascara or eyeliner, and that will overpower the Soft Autumn.
Soft Autumn Foundations

The key to finding a Soft Autumn foundation is to get it properly matched to your skintone. Here is a great video to explore that.
Ultimately you are neutral or neutral warm so you will want a foundation that has those undertones and matches your specific balance.
Because you have muted tones to your appearance choosing the texture of your foundation and concealer is important as well. Opting for a satin finish is usually best. Overly dewy or matte foundations can overpower your delicate muted look. However, this also comes down to personal preference for the aesthetic of your makeup.
Soft Autumn Blush & Bronzer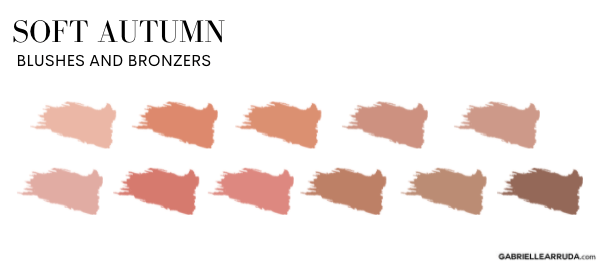 Traditionally, bronzer is a great addition to the Autumn makeup palette. But the Soft Autumn has a very delicate balance of muted tones, so anything overly shimmery or pigmented can detract from you beauty.
If you are set on using a bronzer over blush opt for a peachier shade with not a lot of shimmer, or a muted light tan shade.
Blushes are great on the Soft Autumn and can range anywhere from peach, cinnamon, salmon, light mauve, vintage rose, and dusty deep mauve (for darker skin tones). I think it best to try these shades on in person because if you are an fairer Soft Autumn, you may need to experiment with whether a tan pink or peach looks more fitting.
Blushes (or bronzers) should seamlessly blend with your complexion. You are low to moderate contrast so you don't want anything that disrupts this and creates a stark contrast.
Soft Autumn Lipsticks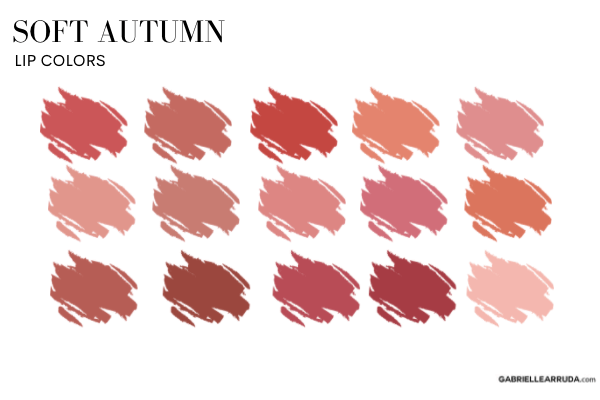 Lipsticks can really make or break your Soft Autumn makeup, but luckily nowadays there are so many lipsticks to choose from you really just need to focus on finding your shades and availability shouldn't be an issue.
Matte or satin finishes are the most seamless for the Soft Autumn. And you will want to look for muted shades with golden bases.
Lipstick Shades:
Rose Gold
Deep Blush
Terracotta
Tan Pink
Brick Red
Spiced Peach
Mahogany
Here are some options I liked (but again, best to try these on in the store if you are unsure). Also, sometimes the link doesn't pinpoint the exact shade, so be sure the name matches!
Soft Autumn Eyeliner and Mascara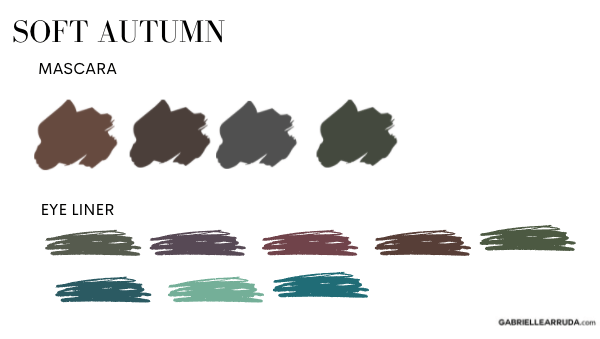 We often, no matter our season, all seem to grab the blackest of black eyeliner and mascara. And for Soft Autumns this should be remedied!
Soft Autumns don't do well with stark pigments like pure black.
For eyeliner opt for browns, warm greys, and even muted green tones. This will draw out the warmness in your eyes.
For mascara, brown, darker taupes, and warmer gray shades can be used. Remember moderate to low contrast is ideal for your makeup. It needs to blend with your coloring and not create an overwhelming focal point.
A lot of brown eyeliners and mascaras have too much richness in them for the Soft Autumn so make sure the brown you choose is more muted.
Soft Autumn Eyeshadows
Depending on the look you are going for, Soft Autumns have a wide range of eyeshadows to choose from. Opt for muted, warm shades first and foremost. In terms of texture, you'll want to generally stay away from high glitter shades or high shine.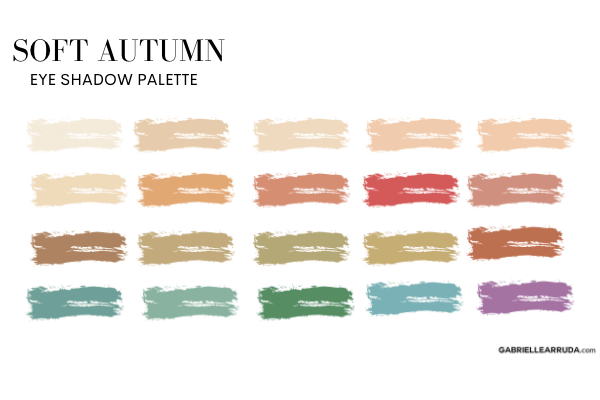 Soft Autumn Nail Polishes
Really you can choose any colors from your palette for nail polishes, although different shades will give you a different look.
Here are some options to get you started:

Knowing your color season is, in my opinion, a very useful tool in your style toolbox. It allows you to stop spending money on pieces that you look back on and think "why do I look like death warmed over in that piece?!". And it helps you craft the most functional, inspiring, and authentic wardrobe.
It helps you find strength through style.
I hope you've found the beauty in your soft delicate coloring, and can go be the best version of yourself.
Keep glowing, soft autumns.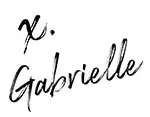 Be sure to pin the image below for each access to this ultimate guide!