Ever wonder why you have a closet full of clothes but nothing to wear? Or you keep trying trends only to look back on those outfit pics and think "what was I thinking!?".
Well, classic style and integrating it into your wardrobe can help you avoid those fashion faux pas.
So, what is classic fashion? This is a question that has been asked by many people, and it is surprisingly not an easy question to answer. There are many different interpretations of what classic style actually is.
Some people might say that classic fashion is all about wearing clothes that never go out of style. Others might say that it's about dressing in a put-together way. Still, others might believe that classic fashion means sticking to certain rules and guidelines when putting together an outfit.
So, what is the true definition of classic fashion? Let's explore this so that you know how to master classic style and integrate it into your wardrobe.
Wondering if you even like Classic Style? Take the personal style quiz to see, here.
Is Classic Style The Same As Timeless Fashion?
Many people believe that classic style and timeless fashions are one and the same. And while there are some similarities, there are also some key differences.
Timeless fashion is about creating a look that will never go out of style. This means investing in pieces that will stand the test of time both in terms of quality and design. Timeless outfits usually integrate well with classic style pieces, however, they don't necessarily have to be a "pure classic" look. There are minimalist timeless looks and even edgy timeless looks.
For instance, if you look at a modern-day style icon like Rosie Huntington Whiteley, you can see she has a very timeless style. In fact, most of the looks she wears now will look equally good in 10 years. However, she dresses in a more minimalist fashion style, with a slight addition of neutral-colored trends.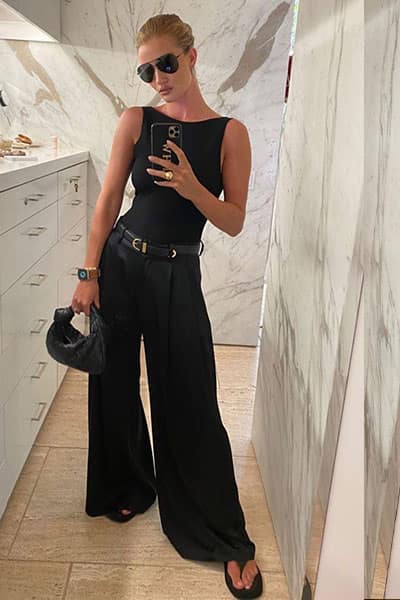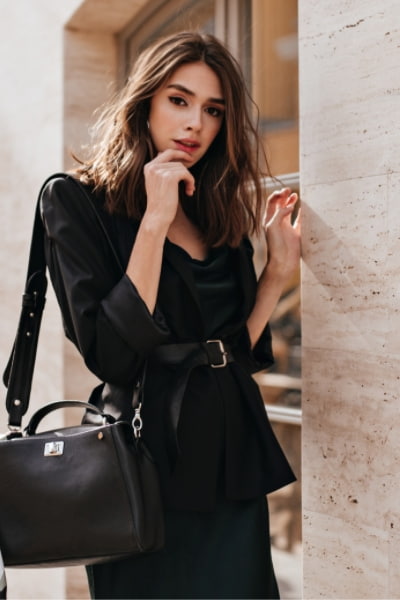 Classic style, on the other hand, is a collection of wardrobe staples that have stood the test of time, and that are easy to mix and match with one another. Classic style pieces tend to be more traditional in their design. They are also usually high quality and made from luxurious fabrics.
Classic style is full of "wardrobe basics" that are well-cut, simple, and easily mixed with one another. It's those key pieces that you can always rely on to make you look pulled together, no matter what the occasion is.
So, if you love put-together outfits and a wardrobe with traditional pairings and minimal details, then classic style may be a good fit for you.
We may earn a commission from you clicking a link in this post. And as an amazon associate, we earn on qualifying purchases. Full affiliate policy, here.
What Makes Something Classic Style?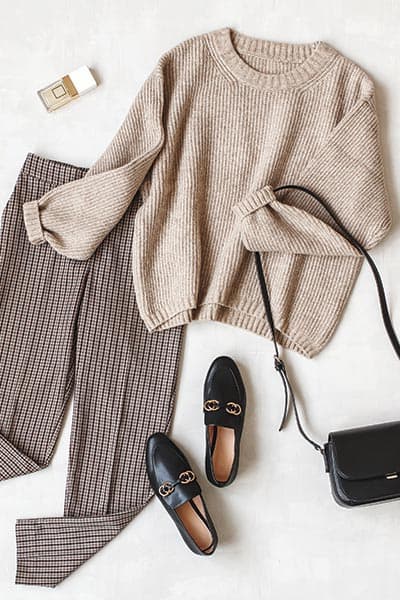 There are a few key factors that make something classic style.
The first is that classic style pieces are usually made from high-quality materials. So instead of buying fast fashion or new clothes each season, you invest in the longevity of the garment.
They also tend to be well-cut and often have simple designs. This makes them transition from decade to decade without being easily dated to a specific time period.
Lastly, classic style items are versatile and can be easily mixed and matched with one another. They can create a strong foundational wardrobe. So if you took the style quiz and classic style was in your top 3 styles, then try integrating well-made, well-cut basics into your wardrobe.
Main Principles of Classic Style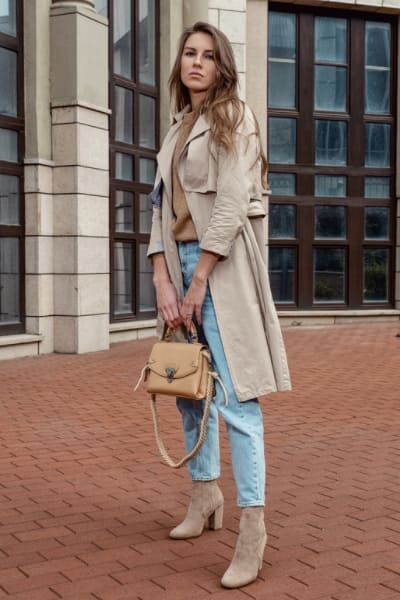 Classic style is often identified by the following:
Minimal color palette: neutrals, tans, navy, whites, and maybe a pop of red or green
Traditional prints: stripes, plaids, and polka dots
Simple silhouettes that have clean lines
Tailored pieces
Limited details and trims within the garments
A perfect fit (not baggy or too small)
Well-groomed hair and simple makeup
Outfit pieces are harmonious with each other (not disjointed)
Elegant overall aesthetic
Understated simplicity
Confidence
What is Not Classic Style?
While there are certainly no hard and fast rules for what types of styles you can incorporate or mesh together (how to find your personal style, here), if you want to have a fully classic style it is best to avoid the following:
Fast Fashion- It does not last long enough to really cultivate that classic essence and it tends to look cheaper
Trend focused outfits
Bold prints and colors
Over-the-top details and accessories
Voluminous silhouettes
Silhouettes that extend away from the body
Impactful makeup
How Do I Master Classic Style?
Mastering classic style is all about investing in your wardrobe. That doesn't mean you need to splurge on a $2,000 trench coat, but it does mean you need to invest in a piece that is well made, has a clean silhouette, fits like a glove, and will have fashion longevity.
The beauty of classic style is that once you build out your wardrobe of pieces that you love and that last, outfit pairing will be much more simple. Classic fashion pieces were made to seamlessly mix and match.
Classic style also emphasizes a very put-together appearance. Which means your style also needs to be functional. If you live in a rainy climate, invest in a great-looking raincoat and boots. Classic style prioritizes a full, put-together look over just a great outfit. Because if you arrive at your destination looking like a wet dog, then your classic outfit won't have achieved your style goals.
related: how to always look polished and put-together
The 15 Classic Style Staples You Need
Now, depending on your work and lifestyle needs you may need to tweak this list a bit.
But here is a great starting off point for your classic style wardrobe:
Button-Down Shirt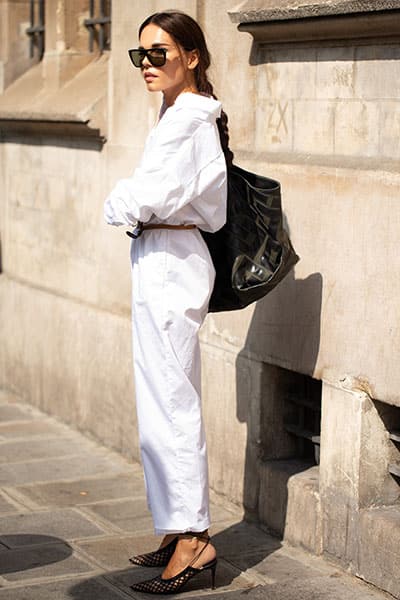 A well-fitted button-down shirt is a classic style staple. Depending on your style preferences you could go for either a classic or silk option. I would opt for a neutral color, like white, black, or navy as it will be the most flexible.
Trench Coat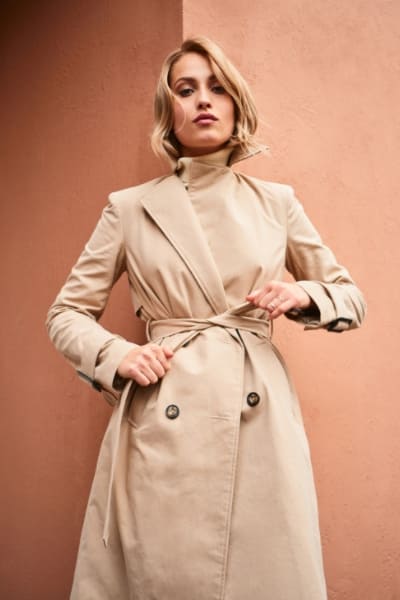 A trench coat is an excellent wardrobe investment. It will keep you warm and dry during the colder months and can be dressed up or down. When choosing a trench coat, make sure it hits at least mid-thigh (for more a streamlined and flexible look) and ideally has a belt to cinch in your waist.
Cashmere sweater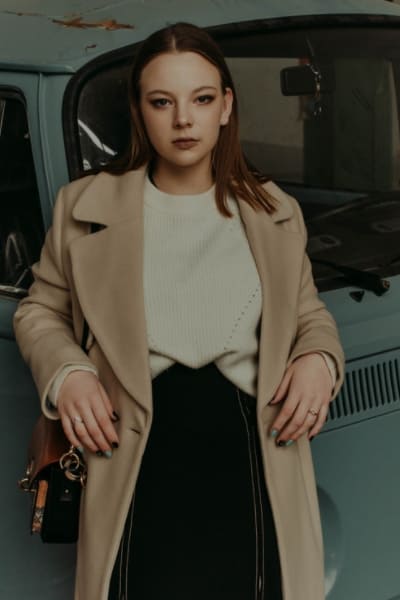 A cashmere sweater is the perfect winter layering piece. It will keep you warm and it adds a touch of luxury to your outfit. I would recommend sticking to neutral colors like black, navy, and taupe so you can really get the most use out of this basic.
Finding out your seasonal colors, can help you identify which types of neutrals work best with your skin tone.
Pencil skirt
A pencil skirt is a key piece for any classic style wardrobe. It has a timeless and sophisticated silhouette that can be dressed up or down. When choosing a pencil skirt, make sure to find one with a good fit. Classic style is about moderation so you don't want it to be overly baggy or overly tight.
Jeans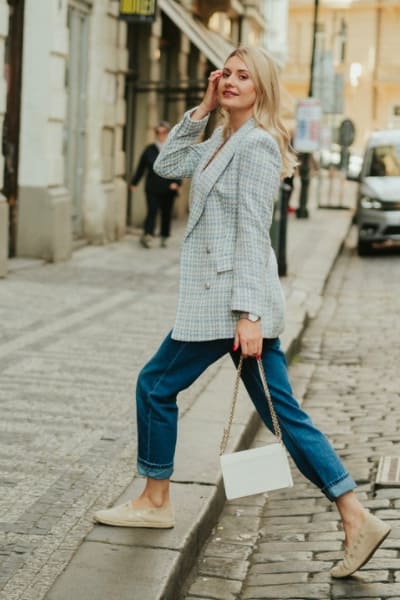 While jeans may not seem like the most classic of clothing items, they can actually be quite versatile. Find a pair of well-fitting jeans in a dark or medium wash and you can wear them for both casual and dressier occasions.
If you find they are veering too casual, try pairing them with some more structured classic pieces like the blazer or trench.
Tailored trousers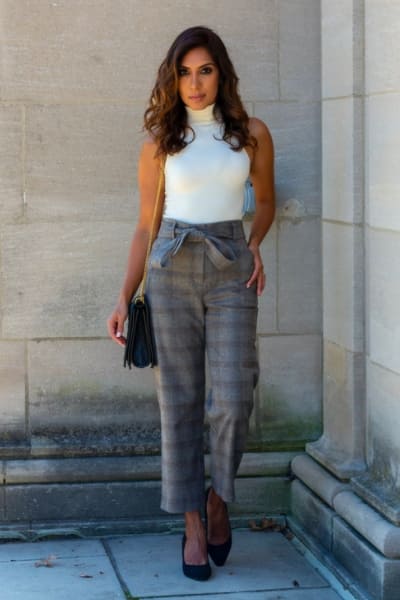 Tailored trousers are another key piece for any classic wardrobe and they work seamlessly for your work attire. They are suitable for both work and play and can be dressed up or down. When choosing a pair of trousers, make sure to find a style that fits you well. Fit is a key element to mastering chic classic style.
White T-Shirt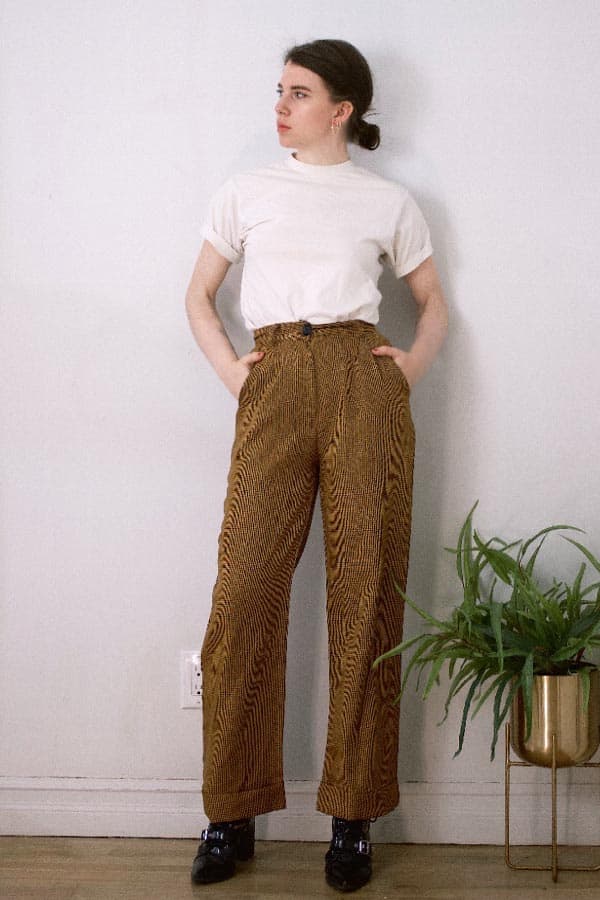 A white t-shirt is a versatile basic you need in your closet. It can be worn on its own or used as a layering piece. When choosing a white t-shirt, make sure to find one that fits you well and is made of good quality fabric.
Whether you opt for a nautical influence or a Parisian style, the stripe shirt is a great addition to your classic wardrobe. It can add interest and be a focal point to any outfit, while still not disrupting your overall elegance.
Little Black Dress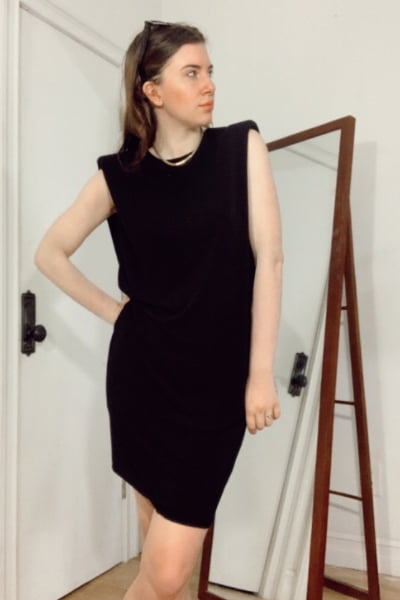 The little black dress is an absolute must-have for any woman's wardrobe. Its elegance and versatility make it perfect for any occasion.
I mean, Audrey Hepburn is pretty much the classic style blueprint, so we will definitely be taking our cues from her 🙂 .
Blazer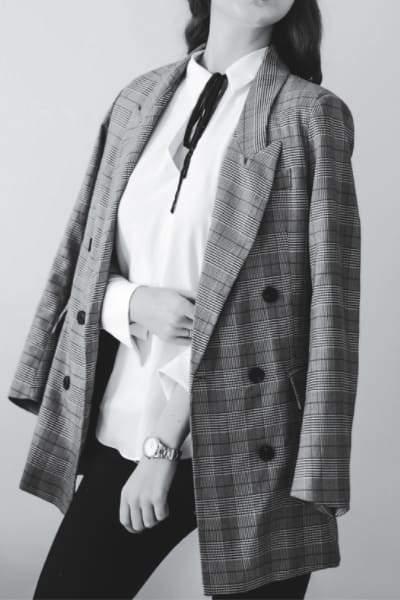 A blazer is the perfect item to have in your wardrobe for pretty much all occasions. It can take an outfit from casual to dressy with ease. When choosing a blazer, make sure to find one that fits you well and has a versatile color. You don't want to go too fitted or too boxy with your blazer if you want to keep it traditionally classic.
Everyday Dress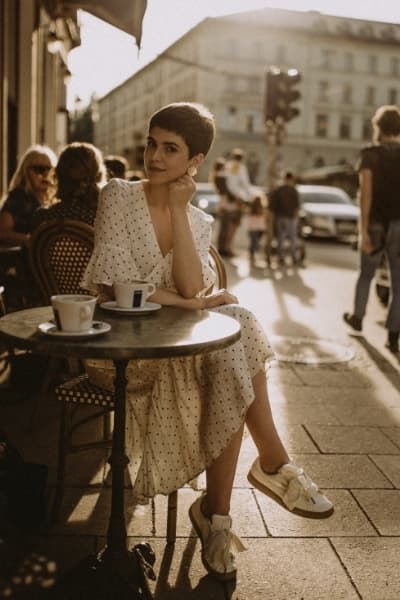 For this, you will have to determine your wardrobe and lifestyle needs. You could opt for a wrap dress, an A-line dress, or even a sheath dress.
Basically, you want a casual silhouette dress that can be worn more frequently than your LBD.
A good pair of pumps will be your go-to heel option for classic style. I would opt for a neutral leather pair or possibly patent leather if you want to have a bit more punch (while still staying in the classic style zone).
Block and stiletto heels both work for the classic style, so opt for which one you find more comfortable or aesthetically pleasing.
While the above shoes are a small investment, they are THE most comfortable pair of heels I own and are often seen on classic style icons like Meghan Markle and Kate Middleton.
Loafers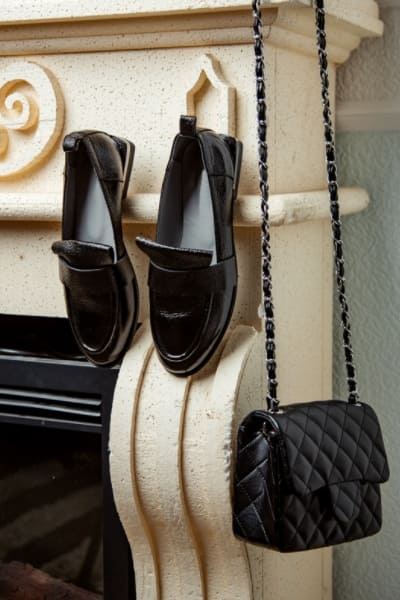 Loafers scream easy sophistication. They are perfect for days when you want to look pulled-together without having to try too hard.
When choosing a pair of loafers, make sure to find ones that fit well and have a versatile color. You can never go wrong with black or brown.
Avoid any obvious logos, or extravagent detailing to get the most wear.
Classic Silhouette Bag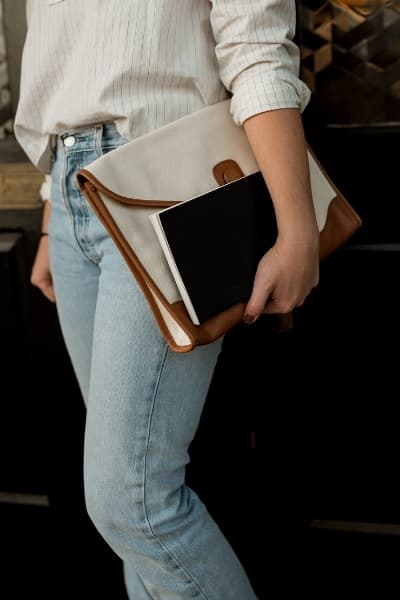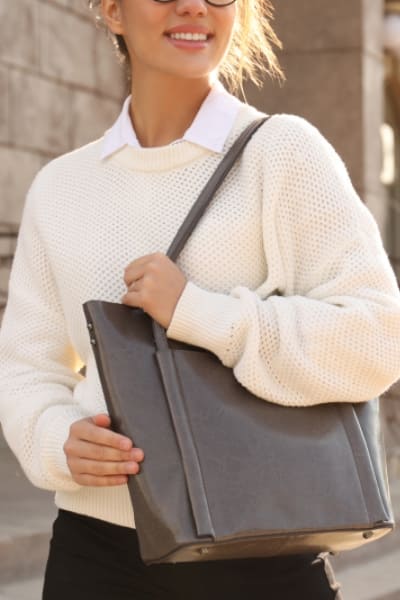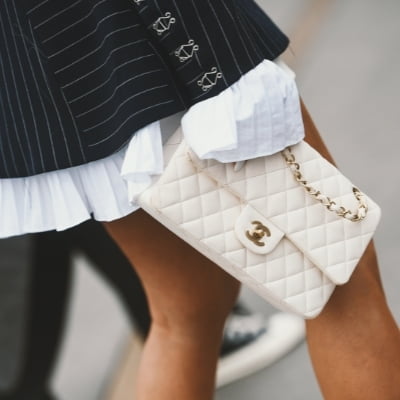 Your bag is an important part of your overall look. It should be a good size for your needs and have a versatile color.
I would recommend a tote bag, handbag, or crossbody bag depending on your everyday needs.
Sunglasses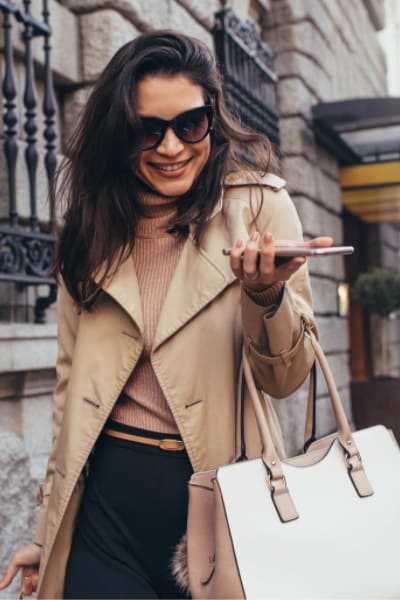 Sunglasses help your outfit feel finished, and they serve a function, so they are a win-win classic accessory. Because nothing is chic about squinting in the sun or doing that awkward hand thing to try and block it.
Opt for more classic shaped sunglasses, which means a moderate shape and size. Anything too large or small, too sharp or round can veer a bit trendier.
If you are looking to add a few key pieces to your wardrobe, the list above can help get you started on mastering classic style. Just remember, quality and versatility should be your focus when shopping for these pieces. And if you already have some of these items in your wardrobe, make sure to take good care of them and they will last you for years to come.
Shop Classic Style Wardrobe Staples
Here's a great selection of tried-and-true classic wardrobe pieces to help get you going.
Easy Classic Silhouette Guide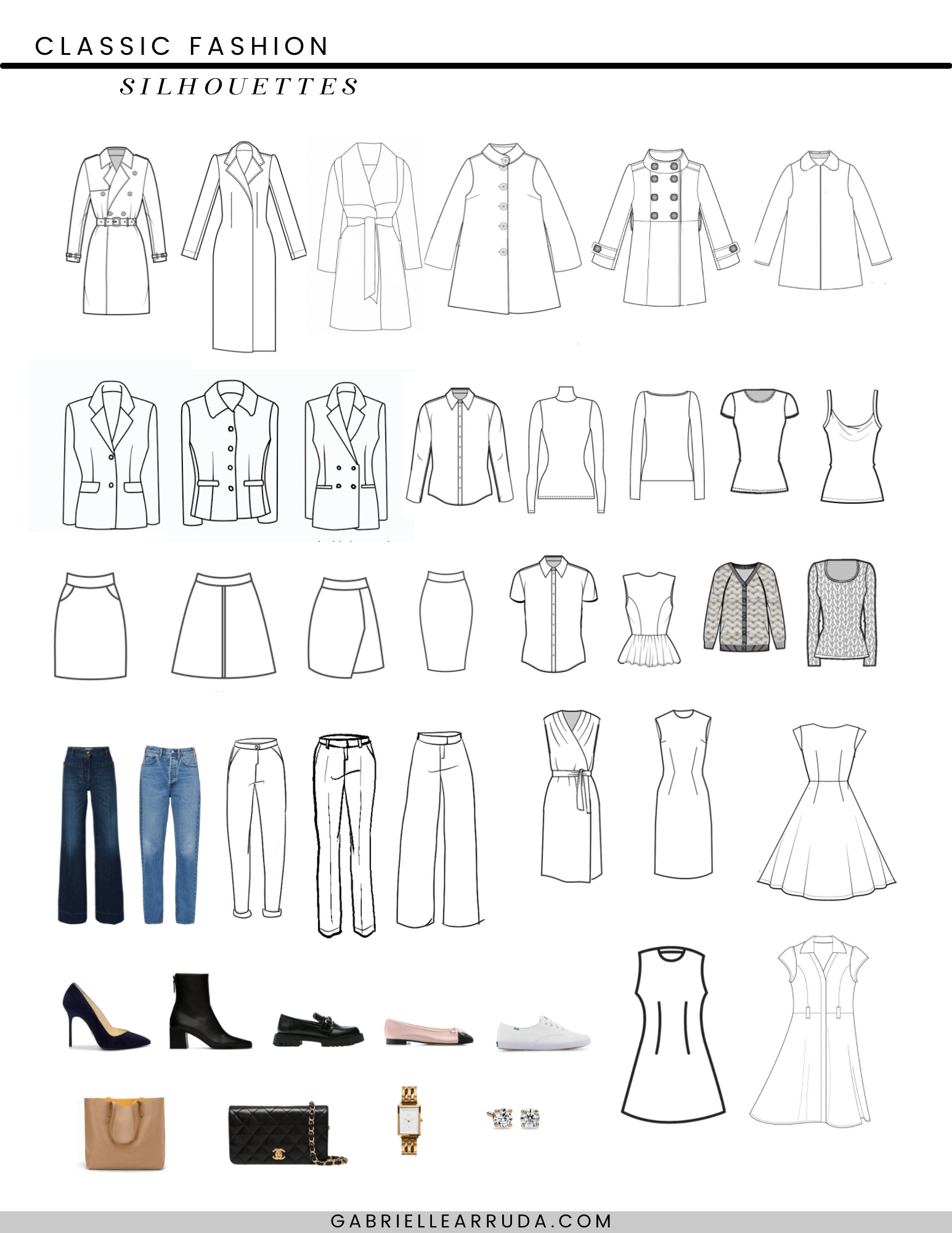 While this does not cover every classic silhouette ever made, the above chart should give you an idea of what silhouettes easily create a classic style wardrobe.
What If I Just Want Hints of Classic Style?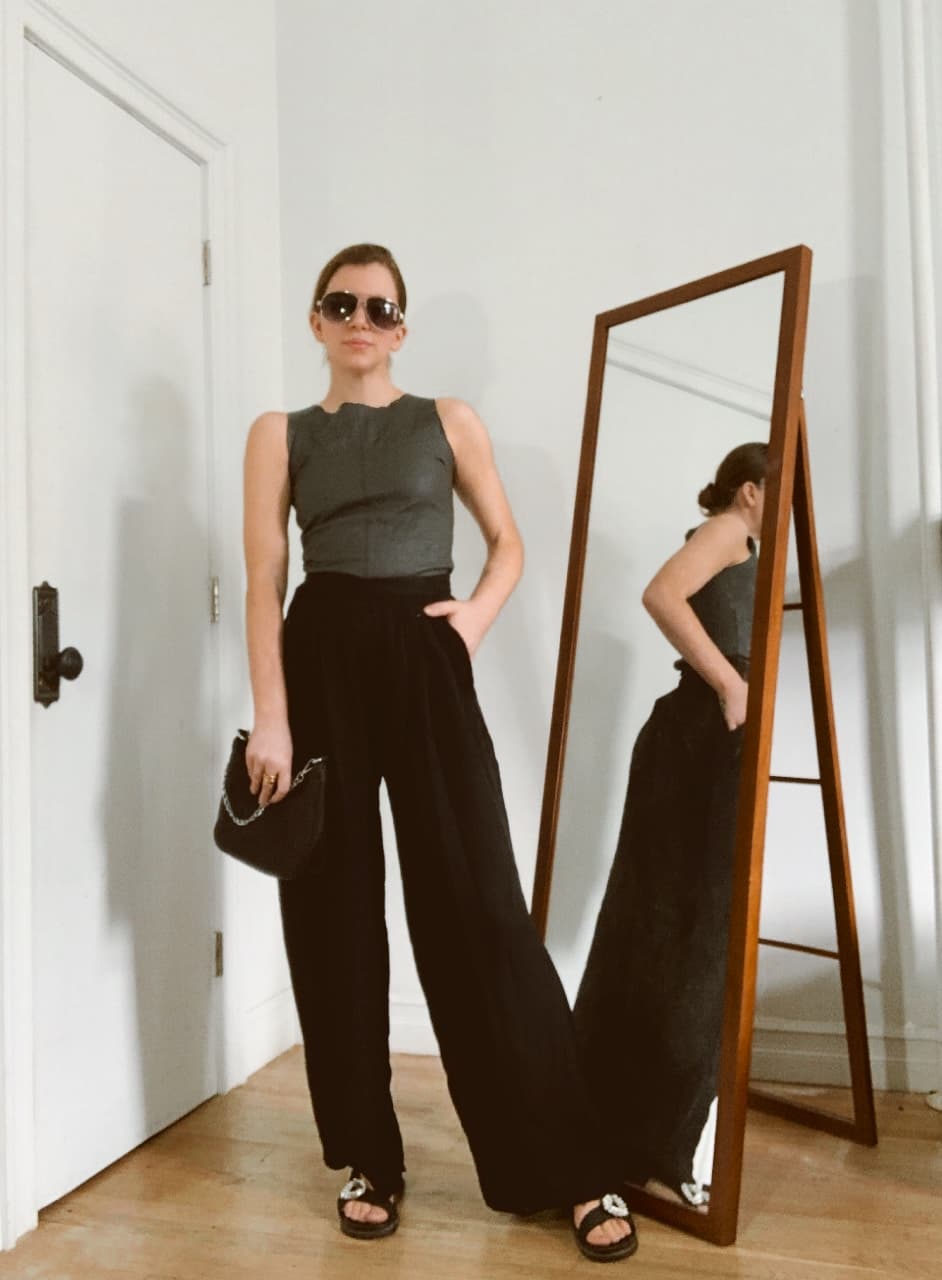 If you're not ready to go all-in on classic style quite yet, there are a few simple things you can do to add a touch of elegance to your look.
And if you took the personal style quiz and found classic style in your top 3, then these tips might help you add the classic influence without losing your other style identities.
Some simple tips include:
Investing in some classic foundational staples. A trench coat is a versatile and classic-influenced piece that could be added to most other style profiles. Or if that's not up your alley you could try the list above and see which pieces work best for you.
Add some classic prints to your wardrobe, even if the silhouette leans towards a different style influence. For instance, a stripe blouse that has a retro cut could be a good balance.
Add a few classic touches through accessories. Items like simple gold hoops, pearl earrings or necklaces, and classic sunglasses or loafers are all nods to the classic style without being overwhelming.
Choose a bag with clean lines and versatile color to help keep your outfit balanced.
Add a classic pointed pump into your regular shoe rotation.
By adding just one or two of these items, you can easily add a touch of classic style to your look.
Classic Fashion Style Icons
Embed from Getty Images
If you're stuck or just need a bit of style inspiration, check out these celebs for impeccable classic style:
Meghan Markle
Audrey Hepburn
Kate Middelteon
Princess Diana of Wales
Kate Winslet
Angelina Jolie (mostly)
Jackie O
Classic Style Outfit Ideas
Need some classic style outfit inspiration? Well, look no further!
Also, most of the pieces used in these outfits are linked in the shop section above.
Classic Style Weekend Look
Classic fashion definitely works for every lifestyle, it's all about the balance of an outfit. Here is a great example of a casual weekend classic outfit. The jeans and tee make it feel easy-going, but the cardigan and cap toe shoe style adds that polished look.
Classic Style Work Look
Office wear doesn't need to be boring! This chic and classic outfit for the work environment is a perfect streamlined silhouette. Everything from the color palette and silhouettes screams classic style, put-together CEO.
Classic Style Date Look
The perfect classic outfit for a night out with your partner. The slip dress and wrap coat have a quiet sexiness while still being in the classic fashion style. And the accessories are all classic style staples you will use for years to come.
Classic Style Mom Look
If you're struggling to master classic style as a mom, because well, you just don't have the time… Then this outfit should help. Classic fashion is perfect for mom-life as long as you choose the right basics. Simple, flexible, and comfortable silhouettes are key. Also, keeping your color palette more neutral will allow for easy mixing and matching.
Classic Outfit Casual Blazer Look
Because the classic wardrobe has so many amazing foundational pieces within it, don't be afraid to dress up or down those pieces. This is a great example of taking your classic work blazer and shirt and making a chic weekend casual look.
Classic Style Holiday Look
Whether you are trying to wow at a holiday party or just have a semi-formal event to go to this little black dress will be the perfect classic staple. This holiday outfit inspiration will have you warm, chic, and classically festive (without feeling like a Christmas tree).

Classic style is a great way to look pulled-together without having to try too hard. It's versatile, timeless, and can be dressed up or down depending on the occasion. By investing in some key classic pieces, you can easily add a touch of elegance to your everyday look.
And if you're feeling stuck, take inspiration from some of our favorite classic style icons, or post your outfit in the Gabrielle Arruda facebook group for supportive feedback!
Happy styling!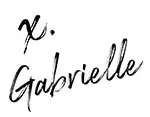 Be sure to pin the below images so your classic wardrobe can continue to grow and prosper with this ultimate guide!