French girl style is one of the most coveted fashion styles out there. From the juxtaposed simplicity with depth to the effortless minimalism, the French style exudes a timeless, elevated look.
Effortless, undone, yet incredibly sophisticated. How do they manage to achieve this?
The french girl is the epitome of chicness. What do they all have in common though? A distinct sense of personal style. They have a feminine sensibility but abide by a love of basics and minimalism. Easy pieces, high-quality items that mix well together… It's all rather simple once you have the basics down.
One of the first things I realize when it comes to french girls' style is that there are no rules or right ways. The goal? To find their own personal style and stick with it… Always! So you don't have to become a francophile to use these french styling tips.
French girls emphasize a sense of effortlessness in their wardrobes. They don't like seeing themselves overdone. They love natural beauty and a put-together look that "appears" to be thrown together. But, there is precision behind this "effortless" style, so let's dig into that.
"Fashion changes, but style endures" – Coco Chanel
We may earn a commission from you clicking a link in this post. And as an amazon associate, we earn on qualifying purchases. Full affiliate policy, here.
How to Dress Like a French Woman and Why You Should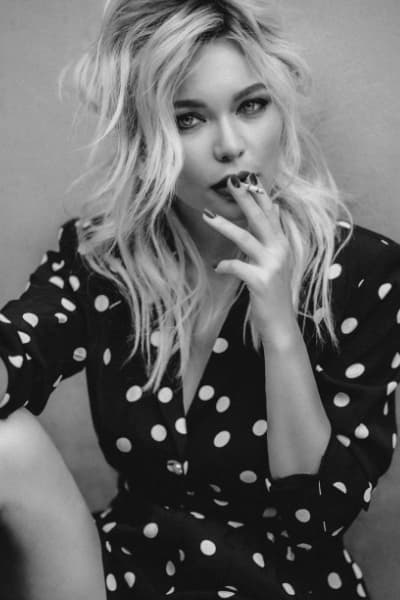 The first thing that you might notice about the French woman is her style of dress. You can't fail to see the combination of classic looks with laid-back, effortless vibes.
It's all about taking some beautiful fabrics and some gorgeous pieces, putting them together in different ways, creating their own personal twist on the latest trends, and wearing it in a way that makes them look like they didn't try too hard – but in fact, couldn't look better.
French girl style is not about copying what everyone else is doing! It's about finding your own personal style – something that works for you, suits your sensibilities, and makes you feel comfortable in your own skin.
In other words, it's about being you! And not feeling the need to overdo your hair, makeup, or full aesthetic. Let your natural beauty shine!
The French girl's personal style is about mixing high-quality, timeless pieces that look great together and go with everything. It is not a difficult style to pull off and is not entirely unattainable to everyone everywhere.
How to Master French Girl Style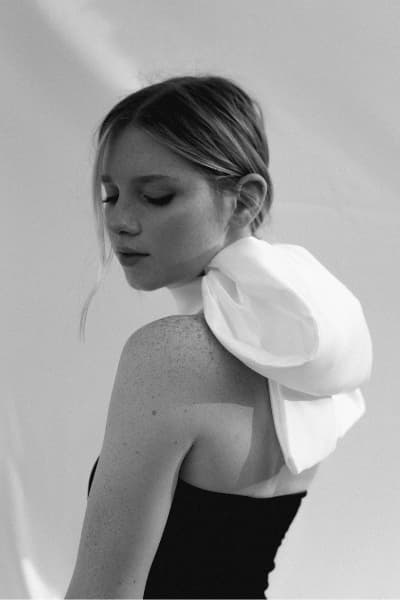 10 Simple Style Rules French Girls Always Use
There is no magic trick to mastering the French girl style. It's all about making smart choices and having a personal style that works for you. You can take some inspiration from these basic rules, but remember – the best way to learn french girl style is by living it yourself!
1. Mix high-quality pieces with basics that go with everything. The first rule of the French girl style is to master layering pieces and finding a balance between them.
2. Mix high-quality pieces with statement pieces. I advise having only one "statement piece" in each outfit.
3. Know where you would wear something, before buying it. This helps you avoid the closet clutter dilemma… It will also help ensure your wardrobe is functional and practical.
4. Invest in quality pieces that are classics, not trends.
5. Have at least five go-to essentials in your wardrobe that can be worn with everything else you own! Then just add the statement pieces into the mix! Check out my 12 wardrobe essentials, here.
6. Keep it minimal – don't overdo it on accessories… Add one great piece of jewelry on occasion.
7. Utilize the art of layering – especially layering that creates long lines, like blazers over dresses or long cardigans over shirts and tees. You can never go wrong with layering in french girl style. Always wear your least dressy piece on the bottom to ground your outfit and to maintain that "effortless" vibe. For instance, a blouse with an interesting collar is kept grounded by a pair of straight-leg jeans.
8. Keep a neutral color palette– French girl style is versatile and composed of understated neutrals like blues, navy grays, tans, blacks, and whites.
9. Focus on cut and fit– French girls always have impeccably fitting clothes. It allows them to have that put-together look while not appearing like they "tried".
10. Always have one tailored piece in your look, this keeps you from looking too "undone" or sloppy. It also adds some intentionality to your look.
The French girl style is all about choosing great materials, high-quality, timeless, and versatile items that work well together. This style lies in how clothes are mixed together and the little things that make the outfit come to life. It's not about being perfect, it's about playing with your pieces until you achieve a look that is effortless and chic.
French Girl Wardrobe Essentials
1. Plain, simple t-shirt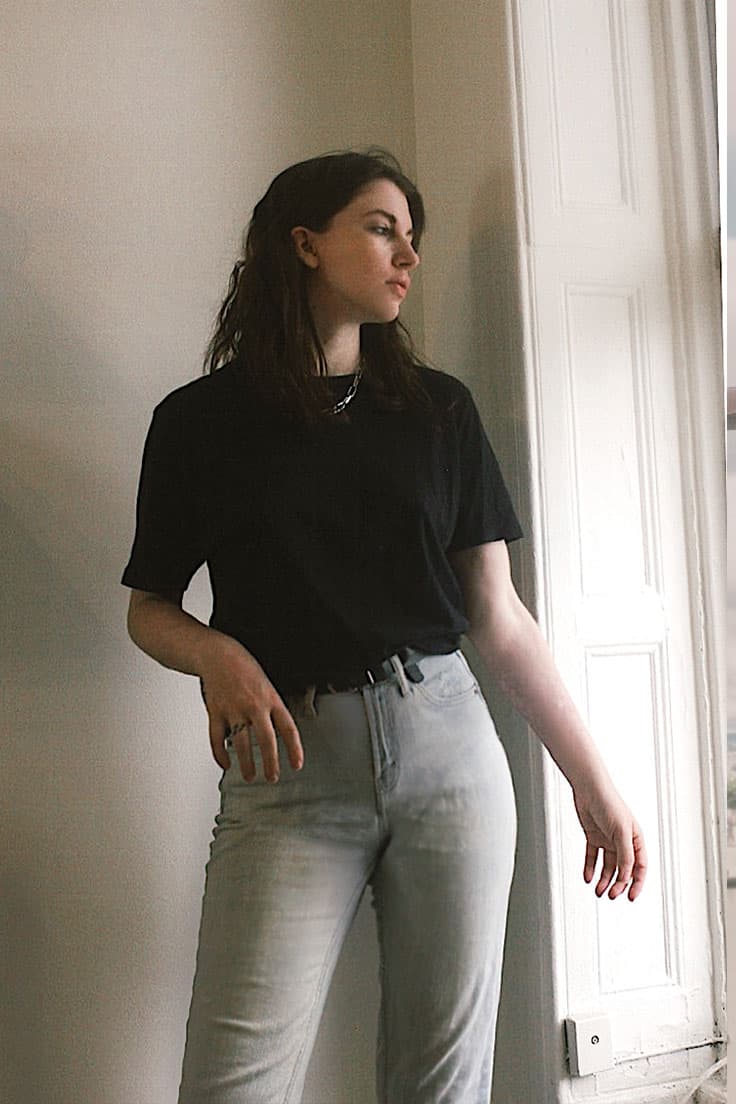 A plain t-shirt is an absolute must for french girl style. Whether you are pairing it with a simple slip skirt or your favorite straight-leg jeans, this layering piece is a French staple. This piece can be worn alone or layered underneath a blazer or cardigan sweater. While this isn't groundbreaking advice, it's your reminder to keep it simple.
2. White button-down shirt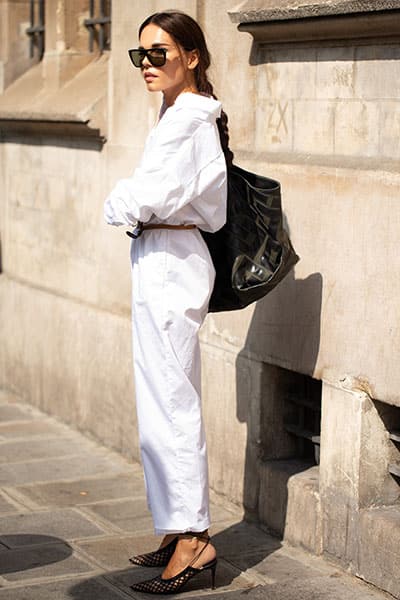 A white button-down (I prefer a men's one, like this) is another french girl staple. The beauty of a plain, crisp French girl button-down shirt lies in its versatility – you can wear it with anything from your pencil skirts to your boyfriend jeans!
It looks fantastic under your blazers, or even worn as a shirt dress (if you get one long enough). This is one of my hands-down best wardrobe staples.
3. Structured blazer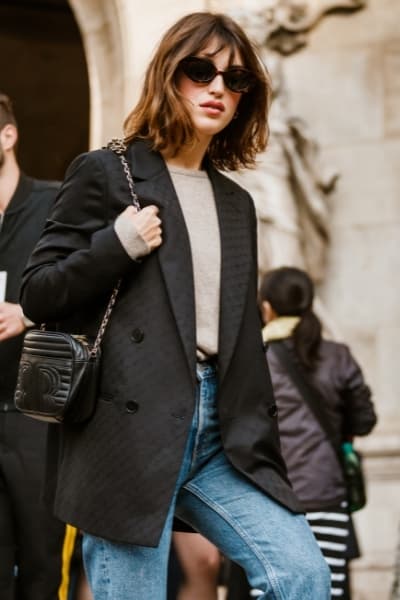 A blazer is a must-have, it's polished, flexible, and easy to throw on. You can wear it to work or with your casual weekend clothes – it's a great way to add some sophistication and structure to any outfit.
4. High-rise straight leg jean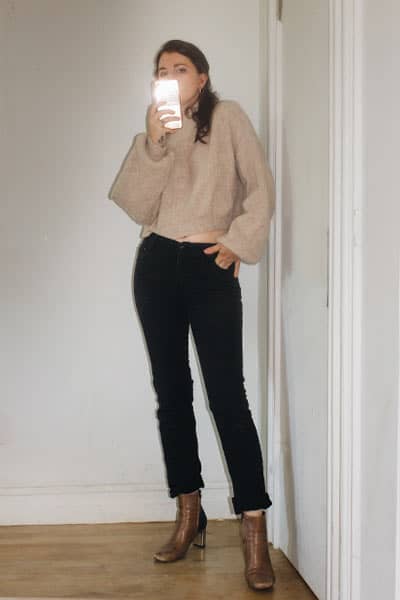 French girls never skimp on their go-to denim, they prefer a high-quality versatile style pair of jeans. A high-rise straight leg jean is worth the money because it looks great with your style basics, creates a long vertical line, and seamlessly fits into business casual or date night.
Opt for jeans without distress marks or holes, and always keep a limited color palette. I prefer black jeans, medium blue, or light blue jeans. Once you've found your perfect fit you could opt to add a white pair of jeans in there, but they are a bit more maintenance to look clean and sharp.
And, ditch those skinny jeans for a slim or straight cut.
5. Trench coat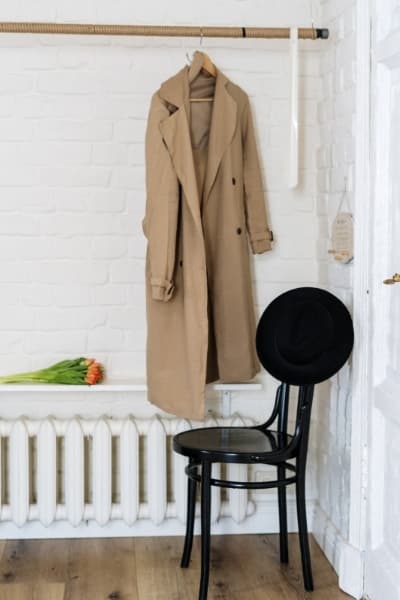 A great trench coat is a must-have. You can pair a practical and versatile trench with your style basics for a chic look no matter where you are going. It's the perfect layering piece for transitional weather and adds some loose structure to your look. We don't want overly sharp edges, but we do want intentional outfits and a put-together vibe.
6. Simple flat (ballet style preferred)

French girls prefer simple ballet flats to snazzy heels or dressy pumps. These shoes are effortless, versatile, and extremely comfortable. These shoes are a style staple because they go with everything, and never fail to make your outfit look put together.
French fashion isn't overly fussy, and it's actually very "functional". I put that in quotes because we tend to think functional pieces can't be stylish. But, french girls dress for the day they have, which means shoes that are polished but allow them to walk the bumpy, hilly streets of Paris.
7. Classic white sneakers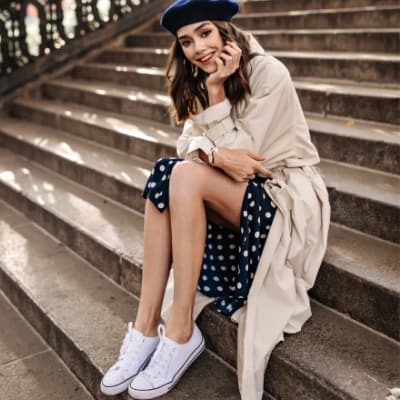 A classic white sneaker is an absolute must and will stand the test of time. It's walkable, versatile, and adds a relaxed, easy-going vibe to your look.
I'd opt for a classic sneaker that doesn't have loud logos, distinctive lines, or anything too trendy. Opt for a sneaker that has a more timeless style to it.
related: master timeless style with these 11 easy tips
8. Neutral crossbody bag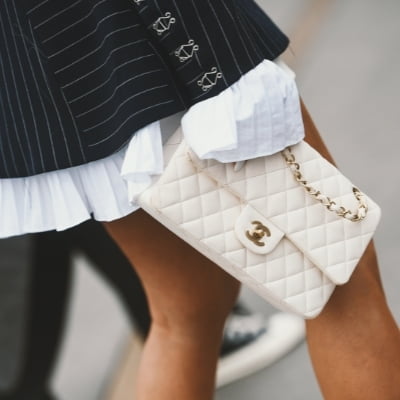 Here's what french girls like- a simple bag with enough pockets for their phone, keys, etc… but also streamlined. The bag you pick should be a neutral leather or fabric, and have one "focal point". So don't go overly detailed or overly loud. A simple buckle or hardware piece is fine but avoid the overly decorated bags.
9. Stripe sweater
A classic striped sweater is a perfect transitional weather piece. It may sound a bit cliche, but a simple stripe sweater can be worn in so many cool-girl ways.
And, it's a timeless piece, that you'll find yourself grabbing frequently. (perfect for those days when you don't feel like trying but want to look great).
10. Casual dress (simple print or neutral)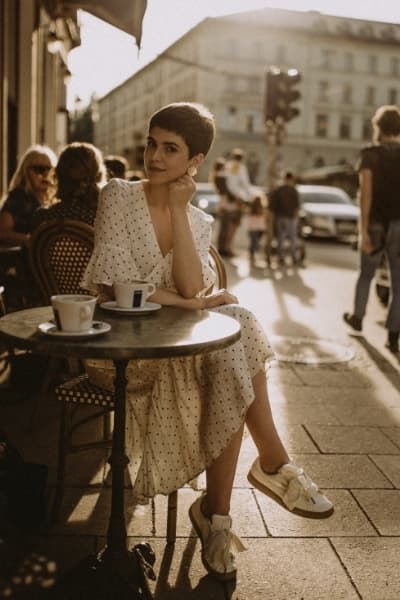 A simple casual dress is another timeless piece. The key to this item is simplicity. I would be careful with the overall fit of this dress, make sure it's not too tight or too loose. We want a simple wrap, or fit and flare style dress, to keep it polished but easy-going.
I would opt for a muted color or neutral print for this piece. Muted blues, greens, dusty navy, or creams work well. Or you could try a neutral or vintage-style print like polka dot, small floral, or simple abstract.
Avoid loud prints or prints with too much high contrast in them. Proceed with extreme caution if you opt for an animal print. Generally, I would save the animal prints for something like a retro coat or small accessory.
Slip Dresses are also a great option!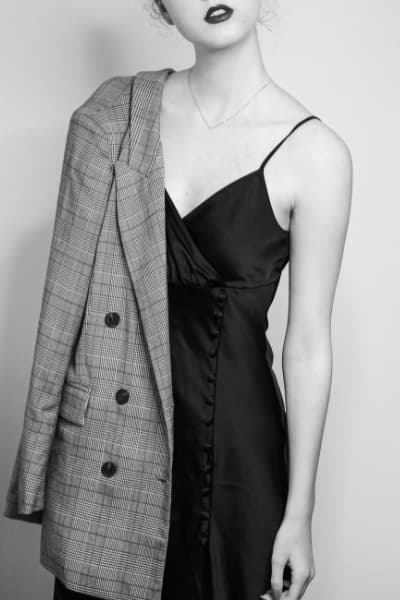 11. Silk Camisole
A good silk camisole is a great layering piece and a must-have for a french girl wardrobe. You can wear it under so many different styles, from sweaters to dresses without looking bulky or "too much".
12. Simple, gold necklace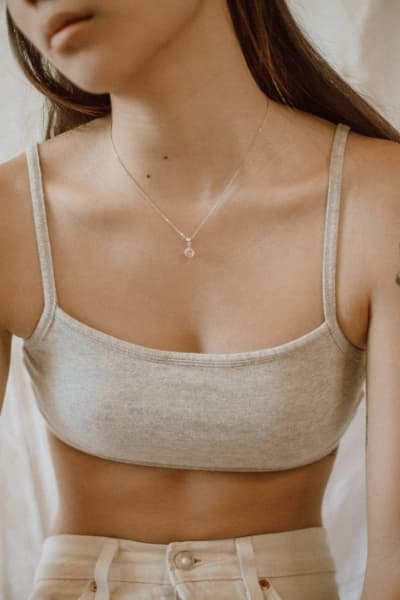 French girls adore their gold jewelry, especially simple necklaces.
They like to keep it sleek and classic, with one or two fun pieces thrown in here and there. But, their accessories always complement their outfits seamlessly. A simple gold necklace (medium length, hitting an inch or two below your collarbone) is a perfect choice.
13. Classic sunglasses

There is nothing effortless or chic about squinting in the sun, or the perpetual furrowing of the brow when you can't see. So remember a great functional final touch to any outfit is a classic pair of sunglasses.
I find french style sunglasses to be mid-size round or slightly square. Currently, I don't see a ton of super oversized or super tiny scale sunglasses within classic Parisian style. French style is all about a polished middle ground, not the loudest or trendiest, so keep that in mind when picking out your pieces.
Black or tortoiseshell is your most versatile option.
14. Blouse (optional)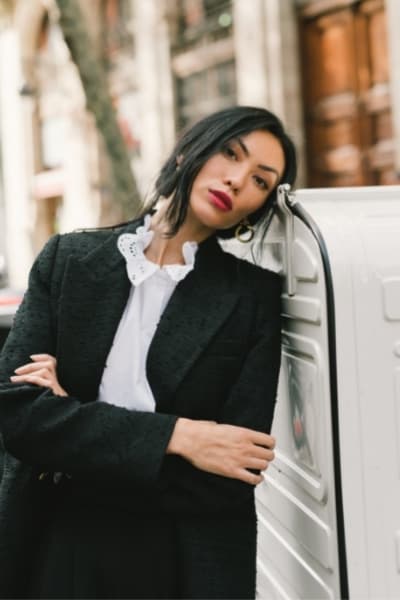 Depending on your style needs and lifestyle you may be set with just a white button-up, but a blouse is another great option to integrate into your wardrobe. Not only will it crossover to a business casual wardrobe, but it's also a one-stop shop for polished perfection.
I love a high neck blouse that adds a different (but complimentary) silhouette to your wardrobe.
Shop my favorite french girl wardrobe essentials:
French Girl Style Shoes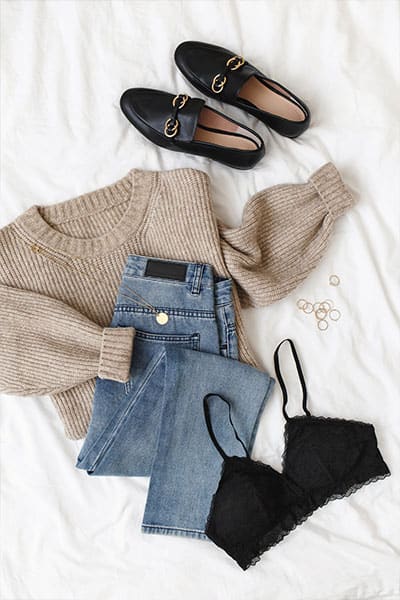 Chic. Comfortable. Versatile.
These are the phrases that come to mind when thinking about french girl shoes because they define so many of their essential footwear components. You can wear them all day long and not feel guilty or get painful blisters after a couple of hours!
Every french girl needs the following shoes in her closet:
Ballet flats
Loafers
Simple, ankle boots
Classic sneakers
Simple pump
Simple strap sandal
Low block heel
Streamlined knee high boot
Espadrilles
Notice the common phrase "simple" being used here. That's not to say french girl style shoes are boring, but they are elegant and understated. Because french girls walk so much, they opt for shoes that are sophisticated, but simple. The simple silhouettes make them timeless and more versatile while encouraging a "wander the streets of Paris" mentality (without the blisters).
Finishing Touches for French Girl Style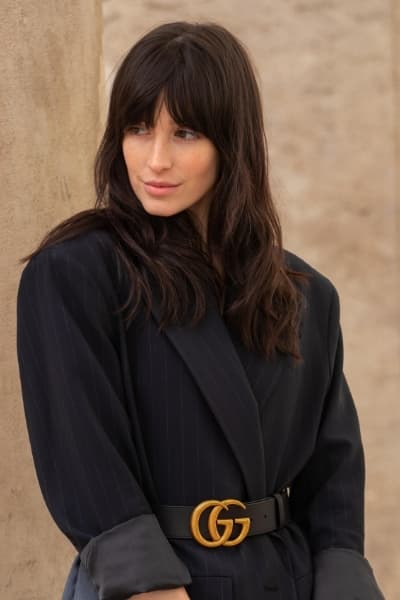 The Parisian woman has a certain way of making very simple or minimalistic pieces look effortlessly cool. She knows how to come up with the most flawless ways to show off her personal style essence and this is what makes her style so unique. But, the devil is in the details!
Here are some finishing touches and accessory style tips to help you finish off your french girl style to perfection.
Remember, if the shoe is too uncomfortable for you to walk in it all day long, don't buy it! We want to be elegant french girls, not hobbling around while blood pools in our shoes.
No-makeup makeup: French girl makeup looks like it is almost not there, and "I just woke up like this" makeup is their go to. This style of makeup makes your face look *awake* and fresh, but not overly done.
Carefree hair: French girls like to keep their hair simple and natural. The simplest french girl cut might be a classic bob, or perhaps a shoulder length style with fringe bangs. No fuss! Simple layers also give you volume without being overly "done".
Wear different textures or bring in prints but make sure to keep it muted, polished, and classy. When you add touches of textures and prints it gives your outfit depth.
Less is more. You will never see a french girl wearing a bunch of bracelets, necklaces, and rings. They keep it simple and chic. Add a simple, classic piece of jewelry or accessory for a polished look, but don't go overboard.
You can wear your hair up or down! French girls often go for the "undone" look with a simple low bun or half-up half-down.
Be confident! A french girl knows what she wants and isn't afraid to go for it.
Remember, one of the most important things about french style is the state of mind behind it–not caring too much, but still looking polished and put together. You don't have to be exact with your style, but French girls always look polished and classy.
When it comes to logos, be very intentional. French girl fashion doesn't do "logomania". However, with an appropriate french girl outfit a purposeful, single logo can work. (see the photo above).
Add obligatory croissant 😉
French Girl Style Staples Fall/Winter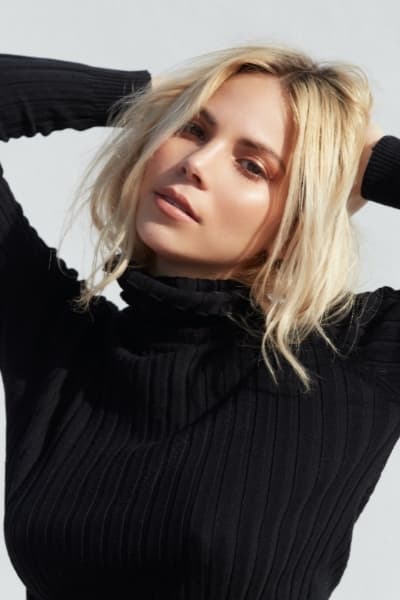 Fall and winter french girl styles encompass a certain mood or mindset. You know it's fall when your wardrobe starts to go towards the dark colors and textures like velvet and cashmere. French girls stick with muted, neutral tones and you will find shades of black, navy, wheat, ivory, pewter, burgundy, and cream pop up in their looks.
Leopard print is an absolute staple for french girls in the fall and winter, but they take it in a different direction than Americans usually go in when wearing leopard prints. French girls wear leopard prints coats or accessories that have a classic or slightly vintage silhouette.
Trench coats are a staple in every French girl's closet and you can wear them all year long! A trench coat is an investment piece that lasts season after season. I would suggest looking for one that is longer (mid-thigh to knee length), lightweight, and neutral in color.
Here's a list of items for your fall/winter french wardrobe:
Trench coat
Faux fur coat
Classic wool coat (longer length)
Minimalist puffer coat (nothing too "athletic")
Wool blazer
Turtleneck
Fine gauge sweater
Chunky crew neck sweater
Wool scarf (classic color or print)
Cardigan ( I like a medium-heavy knit option)
Slim black gloves (leather or knit)
And if you want more tips or style ideas for the fall/winter french girl style, I have a more in-depth guide here.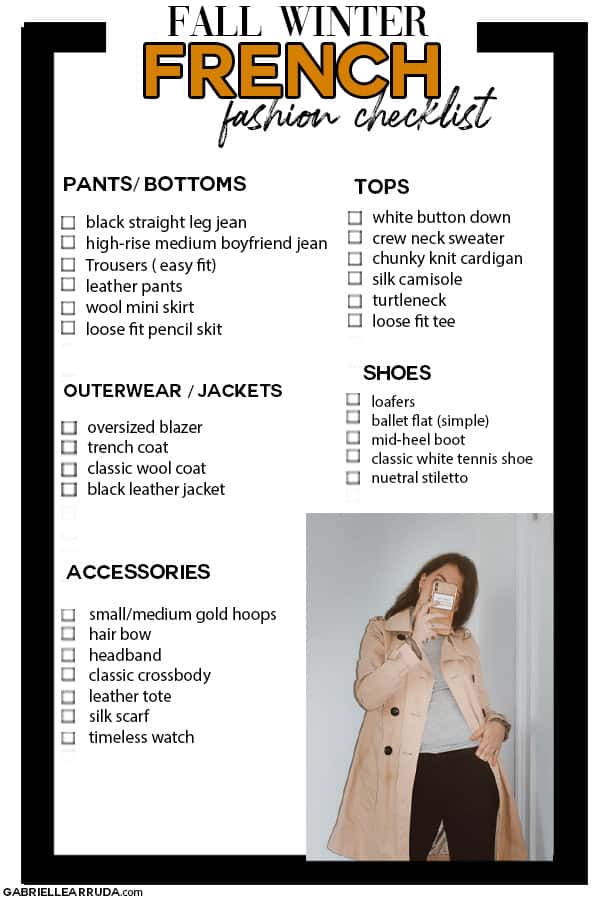 French Girl Style Staples Spring/Summer
France is full of unpredictable weather when the seasons start to transition, and their wardrobe is built around a mix-and-match mentality that allows them to look polished and weather-appropriate whether it's 55 degrees and brisk or reaching a balmy 80 degrees.
So in order to master the french spring summer style here are some basics you should add to your wardrobe:
Classic tweed jacket
Wrap dress
Slip dress
Midi-skirt
Linen pants
Suede or leather jacket
Woven handbag
Sunglasses
Light cardigan
I also have a more in-depth guide for French Spring/Summer fashion, here.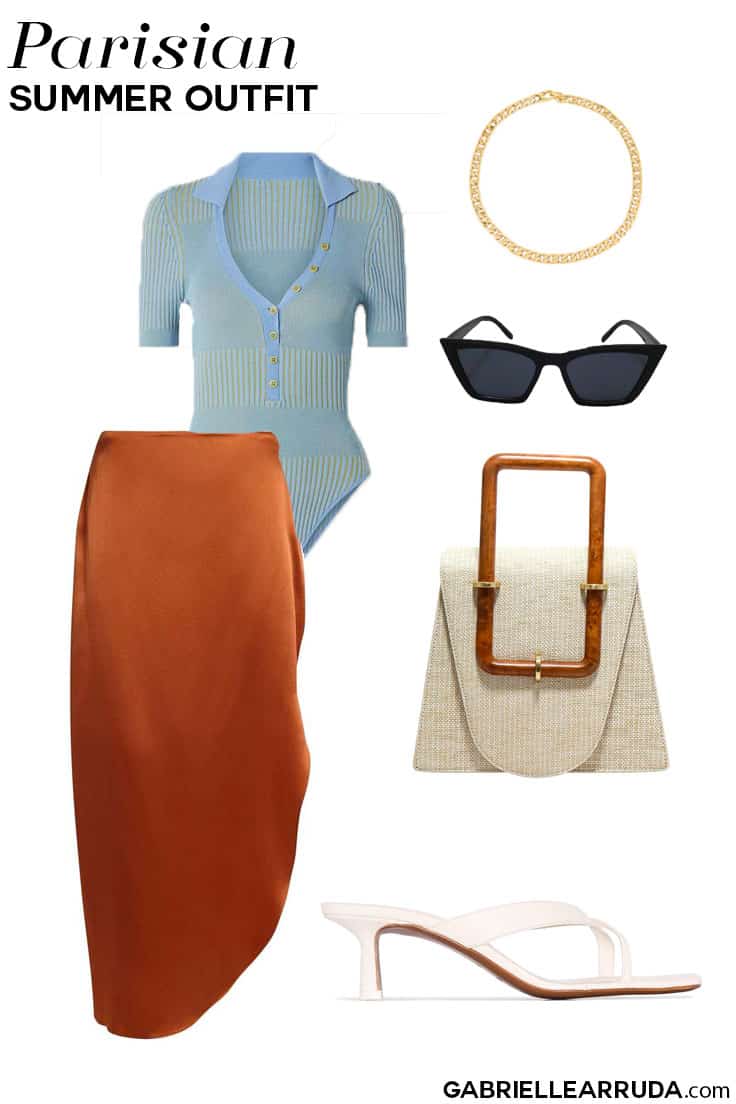 Affordable French Clothing Brands
Remember affordable is a relative term, and french brands don't skew "cheap", so adjust your budget accordingly. That being said, french style is all about quality over quantity so these French clothing brands are a great place to start embracing that fashion mentality.

It's no wonder that French girls are known for their effortless style. They know how to dress with simplicity and class, while still being trendy and modern. French girl style is about maintaining an air of sophistication without taking it too seriously-a mindset that anyone can adopt!
The tips in this article will help you on your way towards mastering the art of french styling.
Now, get your french girl style on, grab your croissant, and stroll through the Marais.
Bonne chance! (Good luck!)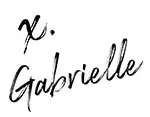 Calling on my francophiles, go ahead and save the pin below for your ultimate guide on how to dress like a french woman!