Parisian fashion is probably the most sought after style out there. Style icons just seem to be born in France, with their effortless fashion and tousled hair, probably eating a croissant on the sidewalks in the 6th arrondissement and not gaining a single pound. Is it fair, no… But, we can do our best to follow suit and implement some of their perfect styles into our mundane, croissant-less lives? Yes!
Parisian summer style is equally covetable as Americans seem to love a denim short-short and a crop top and call it a day. Now, there is nothing wrong with American fashion, I am in fact American. However, any chance I get I try to add a bit of Parisian chic to an outfit because it makes it infinitely more superb. Plus, Parisians have mastered the art of dressing for warm weather AND looking stylish. Americans, sometimes struggle with this.
Before we dive in deep, here are some French Girl Style Rules to keep in mind.
1. Simplify it.
Parisian style is minimal by design. It focuses on perfect proportions, classic items, and perfecting the simple. As a designer they often say that designing something simple is much harder than designing something elaborate, that is because every little flaw shows with a simple garment if done improperly. So, while keeping it simple is the goal, it is not an easy feat.
2. Minimal Jewelry
French girl style is all about simple, minimal jewelry. Avoid statement necklaces and over the top earrings, as they will also take away from the French girl outfit perfection we are crafting. Try to opt for classic jewelry or dainty jewelry. A great link gold watch is a perfect choice, or a dainty gold chain works as well. [ How to layer gold necklaces]
3. Deshabille or "perfectly undone"
French girl style is known as effortless and easy. Deshabille means the state of being dressed in a casual or careless style. And when we say careless, I interpret that as if it looks "easy" and it exudes that beautiful french girl "I just woke up like this" vibe. Opt for the no-makeup makeup look [more info on that here] and keep your hair simple. Try a simple tousled undone wave or a low bun. French style is about not overthinking it.
4. Classic Pieces
French girl style is known for being classic, and yet modern. This balance is all about using timeless staples and integrating modern notes and accessories. But you need good foundational pieces to master french girl style, so if you need to build a better wardrobe- be sure to check my ultimate guide on it here.
we may earn a commission form you clicking a link, at no additional cost to you. full affiliate policy here.
The Ultimate Items You Need for Parisian Summer Style
Day Summer Dress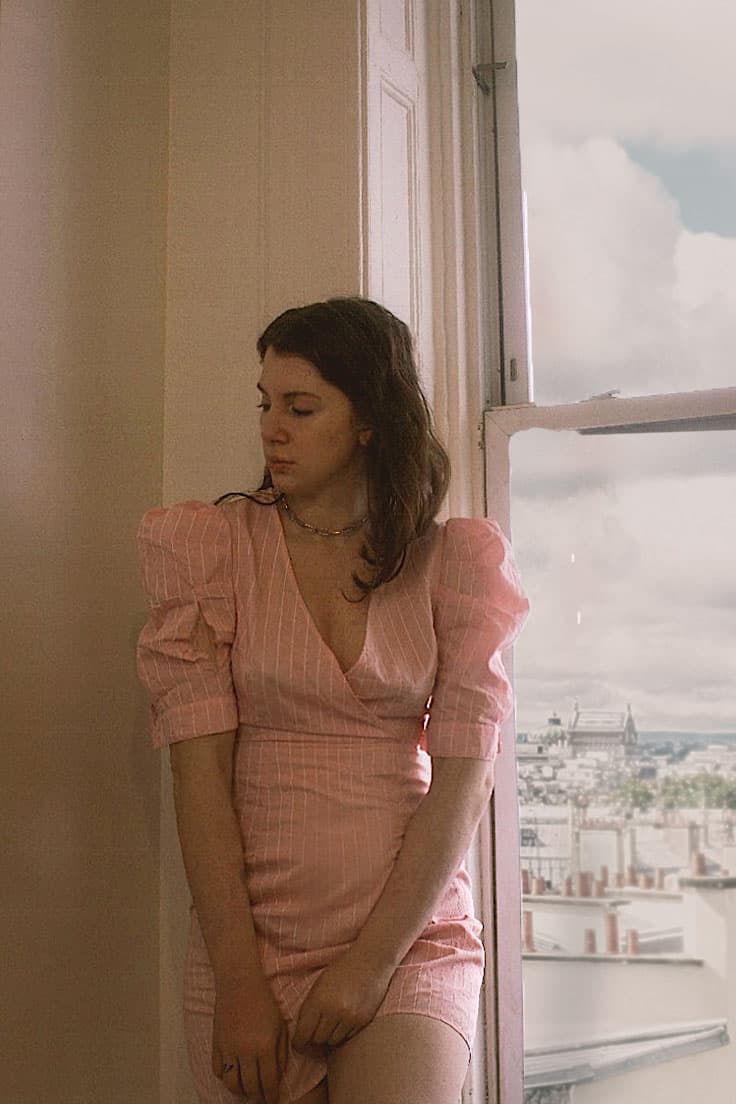 A great linen or simple dress is perfect for summer months. It exudes french girl summer style and is easy and breezy. A floral option works as long as it is not too "loud". If the floral print is too large in scale or too brightly colored, it will veer more towards American style.

Slip Dress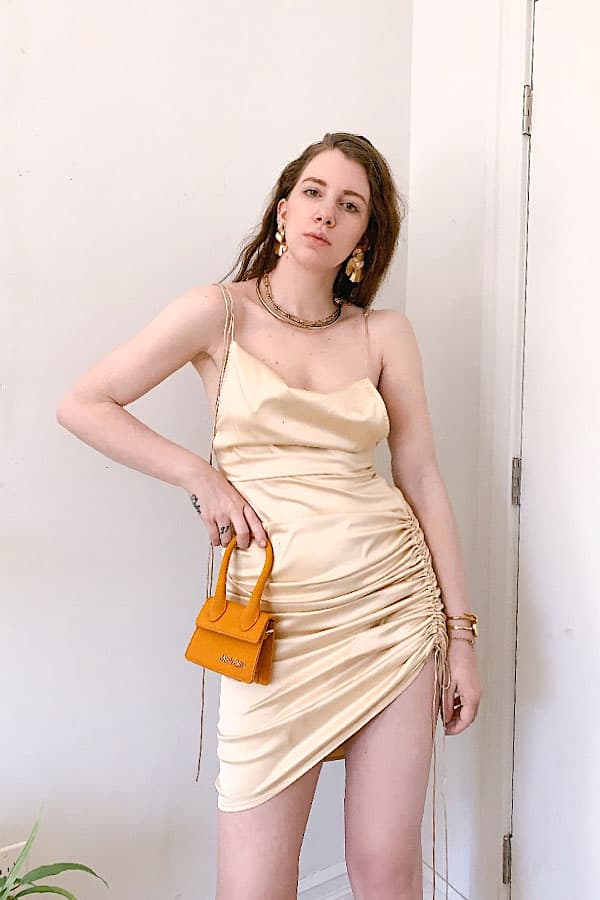 I can't tell you the love I have for the slip dress. It's perfect in its simplicity and I think every wardrobe needs one.
Fitted Cardigan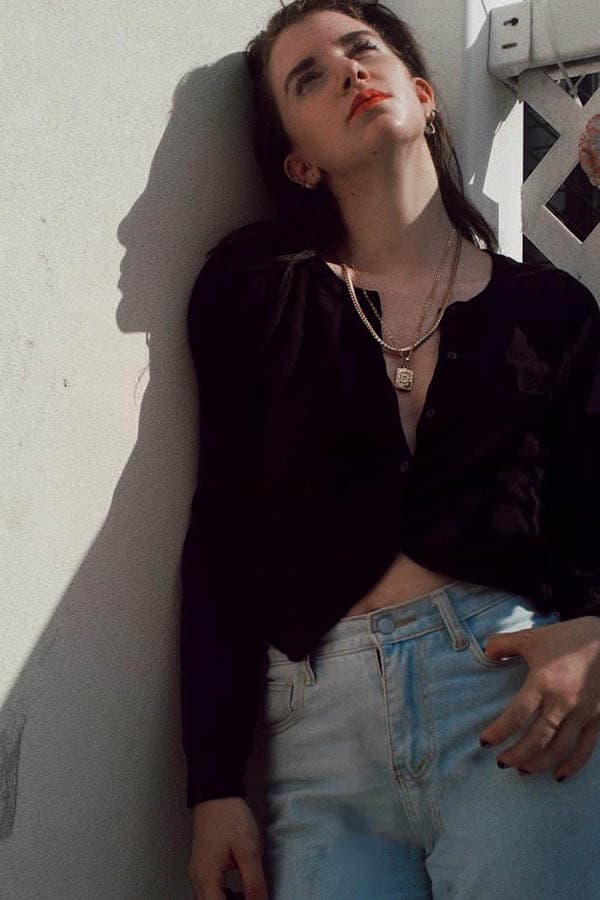 View this post on Instagram
You can wear knitwear in spring and summer. Don't believe me? Check out this post here. Pair a fitted cardigan with a pair of simple straight leg jeans and add a loafer or ballet flat and you've created a perfect Parisian style summer fit.
Straight leg jean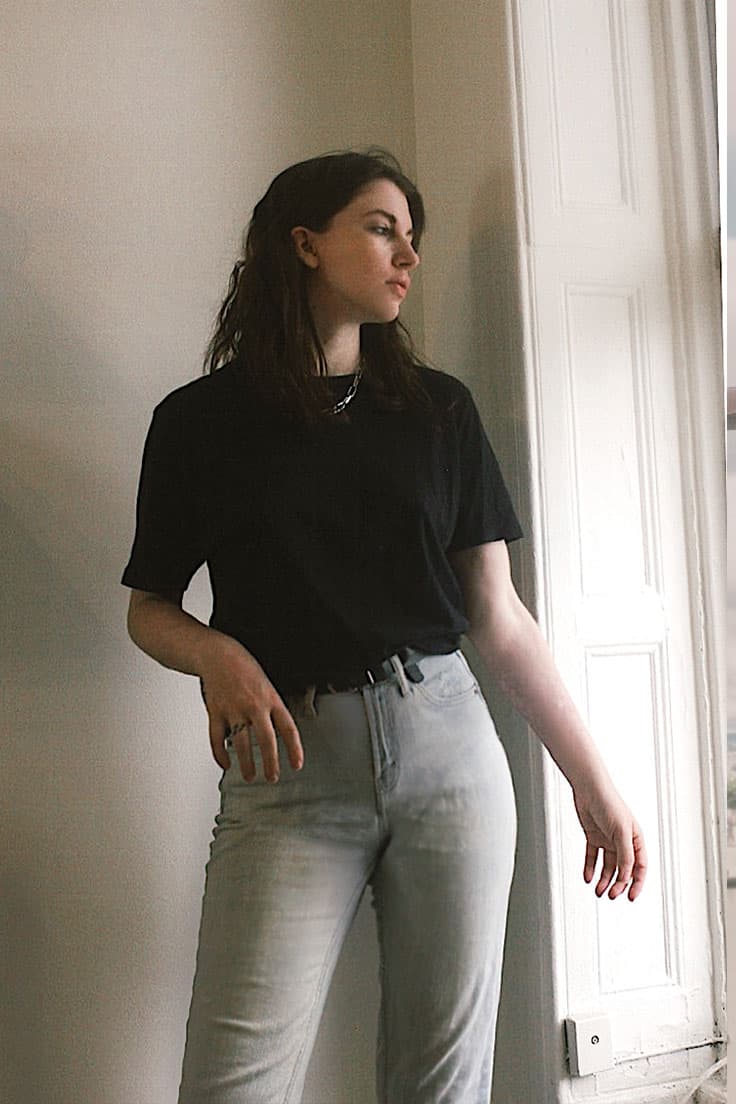 French girl style tends to focus around classics, as mentioned above. And the straight leg jean always has a place in your closet. Parisian summer style is not about showing a lot of skin or wearing super body-conscious pieces, but rather being very intentional about your outfit balance. Straight leg jeans help you accomplish that.
Classic Oversized Button- up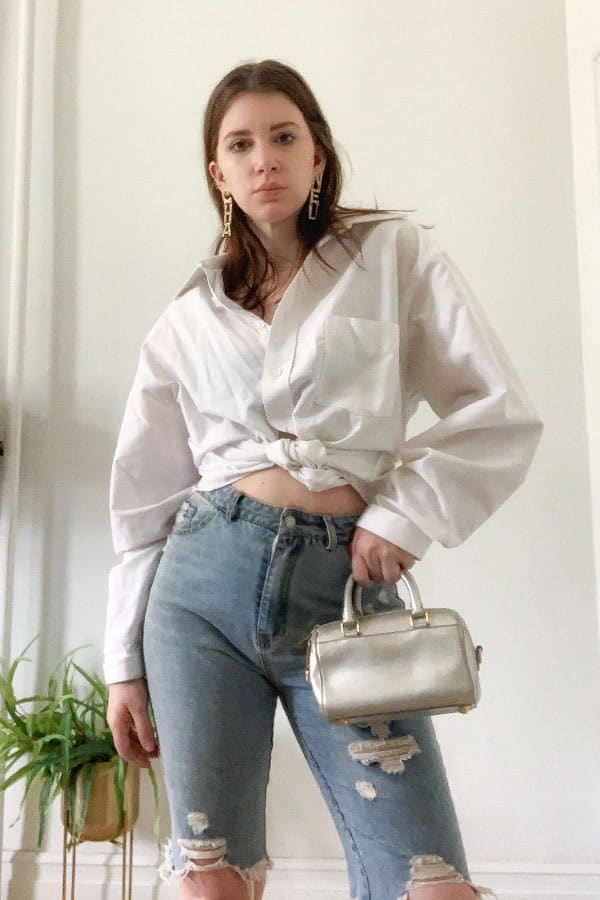 Parisian summer style would not be complete if we didn't talk about the classic white button up. French summer style like Bridgette Bardot or modern-day Caroline de Maigret knows how to take a slightly oversized or men's style piece and make it super feminine. Here's a great post on how to wear men's pieces as a woman.
Slip skirt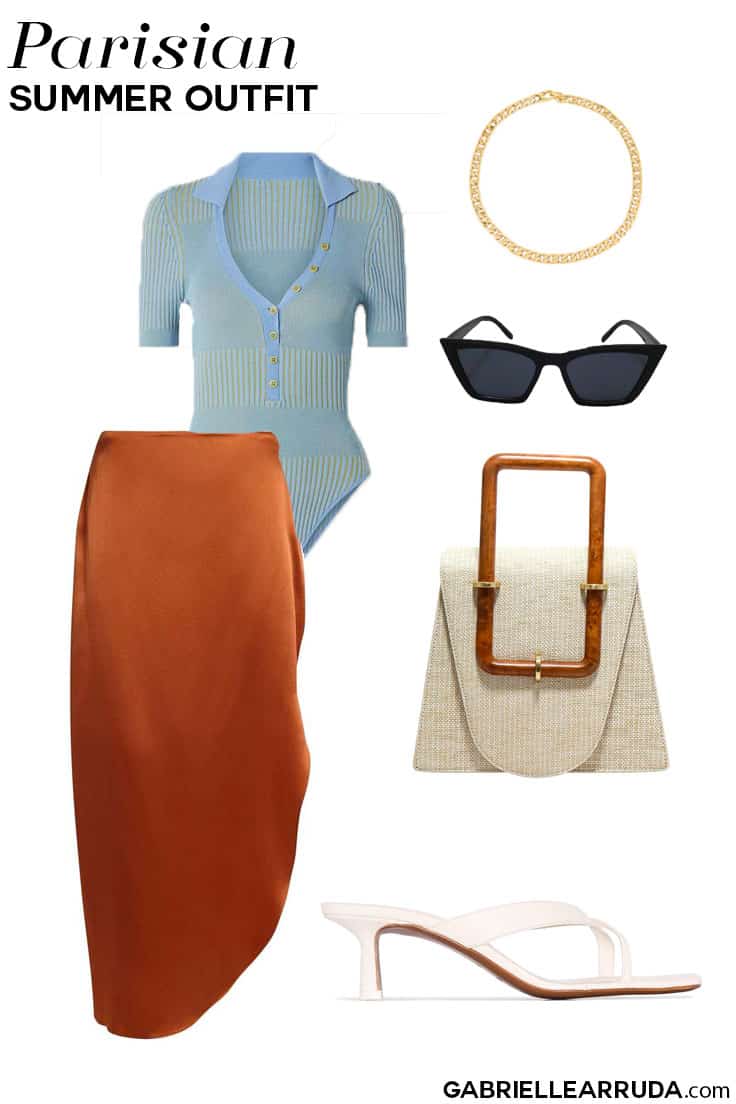 Just like the slip dress, slip skirts are chic and a must-have for a Parisian summer style wardrobe. Pair it with a simple strap tank and a barely-there sandal or heel and you have mastered French girl summer style 2020 edition.
Simple Strappy Sandal
View this post on Instagram

While french girls love their ballet flats and loafers, they also love a simple strappy sandal for the warmer months. Keep the colors more neutral and the heel a lower height and you will have at the perfect shoe staple for French girl fashion. [rocking a square toe heel like a fashion pro]
Oversized Tee shirt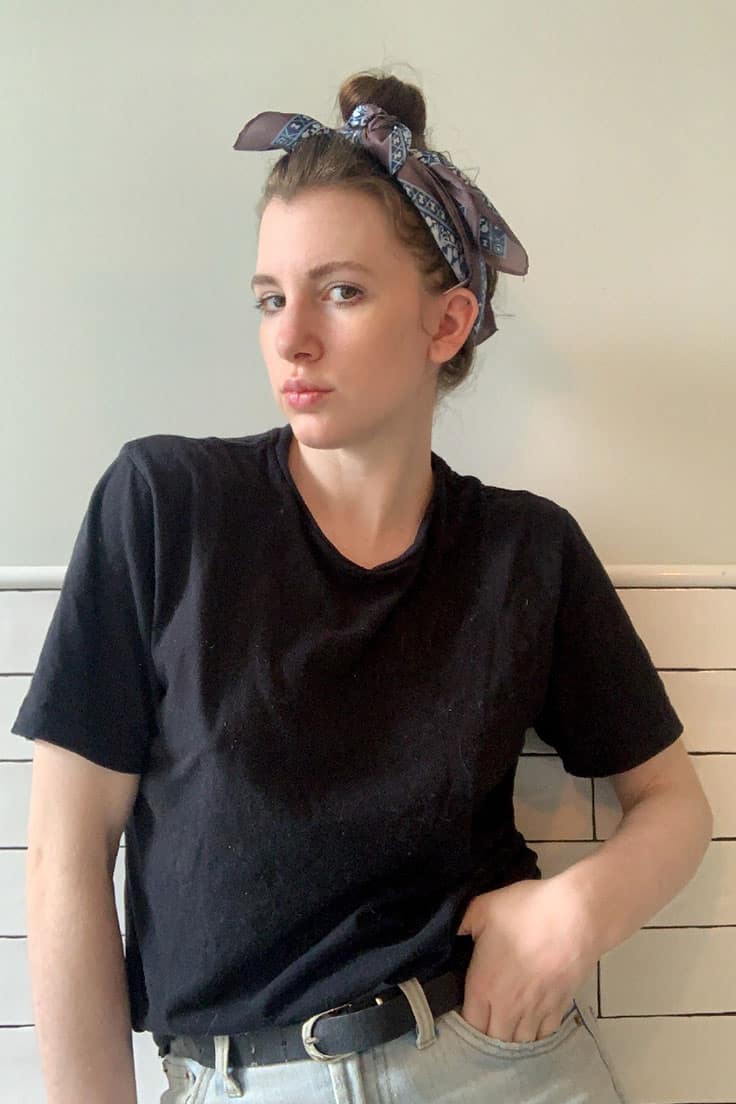 A simple, slightly oversized t-shirt is the perfect summer staple. Pair it with your straight leg jeans or opt for another summer trend like the Bermuda denim short. [ how to master the "it" summer short: denim Bermuda shorts]
Romantic Accessories for that French Girl Style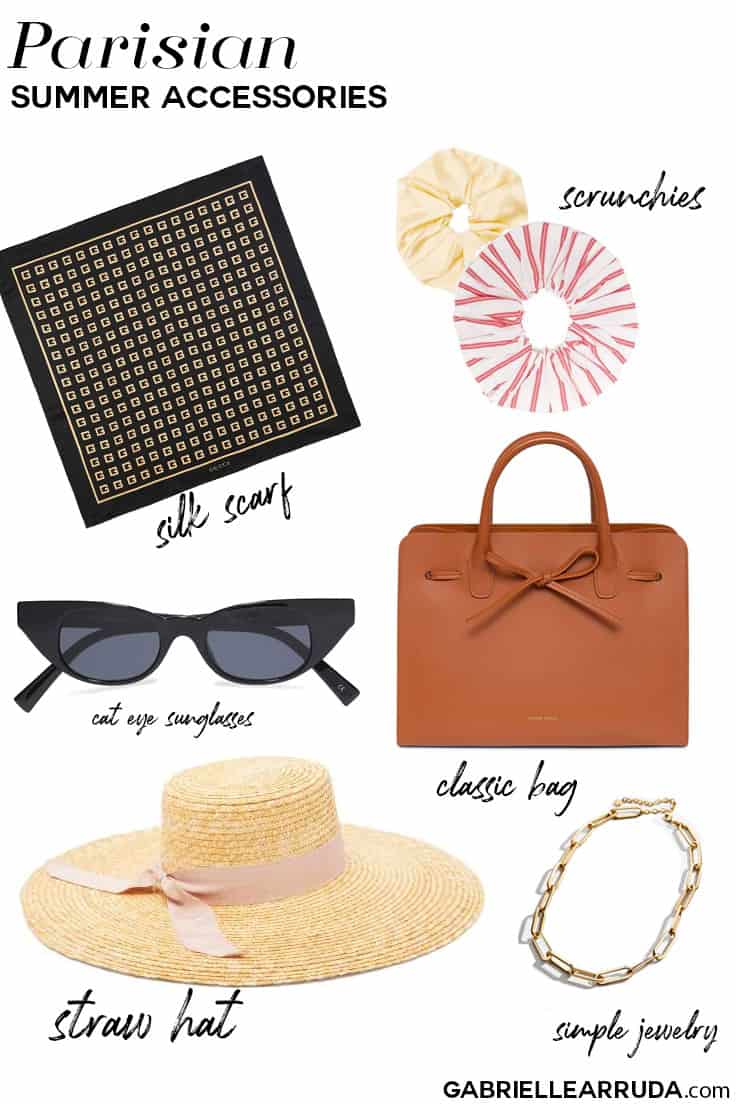 Hair Bows & Silk Scarves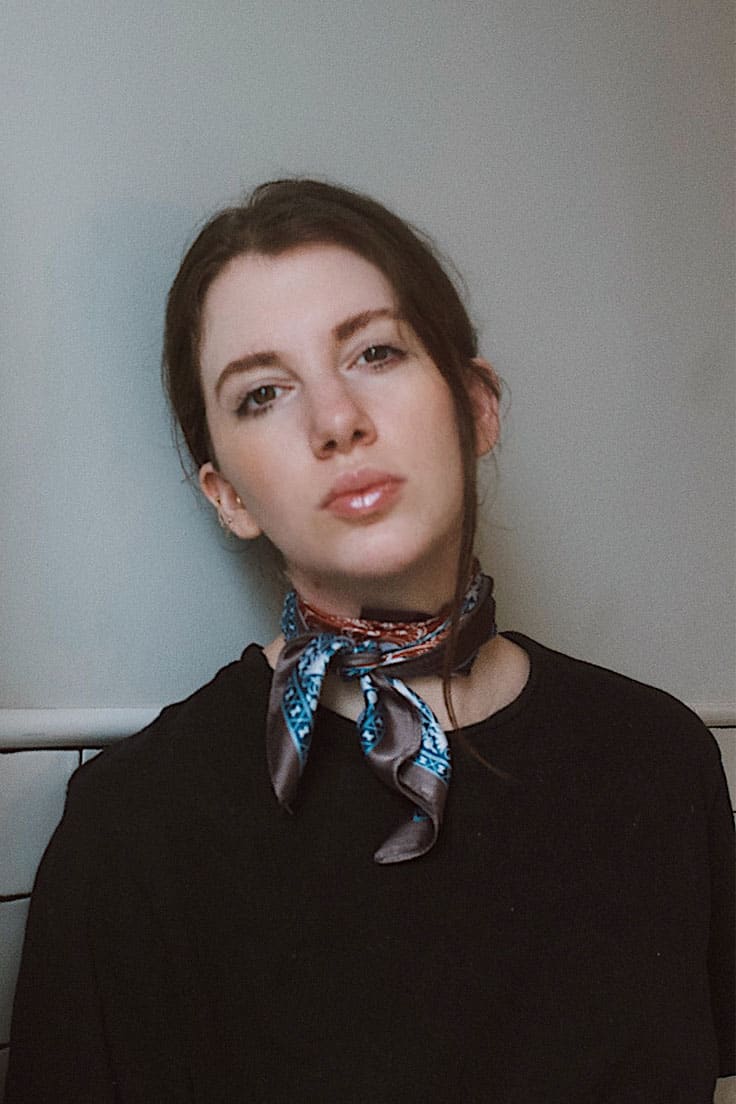 A simple hair bow or classic hair accessory can elevate your Parisian summer style in a heartbeat. Keep it minimal and don't "do too much" when it comes to this accessory option. You can also use a chic silk scarf around your neck for a simple Parisian look. For more hair accessory trends in 2020, check out this post.
How to wear a silk scarf like a Parisian Girl
Simple Scrunchie
A simple scrunchie is also a great option. Opt for a velvet or leather option, and wear it with a low bun or ponytail. Avoid pairing it with a half updo or a high ponytail, to stay more in the French girl fashion lane and less in the American 90's vibe.
Straw Hat
Ok, so this is a controversial item on the list. Technically, most Parisian style icons don't wear straw hats anymore. However, classic French film has been promoting the romantic straw hat for awhile and brands like Jacquemus leaned into this style trope. So, if you want to add a bit of French style nostalgia to your outfit, you can add a wide brim straw hat.
Slight Cat-Eye Sunglasses
Don't go for the most "extreme" version of any style when trying for french summer style. A slightly angular cat-eye sunglasses will be a summer necessity and will add a classic flair to your outfit.
Part of the brilliance behind the French summer style is that it manages to combine several "basic" pieces into outfit brilliance. Think of it as a song. Sometimes a simple acoustic guitar can be just as powerful and emotional as a 17 piece band. This relies on enhancing and highlighting the French wardrobe staples. And with these items listed above, you can master the Parisian summer style.
Classic Shape Handbag
French girl style is all about those classic pieces and looking effortlessly put together. So, naturally, you need a simple bag to hide all your necessities while you're out traversing the city streets.

French summer style is contingent on carefully curating a wardrobe you love and feel great in. I firmly believe french style is so sought after because not only does it appear effortless and timeless, it also embraces a love of fashion and life.
French women look like they belong in those clothes, they look like they know how to master style, and that confidence is key in conquering your own personal fashion voice.
This will be an excellent start to achieving sophisticated french style, but if you need more help finding your personal style and crafting a closet of items you love (without spending a fortune), check out my Craft The Closet of Your Dreams Playbook, here.
If you need some more inspiration, check out this list of French style icons that are sure to spark a Francophile obsession.
Now, get your cafe au lait and a scenic city street with a view of the Seine, and you'll be a regular Parisian goddess in no time.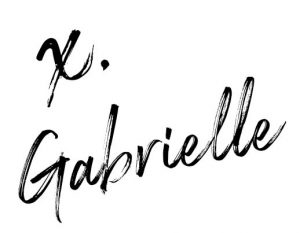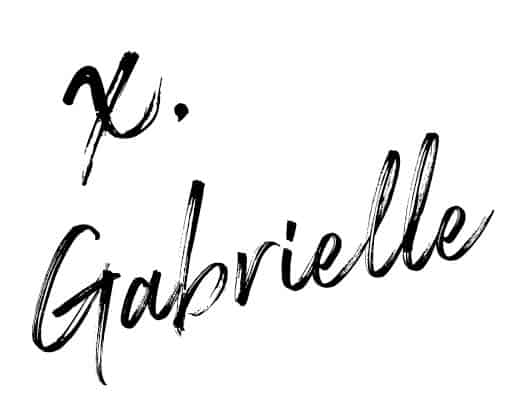 P.S. Pin this so you always know how to rock Parisian Summer Style with a perfect 💯