Building a summer capsule wardrobe is one of the best things you can do for your style. Not only will it combat closet fatigue, but it will allow you a streamlined closet that's versatile and enables you to put an outfit together in under 5 minutes.
No more " I have nothing to wear" or "where did the __insert item here___ go?". A summer capsule wardrobe will give you flexible pieces that mix and match easily and get worn regularly.
Now, what should you have in summer capsule wardrobe for 2021? Well, we will go over all the pieces you need, but if you're looking on how to start a capsule wardrobe not inspired by my choices, check out this post.
Summer Capsule Wardrobe 2021
Each season I create a flexible, chic capsule wardrobe and offer you an outfit guide of over 45+ outfits for each capsule wardrobe.
Often times I repeat items from previous capsule wardrobes, because realistically and ideally you would be too. And even when I don't, feel free to swap in items you already own for an item on the summer capsule essentials list.
I try to craft capsule wardrobes that have subtle nods to summer fashion trends, without the short life expectancy.
These items are building blocks and help you narrow your wardrobe's focus.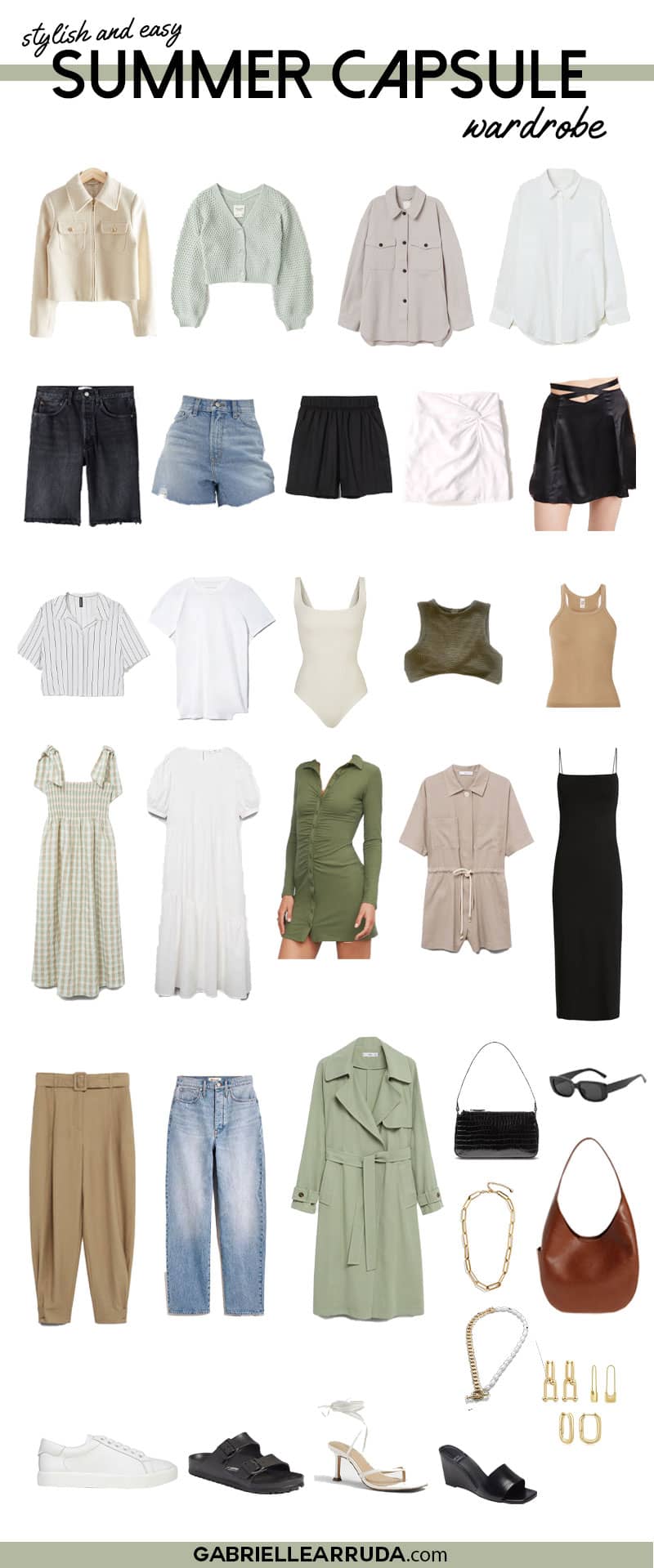 And if you want to get all the chic outfit ideas for the summer capsule wardrobe 2021, sign up below
Summer Capsule Wardrobe Essentials List:
What should be in my summer capsule wardrobe?
Here are your summer capsule wardrobe essentials:
light weight trench coat
-twill or light tweed jacket
-shacket
-denim jacket (optional)
-puff sleeve dress
-long-sleeve short-length dress
-simple strap dress
-midi dress (print)
-romper
-cropped blouse
-basic t-shirt (x2)
-bodysuit
-crop top
-high-neck tank top
-linen shirt
-camisole
-light-weight cardigan
-Bermuda-length denim short (black or gray wash)
-high-waist denim short (light wash)
-neutral-colored fabric short
-cotton or linen mini-skirt
-trendy skirt
-classic white sneakers
-birkenstocks
-strappy heel
-simple mule (wedge optional)
-rectangular sunglasses
-gold link necklace
-trendy necklace
-gold earring set (very affordable!)
-shoulder handbag
-leather tote
optional:
-swimsuit
-matching set (skirt and top, shorts and top)
-linen short
-midi skirt
-mini dress
Note these may fluctuate based on climate and personal style.
How many items are in a summer capsule wardrobe?
For a summer capsule wardrobe you want between 23-33 items, including accessories. This will be composed of flexible basics, necessary weather items, layering pieces, and a few unique pieces that speak to your personal style.
How do I make a summer capsule wardobe?
Crafting a summer capsule wardrobe is all about creating a collection of versatile basics, and weather-appropriate options that feel fresh and in-style.
You want to make sure you have the summer essential pieces in your closet, and a color palette that works seamlessly together.
It will most likely be built upon your past capsule wardrobe from spring, and many items will carry over.
Things you might consider switching out from spring to summer will most likely be less coats/jackets, more sandals and less boots, and adding in shorts and more light-weight dress options.
Versatile basics like t-shirts, jeans, jewelry, and sneakers will carry over easily.
Summer Capsule Wardrobe Checklist
Here's a handy graphic checklist so that you can go through your own closet and see which items you might be missing.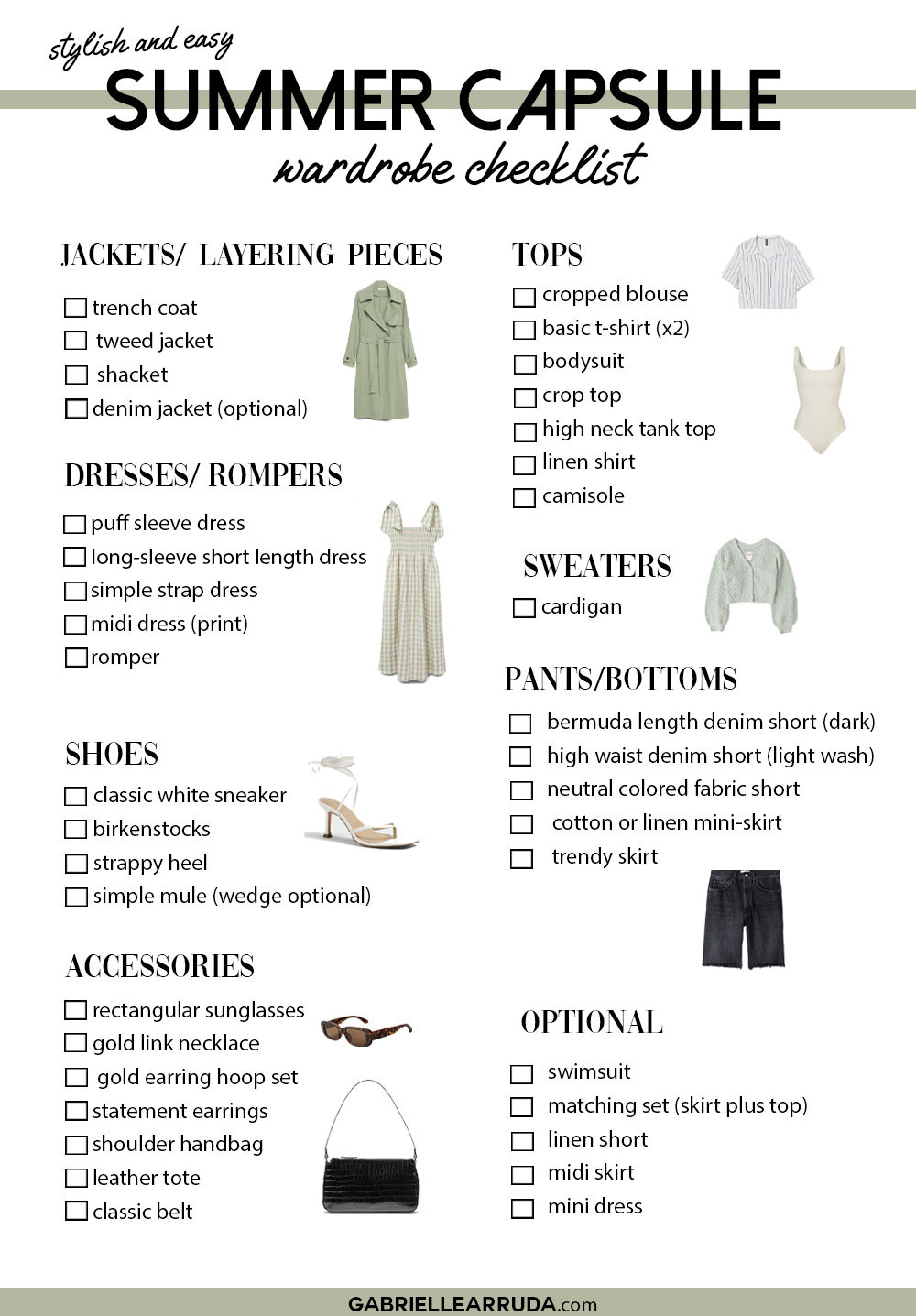 We may earn a commission from you clicking a link in this post. And as an amazon associate, we earn on qualifying purchases. Full affiliate policy, here.
Summer Wardrobe Essentials and how to use them
A light-weight trench coat is an easy layering piece for summer and will add more depth to your outfits.
Summer outfits can sometimes feel sparse or unfinished and adding a layering piece like this one will avoid that issue.
In the spring capsule wardrobe, I recommended a more raincoat style trench. For summer, I recommend swapping that trench out for an unlined, flowy trench like this light sage one. This one will be more appropriate for summer evenings, and the raincoat aspect is less important in summer.
You need at least one timeless, light-weight jacket for summer. And I love this tweed one.
The shape feels classic yet has subtle hints of modern trendiness. It's a neutral color and would add a bit of sophistication to any outfit you throw together.
In summer, shorts can feel too casual sometimes, and adding this jacket is your style problem-solver.
Shackets (shirt/jacket fusion) are one of my favorite layering piece. They look great over strappy dresses, layered over a crop top, or even just on their own.
They are also good for transitioning an outfit from day to evening. However, they are usually a casual piece, so don't try to formalize them too much.
Puff sleeve dresses have been trending for a few years now, and they always make a big resurgence for summer.
A light-weight, versatile, casual dress is a must-have for your summer wardrobe.
I like the gathered sleeve that doesn't have too much volume, and the midi length that makes it easy to wear to the park with my kiddo, or to brunch with my friends.
Depending on your climate, I love having a long-sleeve dress option in my summer wardrobe. This green dress is shorter in length, so you won't overheat, and a trendy color that won't feel dated anytime soon.
This option is great for daytime excursions to the museum, brunch with friends, or even a casual date.
related: what should i wear (and not wear) on a first date
Talk about a capsule wardrobe staple! This stretchy, perfectly-cut dress is simplicity at its best.
It can be dressed up or down depending on jewelry, and shoes. And it's an easy go-to dress when you just don't know what to wear.
I like to have at least one print dress in my arsenal for summer. Prints add some nice depth to your style, and allow you to keep the secondary pieces (jewelry, shoes, etc.) pretty simple.
For this capsule wardrobe, I choose to go with green tones, because it's a big summer color trend. But, any print dress would suffice.
I generally opt for the majority of my summer wardrobe to be airy, midi-length dresses. As a mom, they allow me more flexibility and fewer chances I flash anyone. But, pick a length that works for you and your body shape.
A romper or light jumpsuit is a great all-in-one outfit for summer. Throw it on and you are set, no styling or tweaking involved.
I love the utility details of this one, and it is on-trend without being easily dated.
Wear this with a pair of classic sneakers for a day around town, or throw on some heels for a night out with friends.
A cropped blouse that is visually light and airy will be a huge asset in your summer outfit options.
This can be worn with the high-waist trousers for a casual work environment. Or could be worn with jean shorts for a bbq.
This simple stripe is timeless and a great print for people who veer towards minimalist style.
related: what's my personal style!? + free style quiz
You absolutely need a basic, chic t-shirt in your closet. I love a plain white one, but if you favor t-shirts I would consider adding another color, as well.
Not only do they look great on their own, but they can be an easy base piece and paired with any of the bottoms in this summer capsule.
related: 14 ways to style plain white t-shirt
I absolutely adore bodysuits for summer. They keep your outfit smooth and bunch-free, and this cut is extremely flattering.
They are flexible and can be worn to the office, on a date, or even out to a bar with friends.
Crop tops may not be for everyone. But, before you nix them from your closet, check out this post on the do's and don'ts of wearing crop tops as an adult.
I always include crop tops in my capsule wardrobes because I find them flattering, weather-appropriate, and great for my proportions.
But if they are not your thing, consider adding a camisole or another bodysuit into the mix.
You need an elevated tank top option for summer. And I love this tan option.
This top can be worn with the tan trousers for monochrome perfection, or worn with any of the shorts for a more relaxed aesthetic.
I also think the higher neckline is more sophisticated than a basic tank. If you love elevated basics, you might enjoy the post on Rosie Huntington-Whiteley's style, here.
A breezy, linen shirt is a must-have for summer. Not only is it a great layering piece, but it also looks great on its own.
This works as a cover-up at the beach, a layering piece over a dress, or french tucked into a pair of denim shorts.
Light linen tops are often slightly sheer, so opt for a nude bra or a cami underneath. You can also go with a white bra if you don't mind your bra lines being visible.
A light-weight cardigan is a nice option for summer. While outside might be sweltering, the second you go into an shop, restaurant, or indoor activity the AC will be blasting. This cardigan is a great subtle sage/mint green that goes with the majority of the pieces in this capsule, and can be thrown on over practically any outfit.
I love Bermuda denim shorts and find them the most comfortable, and practical denim shorts out there.
I have a whole post on cool ways to wear them, here. They are also great for hot weather when you want to be a bit more modest.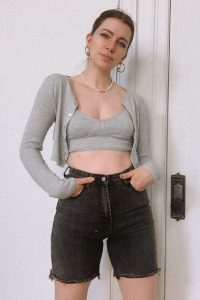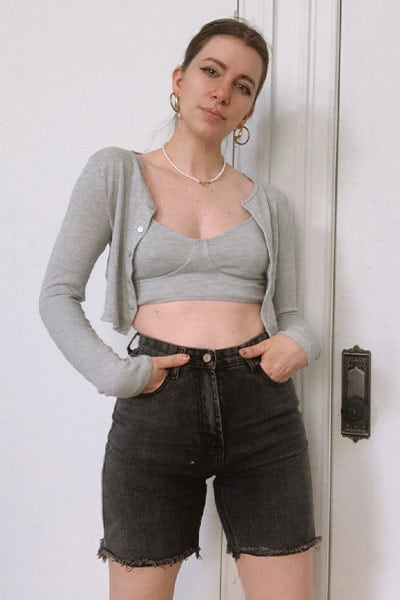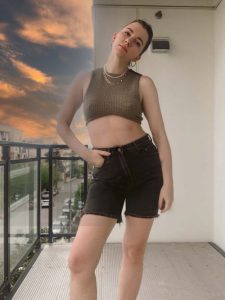 These are a great casual short option for summer and a staple wardrobe piece. I like the slightly baggier silhouette which not only makes them more comfortable, but more flexible for summer activities.
Whether you are doing picnics in the park, throwing them over your swimsuit at the beach, or a summer sport- these are a great option. (I'm talking about casual sports, not ones you actually need athletic gear for- think bowling, ping pong, skateboarding, or group games).
I love the slightly athletic vibe of these shorts, and they are not only on-trend, but very comfortable.
Part of building a capsule wardrobe that works is prioritizing items you will actually wear and not just items you'd like to wear. And the more comfortable an item, the more likely you'll grab for it.
These shorts can be dressed up or down. And if you need some outfit ideas for these shorts or any of the items in the capsule, sign up for my capsule wardrobe outfit guide below:
A breezy mini-skirt is a must for summer. This one can be dressed up for dinner out, or worn at the beach.
The silhouette is flattering and it's not see-through. And if a mini skirt isn't your jam, opt for a this type of skirt instead.
Because I like to stay current with fashion trends, I like to add in one trendier* item to my capsule wardrobes each season.
The touch of trendiness helps expand my outfit options and keeps my styling fresh.
String/floss/tie details are all the rage for summer 2021, and I love the elevated approach with this skirt.
Shoes for Summer Capsule Wardrobe :
You will absolutely need a classic sneaker in your capsule wardrobe, and it will likely be worn during every season. It's chic, works with tons of different styles, and thankfully, they are easy to walk in. So you don't have to curb your summer fun because your feet hurt.
I love a great pair of birkenstocks as my summer sandal. I personally prefer these ones that have a matching sole. I find the solid color option more elevated and can be less "casual" than the cork-soled option.
Lace up heels were popular last year and they will continue to be on trend this summer. I love this option to add a bit of interest to your wardrobe and add some trendy notes to your outfits.
Capsule wardrobe should be mostly evergreen pieces, but throwing in a few trendy, versatile options allows your style to feel current and fashion-forward.
Simple Mule (wedge optional)
Wedges are big this season and I love this classic mule wedge option. This shoe can be dressed up or down and work both in daytime and evening. But if the wedge isn't your style, try the other black mule options instead.
Accessories for your Summer Capsule Wardrobe 2021
rectangular sunglasses
gold link necklace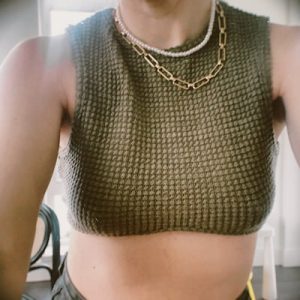 trendy necklace
gold earring set (very affordable!)
shoulder handbag
affordable alternative:
leather tote
Shop the Summer Capsule Wardrobe:
I do my best to replace items that are sold out with a similar option. So if it's not the exact item you saw above, that's why.

Love the capsule wardrobe but don't know how to make it work for you without buying a whole new closet?
If you just don't know how to find your ideal style, and make it reality, using the clothes you already own… then check out my Craft The Closet of Your Dreams Playbook.
It's a step-by-step guide on finding your dream style, streamlining your closet, strategically seeing what is missing, and implementing your style goals in real life.
Don't let hot-girl summer (or cool-mom summer) pass you by. Let your summer capsule wardrobe do the work, so that you can enjoy that froze on the beach.
For all capsule wardrobes, click here.
Don't forget to pin the image below, so you can reference it if you get in a summer style rut.