Flowers blooming, the fresh scent of rain, and the feeing that you are finally free from those bulky winter coats. Spring is here, which means it is time to dive into developing your spring capsule wardrobe for 2021.
Don't just start swiping your credit card for all those favorite spring trends you see, or rummaging through all those lost pieces sitting in the back of your closet. Instead, we are going to be kinda adult-like about this and find a spring wardrobe we love that is flexible and chic.
Also, don't forget that if you sign up for my newsletter you can get a free 30+ outfit guide using all of these amazing spring essentials. (plus you'll get the winter capsule too, just as a bonus!)
NOTE: You do not have to, nor would I expect you to go out and buy all of these pieces. These pieces are for inspiration (and bought selectively). Too often we overbuy without planning our wardrobes so we end up in a overfull closet and an under-satisfied relationship with out clothes.
I create these wardrobe with basics and staples in mind. You probably have a lot of these pieces (or a close version) of them and can supplement you wardrobe with pieces as needed. There's a checklist in this post as well, to help you work through your spring closet as it stands now and evaluate any holes.
And if you struggle with fashion and your closet is an overwhelming mess, Check out my Craft the Closet of Your Dreams Playbook to curate a closet you love and find the style you were always meant to have.
we may earn a commission from you clicking a link in this post, at no additional cost to you. It's how we provide all this free content. And as an amazon associate we may earn a commission on qualified purchases. full affiliate policy, here.
What is the point of a capsule wardrobe?
A capsule wardrobe is a collection of foundational pieces that work for the designated season and are easy to mix and match. They allow you to create multiple outfits and remain stylish without the overwhelm of an overstuffed, unorganized wardrobe. These pieces are worn year after year without sacrificing style.
How do you build a spring capsule wardrobe?
Building a capsule wardrobe for each season is important, and while certain pieces will stay within that season, the bulk of the pieces will carry over from season to season. For instance, in the spring capsule wardrobe checklist below you can see a number of foundational basics like denim, tees, and blazers that have been present in the previous capsule wardrobe. However for spring we are adding a few light weight dresses and a pair of open toe sandals (which will carry over into summer).
Building a capsule wardrobe is having a streamlined set of basics, and a set of seasonal pieces that have flexibility. For the exact pieces you need for a spring capsule wardrobe, check out the checklist below.
Spring Capsule Wardrobe Checklist
Use the checklist to audit your closet and see if you are missing any major items. Again, these pieces are suggestions and should be tailored to fit your style. For instance, you could easily swap out the car coat for a denim jacket if that fits your style preferences better.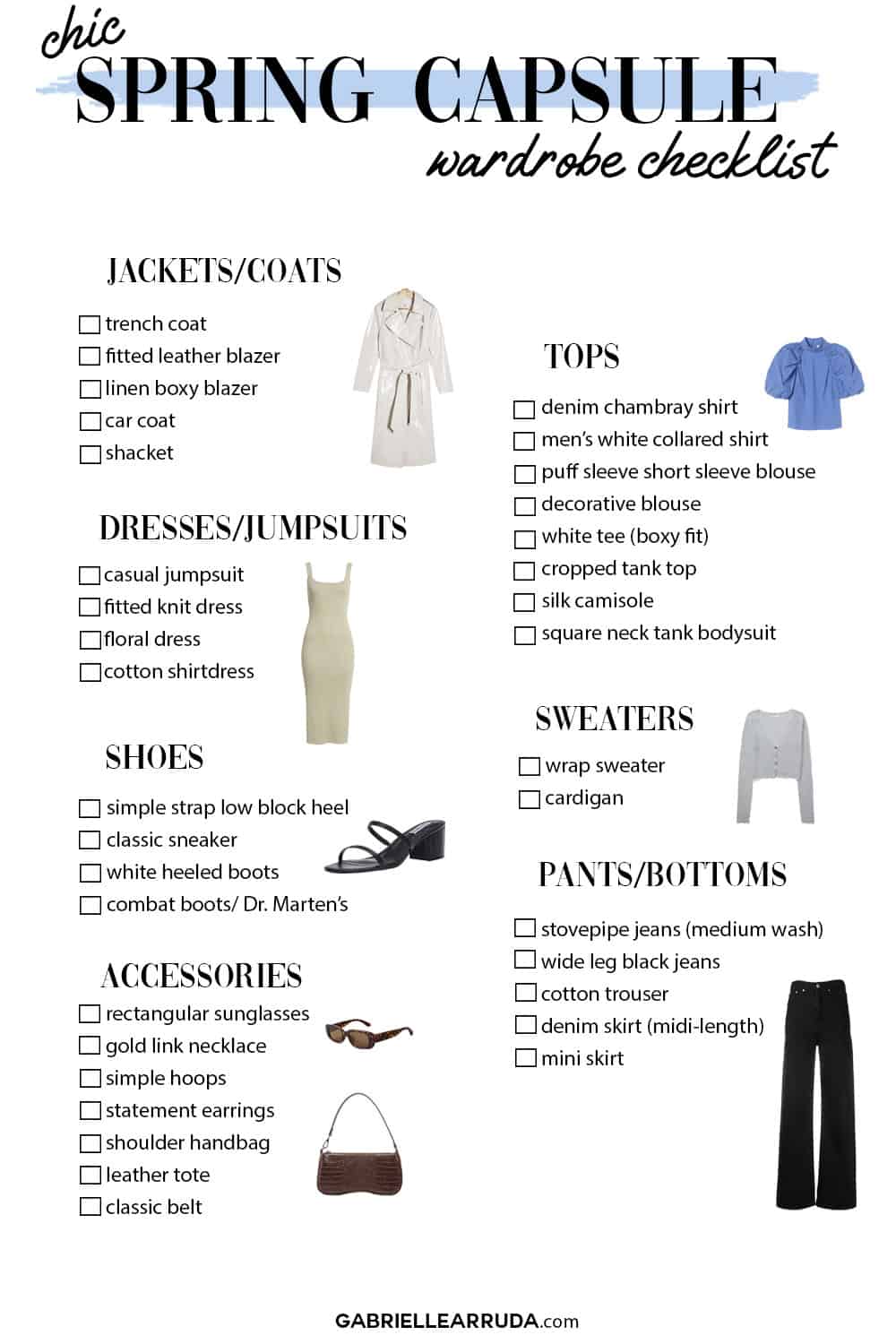 Spring Capsule Wardrobe 2021
The essentials for a spring wardrobe: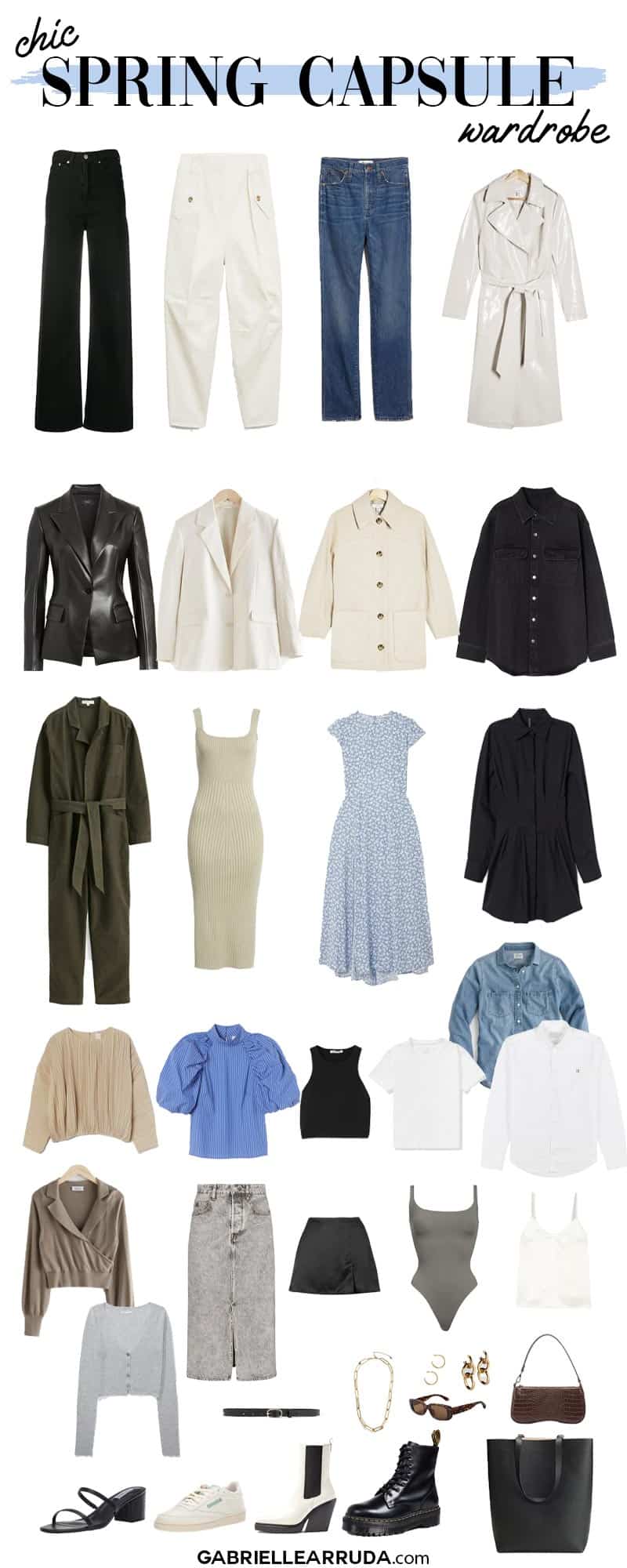 Wide Leg Black Jeans
These are a classic and slimming staple for your spring wardrobe. They are also able to transition past your spring wardrobe and be worn in fall and winter, which makes them an easy addition to your closet.
These jeans are a slightly more refined version of the "baggy jeans" trend that is very popular right now. So they can they look more trendy (and less classic) depending on how you style them.
Cotton Trouser
I love my denim, but having a cotton trouser in your spring wardrobe is a must. Not only can these trousers be dressed up or down, they fill a more formal category in your closet.
These trousers can be dressed up with the fitted leather blazer and crop top for evenings out, or worn with a basic white tee for a day of fun with friends.
Stovepipe Jeans
In the previous capsule wardrobes, fall and winter, a straight leg jean was the denim staple. And if that is what you have in your wardrobe, you can easily switch out any outfit ideas using your straight leg jean instead.
However, if you find your lifestyle needs demand more denim in your life, then a stovepipe pair of jeans is a great addition.
These jeans are slim but not skinny, so they are extremely flexible for each season and flattering for all body shapes.
Trench Coat
A trench coat is a must for any spring wardrobe. Not only do they serve as a layering piece, but they are also great as a raincoat for those dreary spring days.
I love this specific trench for a spring capsule wardrobe because while it is a classic color (and waterproof), it has the embossed crocodile print on it which adds a nice detail.
This is a great trench for someone who likes classic silhouettes with a bit more oomph. It also comes in black.
Fitted Leather Blazer
So while oversized blazers are not going anywhere soon, we have also seen the resurgence in the fitted leather blazer. If you want more style ideas using a leather blazer, check out this post.
This is a great layering piece or pseudo coat for spring, and will be wearable for fall and winter 2021 as well.
Linen Blazer
Boxier blazers are still a big trend and I personally love them, especially during transitional weather. I have this exact linen blazer and wear it all-year round.
related: how to wear an oversized blazer
This linen blazer is fantastic with a pair of jeans or layering over a knit dress for a more elevated look.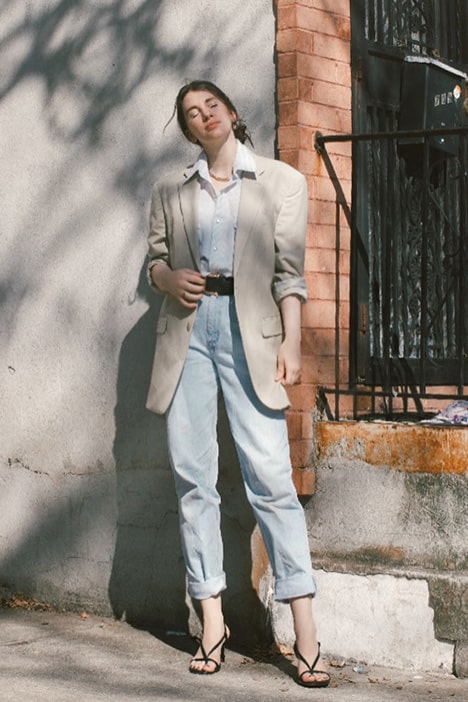 Car Coat
The car coat is a classic style that adds a bit of easy sophistication to your wardrobe. It's a great layering piece and makes your outfit feel more thought-out.
If a car coat isn't your style, you could opt for a denim jacket instead.
I love the car coat with a pair of jeans and shirt, and it would look ultra-chic over a double denim outfit.
related: how to master double denim
Shacket
The shacket (defined as a mix between a jacket and shirt) is a very trendy item. However, it is basically a heavier weight oversized shirt- which extends past the current trend and makes it a great layering piece for future seasons.
I love the flexibility of the shacket. It looks great worn as a shirt with jeans, which means you can skip the jacket in spring. Or it adds a nice easiness layered over a dress. It can also be layered with your mini skirt/tank combo to add a bit more coverage to look.
Casual Jumpsuit
I love a casual jumpsuit for the all-in-one outfit it provides. In a rush or just need an easy and stylish go-to outfit? The jumpsuit is it! In order to look polished, make sure you dress yourself fully by adding a great pair of hoops, and a chic pair of boots.
related: casual jumpsuit styling ideas
Square-neck Knit Dress
I love this dress, the subtle olive tint and the neckline are incredibly flattering. This dress is a great body conscious dress without being overtly sexy. The length is mid shin, and while it has a slit, it doesn't go too high. The knit also makes it hug your body without being overly graphic or risking underwear lines showing.
This dress can be worn for a night out, or as a casual daytime look with sneakers and a shacket layered over it. It will transition into fall nicely and could be worn on more temperate summer days, as well.
Square necklines can be extremely flattering on many body shapes, but if you don't feel they work for you, check out my full guide on dressing for you body shape here.
Floral Dress
Every spring wardrobe needs an easy, and fun floral dress. While this dress a fairly modest shape, it has a wonderful slit and open back to add a bit of springtime flirt to your style.
I love this dress with classic sneakers for hanging out with friends in the park, or with the strappy heels for a hinge date or date with your SO.
The subtlety of the floral and muted tone makes it more in-line with a french basic, so even if florals are not your "thing" you might want to consider this one.
Cotton Shirtdress
The shirtdress is a staple all year round. This is a great springtime option for the office but also transitions nicely to the weekend as well.
Add a bit of edge pairing it with Docs or keep it classic with the strappy sandal and a pair of gold hoops.
Decorative Pleated Top
Every capsule wardrobe needs one "fancy" or "decorative" item. For winter, it was an intricate knit sweater. For spring it is this cool pleated blouse.
This is a classic blouse that happens to be very trendy at the moment. So you can kill two birds with one stone- a chic blouse that will up your fashion game this season, but not be passe in a few months.
This blouse looks great with a pair of jeans or could be dressed up for the office or a sophisticated night out.
Styling is important with this top, so you don't go too frumpy. Check out my outfit ideas guide, by signing up below, for more ways to wear it.
Puff Sleeve Short Sleeve Blouse
So I think it is important to also have some "fun" pieces in your wardrobe. Will this shirt be a staple for years to come? Not, necessarily. But at an affordable price, and a great shirt for both work or hanging out, its a nice addition to you wardrobe. And it will get lots of wear for the foreseeable year.
Black Crop Top
I find an easy crop top ( or tank top if you prefer to be more modest) one of my favorite go-to pieces. It looks great with every bottom on this spring wardrobe list and the dark hue makes it sophisticated and effortless.
If you don't think crop tops are for you, read this first.
White Boxy Tee
A perfect white tee is another staple that is absolutely required for a flexible wardrobe. It can go with the cotton trousers for a chic monochromatic look, or pair with a blazer and skirt for something more office friendly.
Now, I put a white tee on this list because I personally find them the easiest and most flexible to style. But part of developing YOUR own style is finding the right color and shape for you. And that may mean based on your color palette or go-to styles a gray, black, or navy tee might work better. Remember, this is just a guideline to help get you on the right track, but customizing it for your unique traits is key!
Denim Chambray Shirt
I love an easy denim shirt. It manages to be cool-girl and functional all at the same time. It's also a very mom-friendly shirt.
For a classic look, pair it with your black jeans and white boots. Or, opt for a more trendy iteration with you mini skirt and docs. You pretty much can't go wrong!
Men's White Button Down
This is one of my holy grail fashion items. I will probably never not wear a men's white button down. I wear them as a dress, as a layering piece, and as a shirt and love the easy and stylish vibes they exude.
I have a whole post on wearing menswear as a female if you need some guidance.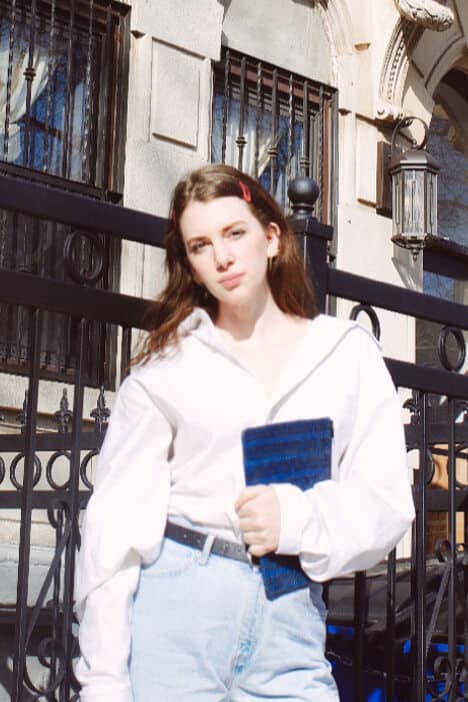 Square Neck Tank Bodysuit
I love the simplicity of this bodysuit and the clean look it gives. The fabric is amazing and it will certainly transition to future seasons.
Wear it with black jeans and a leather blazer for a date or with the linen blazer and cotton pants for a more office friendly look. Plus, no bunches at your waist helps keep your middle flattering.
Silk Camisole
I find a silk camisole a great foundational piece and a great option for day-to-night dressing. It's chic for the office (or zoom meetings) with a sweater or jacket over it. But it also works well for a night out worn with a pair of jeans and heels.
This classic staple will definitely work for future seasons as well. I especially love the cut and weight of this one.
Wrap Sweater Top
Wrap tops are easy but have enough interest in them that it makes you look like you actually tried. This is a great top for work from home (because of its comfort) and flexibility to pop into a zoom meeting.
Cropped Cardigan
Cardigans are having a major moment right now, just check out my spring fashion trends list.
A cute cropped cardigan that can be worn as a top, or as a layering piece, is a staple in my wardrobe. This one would look great worn as a top with the denim midi skirt or silk skirt for a fun and easy feminine vibe.
Alternatively, it would look easy and breezy with your stovepipe jeans and docs for a day of errands or grabbing a coffee with friends.
Denim midi skirt
This skirt is not only modest, but it is also ultra-stylish. This skirt can be worn at any age, as long as your pay attention to your proportions. I recommend a bodysuit, tucked in tank, or crop top with this item for the easiest iteration. Then add a layer on top if need be, and you're ready to go.
If you need a little more definition with the midi skirt, opt for a belt that will highlight you waist.
Silk Mini Skirt
A black skirt is incredibly flexible and fun. While this piece may not be a universal fashion staple depending on you personal style, I personally love it as a spring/summer go-to.
Pair it with docs and your white tee for an easy daytime look, or with the crop top and heeled boots for a more nighttime vibe.
Shoes for your Spring Capsule Wardrobe 2021
Strappy Low Block Heel
These are such functional and chic heels. Not only do they work for both day and night looks, but they are easy to walk in and can be dressed up or down.
Classic Sneakers
A classic white (or neutral) colored sneaker is such a fashion game-changer. I love these reeboks, but you probably already have a similar shoe in your closet, so no need to go out and buy another pair.
I love classic sneakers with jeans, trousers, or even a cute dress. They add a nice effortless vibe to any look while still letting you traverse the city or country side with ease.
related: how to clean your white sneakers so they look brand new!
Heeled White Boots
White boots are great for spring. They are light, functional, and can work for rainy and sunny days. The light color makes them feel less heavy than your dark winter boots, as well.
Docs/ Combat Boots
Doc Martens have stood the test of time. They have been popular for years now and only seem to be ingraining themselves deeper into fashion culture with each season.
So docs may not be for everyone and every style, but combat boots in general come in a variety of styles and looks. I have list of great doc alternatives here, where you might find a more feminine iteration that fits your unique look.
Accessories for your Spring Capsule Wardrobe 2021
Leather tote

While this tote isn't the cheapest everyday bag out there, it is highly recommended. This bag is amazing quality, holds a ton, and will last for many years to come. I can't say enough good things about it, especially as an everyday bag that actually lets you hold all your odds and ends.
Shoulder Bag
This style bag is definitely trending right now. So if you don't already have this bag style in you wardrobe, this affordable option won't break your budget or impact your capsule wardrobe negatively.
It's a great way to add a bit more trendiness to your outfits while not getting overwhelmed by all the fashion styles out there.
Rectangular Sunglasses
For sunglasses you have to find a pair that fits your specific face shape. That being said, I love these affordable options for a trendy accessory that won't break the bank and will pack a big punch for your spring and summer wardrobes.
Gold Link Necklace
A simple gold link necklace can add a lot to an easy outfit. If you like to layer gold necklaces, check out this post. But really, one good necklace will get you far in your styling efforts.
Jewelry is the icing on the cake, and makes the outfit feel "finished".
Gold Hoops
A classic pair of gold hoops makes any outfit feel more put together. I love these budget-friendly hoops because I don't have to worry about them from day to day and they look expensive without the price tag.
Statement Earrings
One pair of dramatic, yet classic earrings is a great option to have in your spring wardrobe. These earrings add a bit of drama to a basic outfit, or sparkle to an evening out. They aren't exceptionally trend-focused, so they will work for future seasons as well.
Classic Belt
I love this classic belt that can highlight your waist when you need some definition, or keep your jeans from sagging out. The gold buckle matches all the other jewelry on this list and the widgth of the belt makes it extra flexible style-wise.

Before developing capsule wardrobes, I used to stare into the abyss that is my (multiple) closets and get a feeling of panic having to decide what to wear. But having a capsule wardrobe eliminates the stress of overspending and buying pieces because some random influencer looked cute wearing it.
Now, as a style blogger and fashion lover, I have a vast closet. But, I still use a capsule wardrobe to streamline each seasons pieces and to highlight my go-to pieces each season without losing focus. So whether you want to build a minimalist closet or just choose outfits without the panic, this spring capsule can help you!
The second part to this equation is how to pair all these pieces together and when/how to wear each look. But I have you covered! Sign up below for 30+ outfit ideas using these exact pieces. (which you probably have similar ones already in your closet 😉 )
You're officially ready to be the effortlessly cool-girl this spring, without any of the stress!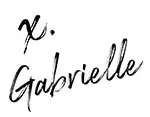 Don't forget to save this killer spring closet by pinning the below image 😉