Have you ever opened you closet and the sheer volume of mess made you shudder with dread? Like, how did it get so bad? How do I have so many clothes, yet nothing to wear? Or, did I even buy all of this?
I get it! And to be honest, getting the motivation and learning how to clean your closet out are not the easiest things to initially grasp. But these rules for cleaning out your closet will immensely help this sometimes painful process.
How to clean your closet out: Advice 101
What do I need to know before I clean out my closet?
Before you start a closet purge or closet organization you must be aware of what your closet needs are. This roots down to your lifestyle.
So ask yourself what your day-to-day wardrobe requirements are and keep those in mind when sorting through each piece in your closet.
For instance, if you recently became a mom you might want to evaluate how many 5 inch heels you have and if they still hold as big of space in your lifestyle. (more power to you if you can chase a toddler in 5 in heels!)
What is the fastest way to clean out a closet?
Cleaning out your closet quickly and efficiently is based around a few things. But ultimately, the less items you hoard or hang onto unnecessarily, the quicker your closet purge will go. You need to get comfortable letting go of items (selling, donating, recycling), and evaluating what pieces actually have a place in your wardrobe.
1. Do it in one block of time- clear out 4 hours on a Saturday and just get it done!
2. Pull everything out, and don't be afraid to purge items no longer serving your needs
3. Divide into 5 piles: keep, donate, sell, trash/recycle, and store elsewhere (out of season pieces).
4. Be ruthless about what you keep!
5. Evaluate any duplicate items
6. Buy clothing organizers to help store items more efficiently
7. Only after you have purged everything do you put it back in your closet
How long does it take to clean out your closet?
Depending on the size of your closet, most likely 4 hours. If you have a small wardrobe that has been properly purged before you could do it in 2 hours. I would recommend if you are starting with a messy, disorganized closet to allocate at least one 4 hour block of time (ideally on a weekend when it can be your sole focus).
How often should you purge your closet?
Every season. If you continually purge and re-evaluate your closet every season (which also includes swapping out clothes and replacing them with your in-season items) you will maintain an organized, and easy to use wardrobe.
If you need more help on creating the closet of your dreams and honing a style you love- I have created your ultimate strategic resource here:
9 Rules for Cleaning Out Your Closet (painlessly)
1. Know when to start the project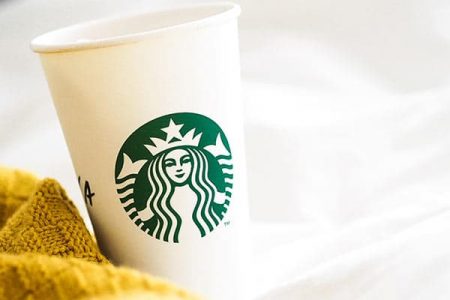 I don't know about you but when I get the motivation to start something I just want to begin that instant. But, if you don't pick the right time to start a closet clean out you will be burned out, overwhelmed, and most likely create an even bigger mess.
So start the project early in the day (after you've had your coffee), and make sure you have a solid 4 hours straight to knock it out. I prefer to do it on the weekend when there are fewer distractions.
we may earn a commission if you click a link on this page, at no additional cost to you. we are an amazon associate which means we earn on qualifying purchases. full affiliate policy, here.
2. You've got to address it all at once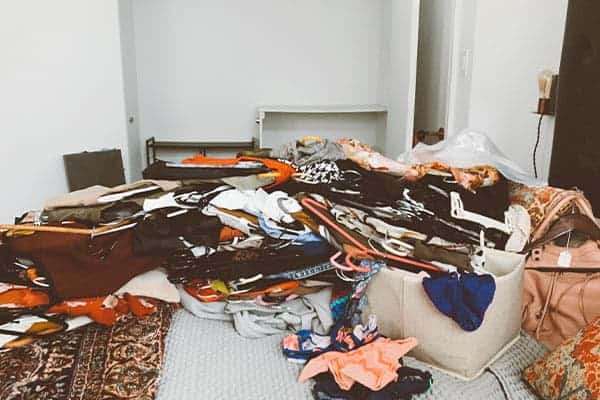 A closet clean out is not done in chunks. You must pull out everything from you closet (especially the first time you purge). Then systematically go through each piece. I find organizing it into these 5 piles makes the most sense:
– keep
– toss/ recycle
– donate
– sell
– store (out of season)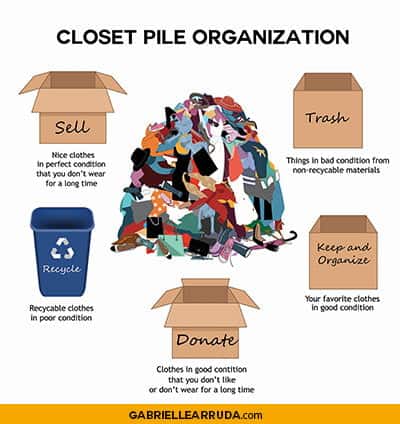 3. Be ruthless and don't let the "what ifs" win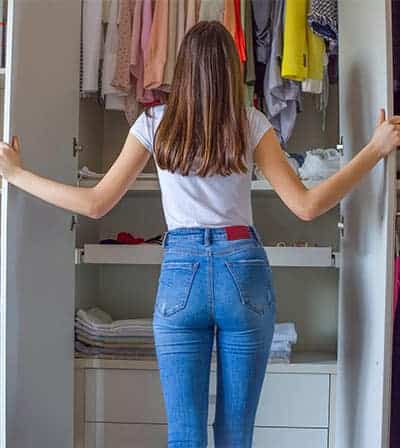 Our closets become unmanageable because we have issues letting go of pieces that no longer server our style and lifestyle needs. We keep clothing items that don't fit, or that might just come back into style one day.
In order to end up with a closet you love, you must be ruthless and get rid of items you haven't worn, items that are not in good shape, and the pieces that don't fit you anymore.
4. Current season pieces only
If you want your closet to be easily accessible and allow you to create outfits you love, you need to keep it streamlined. Which means investing in closet storage options and storing out of season pieces in a separate location.
Check out my capsule wardrobes for each season here, for some inspiration on how to create an in-season wardrobe you love.
You won't be wearing your wool coats in summer, so don't let them take up priority space in your closet.
5. Don't keep items that are in bad shape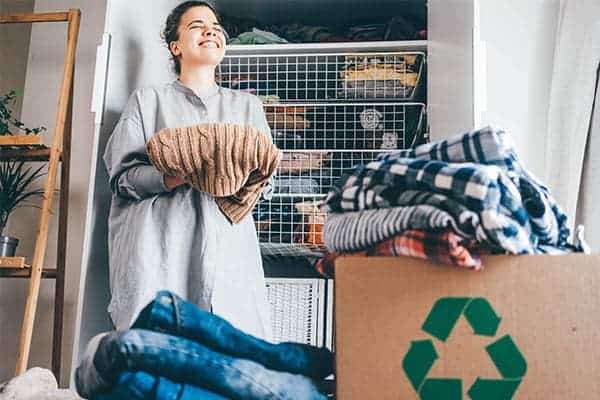 I know you have some socks with holes in them, a white tee with a coffee stain that won't come out, and probably a sweater that has seen better days. Get rid of them. Recycle or trash those items.
We form attachments to things unnecessarily and often have trouble letting pieces go despite the holes or stains. Justifying it as "it's ok for me" is not a good excuse. If you wouldn't let your child, your friend, or your partner wear it as it stand now, get rid of it.
6. Accept it can be an emotional rollercoaster
This may sound like a dramatic rule for cleaning out your closet, but the reality is starting a project centered around clothes you've had for years can have some ups and downs.
Whether it makes you anxious to have such a big amount of clutter at once, or it feels bad that you don't fit into those college jeans anymore, there will most likely be some feelings.
That's ok. This is specifically why we try to get it done in one solid afternoon, because the feeling afterwards will more than make up for it.
7. Make the organization work for you
I'd love to endorse using only aesthetically pleasing folding methods like Marie Kondo (which, I admit, are very space efficient)… But, if I'm being honest maintaining a system that works is far more important.
If you don't want to hand fold all your underwear, then get a closet organizer and have a drawer dedicated solely to undies. Find what works for you, and what you can maintain. Here are my favorites for closet organizers.
8. Ditch the influencer style closet goals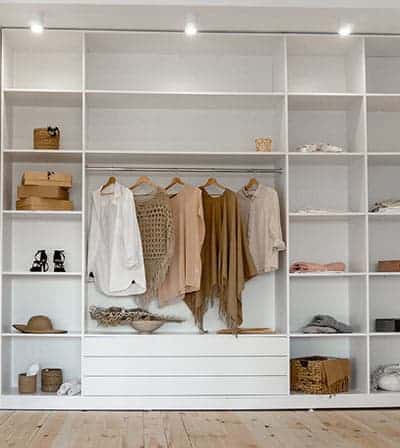 Influencer closets (with all items on display) may look beautiful, but they are not functional for the average person. Influencers, much like small boutiques, invest in their garment display because it is part of their brand. Not to mention they probably have a whole room to dedicate to their clothes.
A beautiful "influencer" closet does not equal good fashion style, and if you want a stress free closet, ditch this goal.
---
Having a beautiful closet is wonderful, but it isn't necessary in order to have a closet that functions for you and your style aspirations.
I have styled many clients and the first problem with their style is usually rooted in their closet. They can't find the items they need, they are overstuffed so mixing and matching isn't easy, and it ends up being a source of frustration instead of strength.
That's why I created the Craft the Closet of Your Dreams Playbook, which will get you a strategic step-by-step guide on how to transform your messy closet into the one of your style dreams.
---
9. Keep your style goals in mind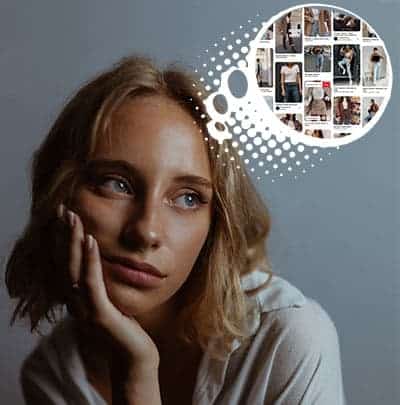 Don't keep items that look nice if they don't fit what you want your style to be or what your style is currently.
It's time to get rid of those body-con club dresses that you wore in college, since your new style goals are classic minimalism.
related: 40+ fashion styles to help you find your style interests

Don't let the closet clutter, or the clothing chair win. Follow these rules for your closet clean out and find out how much easier your mornings and outfits will be. You won't believe how much time you will save each morning with a closet that functions!
Grab your venti latte, create a go-to playlist, and just start!