Whether you love or hate the double denim look, more casually known as the Canadian tuxedo, denim trends are telling us that this look will be around right now.
watch me put together my outfit in the above video, and follow me on tiktok here. 
Denim always seems to have something new going on.  Right when everyone starts to love their skinny jeans, the fashion world decides to switch it up and bring straight leg jeans back.
And wouldn't you know that denim on denim outfits are the "up the ante" play that the fashion world has for us.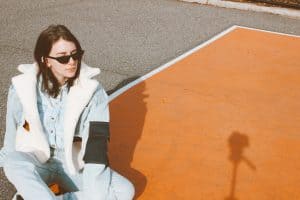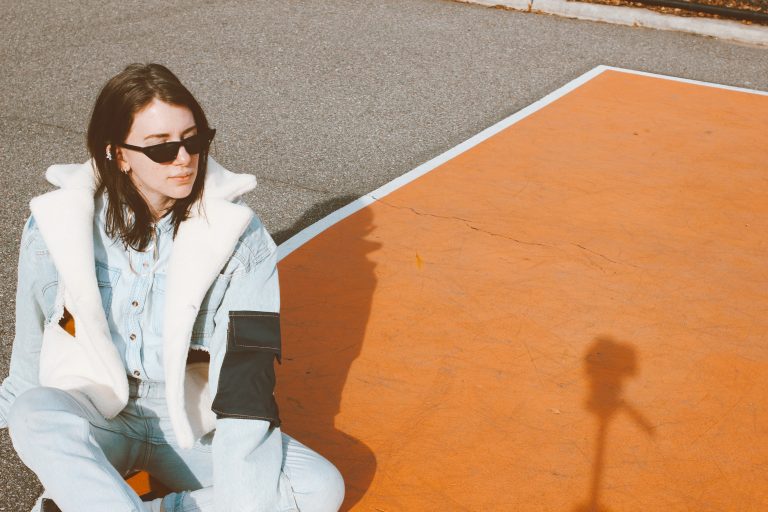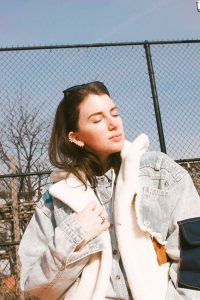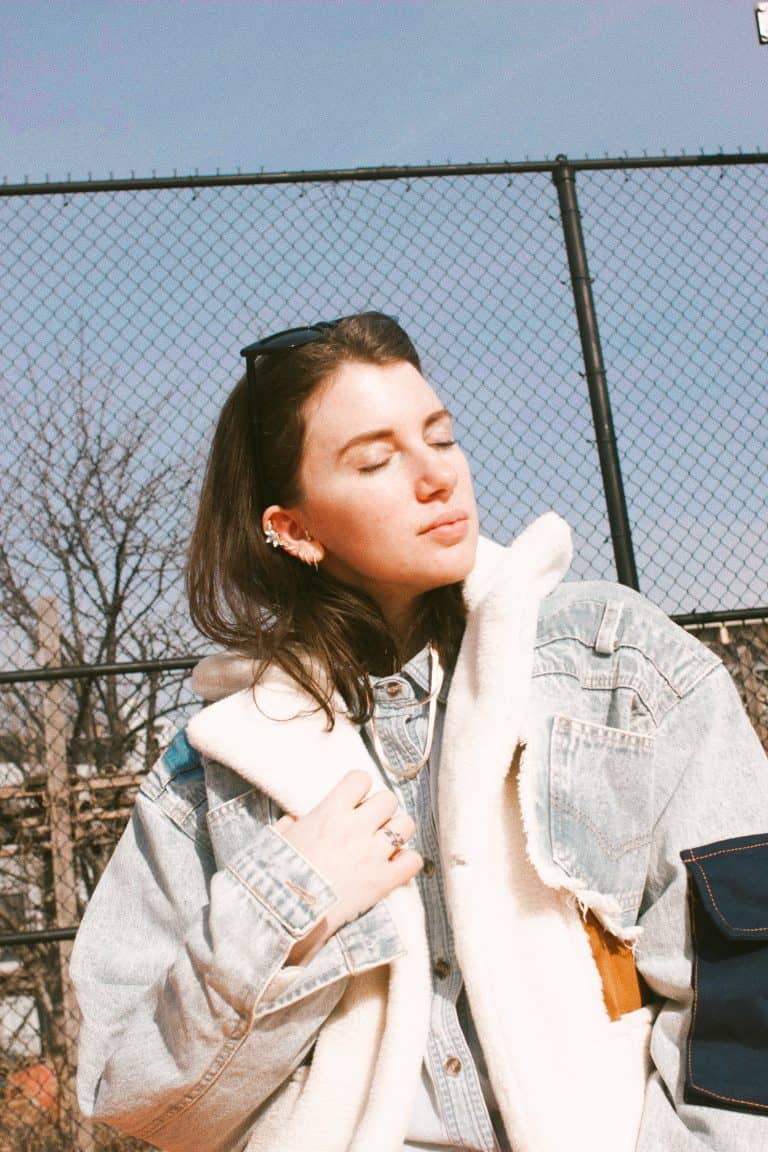 So what is a double denim outfit?
Well, it's double denim. Ha, helpful….
But, a double denim outfit or Canadian tuxedo is simply an outfit that has at least to pieces of denim within it. They don't necessarily have to be the same wash or color, but two prominent pieces of your look (usually top and bottom) have to be made from denim.
Now, there are many "levels" to wearing denim on denim.  And if you're hesitant to try this trend, start with the most basic.
How do I start with denim on denim?
The easiest way to start with a double denim outfit is with two separate colors of denim. It is usually less of a statement this way and allows you to use what is in your closet most likely.
So the easiest two outfits for double denim are:
1. Contrast color denim shirt and jeans. 
Try pairing a dark denim wash top with white jeans. Or a light wash denim shirt with black jeans. These outfits are not too "denim" focused and still fit the trend.
TIP:  When you get more comfortable with the Canadian tuxedo you can up your game by pairing these two pieces in the same wash.
2.

 

Denim jacket, tee, and jeans.
This look is very '90s and while it very trendy right now, it doesn't need you to be especially attuned to trends to pull off. You can opt for opposing color denim or even matching, and both are pretty easy to conquer.
TIP:  Check the proportions for this look. You want balance. So if this trend is newer to you try an oversized jacket with more slim jeans or relaxed jeans with a more cropped jacket.  While you can absolutely do oversized on both pieces that should be tackled when you have mastered the easier options.
Part of mastering proportions and conquering new trends or styles is about having the confidence to try them in the first place.  And if you need help with that, check out my style guide with actionable tips on how to style yourself better:
]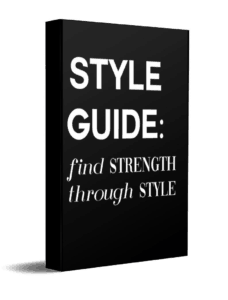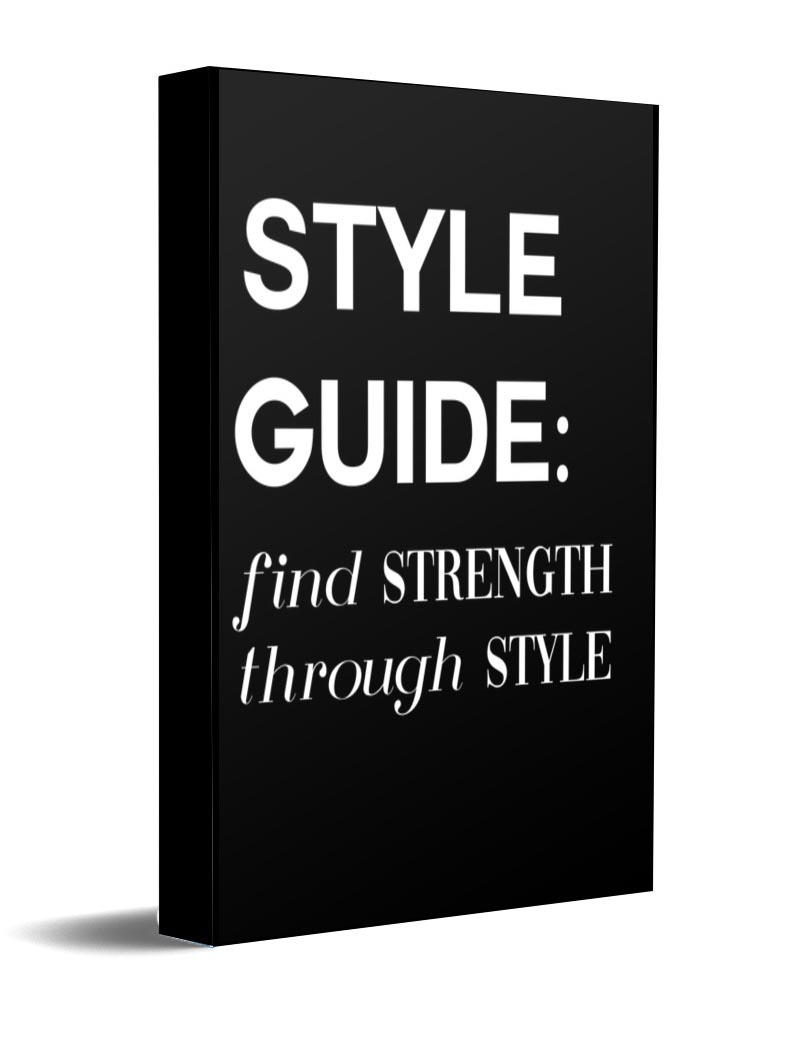 Or, if you're already a trendsetter, or want to be, check out the 10 day guided fashion challenge to expand your style vocabulary.

 

(hint, by trying double denim you might already be ahead of the curve)
[eltdf_button size="large" type="outline" text="give me more info" custom_class="" icon_pack="font_awesome" fa_icon="" link="https://gabriellearruda.com/10-day-fashion-challenge/" target="_self" color="" hover_color="" background_color="" hover_background_color="" border_color="" hover_border_color="" font_size="" font_weight="" margin=""]
Ok so here are all the ways you can wear denim on denim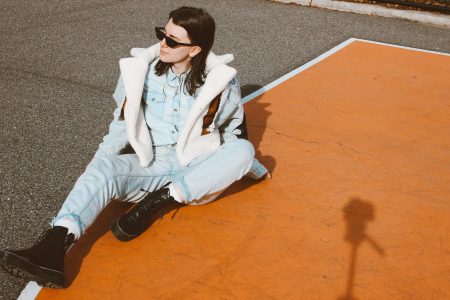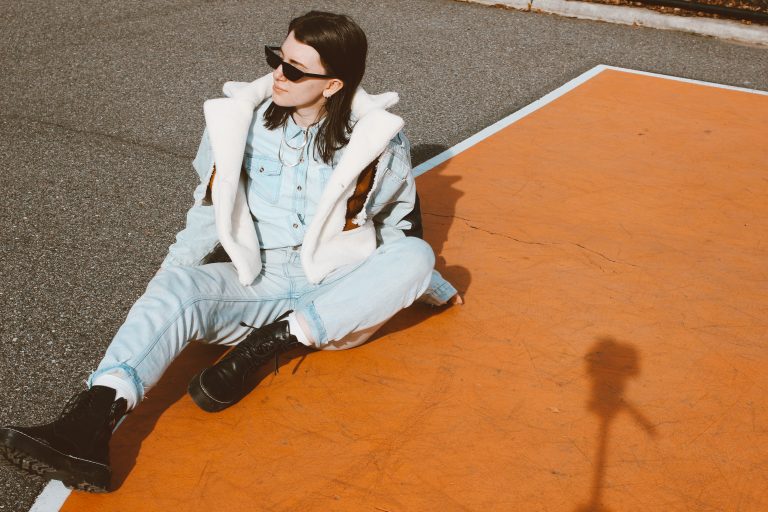 for specific examples and more inspiration, follow my pinterest board here. 
1. Denim Shirt and Jeans
This is easy and you probably already have the items in your closet.  Keep the accessories simple and you will get a classic feeling to this look. Avoid denim heels or denim accessories for the most part.
2.

 

Denim Jacket, Denim shirt, Denim jeans
This look isn't necessarily harder to pull off, it just a bit more of a statement.  As you can see in this photo I'm wearing three denim pieces in a casual manner.  The fact they are all in the same wash is not overwhelming because there is also texture to the look ( fuzzy sherpa, and details on the jacket). 
3. Denim dress and coat
This is great for a more "adult" or business casual option to wear the double denim trend. Just pay attention to your proportions and where your outfit is cinching you.
4.

 

Denim skirt and denim top
Now, there are two ways to do this combo. If you go for a short denim skirt and denim shirt you will automatically be adding a youthful vibe to your outfit (probably not work appropriate, but great for a day activity with friends).  And if you go for a longer denim skirt with a denim shirt or top then you could skew it to be business casual with your accessories.
5.

 

Denim dress and denim jacket
A denim jacket specifically is a different style than a denim coat.  (see below).  A denim jacket has more casual intentions and when paired with a denim dress can make it daytime appropriate.  I love this look for day to evening because it kind of splits the difference.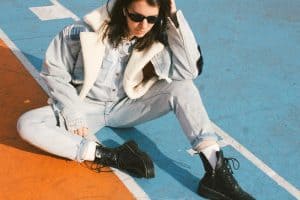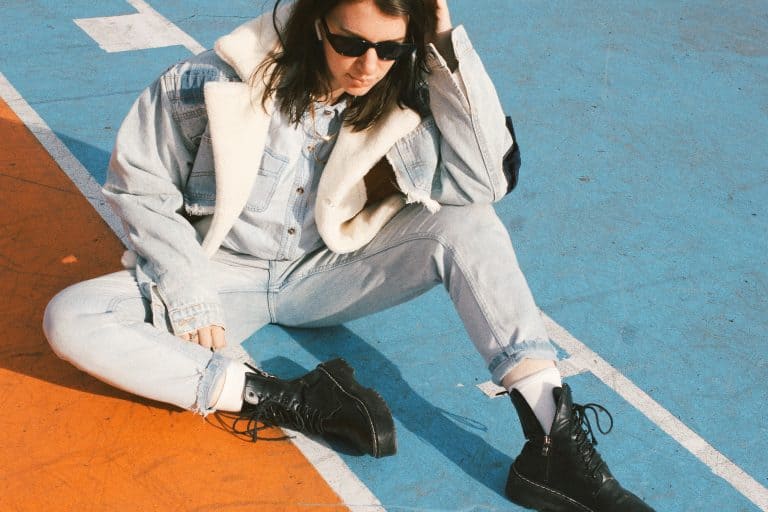 Style tips for double denim outfits
1. Avoid garments with too many details or over-embellished pieces. It's 2020- you don't need a jacket with 15 million rips or a pair of pants covered in grommets. Specific design details are ok, but keep the other pieces simple to balance the look.
2. if you want to match your washes to each other make sure they don't have too much going on.  In my look, all the denim is a very faded, light denim. It is not too distracting or overwhelming despite being a lot of actual denim.  If you opt for stonewashed, medium denim with worn marks on every piece you are wearing, you will look very outdated. And not in the cool 90's way. So, keep the denim more streamlined.
3.  Don't be afraid to dress denim on denim up or down.  You would be surprised what a great pair of heeled boots of square toe pumps can do to a Canadian tuxedo. Your accessories dictate, generally speaking, whether or not your look is a day or evening style. Proceed with thought. [ how to make your business casual look more stylish with these accessories]
4.  If double denim seems like too much on its own, add another piece. Adding another piece (especially a textured piece) can make the double denim trend much easier/flexible.  Try a wool coat, a blazer, or even a sweater wrapped around your shoulders. And if you want a fun option, you could do a flannel around your waist and just commit to grunge for the day.
5. Pay attention to the why style jeans you wear and what shoes are paired with them.  The ankle junction point is another proportion thing and if you ignore it, it can leave you with an unappealing look.  For instance pairing skinny jeans that end right above your ankle, with wedge ankle boots that show skin in between, will disrupt your eye and lead to the look feeling clunky.  You want to elongate your body and that doesn't mean you can't show ankle or you can't wear skinny jeans, just try it on in the mirror first and access how it works on YOUR body.  What shoes could help emphasize the look instead of drawing too much attention away from the denim focus?  The double denim is already the focus, you don't necessarily need to pull focus with a clunky shoe transition.
Where should I wear double denim?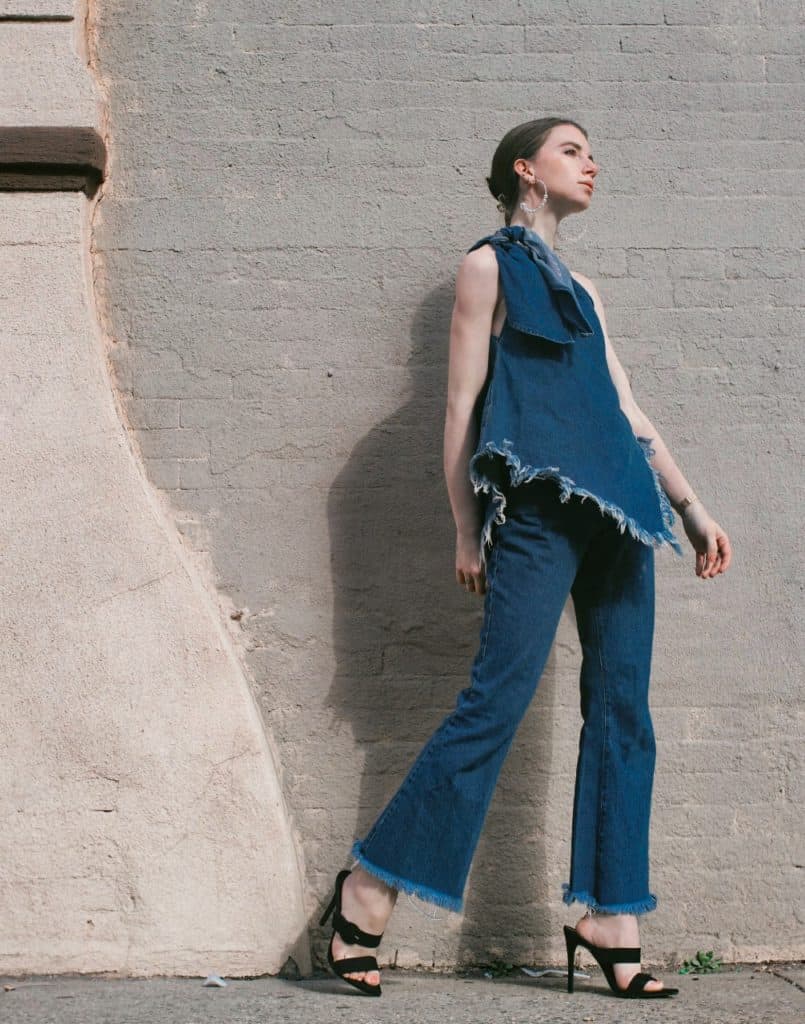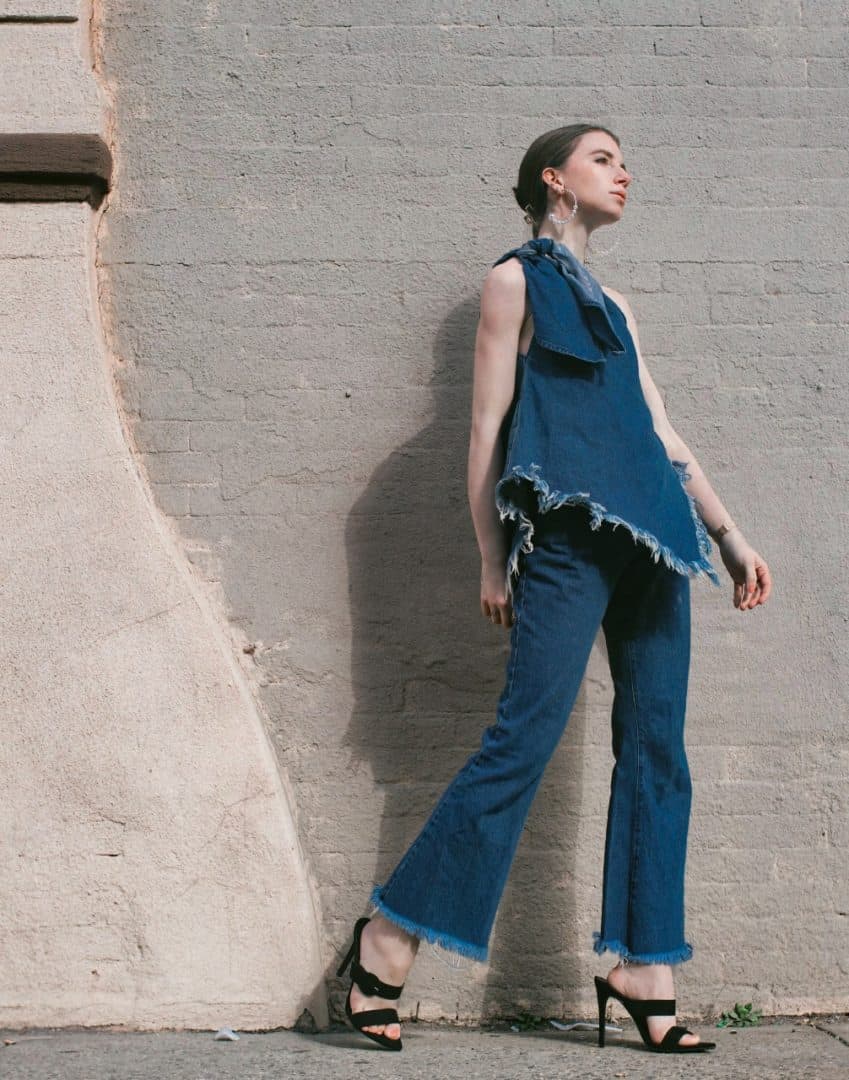 As I mentioned your accessories will really dictate where you can wear your Canadian tuxedo.  If you pair it with a blazer and heeled boots it could work in a business casual setting.  If you rock it with statement earrings and heels, it could work for a date.  And of course, it's always great for weekend day activities as well.
Wearing denim with denim does not have to be a style meant exclusively for the fashion elite and influencers of the world.

 

And the only way to get better is of course to try. 
Start by attempting an easier iteration of double denim and you will start to see how it works on your body and with your style.  And, as always, you can always reach out to me for help.  Instagram is usually the easiest way, follow me here.
Now, go get your Canadian tuxedo vibes on.
( ** we may earn a commission from you clinking the links in this post at no additional cost to you, for the full affiliate policy, click here.)
SHOP JEANS
SHOP JACKETS
SHOP DRESSES/SKIRTS/TOPS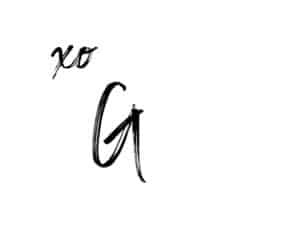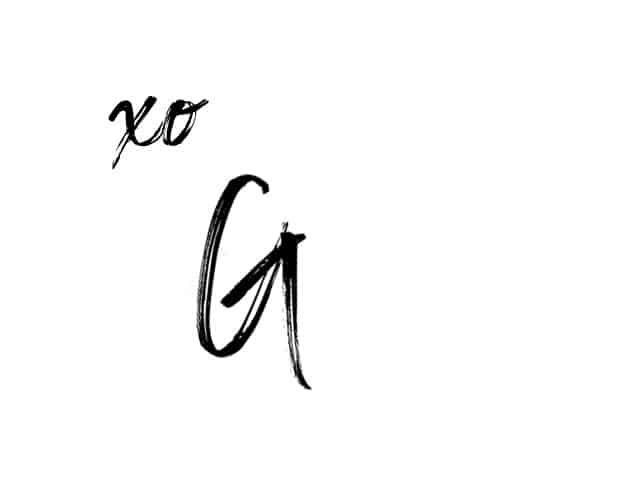 PIN for reference, and follow me on Pinterest for more style inspiration!