Emrata style, should honestly just be a noun at this point. Emily Ratajkowski's outfits have been killing it for the past few years and she never ceases to be both a powerful fashion icon and a sexy empowered female.
She has successfully managed a sky-rocketing modeling career, creating her own brand with unique psychedelic prints and sexy swimwear, and been a major voice in speaking out for feminists rights.
So it's no wonder why so many people want to capture Emily Ratajkowski's street style. And these 9 outfits will get you started on getting those famous Emrata style vibes.
Also, be sure to check out all my posts on model style here.
we may earn a commission (including amazon) from you clicking a link in this post, at no additional cost to you. full affiliate policy, here. as an amazon associate, we earn a commission for qualifying purchases
How do you steal Emily Ratajkowski's style?
Emrata has an elevated, yet trendy style. Here are some tips to master Emrata style:
1. Retro prints: Emily Ratajkowski and her brand Inamorata love 70's style prints and retro influences.
2. Don't be afraid to show your stomach: Emrata frequently sports low-rise pants and crop tops. If you don't want to bare your whole stomach opt for a mid-rise pant or bottom instead.
3. Don't overlook simple silhouettes: Emily's style is often composed of simple, well-fitted basics with a few trendy style hacks.
4. Add an oversized piece to the mix: Emrata's style consistently has men's pieces or oversized pieces paired with a more skin-revealing piece. This creates a balanced, and stylish look.
5. Don't be afraid of a pop of color: Emily Ratajkowski loves a pop of red for evening looks, dresses, and accessories.
6. Walkable shoes: Emrata-style is usually composed of easily walkable shoes like classic sneakers or low-heeled boots. So while she does wear heels, don't forget these easy shoe options when stealing her style.
7. Trendy sunglasses: add a chic, and trendy style of sunglasses to finish off your Emrata look.
9 outfits to copy if you want the Emrata Style
Emily Ratajkowski Street Style Look 1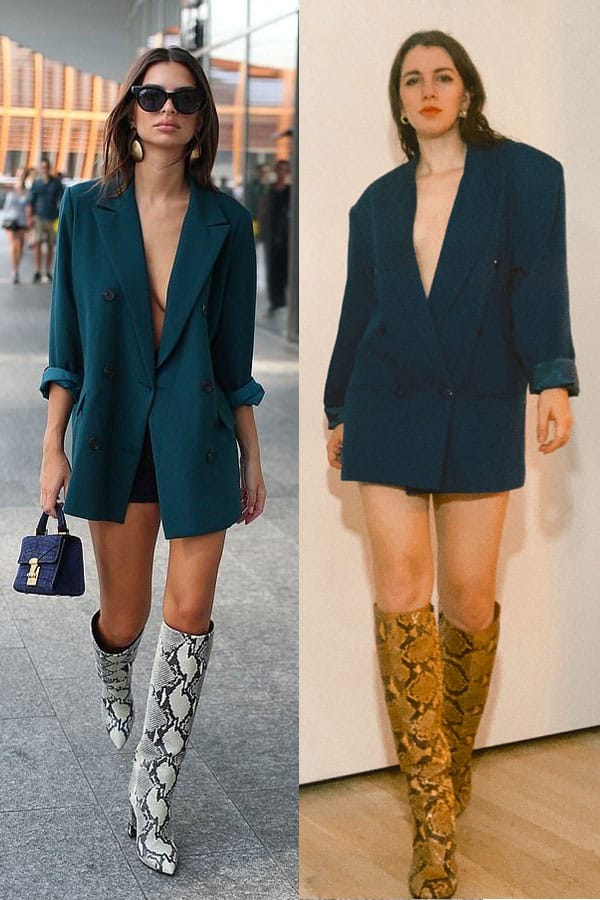 boots, blazer, sunglasses, hoops
I love this look, the oversized blazer is worn as a dress (with shorts underneath) and the snakeskin boots are a perfect example of how to mix print and color in a sophisticated and elevated fashion.
The darker turquoise pairs really nicely with her coloring, and brings out the caramel tones in her hair and tanned skin.
Keep the accessories simple and let the blazer and boots draw most of the attention. Snakeskin is a great "neutral" print that commands some attention but doesn't overwhelm the look.
For my outfit, I choose a slightly more blue-toned blazer, to compliment my more pale skin. The knee-high boots that end just below the knee joint create an elongated effect and help with a "skinny" effect.
Pairing an oversized blazer as a dress is a great way to use oversized pieces to your advantage. The scale of the blazer makes your frame appear smaller and more "petite". This is a style tip to keep in mind when choosing clothes as there is a common misconception that tight clothes make you appear smaller.
NOTE: all body sizes are beautiful. and these style hacks are just ways to make you feel more confident and do not in any way emphasize being "smaller" is ideal.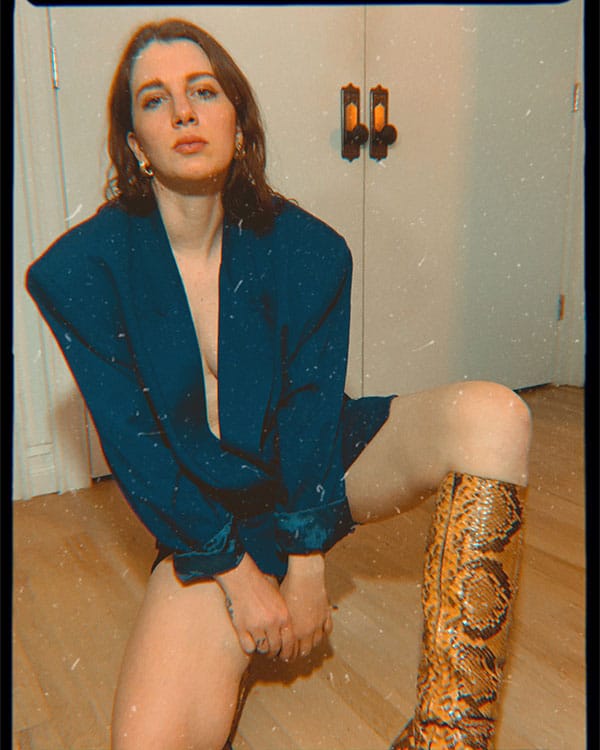 Emily Ratajkowski Street Style 2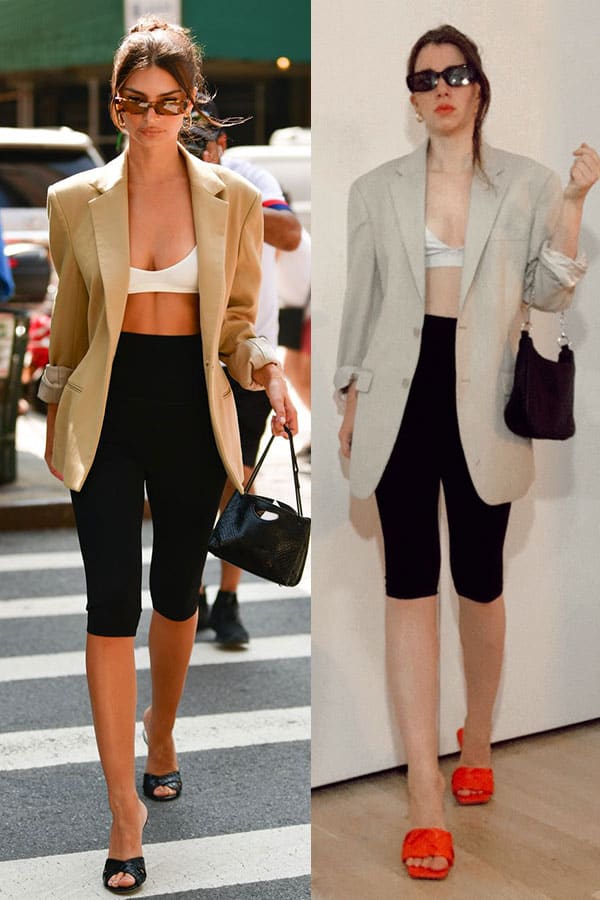 blazer, bra top, leggings, mules, bag
Here's another way that Emily Ratajowski wears oversized blazers while still being feminine.
related: elevate your style with this one item, the oversized blazer
The leggings, bra top, and mules are all feminine pieces that balance out the boxy blazer. The blazer provides a nice counterpoint to the overly body-conscious pieces underneath.
This Emrata style was made more "daytime" by having her hair up in a bun and keeping her accessories (like sunglasses) daytime casual. This is a great example of an outfit that could transition to nighttime by just letting her hair down and ditching the sunglasses; then it would be a perfect going-out look.
Emily Ratajkowski Street Style 3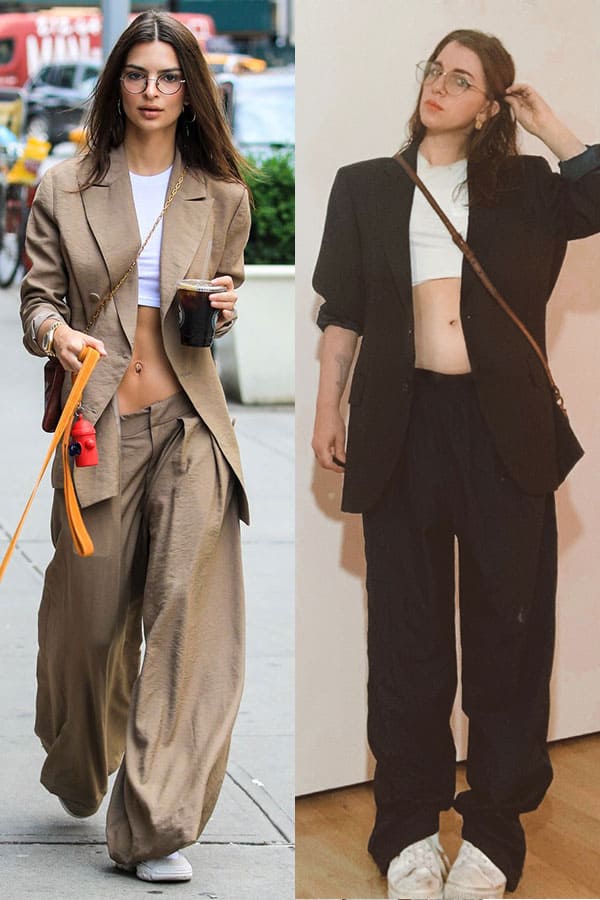 blazer, pants, glasses, sneakers, crop top
Ok, for all my adventurous fashionistas, this one is for you. I hate to break it to you but low rise pants are back in style. And this is an uber-chic and modern interpretation of the trend.
related: winter fashion trends you need to know about now
Instead of rocking low-rise jeans, elevate your style with a low-rise suit! And, if that's too much for your abs to handle, just try this look with mid-rise pants (the effect of this style is still managed with mid-rise trousers).
I love the casual "cool girl" vibes of this Emrata outfit and you once again get to use your oversized blazer. So, the moral of this post is to invest in at least one go-to oversized blazer.
I didn't happen to have a tan suit option for this look, so I used navy but I think the color is less important than the proportions and the details.
The glasses add a quirky touch to the look and are a great accessory if you have them. If not, get yourself a pair of blue-light glasses here (that look identical)- your eyes and style will appreciate them.
While this outfit could be worn with heels if one prefers, I think the sneakers are a great way to keep the "easy" outfit vibes. Ya, know, like you barely* had to try.
And if you want that "I just woke up like this" makeup, check out this post. Emrata does the no-makeup makeup so well.
Emily Ratajkowski Street Style 4
sweatpants, crop top, claw clip, sneakers, gold necklace
Would this even be an Emily Ratajowski style post if it didn't include laidback loungewear made ultra chic?
Emrata knows her proportions and her assets and is not afraid to show them off. While I may not have the ab crack she has I still love a good loungewear outfit and this can be easily tweaked with higher rise sweatpants if the lower rise makes you cringe.
Why does this outfit work outside the house, you ask! Well, the details of the outfit are trendy and intentional. Her rectangular sunglasses are the "it" style right now, as our her sneakers choice.
Adding a few distinct and well-thought-out accessories (or a necklace) can elevate your outfit and give it a life outside of your couch.
The square neck tank is also a great option as it has a more "formal" feel than a round neck.
For my Emrata outfit look, I added some chunky white socks to add some more interest and help with my proportions a bit. This added a clear distinction between my sweatpants and my shoes and happens to be a style tip we will see Emily Ratajkowski use in the next street style outfit.
I also added a claw clip to my hair, as that is a huge hair accessory trend, and I felt it only supported the intentions of my outfit (which is to go out and look chic, not just lounge around).
Emily Ratajkowski Street Style 5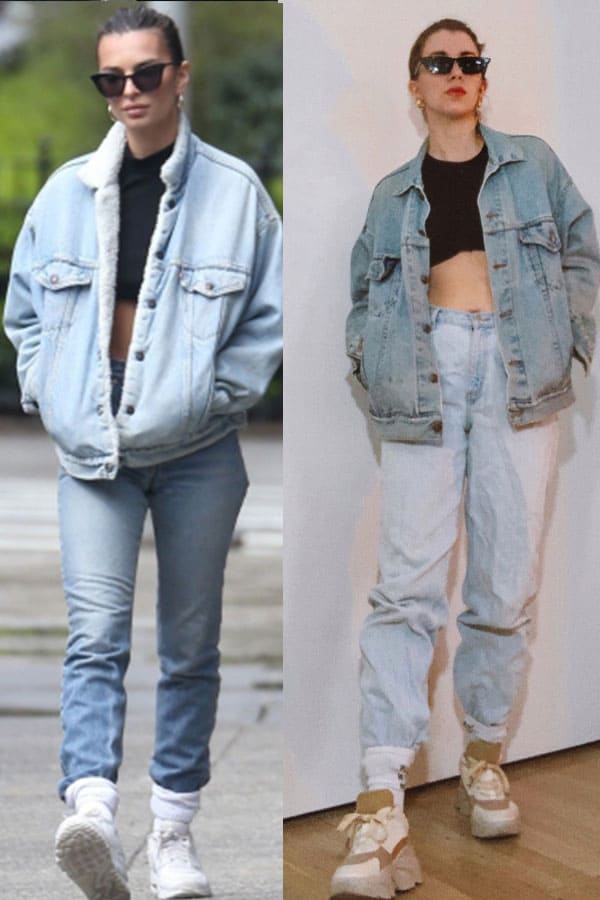 denim jacket, jeans, crop top, socks, sneakers, sunglasses
Here's a really great style hack… If you want to learn how to dress like a model, try double denim.
The easiness and casual vibes of the Emily Ratajkowski street style is weekend perfection. She uses two loose, casual denim pieces and pairs them with a trendy shoe styling and crop top to emphasize her figure.
Wearing a crop top as an adult doesn't have to intimidate you, read all about crop top styling here. But, the peak of skin helps break up the bagginess of the jacket and jeans and helps feminize the outfit.
The white sneakers with chunky white socks are also a more modern (once retro) shoe look and can be used to help this casual look feel more "fashion".
And if you need a great pair of affordable hoops to jazz your outfit up, these are my go-to.
For my look, I choose two close (but not identical) denim washes. However, you can also do this look with black denim or even a mix of two different denim colors.
A sleek bun is the perfect effortless touch to this look.
Emily Ratajkowski Street Style 6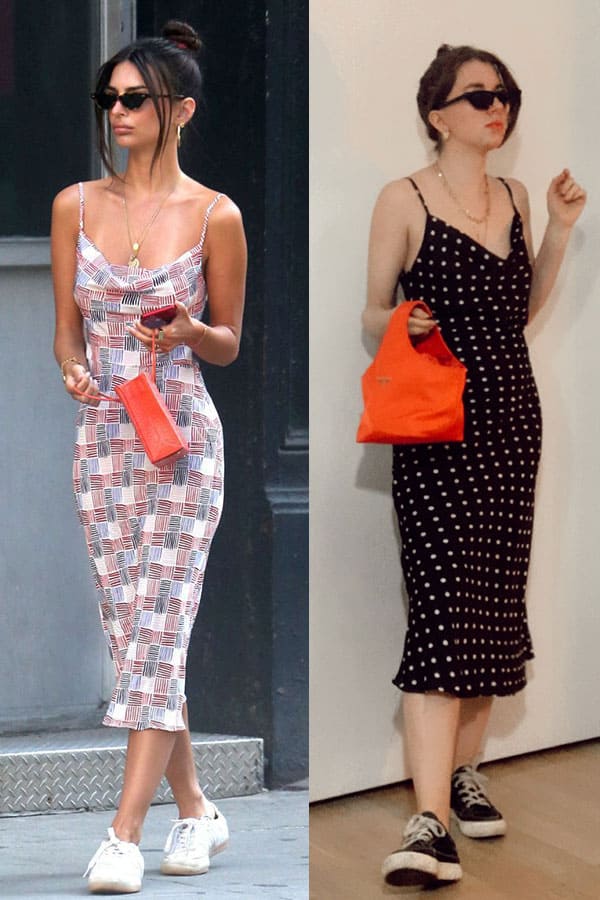 cowl dress, sneakers, sunglasses, hoops, necklaces (my favorite affordable gold necklaces)
Now, Emrata is the queen of low-key trendy street style, but she is also a bonified feminine goddess (if you happen to have missed her empowering and sexy Instagram account).
Emily Ratajkowski's style is composed of two separate "identities". One (like the outfits above) that use oversized pieces and more masculine style vibes and then the more feminine, body-conscious style with flirty dresses and skirts.
related: how to wear menswear as female
I love this silky cowl dress and the way she makes it easy-going by adding sneakers. Sneakers with dresses are one of my go-to summer styling hacks and should be used to make any dress more effortless. I mean, it screams gorgeous girl next door.
The high bun with front strands pulled out keeps the look "less sexy" and a bit more refined and is perfect for daytime events or casual evening outings.
Grab a cute clutch or handbag and you are all set. I think this is a great first-date outfit (especially if you think walking or outdoors is involved and heels don't seem practical).
The midi length has a more sophisticated look than a mini dress and can also be an appropriate family event look.
Emily Ratajkowski Steal Her Style 7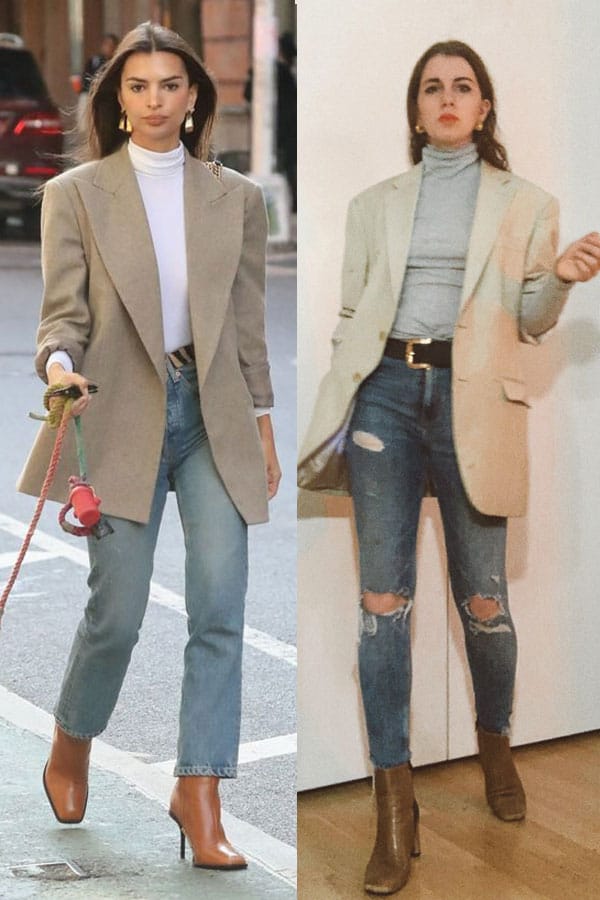 blazer, turtleneck, jeans, boots, hoops
Say it with me, turtlenecks are so chic. And if you don't believe me, I have a whole post on how to wear turtlenecks like a style icon, here.
Emily Ratajkowski's outfit here is influenced heavily by the queen of sophistication herself Princess Diana.
The easy denim and square toe boots paired with a turtleneck and blazer screams subtle sophistication.
The hoops and hair down also keeps this look from veering too casual and would be a great business casual outfit idea, or a great outfit for lunch with friends.
While the boots and the blazer are two different shades of brown, because they are in the same family, they pair nicely with one another and don't compete for attention. Brown is a huge fashion trend right now, and you can read more about wearing brown, here.
For my version of this look, I went with skinnier jeans because I felt the length of the jean was more critical to this look than the fit. However, because this is such a classic and flexible style you could try almost any jean style and it would work.
Emily Ratajkowski Style Casual Outfit 8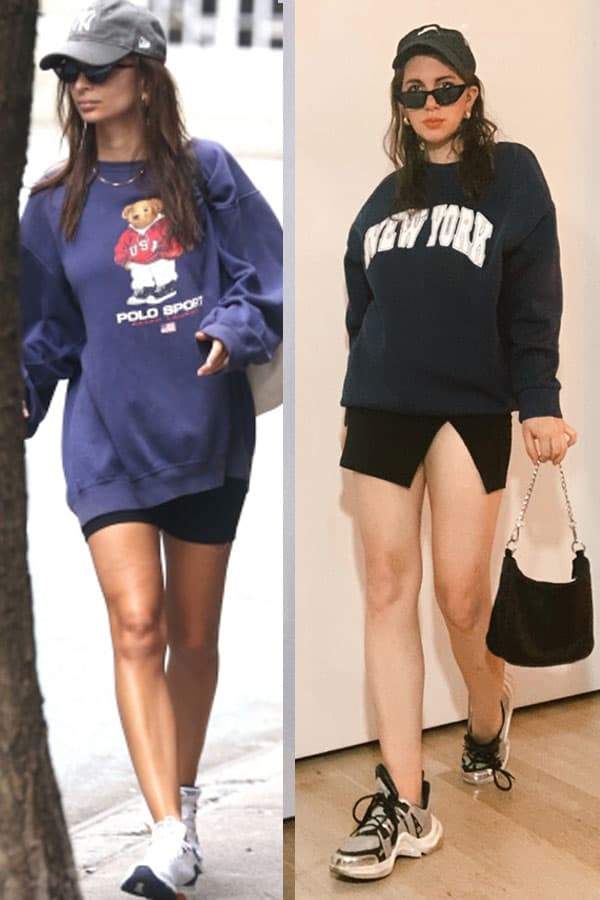 sweatshirt, skirt, sneakers, baseball hat, purse, sunglasses
This Emrata outfit is one you need in your back pocket. I highly suspect she's wearing it in order to avoid paparazzi but it's chic enough to wear out and offers you a disguise when you don't want to have that 30 min chit-chat in the coffee line.
The oversized sweatshirt is another item I am a firm believer in. And you can read more about styling the oversized sweatshirt here.
The short skirt and bare legs make this outfit feel cuter and more styled than a pair of jeans and the outfit sits firmly in the functional yet fashionable category.
This outfit is perfect for Saturday errands, shopping in soho, or just running out to get your mid day caffeine fix.
I sometimes struggle to wear a baseball hat and not looking like I'm trying to audition for a league of their own. An easy style tip is to add a simple pair of hoops and keep your hair down so that the baseball hat isn't ya know, too baseball-y.
Emily Ratajkowski Steal Her Style 9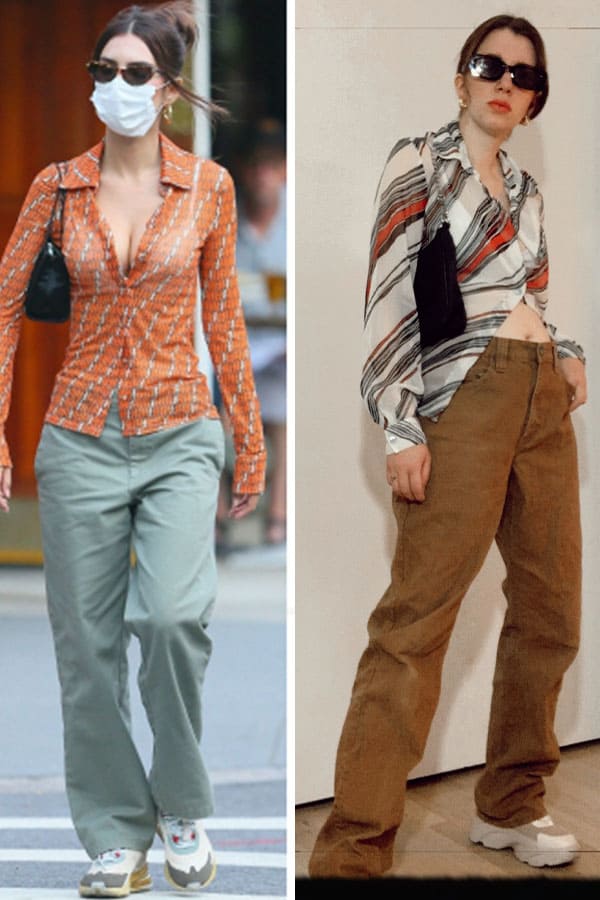 blouse, trousers, sneakers, purse
The fitted blouse, it's a trend and you can read all about it here!
This Emrata outfit is one of her go-to styles. The blouse is her own design and a perfect feminine and sexy touch to her baggy trousers and chunky sneakers.
The femininity of the sheer blouse is an easy style piece that can work both in the daytime and evening. Swap out the sneakers for square toe mules and you have an evening-out look instead.
The print and subtle pops of color are also a simple way to make this outfit more intentional and fashion-forward. It gives the outfit more interest without being overwhelming or feeling forced.
For this look, I choose a fitted blouse with a psychedelic print and a pair of baggy trousers that all had warm hues. While I have less overall color in my outfit it still works because the print is bold and the pants are not too neutral. In fact, the pants are a favorite fall winter 2020 color trend, and you can read more about color trends here.
For this outfit your trouser should have some weight to them, to make them effortless and chic. Avoid silk or linen pants and opt for a cotton-trouser instead.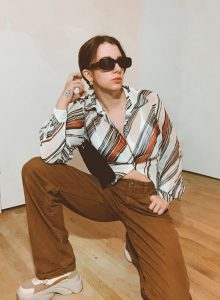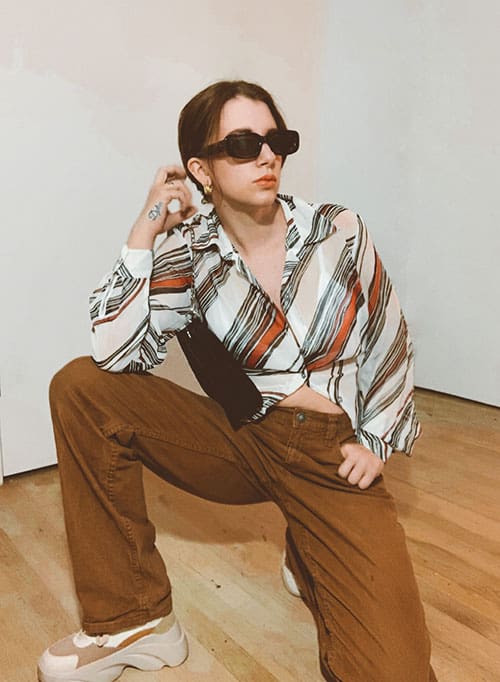 Emrata Steal Her Style 10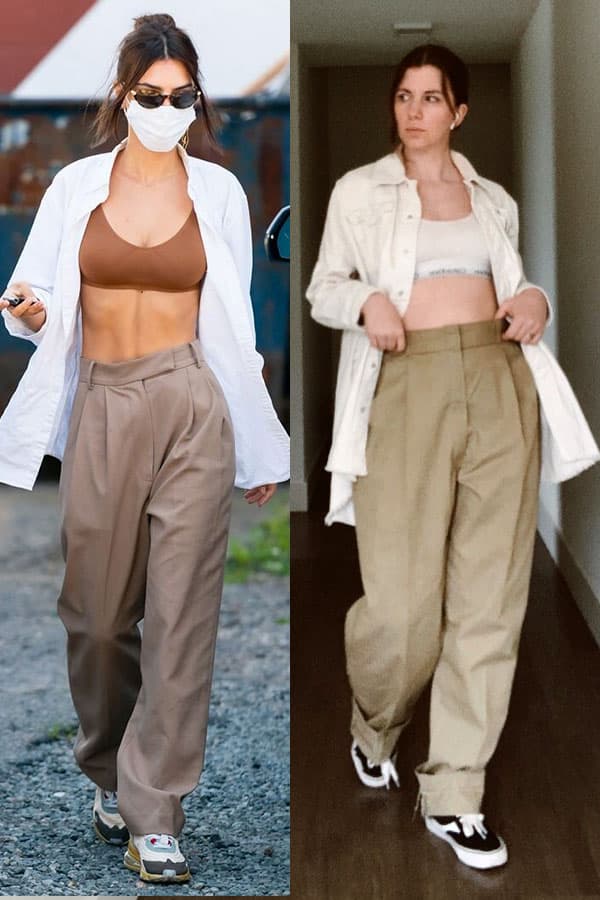 In order to steal Emrata's style, you are going to have to invest in some crop tops and men's trousers. This look is trendy but composed of classic staples. Here's a great affordable trouser to achieve this Emrata outfit:

I'm not sure what else I can show you to convince of Emily Ratajkowski's X-games mode style. I mean, she really is on another level.
Her ability to be a chameleon between sexy, skin baring fashion and effortless fashion-forward outfits is unparalleled.
related: Outfits you need to try from your favorite style icons
It should, however, be noted that these outfit ideas are just jumping-off points. You should tailor each outfit to fit your unique style voice and to represent your personal preferences. Don't want to show your lower stomach? Opt for a mid-rise pant. Prefer an opaque blouse instead of a sheer one? Do you.
Now, go rock these Emily Ratajkowski styles as if the paparazzi were camped outside of your brownstone.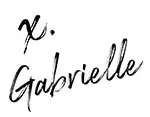 pin the below image so you have these Emily Ratajkowski street style looks on hand