I remember as a teen watching the movie Alfie (remake) and just obsessing over Sienna Miller's style. She was a modern, bohemian goddess with flirty dresses and long chains and fringed bangs that almost made me want to cut my hair right there. And her IRL style was just as profound.
View this post on Instagram
I so wanted to be her. I wanted to look like her. And, I tried. But, copying her outfits was a sure-fire way to lose myself and not even achieve the effortless style I was going for.
So, while I have compiled a list of modern-day style icons as style inspiration, I want to first put out a disclaimer so you don't go down the same rabbit hole I did desperately searching for Sienna Miller style images online before fashion blogs cornered the market on this service.
How do I take style inspiration and make it my own?
Fashion is powerful, exciting, amazing, and sometimes just not a priority. It's ok. Life can get in the way, the news can dampen our spirits, and sometimes even the most fashion-addicted can opt for sweat pants and a hoodie over something runway ready.
But, everything is cyclical, and that voice deep inside who you are will poke its head from above the sand and demand you start communicating again. Expressing yourself through your clothes, because it makes a difference.
And it is like riding a bicycle. Have you ever tried riding a bicycle after hiatus from bicycles? It's a bit rocky in the beginning but after a few shaky starts, you feel your groove again.
I'm a firm believer that we take inspiration from the world around us and then we transform it into something completely unique but adding our own Je ne sais quoi to it. Whether it is fashion, art, music, or even just our own opinions.
The most special part of executing anything is in fact you. That is the only IP you have complete control over. Use it.
So while I believe its fun to take inspiration from currently trending style icons like the ladies below, I also believe they should be inspiration only.
Take these outfit ideas, and adapt them to your style, your opinions, and your preferences.
Now that's done…
Related: How to master the Model Off-Duty Look
Here are 6 easy outfit ideas and style inspirations from popular style icons of today
for the reference images, refer to the video/image above.
** we may earn a commission from you clinking the links in this post at no additional cost to you, for the full affiliate policy, click here.
Emrata (Emily Ratajowski) style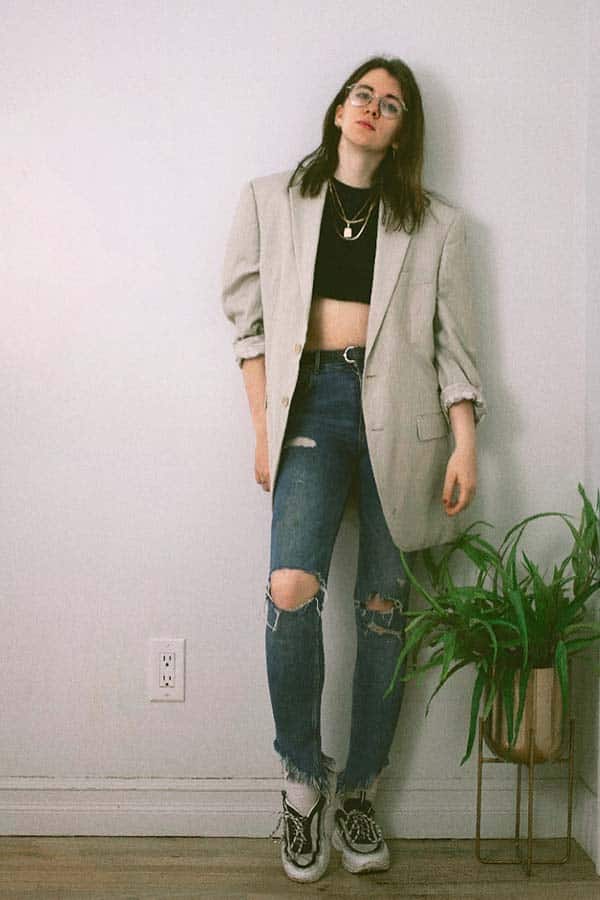 To get this Emily Ratajowski's look you need dad sneakers, chunky white socks, medium blue jeans, a cropped black shirt, an oversized blazer, belt, gold necklaces, and glasses.
This look works because the oversized blazer balances out the more fitted jeans and crop top. The glasses are a trendy, slightly off-beat style element that makes the look more approachable. And the sneakers add a nice athleisure, casual touch.
Style Tip: Watch your proportions. Yes, Emily Ratajowski is incredibly skinny but her outfits also highlight her proportions so she appears even taller and thinner. The higher waisted jeans and crop top creates a 2/3 to 1/3 ratio that elongates her legs and creates a balancing point for the more oversized blazer.
The oversized blazer is an absolute staple and when paired with more form-fitting or skin-revealing (crop top) options it creates the perfect outfit. [ how to wear an oversized blazer]
And if crop tops scare you as an adult, read this post before you banish the idea of wearing them.
Hailey Bieber Style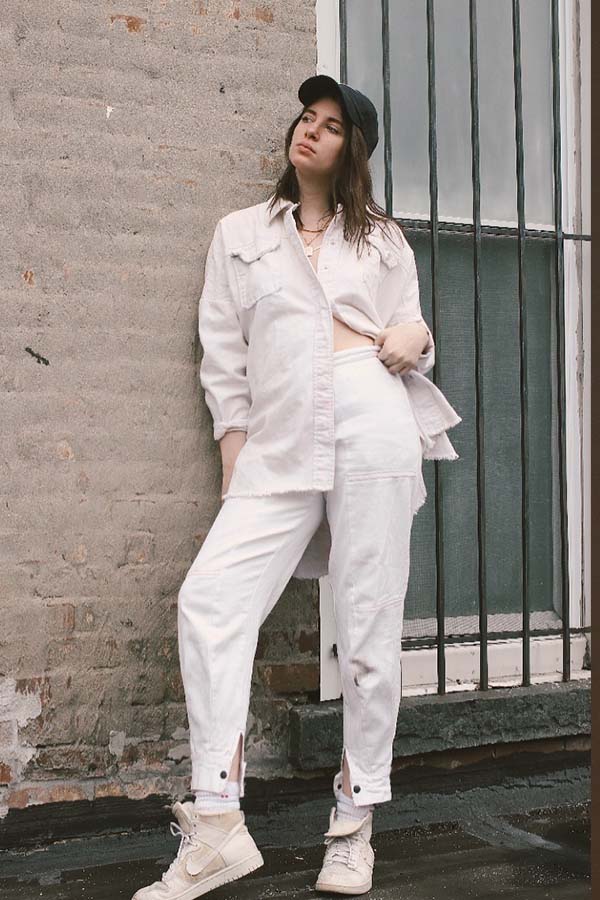 This Hailey Bieber outfit consists of a monochromatic oversized shirt, casual cargo pants, high top sneakers, and a baseball cap. This outfit is great for any casual activities like hanging out with friends, picnics in the parks, walks around the city, and any activity that needs stylish functionality.
It's a stylish, and easy look to pull off. The monochrome helps elevate it, and the simplicity exudes an effortless feeling. For more Hailey Bieber outfit inspiration check out this post.
Style Tip: An easy way to approach a more trendy or challenging style is to make it monochrome. Neutrally colored monochromatic outfits make any outfit elevated and stylish.

[ how to style monochrome outfits ]
Kaia Gerber Style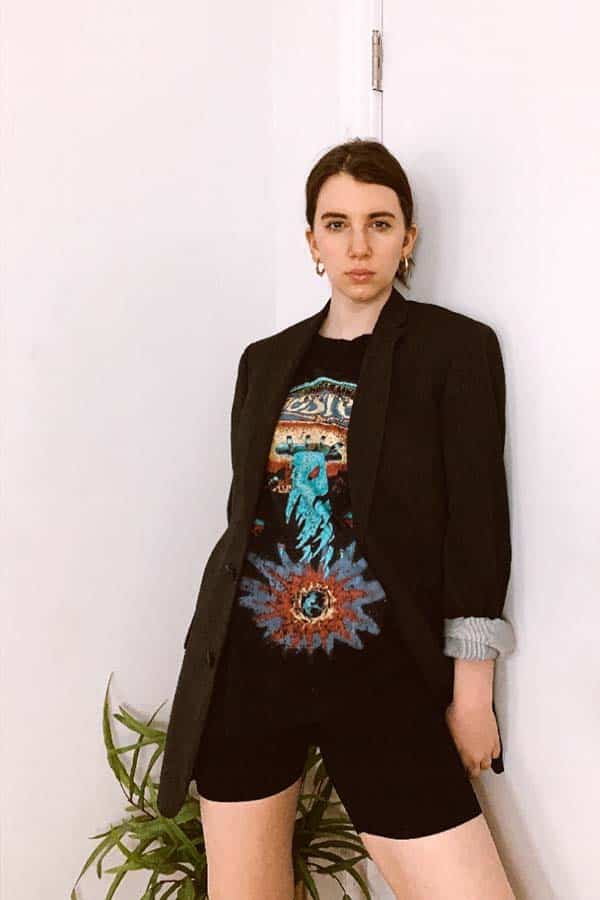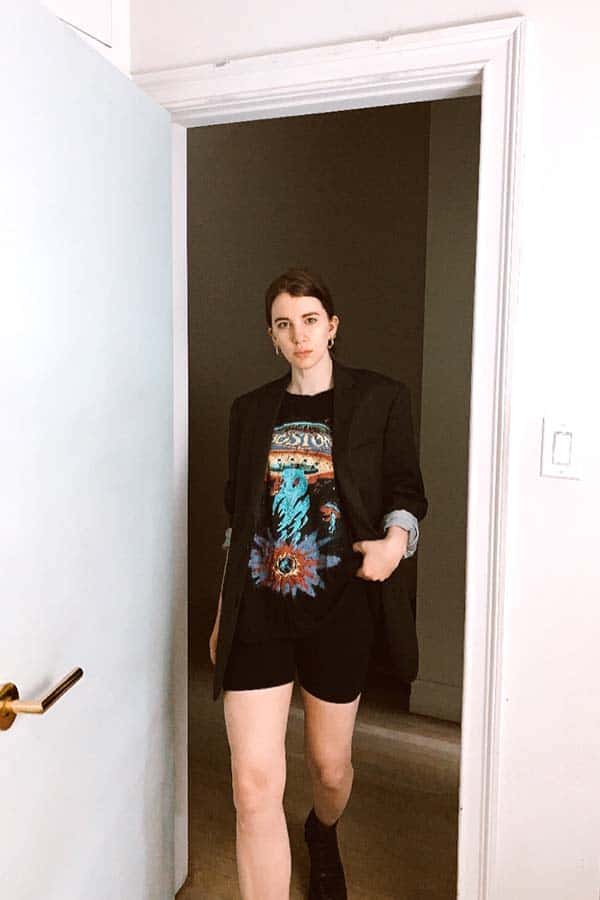 This Kaia Gerber look consists of an oversized blazer, bike shorts, an oversized graphic tee, chunky boots or sneakers, and a pair of sunglasses.
The balance of the fitted bike shorts and the oversized pieces makes it instantly stylish and perfect for casual outings. The tonal palette also helps keep it streamlined and flattering. This look is great for a casual night out, exploring on the weekend, or even a movie night.
Note, for this look you want bike shorts that go to the mid-thigh, that creates the best proportions for this specific look. Avoid super short booty bike shorts or bike shorts that go to the knee or below
Style tip: Keeping an outfit balanced is one of the easiest ways to achieve an effortless look. So if you opt for two oversized pieces pair them with a fitted, form enhancing piece. In this look her bike shorts are not only form-flattering they show some leg to counter the other pieces that are all oversized or slightly more masculine in style.
Bella Hadid Style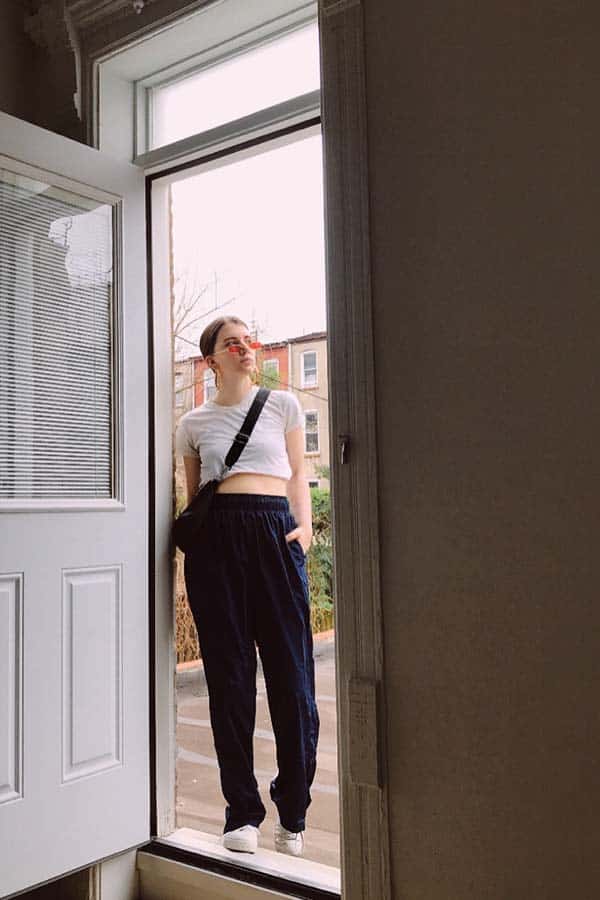 You need a cropped tee, high waist pants, classic low top sneakers, a crossbody bag, micro-sunglasses, and hoops for this Bella Hadid look.
It's classic and comfortable. A perfectly balanced outfit. It's great for any daytime events like hanging with your friends, casual outdoor activities or running around the city.
Style tip:

The high waist pants elongate your legs and the crop top makes it a more casual, trendy outfit.

Pair two different style categories (casual/athleisure= crop top with more formal= high waist trousers) for an easy yet trendy outfit.
Kendal Jenner Style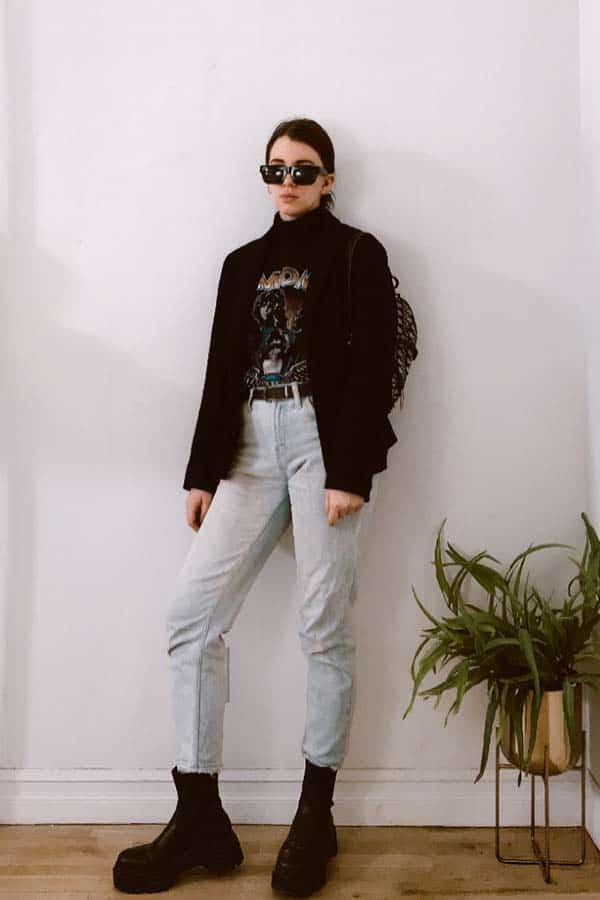 This outfit consists of a blazer, turtleneck, graphic tee, high waist jeans, a belt, chunky boots, and sunglasses.
The layering creates a dynamic look and a more elevated version of the 90's fashion. Keep the color palette simple in order to keep it sophisticated.
Style Tip:

If you love the '90s fashion but you feel it skews too adolescent, adding a more business casual piece (like the blazer) can make it more age-appropriate.

You could also opt for the tee and turtleneck with a pair of trousers instead of jeans. This is all about taking inspiration and tailoring it to your specific style and needs.
Gigi Hadid Style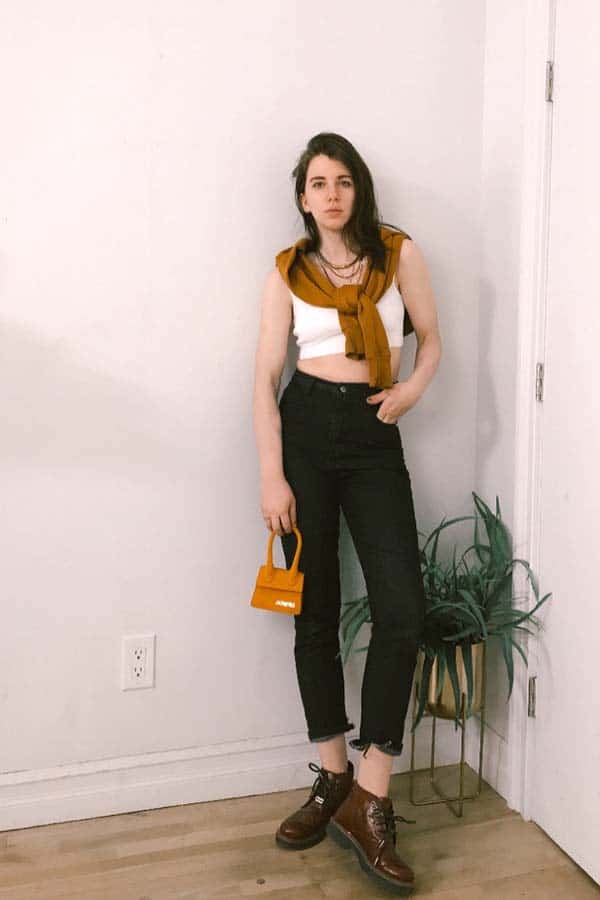 For this Gigi Hadid inspired outfit you need high waist black jeans, ankle doc martins, a sweatshirt, crop top, micro-bag, gold necklaces, and sunglasses.
This look is casual yet feels complete. The details make it modern and special.
Style Tip: Don't be afraid to take inspiration and make it your own. I opted for a thicker strap tank to fit with my body type and I choose a color that works better with my skin tone.

Super skinny straps can give the appearance of bulkier shoulders, so if this is a sore spot for you, opt for thicker straps or a square neckline.

Take these easy outfit inspirations and store them away in your Pinterest boards or bookmark them to come back to. Because there will be a day where you need an easy outfit and you just don't know where to start.
Luckily, this list can be your jumping-off point and will make getting on that bicycle just a little bit easier.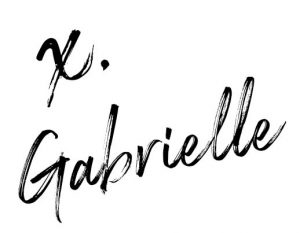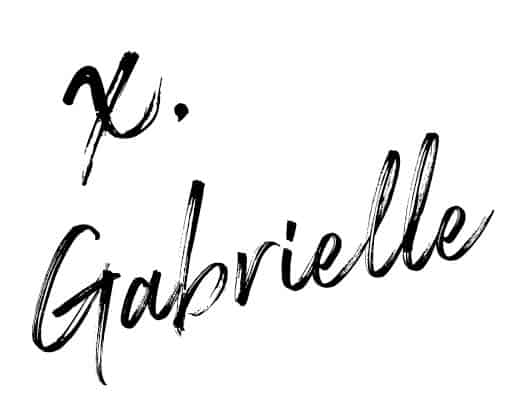 Sign up for the newsletter to get all the exclusive content, fun video messages, and just general updates. So don't be all, like, uncool. Sign up below.
Follow me on Pinterest, here, and be sure to pin this or any of the images above so you have a resource of easy outfits when you need a bit of a kickstart.