Do you ever look at your closet and feel like you have nothing to wear? And wonder how your boyfriend gets ready in 10 minutes and looks fantastic? I'm going to tell you a secret that might just change your outfit preference.
Men's clothes are incredibly stylish and easy to wear. They are classically cut and when worn on a female they create the perfect oversized look.
Why should I wear my boyfriend's clothes?
There really isn't a reason why you shouldn't wear your boyfriend's clothes. Unless he is abjectly against it. But, let's be honest, you can convince him otherwise.
Also, men's clothes are ultra-polished and create an instantly stylish ensemble on women.
Seemingly, you are in a committed relationship not because your mom has begged you to get married, but because you actually love, trust, and desire the person you are with. And if the previous statement applies, you find the person you are with to be a safe space.
Assumptions aside, you like this person. And a psychological study performed by The University of British Columbia found that "a partner's scent alone, even without their physical presence, can be a powerful tool to help reduce stress" and lower cortisol.
So if you struggle with sleep, wearing your boyfriend's (or SO's) t-shirt to bed can actually help with relaxation and encourage a feeling of safety. [ 5 things to help improve your sleep]
Not only will it help with your stress-reduction, strengthen your feelings for your SO, but it is also incredibly trendy and stylish.
related: How to wear menswear pieces as a woman and look so stylish
You've convinced me. What should I pick from my boyfriend's closet?
Blazer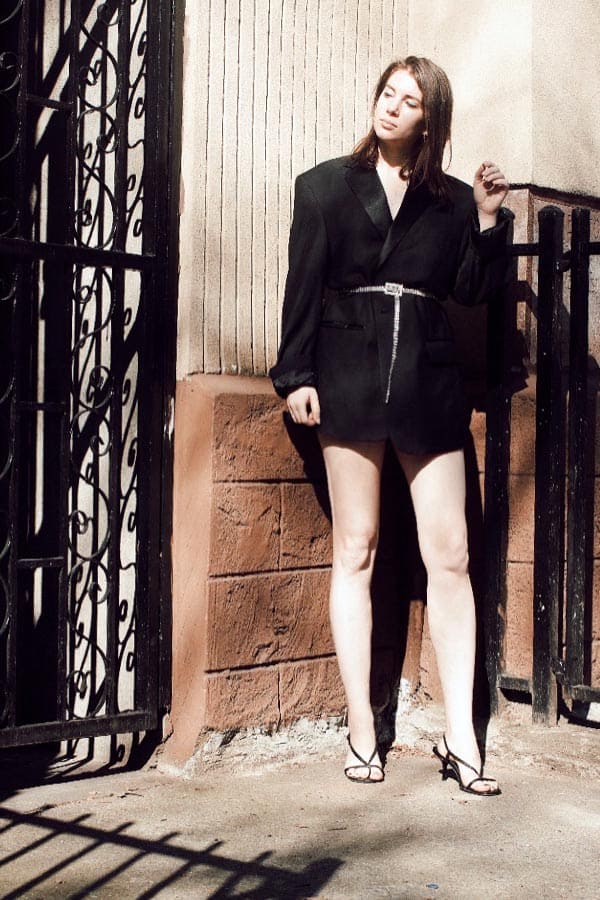 The men's blazer is a MUST-try item from your boyfriend's closet. There are literally endless ways to wear the oversized blazer, ranging from super feminine (like the image above), or casually chic. Click here for the ultimate guide on how to style an oversized (men's) blazer. The plethora of style options and the fact the oversized blazer is majorly trending right now, makes this item one of my fashion staples.
Short-Sleeve Shirt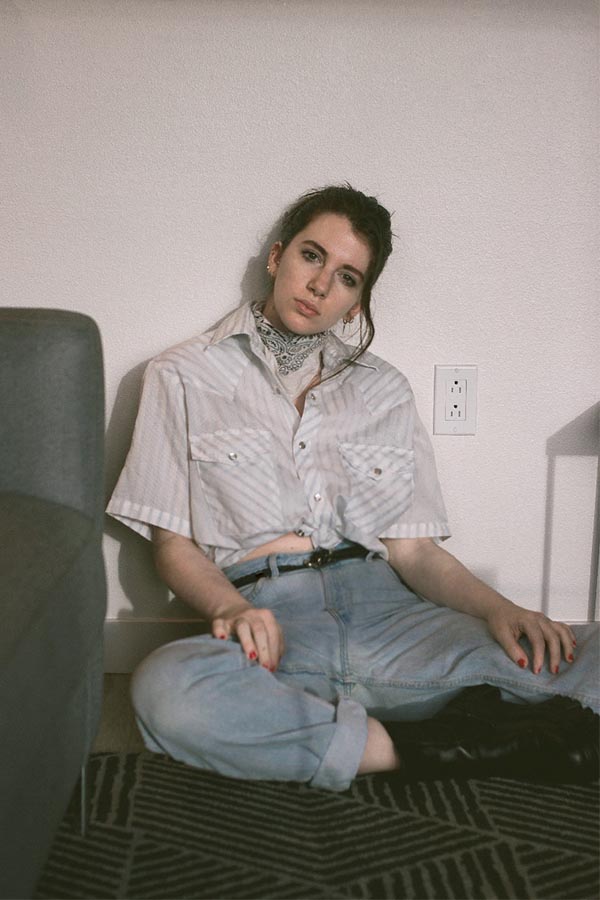 The men's short sleeve shirt is kind of underrated for women. It is the perfect relaxed shirt you can wear, and the key to styling it is simply adding some feminine details. The bandana scarf in this look is my feminine detail.
Now, you may be thinking a bandana scarf is not feminine. But it highlights my neck and draws your eyes to my face. The hair and makeup I have here are delicate and feminine as well, which helps this look avoid veering too masculine.
When wearing men's clothes try to keep your makeup and hair a bit more natural and not too "harsh". For instance, a very sleek, harsh low-bun would change this outfit's vibe very dramatically. So choose wisely. And if you're ever stuck, opt for feminine styles to balance out the masculine notes.
Polo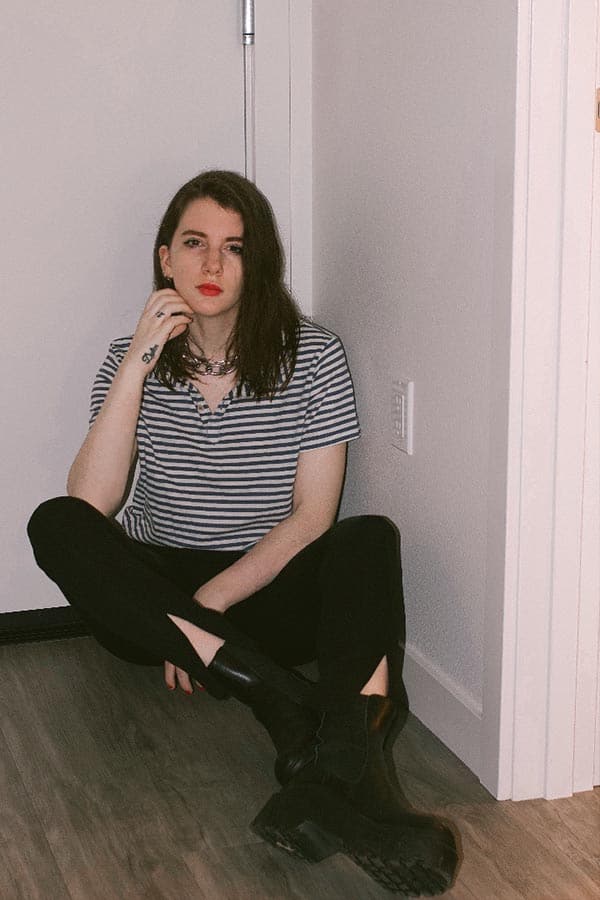 You forgot about the polo didn't you? This is a super easy men's wardrobe piece to swipe from your boyfriend's closet. It is easy to style with minimal effort required.
In my look, the chunky boots and leggings create an elongated effect. Because the polo has a baggier silhouette the body-conscious leggings provide a counterpoint to your feminine shape. The goal is to create balanced looks that highlight your figure and follow trends. [ What you need to know about split ankle leggings]
The chunky link necklace is an easy piece to pair with the polo and helps glamorize the look a bit more. [ The budget-friendly jewelry brands I swear by ]
Sweatpants
View this post on Instagram
Who doesn't love wearing sweatpants? And your boyfriend's sweatpants are a must-try. The elastic waistband and tie make them slightly higher-waisted on the female form, so watch your proportions.
With this men's item, a crop top or fitted top can be ultra-chic if you want a great travel outfit. [how to look like an it-girl when you travel: athleisure looks]
But, if that feels like too much skin for you, a long sleeve shirt tucked in or a hoodie and blazer can work too. For more info on styling sweatpants and looking chic, click here.
Hoodie or Sweatshirt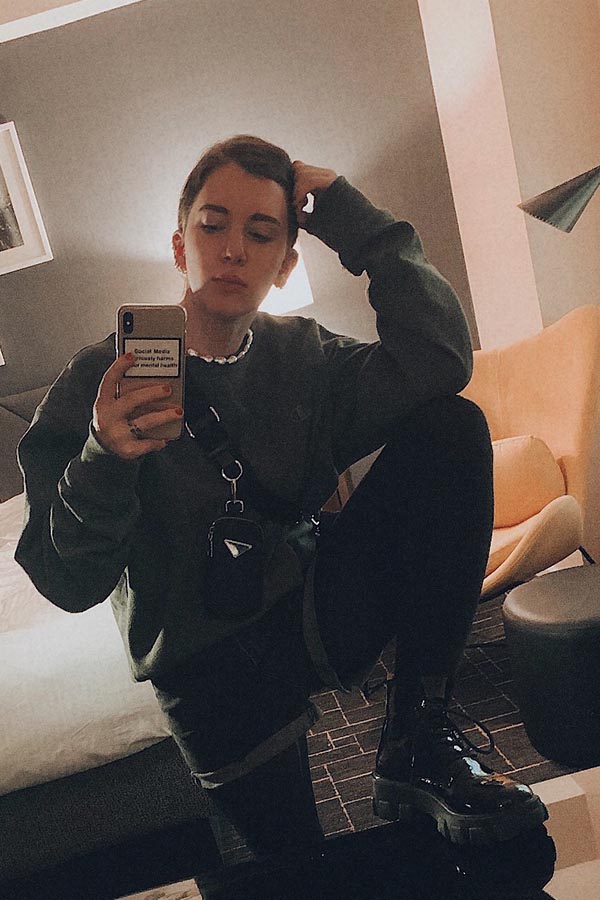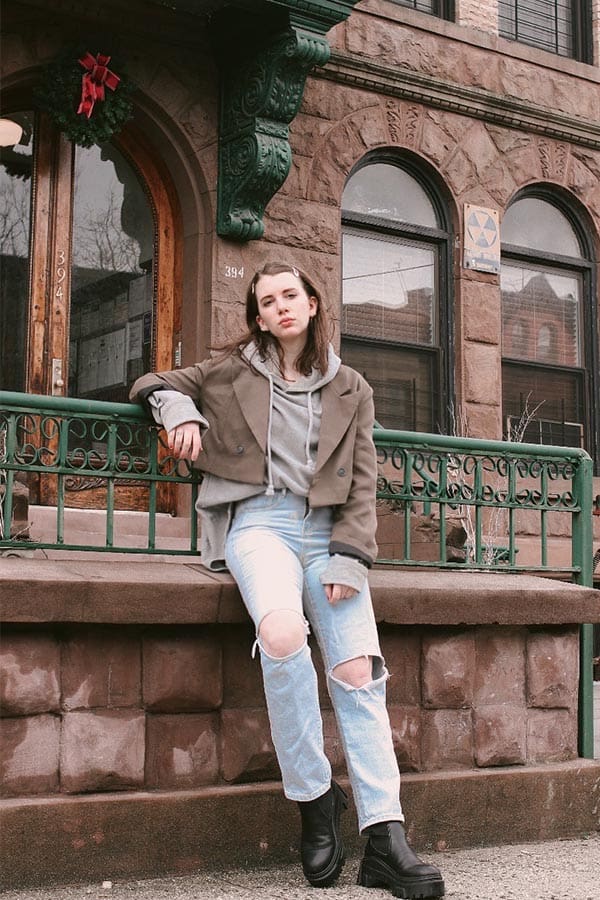 This is probably the girlfriend's go-to piece to steal: the sweatshirt. It looks great with everything, it's comfortable, and reminds you of your love. So, if you try nothing else, try this men's item.
Don't know where to start? Try it with a pair of skinny jeans, classic sneakers, and a feminine touch.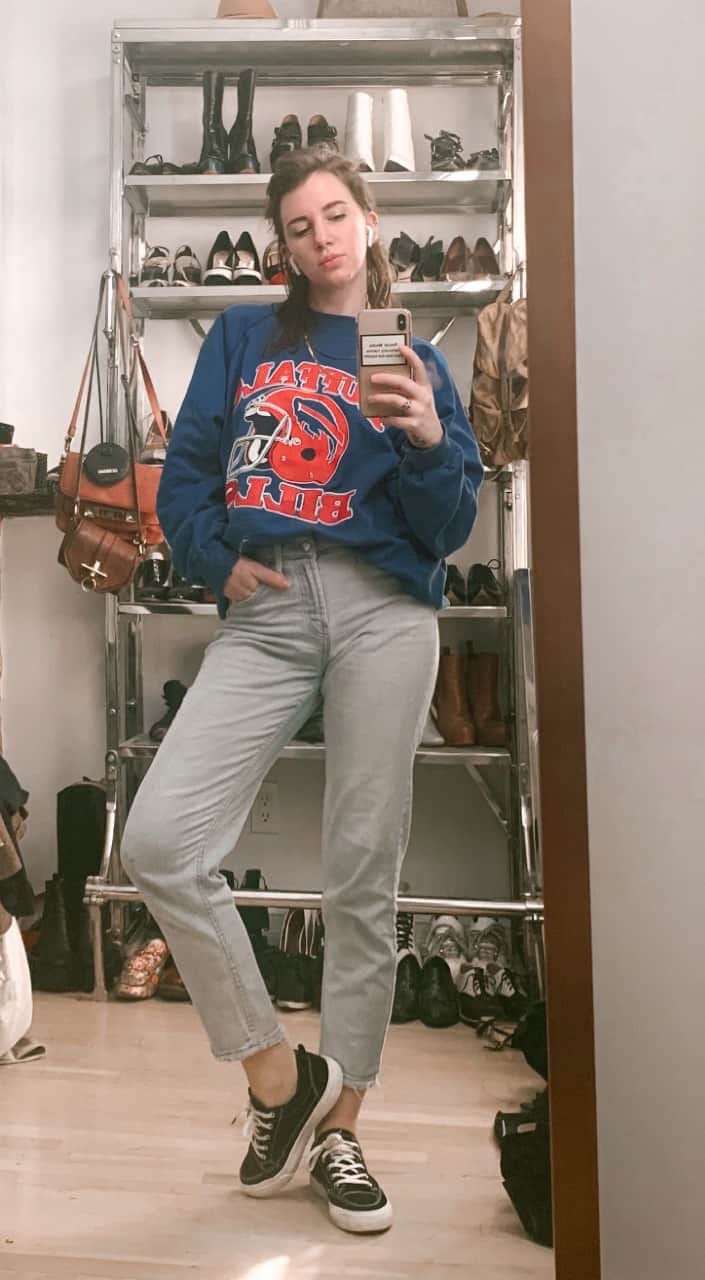 Men's Shirt or Flannel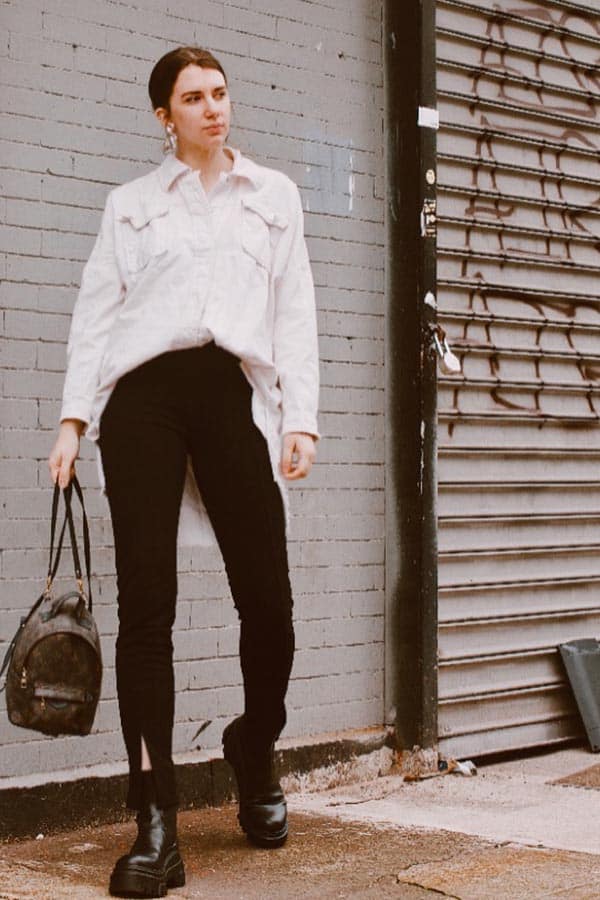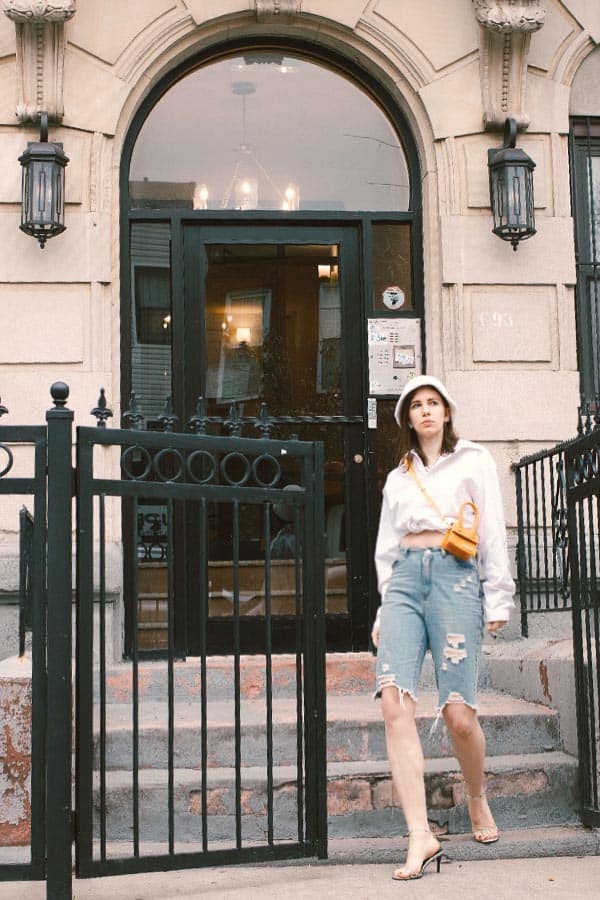 This list would not be complete without mentioning one of my staple fashion items. I think with every boyfriend I've had, I've managed to steal (and keep) one of his white shirts. You can also try a flannel or dress shirt, as well.
The men's dress shirt has so many possibilities. As you can see above, you can front tuck it, you can layer it, and you can knot it. Each style provides a slightly different look, but they are all classicly stylish.
You pretty much can't get this one wrong. The only thing to watch out for is how baggy the shirt is. If its extra baggy you may need to opt for a more fitted pairing option (like skinny jeans or leggings). And you can wear it as a dress too if it's long enough with a pair of tights.
Leaving the shirt completely untucked is also an option, just make sure your proportions are not thrown off by this. Your body should not be "halved" by the hem of the shirt, you want to keep the proportions in thirds or sixths.
T-shirt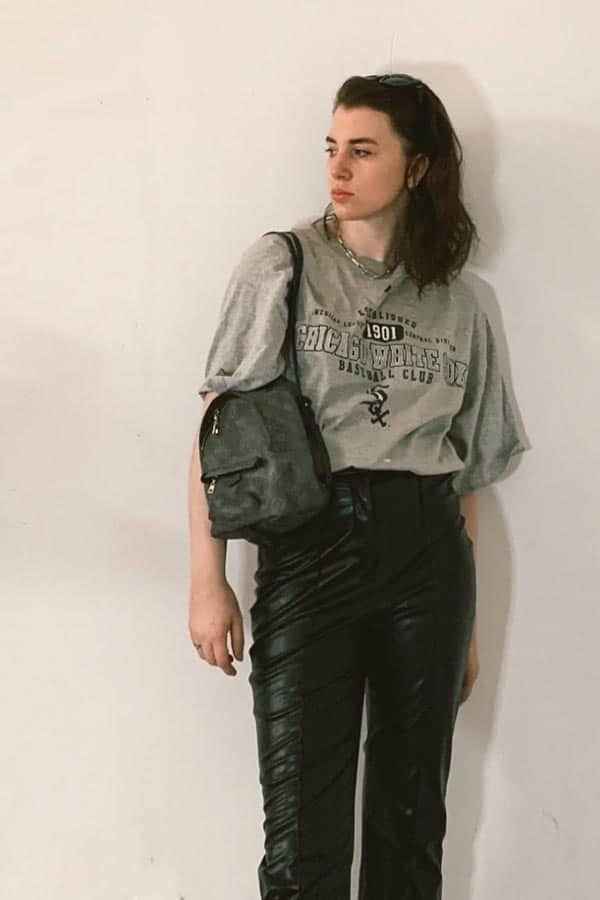 The perfect t-shirt does exist. And it is in your boyfriend's closet. The oversized t-shirt adds an instant effortless style to your look.
And here's a tip for styling the men's t-shirt with jeans:
Keep these style tips in mind for when you style your boyfriend's clothes?
1. Balance: Every post, I mention balance. If you men's piece is even slightly oversized pair it with a more fitted piece of clothing. As you progress in your fashion journey and try more new styles you can experiment more with tipping the scales of outfit balance. But, if you are not a fashion heavyweight, start with one oversized piece paired with one fitted piece. [ style 101: how and why to develop a fashion voice ] LINK
2. Proportions: Opt for proportions that are in thirds or sixths. So if you are wearing an oversized men's polo, try pairing it with a fitted pair of pants and tucking the front of the polo loosely into the waistband. This creates a 2/3rds proportion (fitted pants) and a 1/3 proportion (loose polo) that not only elongates your body but also avoids being swallowed whole by an oversized men's piece.
3. Don't be afraid to layer. Just because you are wearing a men's piece that might be oversized, layering is arguably even more important to your outfit. Layering creates depth to a look and adds intentionality behind it. So if you opt for a men's hoodie or sweatshirt, add a blazer over it, or a turtleneck under it. This creates more interest and gives the illusion of effort.
4. Add some feminine details. Jewelry, shoes, and accessories can help add some femininity and sparkle to your men's style outfit. Add a scarf around your neck or add a pair of statement earrings or sparkle to that seductive female je ne sais quoi.
Shop my favorite men's pieces
** we may earn a commission from you clinking the links in this post at no additional cost to you, for the full affiliate policy, click here.

Wearing your boyfriend's clothes is definitely an age-old right of passage for any girlfriend. But, I argue that the benefits even outweigh those tied to your relationship or your stress levels. Men's clothes are simply chic.
I find myself constantly shopping in the men's department, and thrift stores have absolutely plentiful men's sections. [ L train vintage haul, and the ultimate thrift store shopping guide]
So when you have nothing to wear, remember you are forgetting about that adjacent closet that belongs to the light of your life.
Go on, steal his (or her) clothes.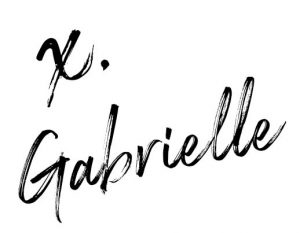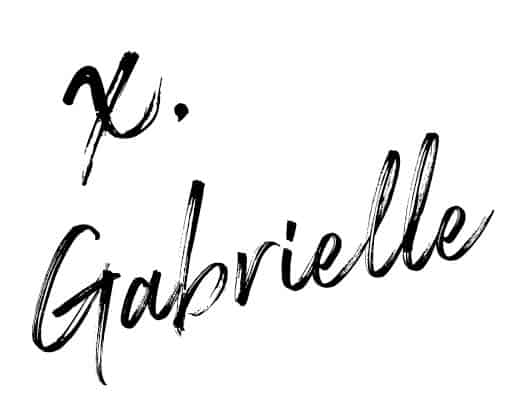 You'll have major FOMO if you don't subscribe to my newsletter. That's all I'm going to say, the choice is yours…
And pin this so that when you boyfriend/husband/SO complains about you stealing all his clothes, you have this argument in your back pocket