I'm not sure why, but I feel like brown is a shade of color that gets zero recognition. In fact, it is even sometimes rebuffed and not embraced in our closets. But, we are adults, so making poop jokes around the color brown is just not the point of this article.
The actual point of this article is to show you what a sophisticated and chic color brown can be. And, the funny part? Even though you might think you don't like brown, you probably have a bunch of brown garments in your closet.
we may earn a commission from you clicking a link in this post at no additional cost to you. full affiliate policy, here. as an amazon associate we earn a commission for qualifying purchases.
How to wear brown and not look like 💩
Brown has been trending this season, there is no doubt about that. From the Loewe lug boots, to Ganni oatmeal knit outfits, and MaxMara monochrome brown, it is everywhere. But the great part about the brown color trend is that you probably already have enough brown in your wardrobe to dip your toe in this color world without racking up a major credit card bill.
Plus, with minimalism fashion exploding in popularity this year, you will need to get brown into your wardrobe if you want to master that style.
How can I easily add brown into my wardrobe?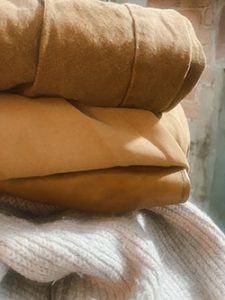 Brown is much easier to wear than you think. Between chic camel brown leather to brown tweeds and plaids, the possibilities are endless.
If you're unsure about wearing brown, start with a brown accessory or neutral brown piece. You don't have to dive headfirst into a camel leather head-to-toe look. Instead add a pair of knee-high brown boots, a brown tweed blazer, or even a chic brown bag to your look.
related: how to build a chic wardrobe from scratch
If you feel like the brown you added is "clashing" with your outfit, or something just looks off, you need to pay attention tot the tones of the outfit. There are warm and cool tones, and for the most part you want to pair warm browns with other warm shades and cool browns with other cool shades.
Also, don't listen to outdated fashion rules like "you can't wear brown with black" because fashion has evolved far past this mindset. If you want the full list of outdated fashion rules to ignore, check it out here.
What accessories should I wear with brown?
When wearing your brown outfit, I love gold jewelry to pair with it. I find a lot browns in stores to be warmer toned which pairs nicely with gold jewelry.
However, if you want to keep your brown outfit elevated, add only one focus jewelry piece. You don't want statement earrings AND a chunky gold chain, so pick one or the other.
I also like a simple hair accessory with your brown outfits. Your accessories don't also have to be brown, in fact, I find a nice black accessory or pop of color work best. Try something like a velvet headband, a scrunchie, or even a simple hair scarf. For more hair accessories that are trending this year, check out this post.
Don't be afraid of monochrome brown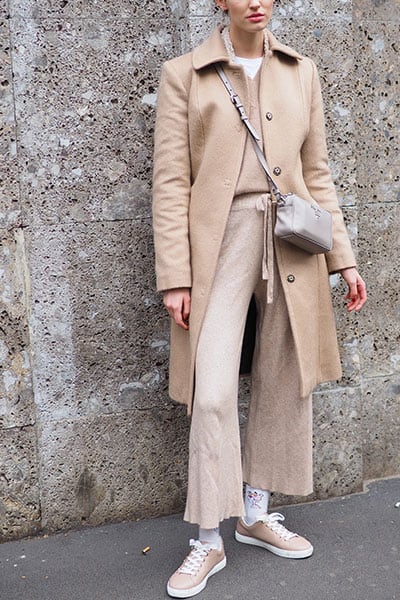 Monochrome is an easy way to craft an elevated brown outfit. But, if that sounds like a bit too much for you, you could also try tonal brown outfits.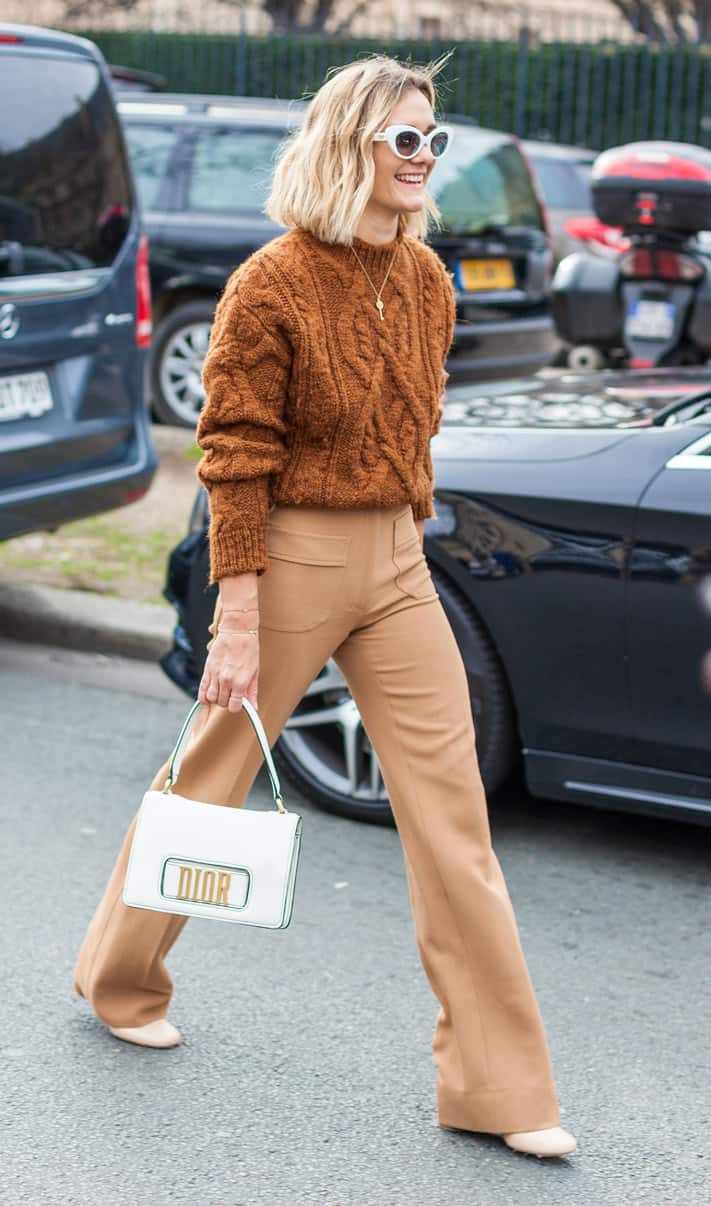 For a tonal brown outfit you can pair different shades of brown, beige, and tan to craft a balanced look.
How to wear brown style tips
Add some texture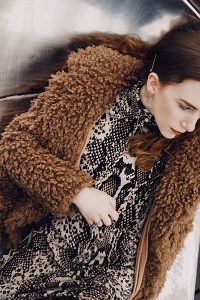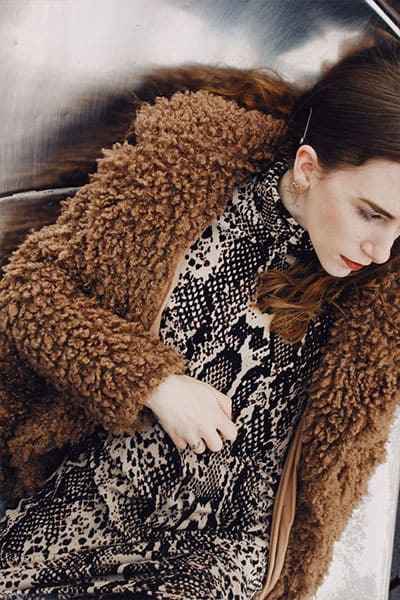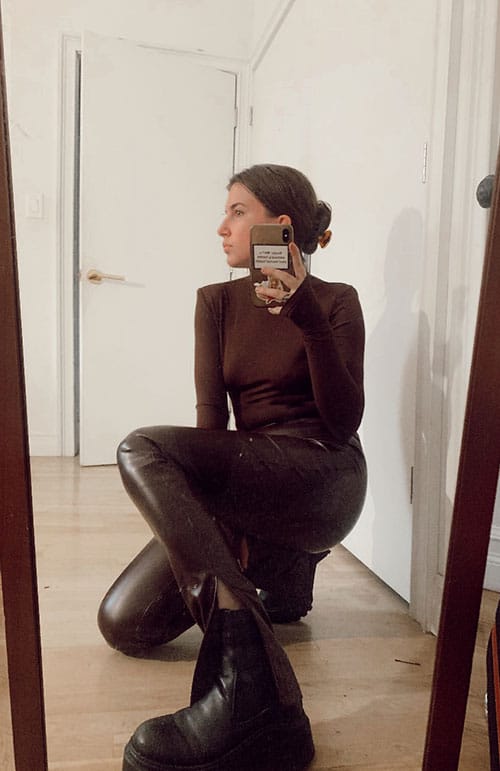 related: how to look expensive no matter your budget
Don't be afraid to mix different shades of brown
You can mix different shades of brown if a full monochrome look is too much. You can pair beige or tan with a dark chocolate brown for a very sophisticated look.
Add a brown coat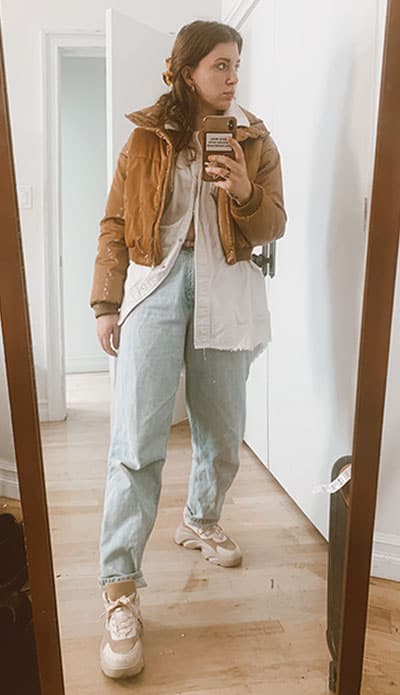 The easiest way to start with the brown color trend is to add a brown coat. You probably already have one in your closet, so start there!
Let your brown piece of clothing be the star
If you opt for a non-tonal outfit, let the brown article of clothing be the star. You can do this by choosing a brown clothing piece that has a bit of drama. For instance a coat that has a lot of texture, or a dress with volume.
Brown can be a "neutral" color, so if we want it to stand out more, you have to make sure it is the focal point of the outfit. While the outfit below is fairly minimal, the unique shape and texture of the brown bag make it the star of the outfit.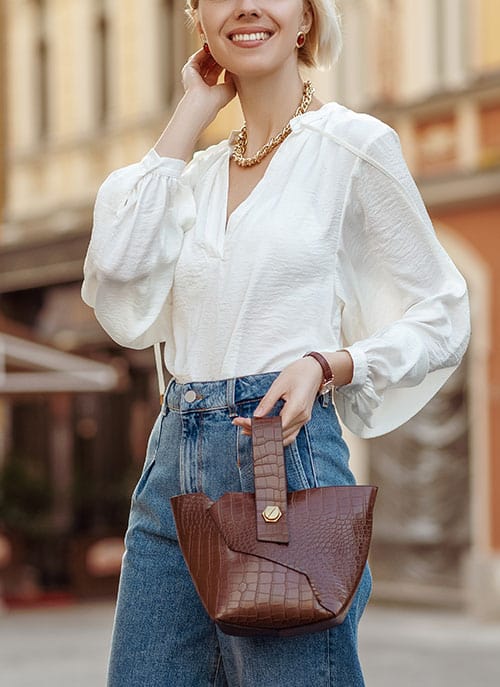 Add a few hints of black
Black accessories can help break up a brown outfit. If your outfit is tan, beige, or light brown a statement black belt is an easy way to break up your silhouette and highlight your waist.
If you opt for a darker brown shade, a black complimentary piece of clothing is a great way to add some balance.
Don't be afraid of a brown print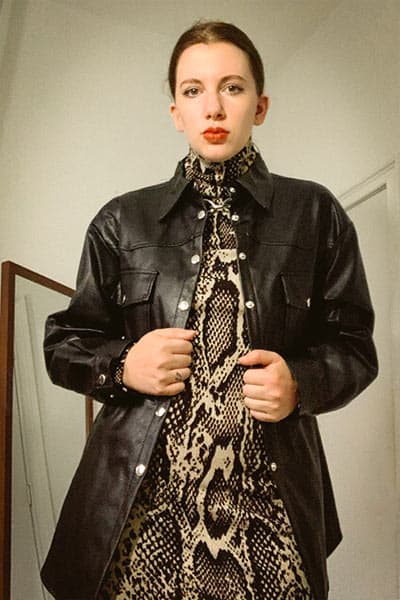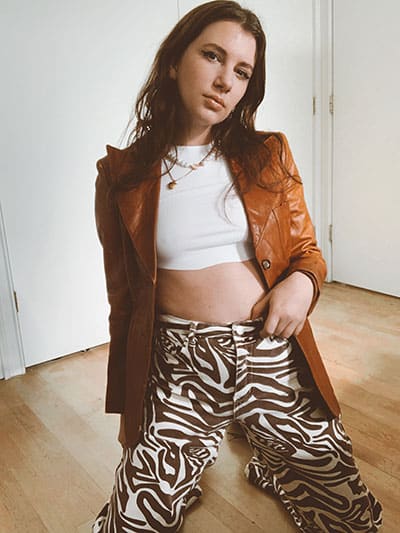 Brown prints like brown snakeskin or a brown leopard print is an easy way to start incorporating brown into your wardrobe. This is also an easy way for the brown shade print to the be the focal point of the outfit.
Gold jewelry
As mentioned previously, simple gold jewelry is an easy and chic way to elevate your brown outfit. Gold jewelry tends to pair very easily with browns (as they skew warmer in tone). Find some of my favorite affordable huggie hoops (that look like Maria tash), here.
Find your shades of brown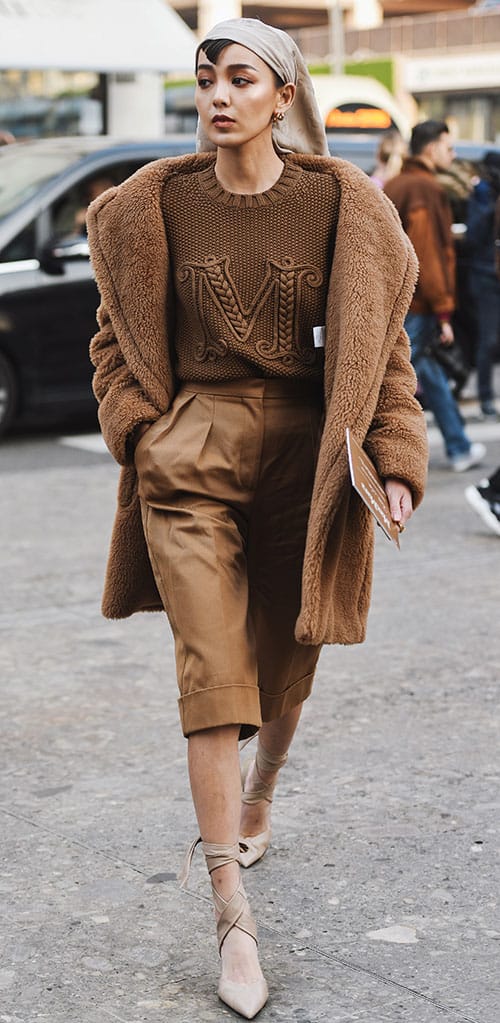 Shades of brown can be incredibly chic in any outfit, but if you're just starting with this color make sure you start off with tones that are not too close to your skin tones. When you become more adept with knowing your "best colors" you can try a "nude" outfit. But, to avoid any uncomfortable outfit moments, I would suggest starting with brown shades that are not inherently identical to your skin tone.
If you want to see the colors that are trending right now, check out this post.
Brown Color Trend Outfit Ideas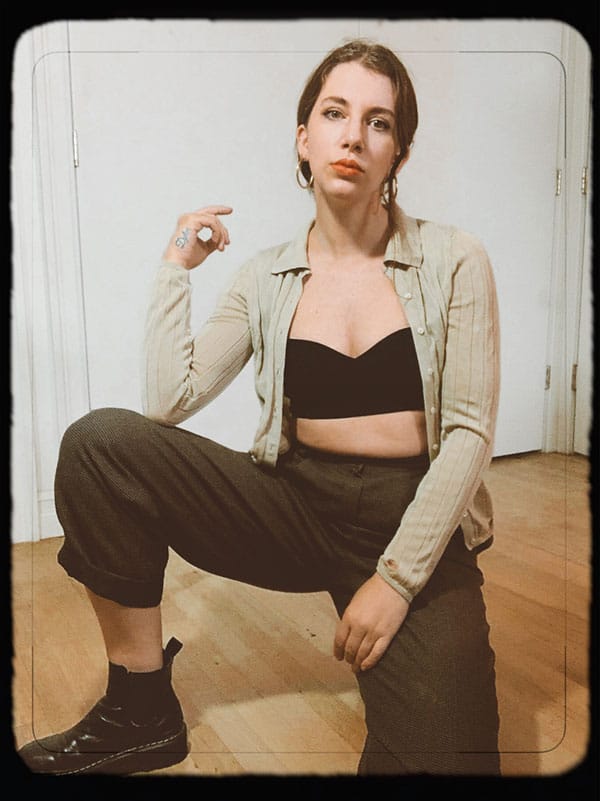 Brown trousers are probably the easiest place to start when trying the brown color trend. I love a good pair of chocolate brown trousers paired with blacks and beiges for an elevated yet on trend outfit. For more winter fashion trends check out this post.
When styling brown trousers, you need to decide what type of outfit you want. You could add a statement blouse or sweater and have your brown trousers be a supporting role, or you could keep the pieces minimal so that they all work together. This choice depends on the intention of your outfit and where you are going in it. The outfit above is great for a casual day out, but not really a "going-out" look. Start with the purpose of the outfit and work your way to the perfect fashionable AND functional outfit.
Brown coats are some of the easiest and neutral ways to introduce a bit of the brown color trend into your wardrobe. Try a chic tan coat like the one above or a warm camel coat like the one in my best winter coats post.
Again it is important to choose the focus of your outfit. In my outfit above I have a very trendy look going on, so I don't mind that all the pieces are a bit "extra". But that works for my intention of the outfit, which is to go out with friends. However, a wool camel coat might function more as an elevated layering piece instead of an integral part to your outfit.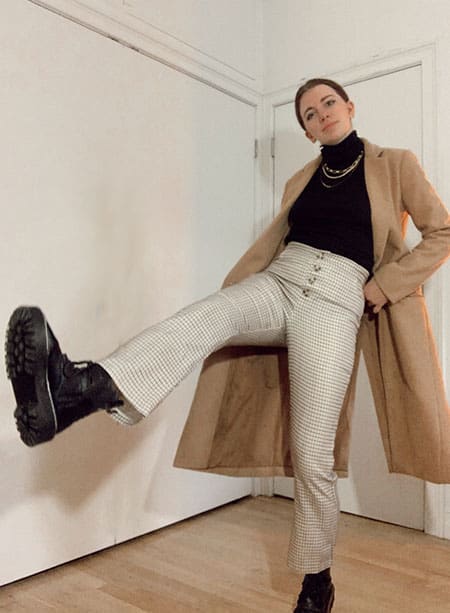 When wearing long coats remember that the length creates a dominant color effect, and will ultimately make that brown shade a memorable element of your outfit. Use this to your advantage by finding a brown coat you can wear with many different outfits so that you always look fashionable despite the colder weather.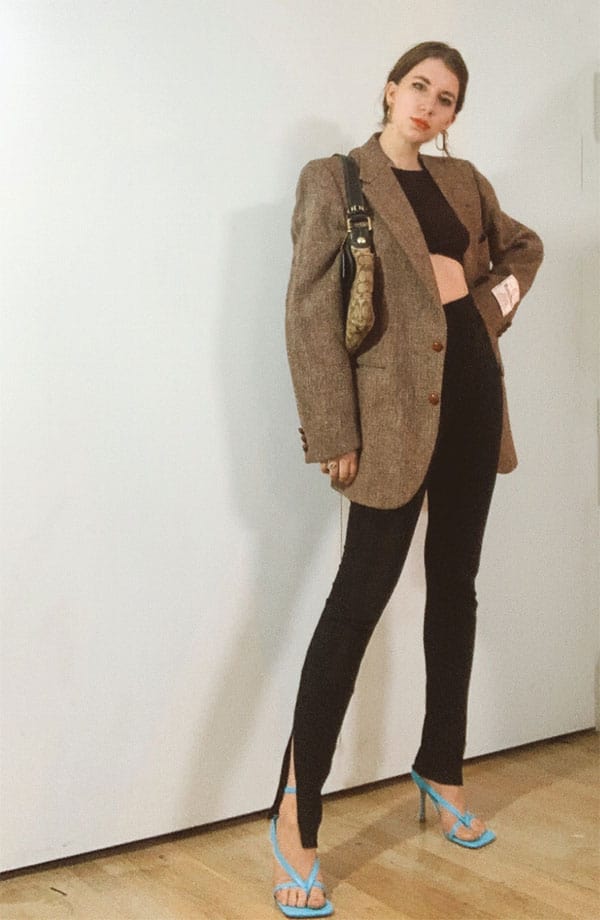 split ankle leggings, square toe heels, blazer (similar)
A brown blazer is an easy go-to. I personally love the oversized blazer trend, and if a rich brown is too much for you try a brown plaid or tweed as an easy beginner option.
We will get into color combination a bit further into this post, but as you can see a pop of blue really livens up this outfit. And the split ankle leggings is one of my go-to style staples this season to make any "simple outfit" trendy and modern.
I scored this chic men's blazer from my thrift haul, read all about my vintage shopping tips and finds here.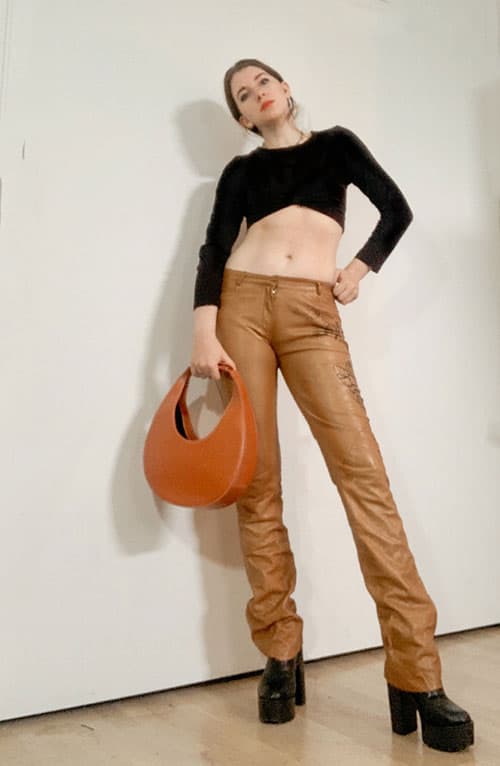 crop top, leather pants (similar), bag, shoes
I'm not going to lie, I've had these pants for YEARS! I have had them tucked away in my closet, thinking I will NEVER wear low-rise leather pants again. But just when you think a fashion trend can't come back, it does. And Y2K and 2000 fashion are definitely in right now.
So while low rise leather pants won't be my go-to fashion look this season, it is a nice way to switch things up. And caramel leather pants are a really chic way to play on the brown color trend.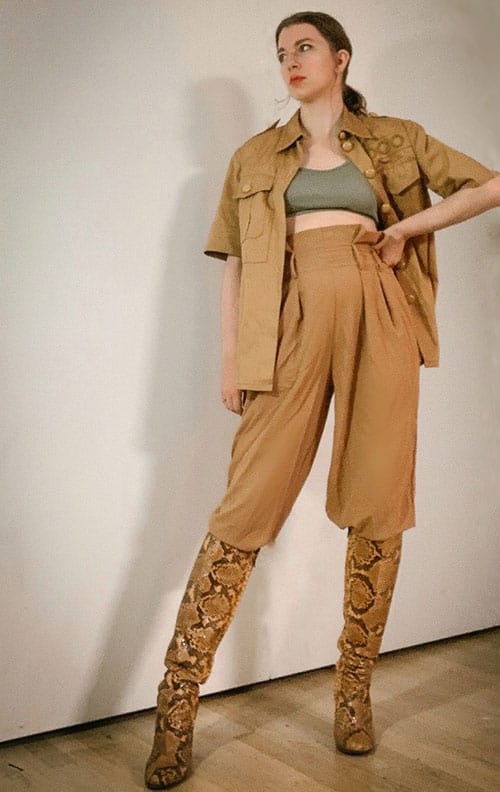 Brown boots are a fashion staple that will live long past the brown color trend. A super chic styling tip that is trending for winter is trousers tucked into knee high boots, as shown above. A looser trouser usually works best for this styling idea.
This mostly* monochrome outfit is a great example of of how one small article of clothing can balance an outfit out. I found I needed a complimentary neutral to break up the tonal look, so I opted for a sage colored crop top that gave the tan visuals a reprieve. Fashion "rules" are merely suggestions, and you need to look at your specific outfit and your needs and decide what is right in that moment.
related: how to style monochrome
Here are some other brown color trend outfit ideas
How do I pick the right shade of brown for my skin tone?
I think the easiest way to find the right shade of brown for you skin tone is to try it on in person, in the store. This way you can hold the shade of brown up to your skin and see it compliments you skin, eyes, and hair.
You can also take a photo in each shade of brown and evaluate it later for an unbiased interpretation.
What complimentary colors go well with brown outfits?
As I mentioned before, brown can be considered a "neutral" color, so it really pairs well with a lot of different shades. But here are some ideas for color pairings with brown that are chic and on trend.
Brown and Blue Tones

Whether you go with a turqouise shade or a cobalt shade, adding a pop of blue can help liven up any brown outfit.
Tan and Dark Red

An all tan outfit can sometimes seem too neutral, and adding a moody red to the mix is the easiest way to make it more evening appropriate and a add a bit more oomph.
Brown and Green

This color combination is definitely one of the biggest color trends right now. For this combination, try a great pair of brown trousers and a trendy green sweater like this one.
Brown and Caramel

This gives me all the rich coffee vibes that I adore. These two warm brown shades look so elevated and give minimalism perfection vibes.
Brown and Cream

If the brown and caramel color combination feels to heavy for you, or like you're overloading on your brown tones, try brown with cream instead. And I bet you already have these two colors in your wardrobe, so what do you have to lose?
Brown and Black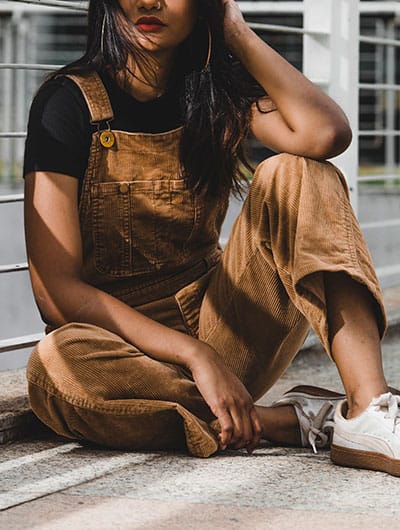 You don't always have to go with a pop color, sometimes by adding a neutral color like black you let your brown piece of clothing stand out. This is a great color combination for business casual, elevated minimalism, or even evening-out attire.

So armed with all this knowledge, go forth and rock some brown shades. And the best part? Go through your closet first and you'll be surprised at how many brown items you already own. I wouldn't consider myself a brown aficionado, and yet I had all these chic brown clothing items wanting a second chance at fashion.
Now, get your brown boots on, a caramel colored coffee, and the perfect rustic lipstick on and let this elevated color shine.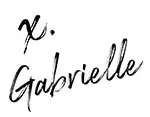 You are out of excuses now, so go try the brown color trend. So pin the below image and start rummaging through your closet.