SOS, what do I wear when I'm bloated?! It's a common problem that doesn't get discussed enough within the fashion community. Whether you're experiencing PMS bloat, or just ate something that didn't agree with you, bloating is a common (and totally normal!) experience. However, nothing kills your desire to wear cute outfits like a bloated belly.
But what do you wear when you have a bloated stomach, so you're both comfortable AND feel stylish? Well, we will discuss all your options.
Having confidence even with a bloated stomach
Bloating is a totally normal, and expected experience for everyone. However, it can take a toll on our self-esteem when our go-to jeans don't quite fit us the same or require us to lay on the floor to button them.
That being said, a bloated stomach will likely be something you have to accept and dress for within your life. Just like you have a work outfit, a unique first date look and have designated outfits for working out, you need to develop a few outfits that help you feel confident and comfortable when you're bloated.
Having confidence in yourself and style is all about being prepared and having a few looks that are easy go-to's.
Body confidence can be a difficult issue to tackle, whether you are bloated or not. The easiest way to navigate outfits with a bloated stomach is to pick the right clothes and have a Rolodex of options so that you don't have to try on a bunch of clothes and feel defeated when you're not feeling your best.
And just remember that bloating is normal. If you suffer from it constantly, it is worth contacting a health care provider. I had no idea I had Celiac disease which was causing my stomach to be bloated 24/7. That being said, I'm now gluten-free and still bloat.
It has been drilled into us that we should always* have a flat stomach and that it is the baseline for beautiful bodies. I'm glad the media is slowly changing in regard to this, but that doesn't diminish the fact that flat stomachs are constantly being drilled into our subconscious as the ideal. An ideal, almost no one can meet if they consume food regularly, which is obviously recommended and encouraged.
So accept the bloat, but prepare so you can still feel and look your best.
We may earn a commission from you clicking a link in this post. And as an amazon associate, we earn on qualifying purchases. Full affiliate policy, here.
What to wear with a bloated stomach?
The key to finding outfits when you have a bloated tummy is to pick items that are comfortable and give you an easy, put-together look. You want pieces that don't hug your stomach tightly, don't constrict along your waist, and don't highlight your bulge.
Ditch these wardrobe pieces when you're bloated: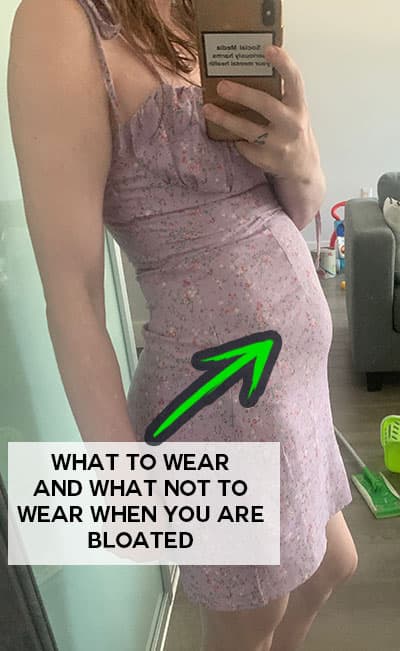 Fitted pieces (with no stretch): Fitted dresses without stretch or fitted pieces with lots of seams along the bodice (like the dress I'm wearing above) highlight your stomach bloat.
Spanx: I love Spanx or shapewear but when you're bloated it's not the best idea. If it's an absolute emergency ( you're bloated on your wedding day, you're free to make this decision). However, on an average bloat day, Spanx will just make you more uncomfortable long-term by adding pressure to your stomach.
Skinny jeans: I find skinny jeans unflattering when I'm bloated as they highlight the belly bulge. And if you must wear skinny jeans when bloated make sure they have a high stretch content. However, I personally find there are better bottom options, so my advice is to ditch skinny jeans when you have a bloated stomach.
Underwire bras: Anything tight and restrictive can make your stomach bloating that much more awful. And if you're anything like me your bloating sometimes doesn't stop at your stomach. A soft triangle bra or something without wire is your best bet to avoid those wires cutting into your bloat.
Low-rise bottoms: While low-rise bottoms may avoid putting any tension over your bloated stomach, they also tend to highlight your bloat. Because the hem of low-rise bottoms often hits you right where your bloat starts to protrude, it can give you a more "pregnant" look and is generally unflattering.
Body-conscious dresses or skirts: Avoid any body-con dresses or skirts that hug your body tightly when you're bloated. These types of items not only further draw attention to your bloated tummy, but can also cause discomfort over time.
Leather pieces: Leather is not a very breathable fabric and it doesn't have stretch. So avoid your favorite leather pants when you're bloated because they won't be forgiving to your ever-changing stomach size. Also, they tend to highlight your stomach bulge because of the shine and shadows the leather texture creates.
Large-scale prints or color blocking: Color blocking can highlight different chunks of your body and in turn highlight your temporary bulges. And large scale prints can highlight the curves of your body (which is great, when you're not bloated). Our eyes follow the print and the prints' placement and when we are bloated it can draw more attention to that distention.
Overalls: Most overalls (unless they are extremely baggy) will highlight your stomach and become tighter through your lower stomach. This will be uncomfortable and generally unflattering.
NOTE: I need to reiterate that being bloated is normal and should not be seen as bad in any way. And I'm only giving this advice so that you can feel better about your style and have more confidence when you're bloated. Please don't take this article or any advice within it to say that you can't wear what you want if you're bloated. Do what is good for you, and love your body at the end of the day!
The best style of dresses for a bloated stomach
There are tons of cute dress styles that work with a bloated stomach that will not only have you feeling your chicest self, but will also allow you to be comfortable and not agonizing over the bloat.
Shift Dress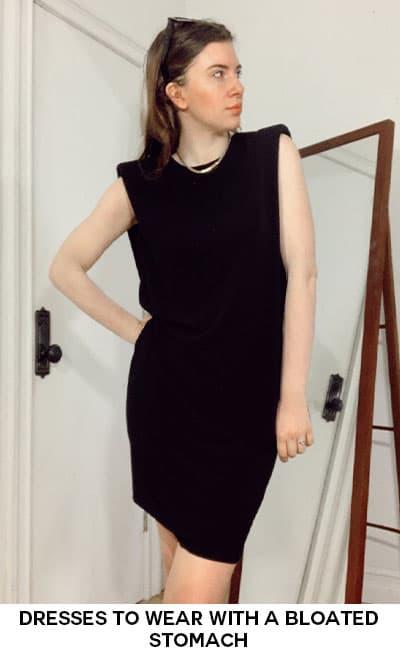 Shift dresses are great for spring or summer seasons when you're bloated or want a bloat-friendly dress. They don't hug your body and they are flattering and chic.
I love shift dresses that hit above my knee, to give me the best proportions for my body shape. Also, dark colors help hide any bloating by not allowing contrasting shadows and highlights to be visible.
A-line Dress, Empire Dress, Tent Dress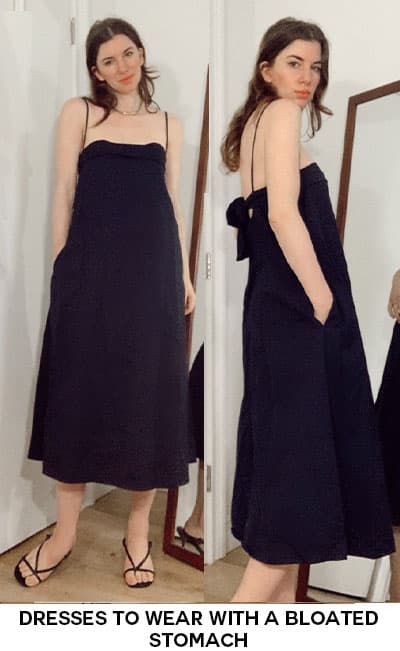 These three dress silhouettes have room for your bloated stomach and don't put any pressure on your stomach.
They are also great options for warm-weather, as they keep you breezy and don't cling to your body.
If you feel like this style of dress consumes your body type, try adding a pair of heels to your look to help elongate your proportions which should counter some of the dress volume.
You can see in my empire dress that my fitted bust and camisole straps really help balance out the volume of the skirt. I also added heels to help add some length to my look and avoid looking shorter than I am.
Ultimately you just want a dress that doesn't hug your stomach. So look for dresses that do not have any waist seams, and if they do happen to have any waist definition/seams make sure they are elastic so they are more forgiving and comfortable.
T-shirt dress
A t-shirt dress is an easy casual dress option when you're bloated. Just make sure that the t-shirt style isn't too tight. Sometimes they are cut fairly close to your body and can highlight your stomach when it becomes bloated.
So look for a baggier t-shirt dress that has a bit more room through your hips. If it doesn't hug your hips tightly, then it won't hug your stomach when you are bloated.
If it's colder, swap out your t-shirt dresses for a sweater dress. Ideally, a thicker knit option that won't hug your hips.
Loose-fitting shirt dresses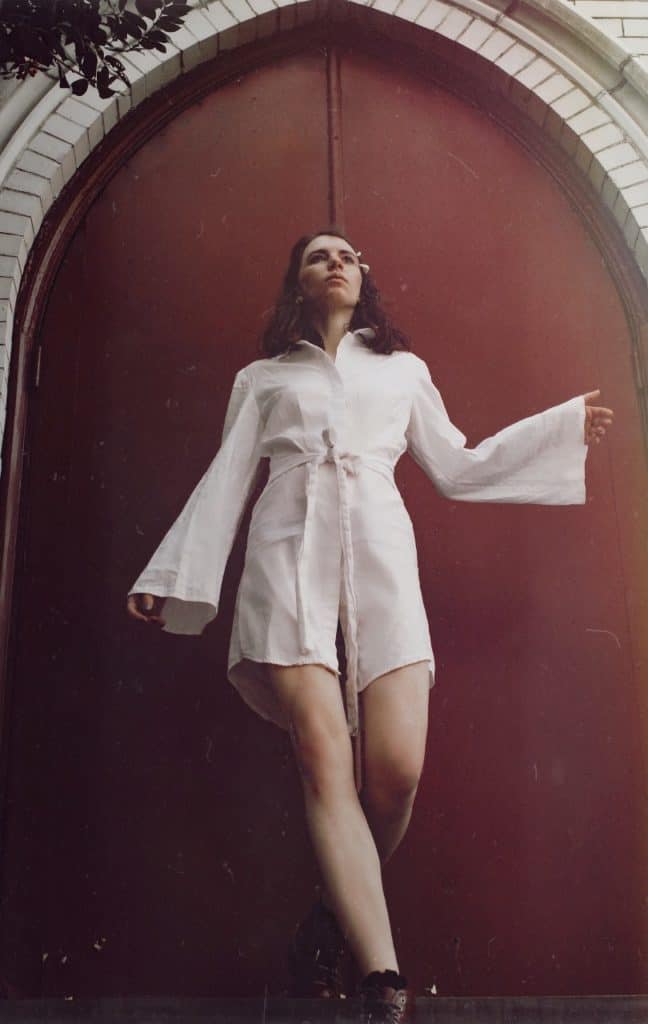 There may be days when you can't opt for a cotton or loose dress because you're going to work or just need to look a bit more polished. A loose-fitted shirt dress is a great option.
Opt for a silhouette that doesn't hug your upper half and doesn't have too many form-fitting seams. Belting your stomach when it's bloated will likely highlight your stomach more and get uncomfortable throughout your day. So if it has a tie (like my shirt dress has above), tie it loosely so it doesn't constrict.
You could also go for a shirt dress that has a vertical stripe to help your proportions and help you look leaner overall.
These are great for a business casual work environment:
Elastic waist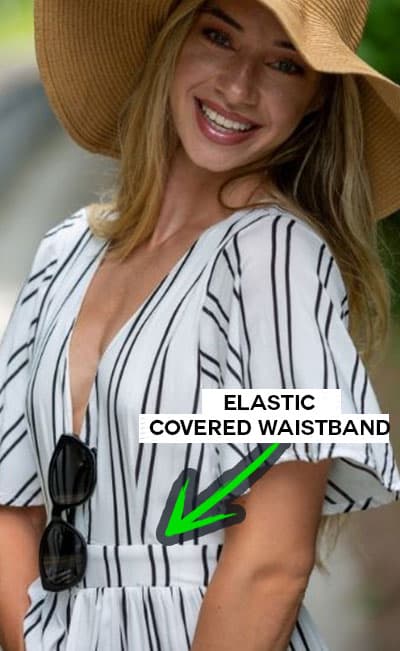 If you just want something a bit more fitted but you're still struggling with a bloated stomach, an elastic waistband will be your best friend.
Opt for a dress or bottom that has both an elastic waistband and a wide or loose silhouette from the waist down. This will provide your waist with some definition, keep you comfortable, and avoid highlighting your bloated stomach.
Best jeans for a bloated stomach
Wearing jeans when your stomach is bloated, is well…. not fun. Feeling that waistband tight around your bloat, and your stomach look semi pregnant as it bulges out from that uncomfortable waistband… is less than ideal.
So what jeans can I wear with a bloated stomach?
Mom Jeans
Mom jeans are loose through the hips and have a higher waistband so they won't be uncomfortable throughout the day.
Boyfriend Jeans
Boyfriend jeans (depending on where you bloat) are also a great option for a bloated stomach. They sit high enough above the bloat and are not fitted through the hips.
However, if you tend to get bad lower belly bloat these jeans may not be the best fit for you. Instead, you could try baggy jeans or wide-leg jeans, because they have hip and lower belly room.
Jeans with stretch
If you need to wear fitted jeans or skinny jeans make sure they have A LOT of stretch in them. That is the only way they will be comfortable all day.
These are my favorite stretch jeans:
NOTE: Opt for higher rise jeans or bottoms so that the waistband isn't digging into your stomach or making your bloat bulge on either side of the waistband.
Tops to wear with a bloated stomach
When choosing a top with a bloated stomach you want something that has a boxier cut and doesn't fit tightly around your stomach.
So avoid those fitted blouses, any corset-style tops, and any tops with fitted seams along your torso. Here are some better options…
Boxy Tee
A boxy tee is an easy option that can be dressed up or down and still look stylish when you're feeling a bloat coming on.
Tunic Style Top
Tunics, while they are not everyones cup of tea, are an easy option to hide the bloat.
Loose Blouses or Oversized Shirts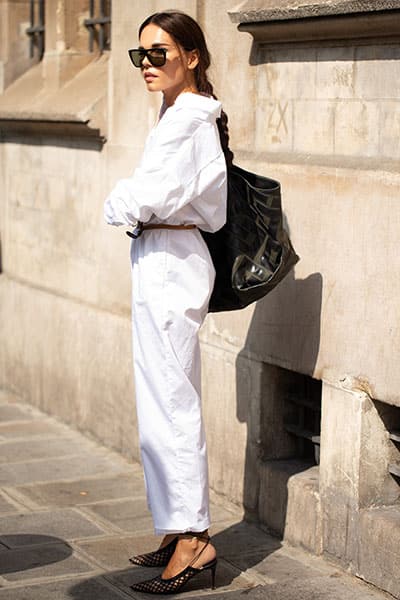 I love rocking a men's white shirt and it is a perfect option to look sophisticated and stylish even when you're boating. For more style ideas with menswear pieces, check out this post.
Loose layering pieces
Cardigans, shackets, and oversized blazers are all great layering pieces when you're feeling bloated. They keep your style flexible, add more depth to your outfit, and make your stomach bloat less noticeable.
Peplum tops
This is an option for a more formal or polished top when you're bloating. But it doesn't work for everyone's bloat. If you tend to bloat higher up in your stomach the peplum hem can cut into that and be uncomfortable.
But, it can be a good option to hide your bloated belly and look put-together, just make sure the waist seam isn't too tight!
Skirts for bloated stomach
A-line skirts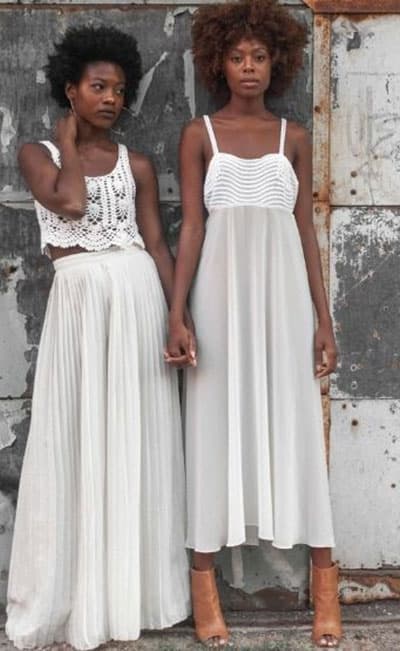 A-line skirts are a great way to look polished and put together even when you're stomach is not agreeing with you.
This skirt style is the easiest way to dress up and be comfortable at the same time. Bonus points if you get a skirt with an elastic waistband.
Skirts with gathering or waist details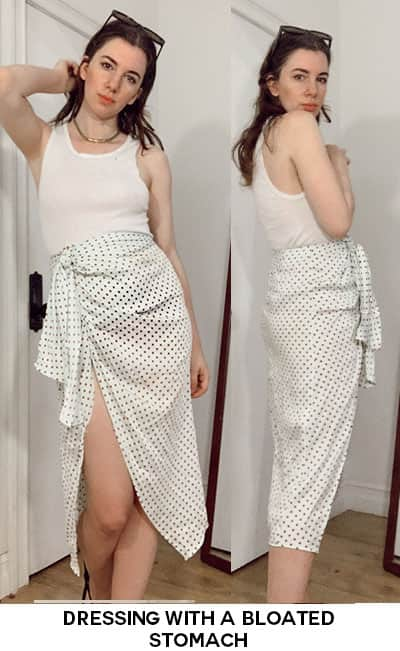 Normally, I would say wrap skirts are not ideal when your stomach is bloated as they fit most snuggly around your belly. However, if the wrap skirt or silk skirt has gathering or details along the stomach area (like the one I'm wearing) it can actually help eliminate the prominence of your bloat.
I was definitely bloated when I took this picture, but because of the volume and fabric in the hip area, you don't notice. It doesn't hug my stomach so it, therefore, doesn't highlight the bloat.
Make sure this style of skirt works with your body type, and generally avoid it if you are an apple body shape.
Easy pieces to wear when you are bloated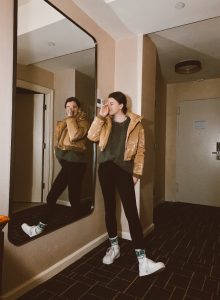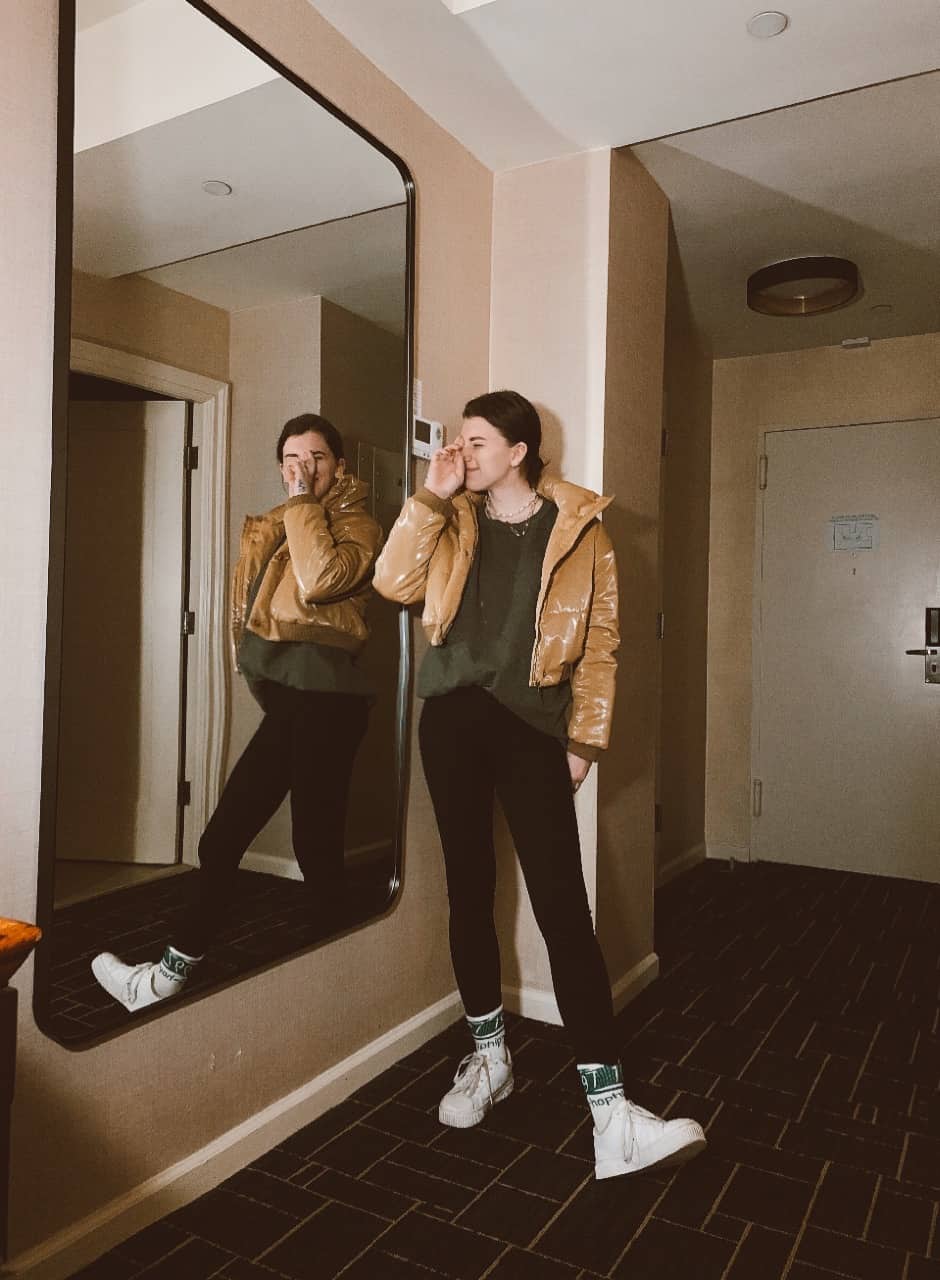 Leggings are obviously an easy bottom to throw on when you're bloated. Even though they are tight around your stomach, they are comfortable and ideally a dark color so they hide the bloat better.
Any oversized shirt or sweatshirt will pair nicely with the leggings to also keep you comfortable without any focus on your bloat. Be sure to add some accessories and polished makeup/hair to keep the outfit from look unkempt.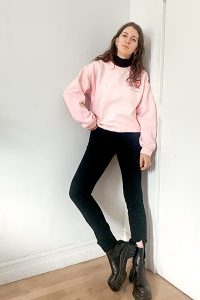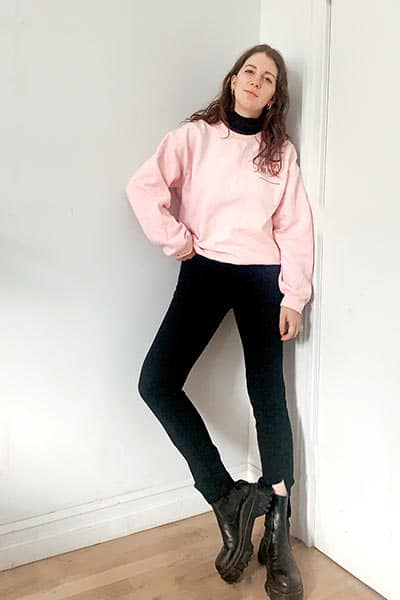 What jumpsuits are best when I'm bloated?
Jumpsuits, when you're bloated, are generally a bad idea. The one exception would be a tent-style jumpsuit or a jumpsuit that is baggy with an elastic waistband.

The goal of this post is not to make you feel bad about your belly bloat, but rather to have you embrace it and not let it stop you from feeling and looking your best.
Your outfits each day and your style overall can have a big impact on your confidence and self-esteem. So I would argue it is even more critical when you're bloated, to put on an outfit you love.
And this post will help you look stylish and comfortable no matter the reason your stomach decided to look half pregnant today.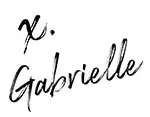 Don't forget to pin the below image, so you have this useful post when your belly decides to bloat!