So, you want to start a capsule wardrobe and leave the outfit fatigue and closet struggles behind? Well fantastic! I'm here to guide you through the first steps to starting a capsule wardrobe that allows you to once again find inspiration from your clothes.
Starting a capsule wardrobe is the easiest way to eliminate all those hectic morning outfit woes, the unorganized closet fails, and the never-ending stress attached to getting dressed from a haphazard closet. These 7 steps to build your capsule wardrobe will get you on the right track.
How do you start a capsule wardrobe for beginners?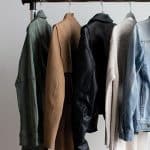 In order to start a capsule wardrobe you must:
1. Decide Your Style
2. Evaluate your go-to outfits from the past 30-60 days
3. Decide your base color: black, navy, or tan
4. Select your foundational colors
5. Add in accent colors and prints
6. Find your layering pieces
7. Add complimentary shoes and accessories
These steps will take you from closet craziness to a streamlined capsule wardrobe that any beginner can build.
How to start a capsule wardrobe in 7 steps
This is a comprehensive post that you should refer back to every season. If you want the (ad-free) ebook version of this post, which contains advanced troubleshooting and tips- buy the ebook for $11.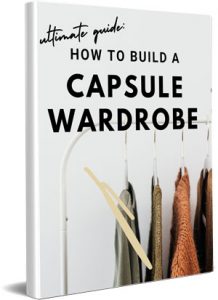 Step 1: Decide Your Style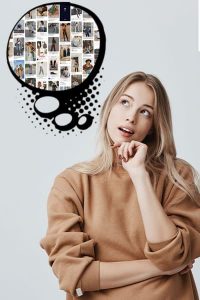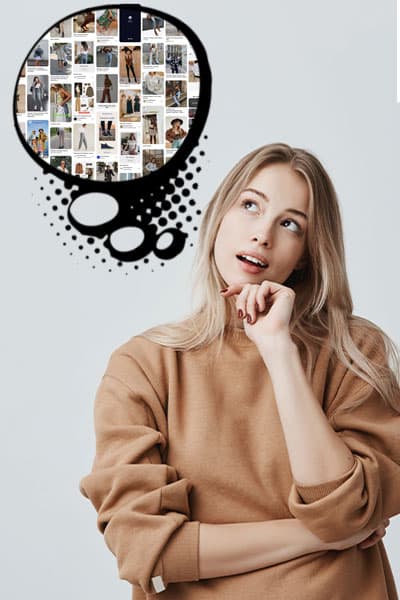 If you don't know what your style is, then you won't know what to build or what items you are drawn to.
Imagine trying to build a house without knowing what style you want. If you just haphazardly choose items you might be drawn to, you will end up with a hodgepodge house design with a modern facade, traditional floors, and a poor layout.
We need to examine the end goals before we start building. And if you're wondering how to define or develop your personal style I have a complete guide to doing that here, including a free personal style quiz to help you narrow it down.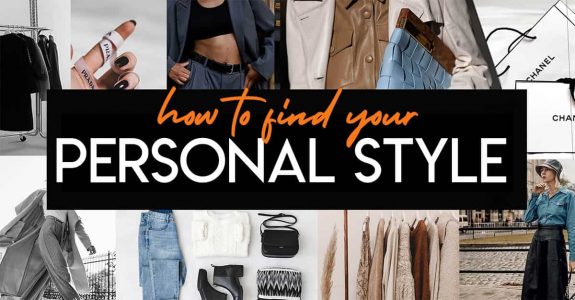 Now, your style may not be easily defined and can have elements of two styles. So I encourage you to check out the personal style guide as it will help you describe your unique style and not just slap a generic label on it.
A broad style category will help you get started but, but in the end, we want to be as specific as possible.
For instance, I have a trendy style with minimalist accessories and vintage influences. This is unique to me and helps me craft a capsule wardrobe full of pieces that I love and work together.
Step 2: Evaluate your go-to outfits from the past 30-60 days
In order to start building a capsule wardrobe, you need to look at what items you commonly wear and what items are your go-to's.
Note, we are not talking about the items you wish you would wear more of. Because, as much as we'd all love to be rocking designer dresses or power suits on the daily, the reality is we are probably not wearing those all that often.
That doesn't mean we can't have those items in our capsule wardrobe, it just means they will not be a priority.
If you already know your go-to outfits, fantastic go ahead and jot them down on this worksheet.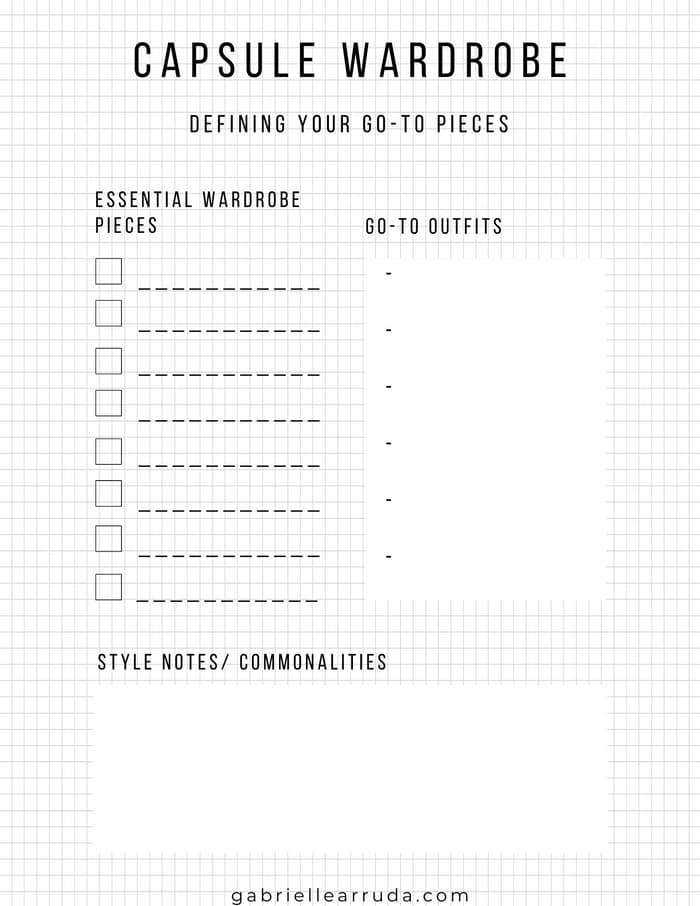 Now, if you don't specifically recall your outfits from the past 30-60 days then that probably means it was either second nature to choose things, or just too stressful to notice.
So take the next 30 days to record your outfits. Don't overthink it. Simply get dressed and take a quick mirror selfie each day. Even if you're wearing sweatpants or loungewear, take a photo of it.
This is all data that will help you define what outfit items you gravitate towards and should be included in your capsule wardrobe.
I could tell you to put a pair of leggings in your capsule wardrobe, but that might not work for your style if you always opt for sweatpants.
Some go-to items in my closet are : classic sneakers, straight leg jeans, boxy blazers, and crop tops. I notice a lot of my outfits tend to include those "basics".
Here is my 30-day outfit album: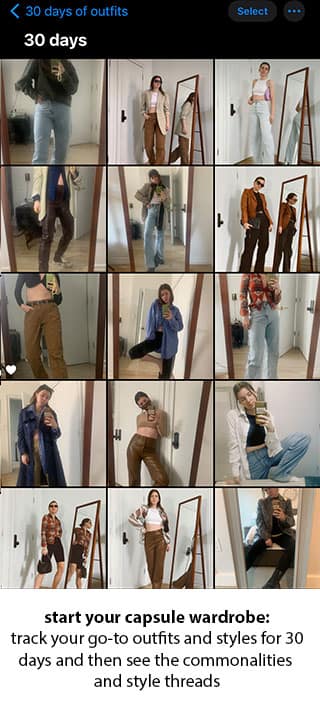 This provides me valuable information about my style go-to's. Here, you can see my preference towards straight-leg pants, and blazers. You can also start to see a color palette emerging, as well as a texture preference for leather.
And here's what my worksheet would look like: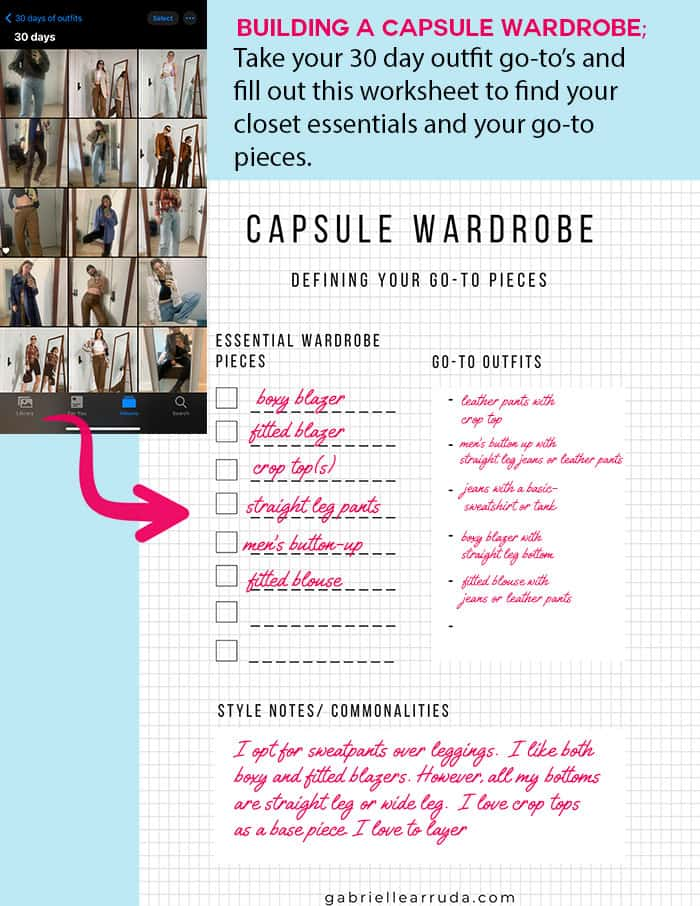 Step 3: Decide your base color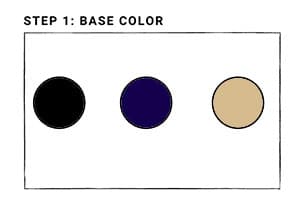 It is important to get a feel for what color your wardrobe relies on most. We will certainly be adding in accent colors, prints, and more neutrals later, but first, we must address our base needs.
To keep it simple, we will be choosing from navy, black, and tan. Some wardrobe specialists only give you the option to choose from black or navy, but I found in my years as a stylist that many people gravitate towards lighter palettes which is why I have included tan as an option here.
It is easiest to build a capsule wardrobe with one base color, which is what I would suggest for any beginners.
While I occasionally wear navy pieces, my wardrobe's base color is black.
If you're struggling to decide, refer back to your go-to outfits/pieces from step 2, or simply open up your closet and see what color is most dominant.
Step 4: Foundational Colors and Fabrics
Next we will be discussing foundational colors, those supplementary neutral colors that help give your wardrobe depth and focus.
These are colors like tan, white, gray, navy, and can include fabrics like knits, denim, or leather.
Here are some foundational colors and fabrics to choose from :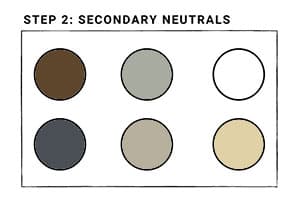 Depending on how large and/or minimal you want your capsule wardrobe to be, the number of selections can vary. I find having 3 foundational colors and 2-3 fabrics ideal.
Now, that does not mean you can't have other fabrics in your wardrobe, just that these fabrics solidify your intent with your style inspirations and are worn frequently.
For my foundational colors, I choose white, navy, and tan. And for my fabrics I choose denim, wools, and cottons.
More specifically that translates into some go-to pieces like a wool blazer with denim jeans, and a men's white button up.
To guide your choices here are some the items to look for in your closet :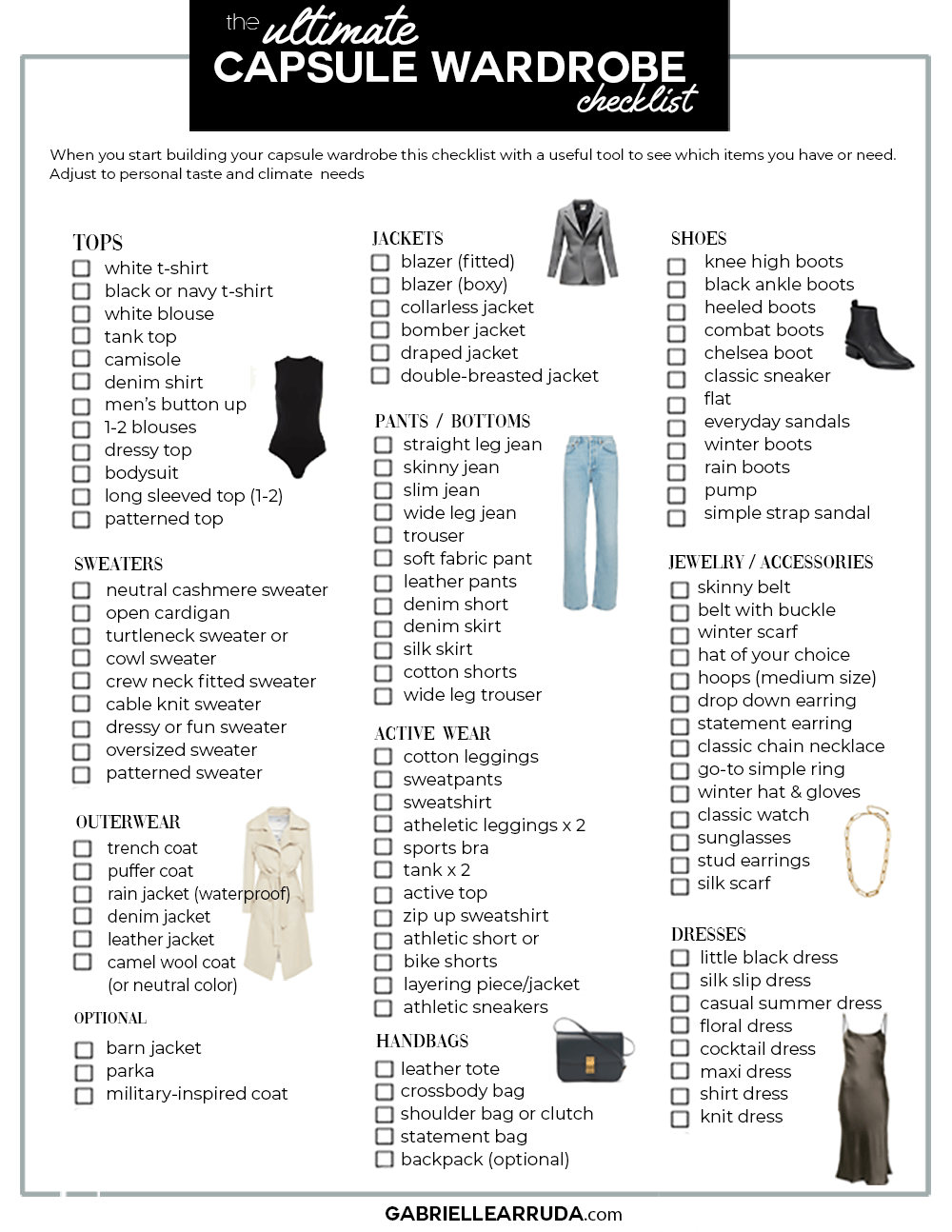 we may earn a commission from you clicking a link in this post. And as an amazon associate we earn on qualifying purchases. full affiliate policy, here.
And here are some of my capsule wardrobe go-tos:
How do I make sure my capsule wardrobe pairs well together?
Building a successful capsule wardrobe is all about knowing the end goal, and making sure all the pieces in the wardrobe are flexible and worn regularly. Some questions to ask yourself about the pieces you are adding or removing are:
-Does this item go with at least 3 pieces already in my closet?
-Can I think of 3-4 outfits to make from this one item?
-Does it work with my lifestyle?
-Does it fit my unique personal style?
If your wardrobe is messy and unorganized and just not reflecting your personal style, try my Craft the Closet of Your Dreams Playbook for a proven step-by-step guide to get the style (and closet) you've always wanted (without buying a whole new one).
Step 5: Accent Colors and Print Selection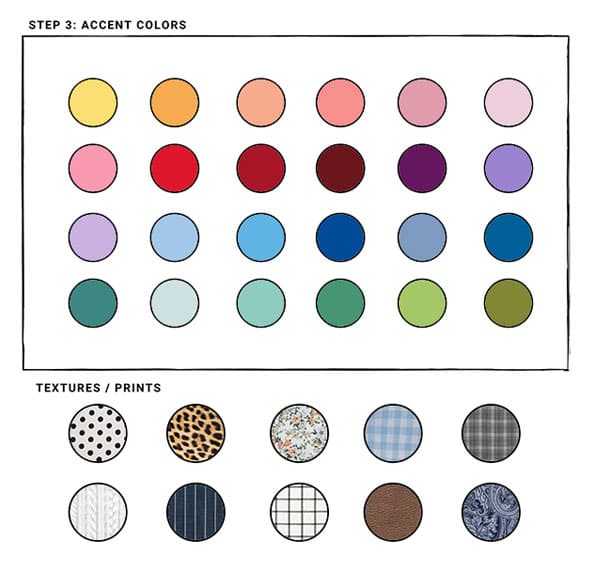 If you love minimalism and want a neutral-colored closet, you can skip this step. However, I recommend finding at least one accent color to give your wardrobe some depth, even if you veer more towards neutrals.
Accent colors can be powerful, and sometimes even be a signature element to your style. Rosie Huntington-Whiteley's style is often composed of neutrals, but occasionally she will give us some color or red-hued outfits and they have a real impact.
Here's a color co-ordinating chart to give you some options: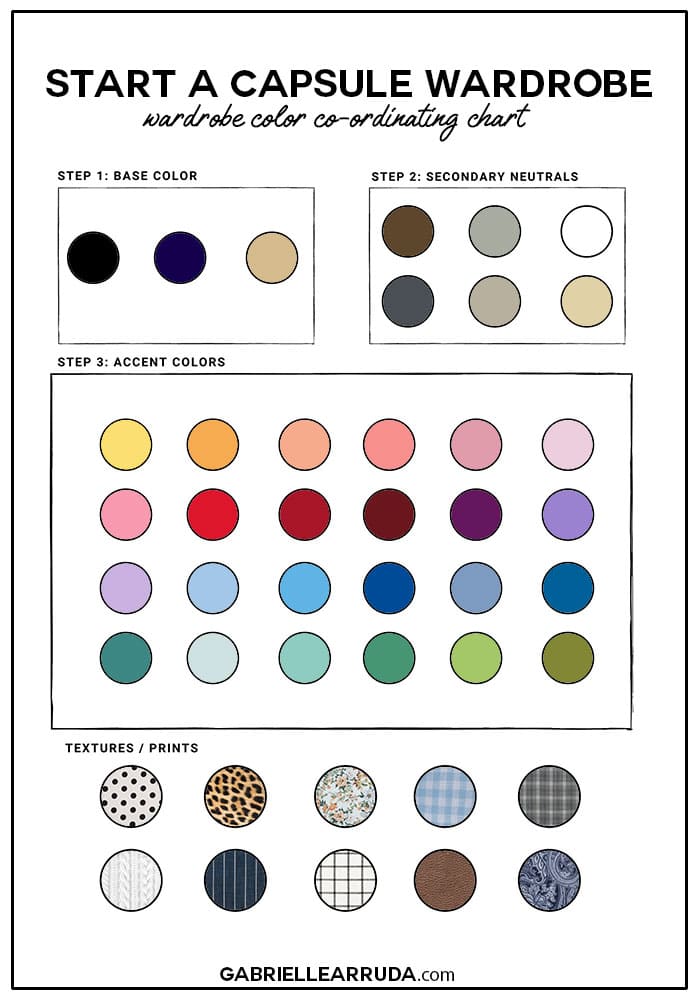 However, I find there is an more thorough way to really find the specific colors you love. And I explain the process in this video:
Create a new Pinterest board, or go to your fashion Pinterest board and download images of outfits and colors you like.
Collect some images of outfits you've worn and loved
Download those images to your desktop
Compile images (I used the free version of Canva to do this, but any app or site you like will suffice)
Upload the image
Tweak or shuffle your color palette until your satisfied
Download color palette (and shades) for reference
That should give you a great palette to start working from and the best part is you can do it anytime you want to adjust your capsule wardrobe.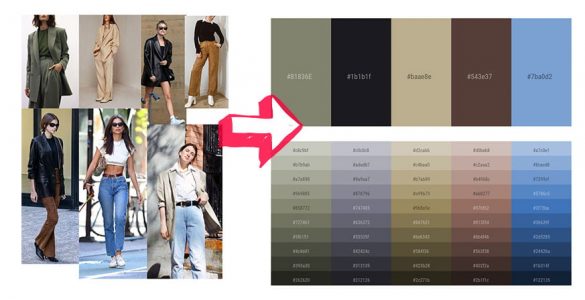 NOTE: You need to be mindful of the images you choose. This exercise is about the colors of the outfit, not the girl in the photo or even the style.
Optional: Choose some go-to prints
Prints can also be a fun way to add depth to your capsule wardrobe but should be added sparingly and in line with the colors you've chosen so that they mix and match seamlessly.
Here are some popular print options for a capsule wardrobe: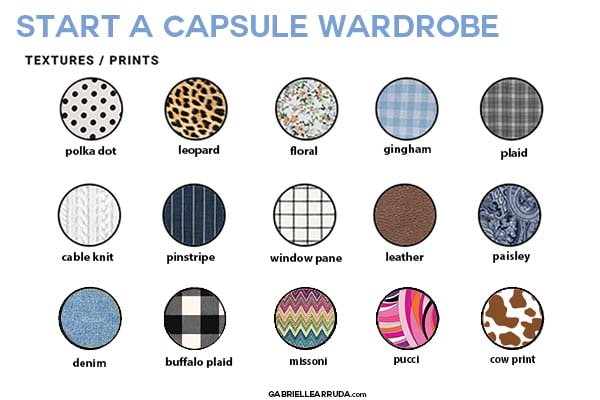 I find perusing my Pinterest style board and my own closet to be the best source of inspiration. For my own capsule wardrobe, I found I gravitated more towards texture and vintage prints. Which, is totally ok!
Texture can also be used in place of prints for an equivalent way to add depth and completeness to an outfit. So, if print really isn't your thing, consider if you have any textures like leather, fuzzy wools, or embroidery that you gravitate towards.
For my own capsule wardrobe these are the prints and textures I narrowed down as "essential" to my style: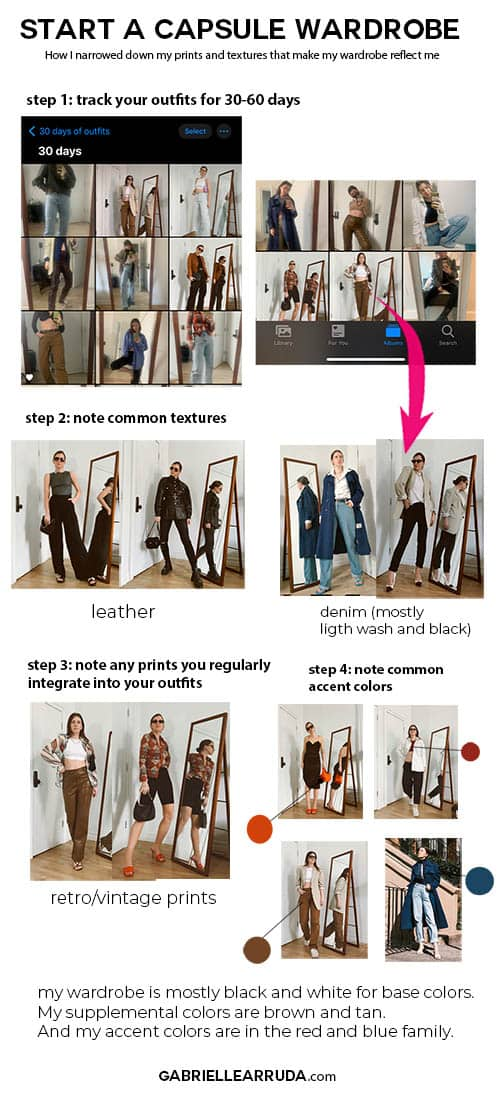 Step 6: Find your layering pieces
Your layering pieces are going to be some of the most important items in your capsule wardrobe. In order to master this transitional and versatile closet, you need to love your layering pieces.
You probably already have some go-to layering pieces, so really start honing which pieces are staples and which are wardrobe fluff.
In my closet, my essential layering pieces are as follows:
Your choice of layering piece can drastically impact what general fashion style category you fall into. So it's important to evaluate your style goals.
For instance, a leather moto-jacket will bring a completely different vibe than a traditional car coat. Your style doesn't need to be singular, but it should have crossover to create a balanced capsule wardrobe.
Step 7: Hone your shoes and accessories
Even with a minimalist wardrobe, you need to pay attention to your shoes and accessories. They are the icing on your cake.
If you frequent this site, you've probably heard me use this analogy, but only because it is so effective. So I'll use it one more time. A birthday cake is only a birthday cake with the icing, the candles, and the message on it. Otherwise, it's just an unfinished, undecorated vanilla blob. So whatever your aesthetic, your accessories and shoes are the keys to have your everyday outfits feel complete. You do this with accessories, shoes, and handbags.
Choosing these items will depend completely on your personal style and lifestyle needs. I don't recommend opting for sky-high pumps if you regularly take the subway or chase toddlers.
And because your shoes and accessories can evolve with trends or preferences more easily, I recommend being more flexible with these pieces.
When I built my capsule wardrobe these are the items I couldn't live without:
Those items were seen again and again in my outfit tracking, and items that I was always packing on trips or excursions.
Capsule Wardrobe Checklist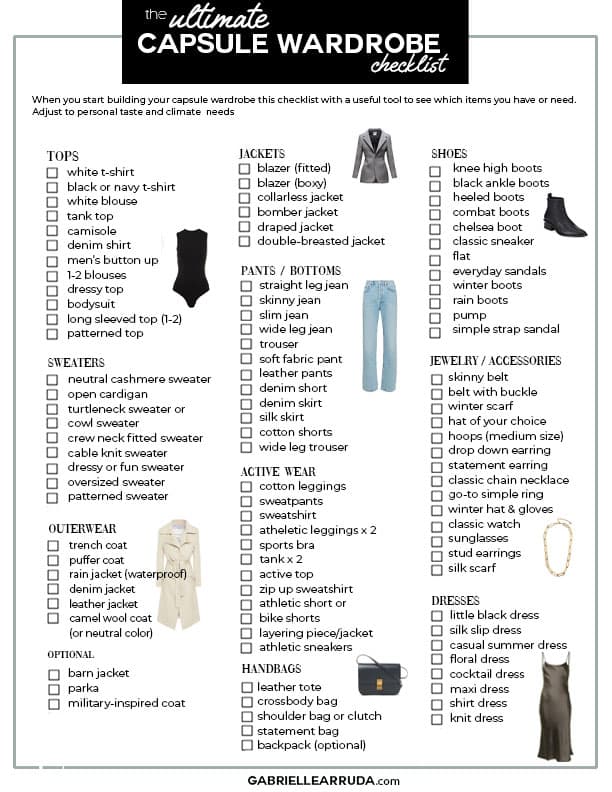 This capsule wardrobe checklist will help you start to examine your capsule wardrobe for missing pieces and to identify any pieces you might want to add or eliminate. It should be adjusted for your personal style and climate needs.

There you have it; you should have a beautiful wardrobe that you love now! But if you're still struggling, or just want to master your closet further, check out Craft The Closet of Your Dreams Playbook.
You can also find capsule wardrobe ideas that I've built for you, here.
Now, your day doesn't have to including wading through an untenable closet, and you can revel in the chic outfit ideas that come from your capsule wardrobe.