Do you ever notice how in the movies spring fashion always looks like this:
But in reality, it's this weird season where one day you're rocking your favorite spring florals, and the next you're bundled in your heavy coat again.
That is why spring fashion can be so tricky. So what's the answer? Buiding a chic, spring capsule wardrobe that will not only eliminate closet overwhelm but also keep you looking stylish through all those weird temperature changes.
What are the benefits of a capsule wardrobe?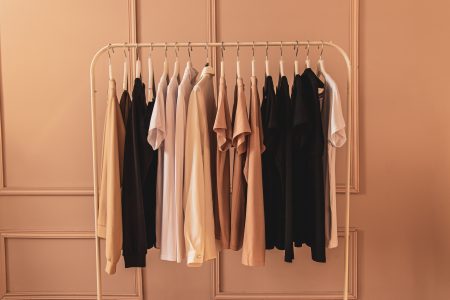 It's a powerful tool to simplify your wardrobe and keep you from buying clothes you don't need. Instead of focusing on what you 'should' wear (because society thinks that spring = pastels only), this spring capsule wardrobe focuses on what you like to wear and makes sure those pieces are versatile enough to combine with the other seasons as well.
Should I be buying a whole new wardrobe each season?
No! A spring capsule wardrobe is a great way to use what you already have in your closet and add items that match the new spring styling techniques.
Each season I create "new" capsule wardrobes that help inspire your own closets. A lot of the pieces each season are similar to one another, but not all. This does NOT mean you should buy everything on this spring capsule list.
It means you should look at the list, evaluate what worked in your wardrobe over the past couple of seasons, and examine any wardrobe holes. From there, you can decide to add a piece to your capsule wardrobe or not.
related: How to start making your OWN capsule wardrobe
Can I add trendy pieces to my capsule wardrobe?
Trendy pieces can absolutely be part of your capsule wardrobe, but they shouldn't be the majority of it. Why? Because that means you don't have a basic wardrobe foundation.
For spring, I've added a couple of trendier pieces to the list but I also made sure there were plenty of basics as well.
Before you trendier people run off in a huff, let me explain. I am someone who loves new trends and wears them frequently. However, in order to have a functional closet, full of pieces I love, and that work with those new trends, I need to have my basics.
Fashion basics or staples will be different for everyone, however, they are the pieces that interchange easily between all your new trendier looks.
Here are my 12 wardrobe essentials if you want to learn more.
How many pieces should be in my spring capsule wardrobe?
This will vary on your personal style, the climate you live in, and ultimately how varied a closet your lifestyle requires.
However, generally, a capsule wardrobe is more streamlined and consists of around 20-30 pieces including outerwear, shoes, and accessories.
From those 20-30 pieces, 75% or more will be foundational style pieces.
We may earn a commission from you clicking a link in this post. And as an amazon associate, we earn on qualifying purchases. Full affiliate policy, here.
Spring Capsule Wardrobe 2022 Checklist
Here are the main items that are in this spring capsule wardrobe for 2022. This is just a reference. You will need to go through these items and decide whether your lifestyle and your personal preferences work within this checklist or whether some substitutions or eliminations need to be made.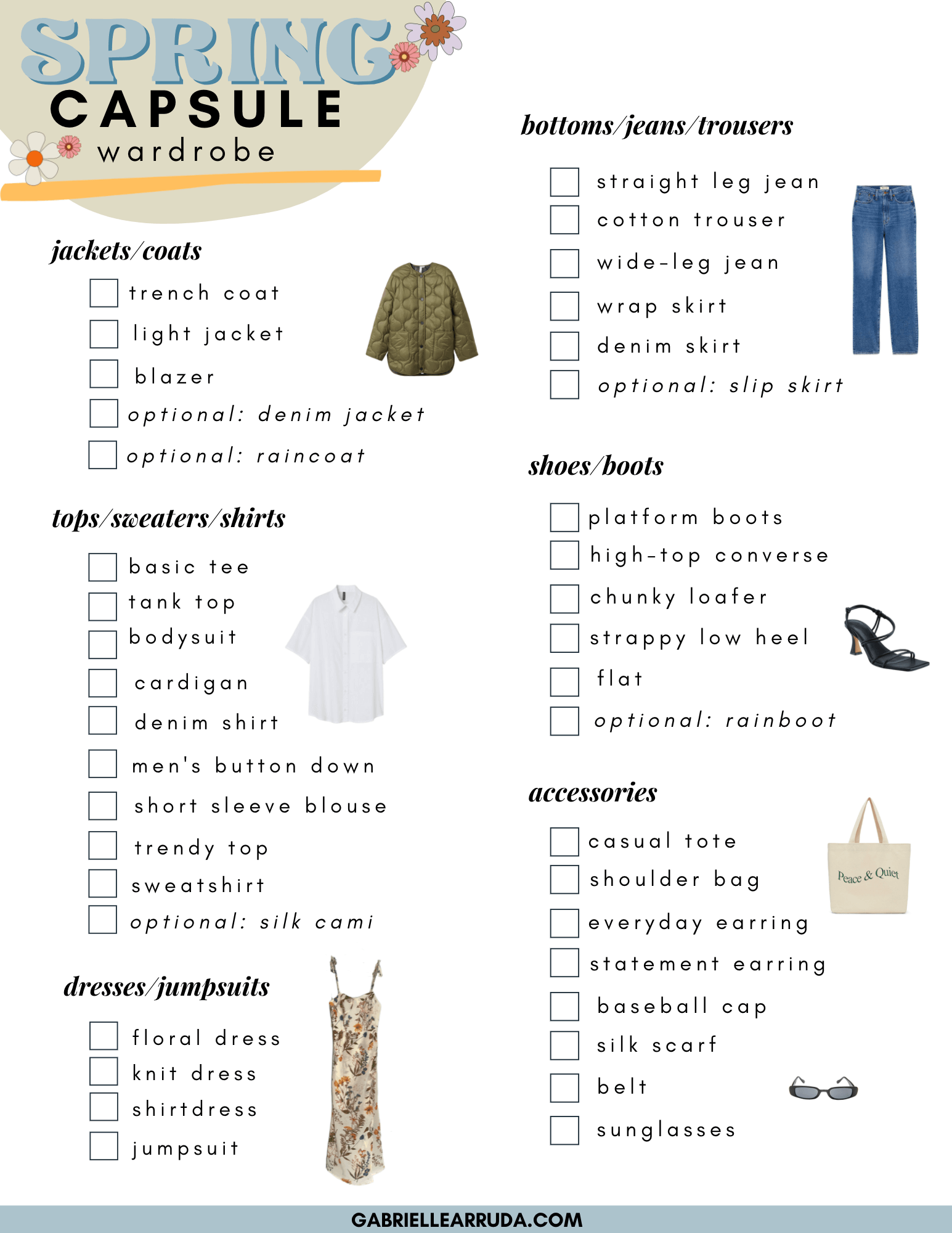 Leather Pants (optional)
Tank Top
Knit Skirt or Wrap Skirt
Classic Belt
Optional
Raincoat
Staple Necklace
Silk Scarf
Spring Capsule Wardrobe 2022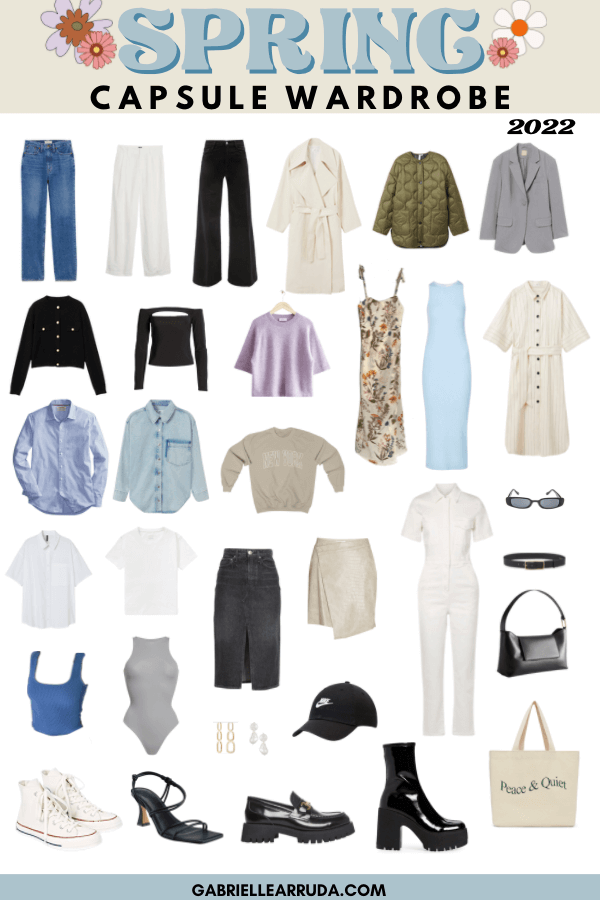 Let's dig into each of these items so you can see whether or not they work in your closet.
Also, don't forget that if you sign up for my newsletter you can get a free 40+ outfit guide using all of these amazing spring essentials.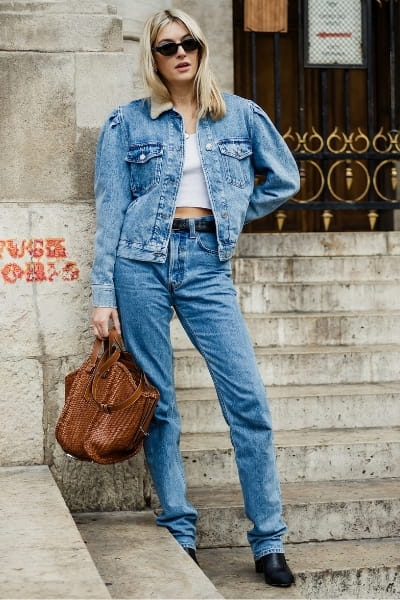 Straight-leg jeans have been a staple in my capsule wardrobes for seasons! They are a great foundational fashion piece and can work with so many different outfit inspirations.
I find straight-leg jeans to be a great staple pair of jeans and a total wardrobe necessity for me because they are the perfect backdrop for a cool top or accessory. They are essentially a great "supporting" character.
I have a video where I discuss how different silhouettes and fabrics alter your appearance, here, if you want to dive into dressing better.
Double denim is going to be huge in 2022, and the straight-leg jean is the perfect pair to try this trend out.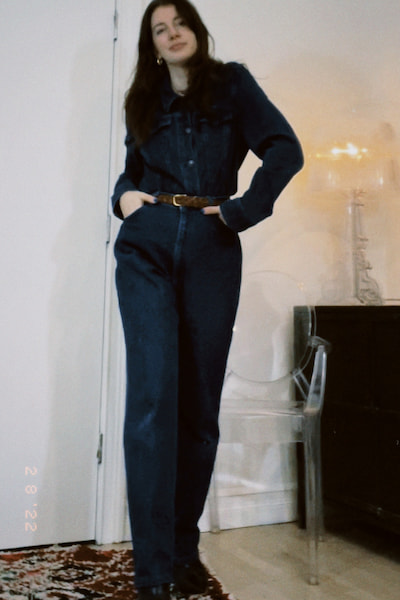 Cotton Trouser (lighter weight)
Simple cotton trousers are the perfect transitional pant when you can't wear jeans. They are light enough to handle the fluctuating temperatures and chic enough to be paired with a sleeveless bodysuit or a knit sweater.
For my cotton trouser, I prefer a lighter color palette option. I find this helps lighten up my overall aesthetic and is a nice visual marker away from the darker hues of my winter capsule.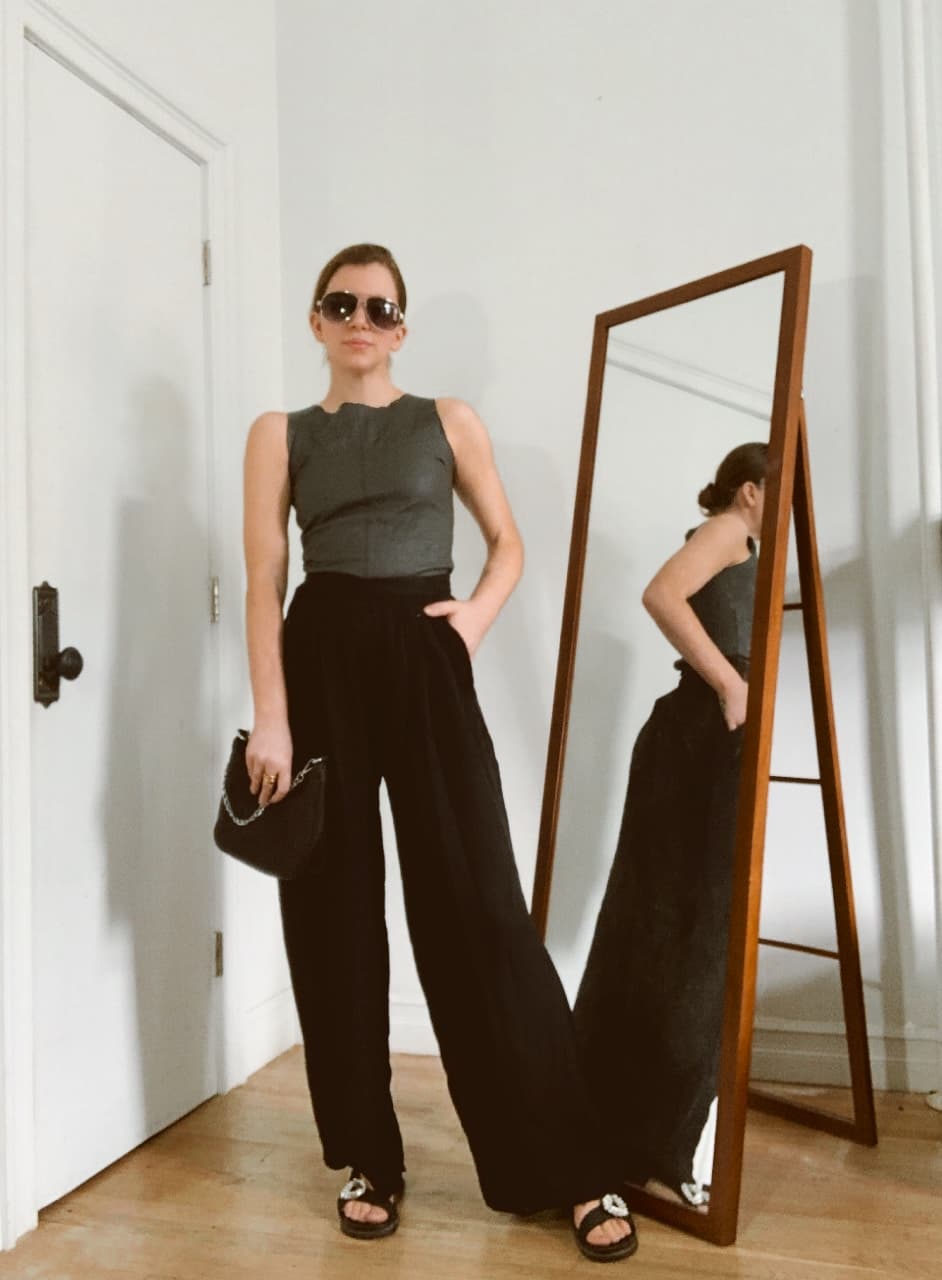 Wide-leg jeans are a spring staple. Wide-leg jeans help balance out your figure and elongate the leg.
They look fantastic with a double denim style ensemble, a 2022 fashion trend. But they can also be worn with a more classic look paired with a simple bodysuit and quilted coat.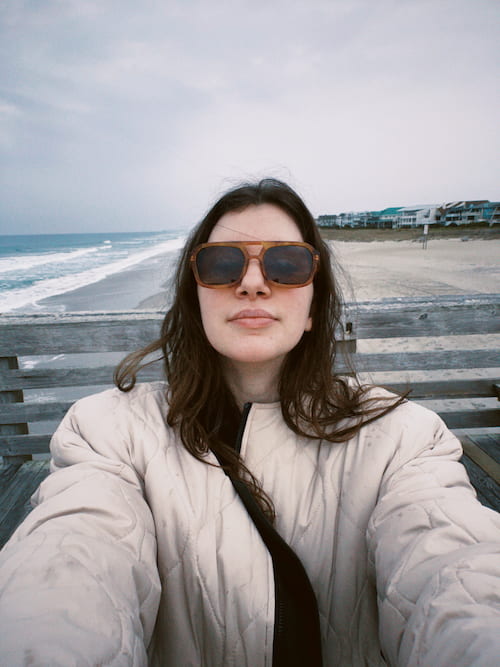 The quilted coat (note, not a puffer), is a great transitional outerwear piece.
In spring, chillier temperatures are still in play and this coat can help you transition your heavier winter layers to lighter spring layers.
It is also a great piece to wear in the upcoming fall when the weather starts getting colder again!
Keeping your cardigans seasonal appropriate is key, but it doesn't mean they have to be super heavy or thick.
I love this cardigan because it has a classic feel to it and it works on its own and as a layering piece. It also gives me Chanel vibes, which obviously is a plus.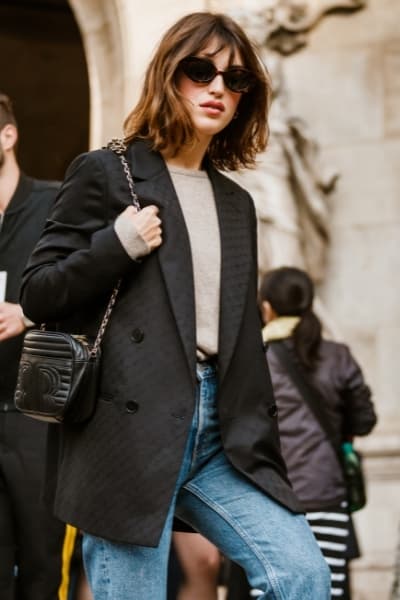 If you're still relegating your blazer to the office only, your style is missing out! Blazers are one of my favorite layering pieces all year round.
They can be dressed with everything from a minimal look to a cool trendy style.
For 2022, ultra-padded blazers are definitely still around. And if you want to add a trendy "extra" piece to your wardrobe, you could explore that look.
However, if you're committing to a 2022 silhouette, then opt for a slim-cut, 90's style blazer like the one above.
Lightweight spring sweaters are a must in your spring capsule wardrobe.
They pair well layered over your spring dress, with your denim midi skirt, or a classic jean or trouser look.
It's a versatile piece that helps you manage the chaotic weather patterns of spring. I love the "t-shirt" cut of this sweater, however, you could also opt for a sweater vest style like the one I'm wearing below.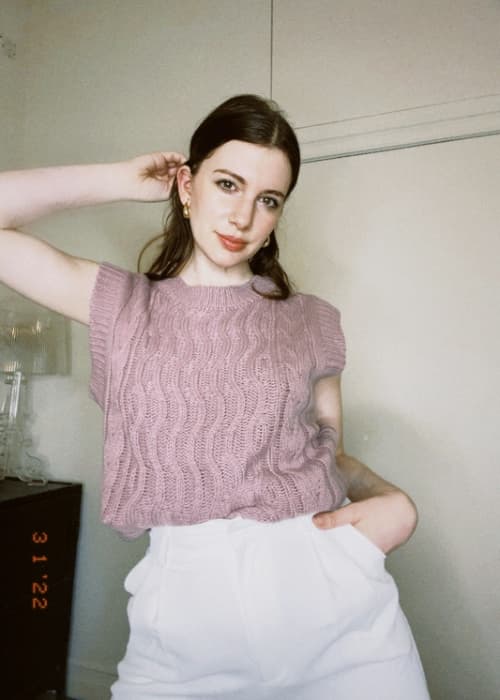 I don't know about you, but the crew-neck sweatshirt is a pretty much year-round staple for me. I love simple sweatshirts that feel classic enough to through over pieces but are also comfy enough to wear while lounging.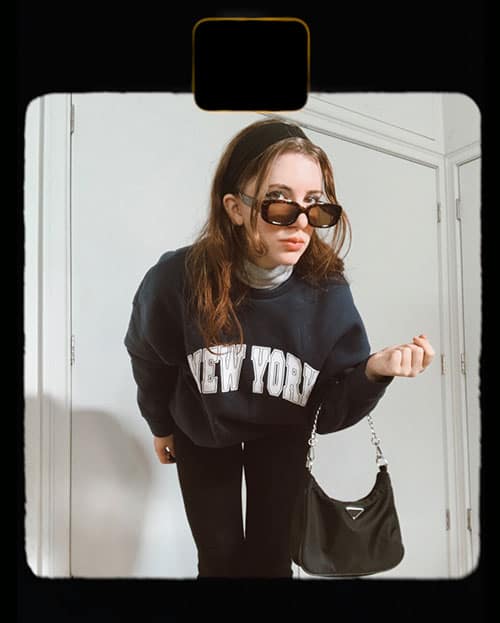 If you're looking for an all-in-one spring fashion piece, try investing in a spring jumpsuit.
Jumpsuits are great base pieces that allow you to have a "ready-made" outfit, and just focus on adding a few accessories to finish off the look.
Plus, they look great layered or on their own, perfect for those transitional spring months.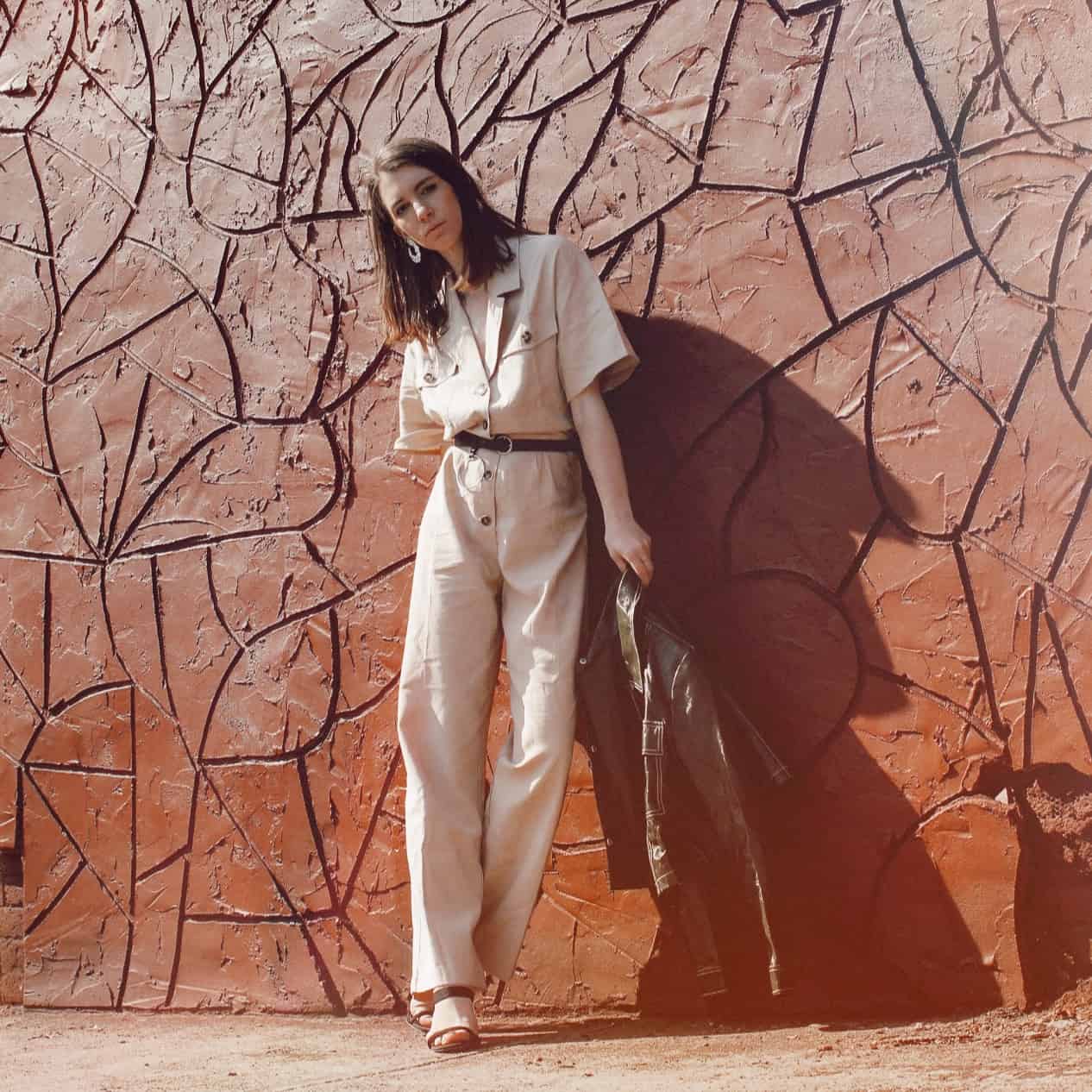 Every time I suggest a floral dress for spring, this scene from Devil Wears Prada flashes in my brain.
And, I know! Florals for spring is not groundbreaking. But alas, every springtime season rolls around and I find myself continuously reaching for my floral dresses.
They add a bit of romance to my look, and I love that in an alternative universe I'm wearing these dresses in a field outside Paris. (Don't hate on my fantasies).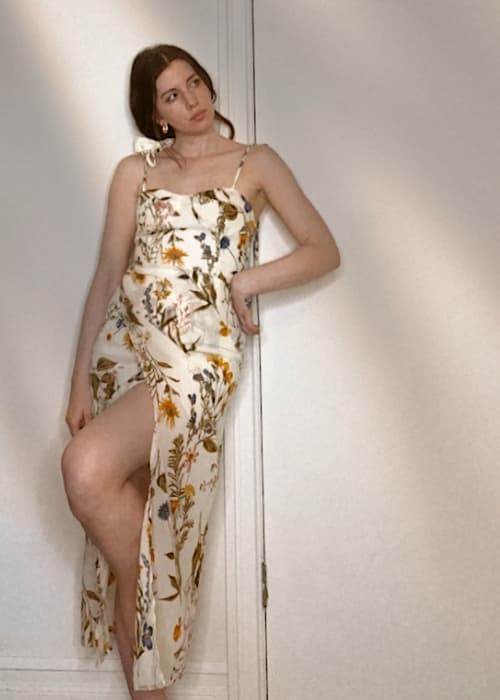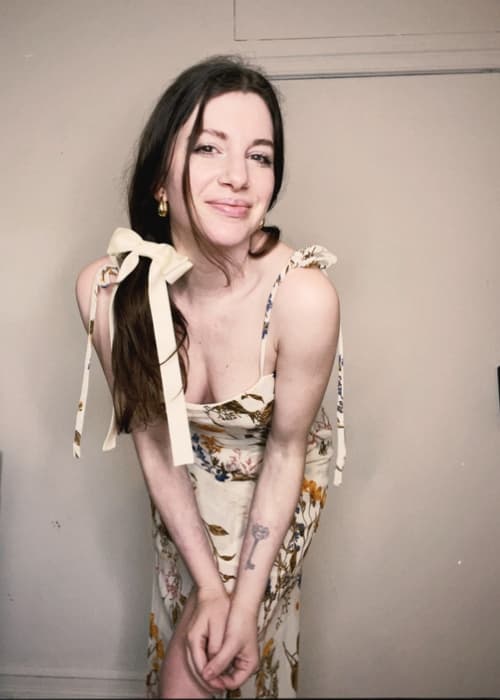 Knit dresses are perfect spring fashion pieces. They can be worn layered or alone, and they add a nice, slightly warmer option to your dress selection.
They're also a great transitional piece to wear as we start to see spring temperatures fluctuate within even a single day. Because if you've ever wondered what to wear when the morning is 50 and the afternoon hits 68, the knit dress can be your friend.
Shirt dresses are a nice addition to your spring capsule and provide a more polished aesthetic. They are great for casual office days or brunch with friends.
Ultimately, if you find yourself having to navigate between looking stylish and looking put-together, the shirtdress will help immensely.
I like to add one trendier top to my wardrobe each season to round out my styling and to sprout new outfit ideas.
Cut-outs are huge in 2022, and I like that this one is still workable from day to evening. Plus, I love a good off-the-shoulder moment.
If you're keeping your spring capsule wardrobe on the more conservative side, a short-sleeve blouse can be a nice addition.
They're perfect for spring office days and keep you looking fresh and chic.
Bodysuits are some of my favorite layering pieces, and they make crafting chic outfits so seamless.
I love them as a foundational fashion piece and wear them pretty much all year round. They look fantastic on their own with jeans, or as a base piece under a cardigan, blazer, or trench.
The awkward snap closure is worth it.
So, double denim (or the Canadian tuxedo) is a big trend for 2022. And, this denim shirt is a great way to stylishly mix it into your spring look.
They also make great layering pieces for over your floral dress, or paired with a basic tee and skirt.
Men's White Button Down
Every. Season. Every season I include a men's white button-down. I find them a classic staple and have been wearing them for years.
They look great as a layering piece over your favorite spring dress, or just paired with jeans.
One of my favorite styling techniques to use is the french tuck, and I have a guide on how to do it, here.
Silk Camisole
A silk camisole is another spring fashion piece that I love to keep in my capsule wardrobe rotation.
The silk material adds a nice touch of luxury and makes it perfect for layering under your spring blazers and sweaters.
I mean, I feel like everyone needs a perfect white t-shirt in their wardrobe. But, maybe I'm biased.
They go with everything, fit with almost every style, and still manage to be comfortable.
Personally, I'll take a midi skirt over a mini skirt any day. And denim midi skirts look so incredibly chic for spring.
The longer length makes them perfect for the weather, while still giving a lighter look than the traditional winter bottom options.
Embrace the midi! They also happen to pair with pretty much every top in this wardrobe, so win-win.
Knit Skirt
A knit skirt is a spring fashion staple, and I feel that they have a place in every spring capsule wardrobe.
They're great for casual spring office days, spring events, brunch with friends – you name it.
Not only are they comfortable, but they can be dressed up with a blazer, or dressed down with a sweatshirt, which makes them especially useful.
I think this could be an either/or situation. If you opt for a knit skirt, you probably don't also need a wrap skirt. However, this wrap mini skirt is unique and adds a fun flair to a spring wardrobe, which is why I included it in this list.
Shop the Spring Capsule 2022:
Please note, when items go out of stock I try to replace them with similar pieces. If I've missed an item feel free to leave a comment to bring it to my attention.
Spring Capsule Wardrobe 2022 Shoes
When building out your shoe capsule wardrobe, it's best to keep your lifestyle in mind and go with tried and true options.
While I love a trendy heel or Versace platform moment, ultimately those wouldn't be worn enough to be in my seasonal capsule collection.
These are the shoes I plan to wear 24/7 this season:
Accessories for the Spring Capsule Wardrobe 2022
I know I say this too often but accessories are key to bringing your outfit to life and achieving your desired look.
A birthday cake without frosting, candles, and "Happy Birthday" doesn't really quite fit the occasion. So don't be afraid to find your go-to accessories and use them to elevate your look.
Here are my favorites for spring:
Spring Capsule Wardrobe Color Palette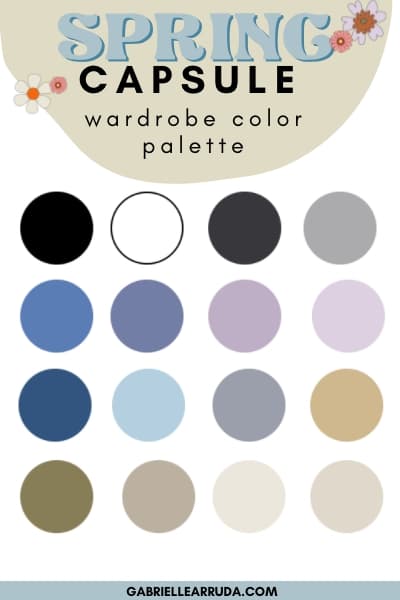 If you're going shopping and want to emulate the vibes of this wardrobe, be sure to snag this color palette to help guide you.
Need some inspiration on how to put all these chic items together? Sign up below for my free spring capsule outfit guide with over 45+ stylish outfits to help jumpstart your spring style.
Winter-to-Spring Outfit Help
Don't know how to manage the changing temps or just want some outfit inspiration? I have a full vidoe on this below.

I used to get a sense of dread when looking into my (many) closets and having to pick what to wear. However, having a capsule wardrobe removes the stress of overstuffed closets, and impulse fast fashion purchases.
I now have a large wardrobe as a style blogger and fashion enthusiast, but I still use a capsule wardrobe to simplify each season's pieces and highlight my go-to items without losing sight of each day. So, whether you want to create a minimalist closet or simply pick clothing without the hassle, this spring capsule can assist!
Now, go look anything but basic in your gorgeous floral dress 😉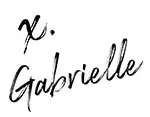 Go ahead and pin the below image because this spring wardrobe is one you'll want to keep on hand!