The Kibbe body type system is an image identity system created by David Kibbe in his book Metamorphis in the 1980s. If this is sounding familiar, you are probably already aware that it is a system that types people based on three main factors: their bone structure, their flesh and how it lays on top of their bones, and their facial features.
It examines the balance of yin and yang between each feature and throughout your body as a whole. From there you are typed into one of five main categories which include: Dramatic, Natural, Classic, Gamine, and Romantic. And from there, there are 8 subtypes, which gives you 13 (total) potential ID options.
Have I lost you? Start here for a more in-depth introduction into how the Kibbe system works and how to use it most effectively.
Understand the system but unsure of your type?
Try the quiz here, which is a good place to start narrowing down your ID. I want to forewarn you though. The quiz is not like a quick and fun Buzzfeed quiz that throws you into a Harry Potter house in 10 seconds. It should be a starting place for your Kibbe journey and help you narrow down your ID. It will help you look at your body more effectively and understand your attributes better. So, please use it only as a starting point of your Kibbe journey.
Kibbe Body Types and Kibbe Clothing Recommendations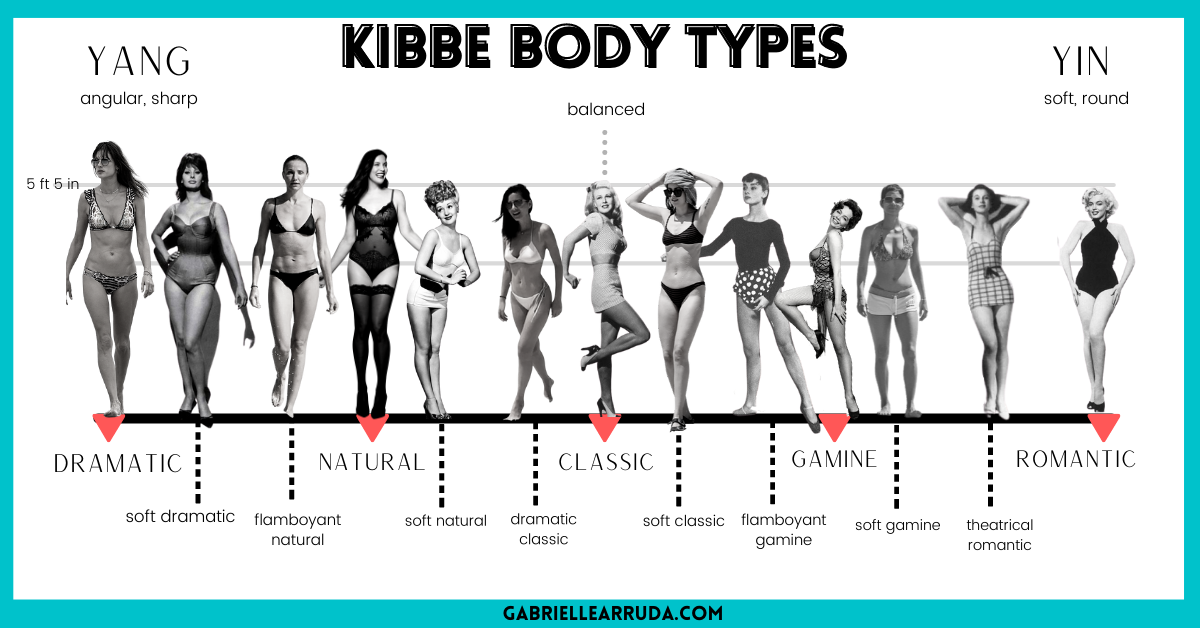 Now, let's dive into each type's basic identity and Kibbe's recommended style lines for each. This is a great place to start if you are struggling between two types as well. Start to try the clothing lines from the two types and photograph yourself wearing the outfits. From there you can start to objectively hone your ID by seeing what really makes you shine.
Please don't choose a Kibbe ID because you like the look of their style lines. This would be a disservice and not in line with the goals of the system. Find your body ID first and then tweak those style lines to fit your unique personal style. I think of the style recommendations as great silhouettes and "styling techniques" to integrate. But if the vibe or aesthetic of the ID isn't lining up with your style goals, you can just take the foundational information.
PLEASE NOTE: Each ID is identified below with specific characteristics but one or two slight deviations from these descriptions are possible as long as your yin/yang balance still matches the ID.
I also made a video of me trying all the different Kibbe style lines which can begin to help you understand the essence of each ID.
Dramatic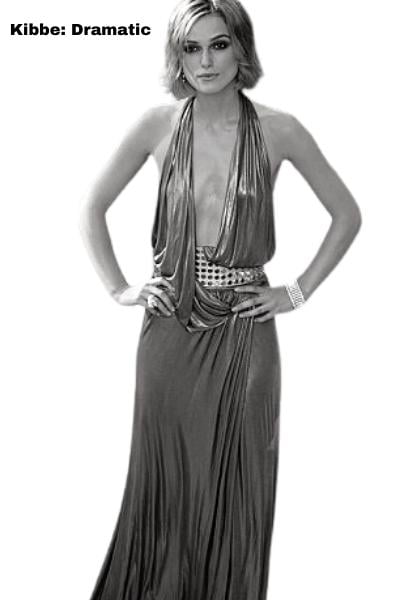 The Dramatic ID is characterized by extreme yang and sharp edges.
Let's get into what the Dramatic Image Identity is all about. Kibbe describes the Dramatic as made up of a powerful, sharp physicality, a cool reserve, and charismatic power. As long as no single element throws your extreme Yang balance off, minor variations are always possible, and you should not be concerned about them.
Answers: If you took the quiz, your answers will be predominantly A answers throughout all sections
Height: Dramatics have a strong vertical line. This makes their height moderate to tall; usually above 5 ft 5 inches
Body Type: The dramatic is straight and angular, however, it can have long or sleek muscular development (sinewy or lithe.) Typically they have long legs and arms. They can appear narrow in width.
Bone Structure: Angular, with sharp edges. Square shoulders are typical (they can be narrow). Hands and feet are generally long and thin. Facial bones are sharp or prominent (nose, jawline, cheekbones). Because of their narrowness, the bone structure is sometimes referred to as "delicate." This isn't entirely accurate because their vertical line is dominant and creates a more "sleek" look as opposed to "delicate".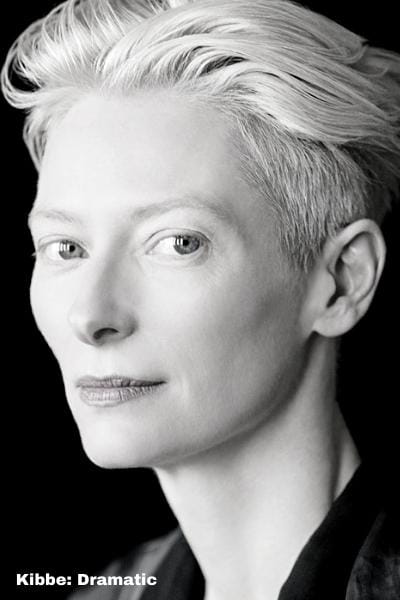 Facial Features: Generally, your face can be described as sleek and straight. Your eyes are usually small, straight, or almond-shaped. The lips might be long, narrow, thin, or straight. You will have taut skin, especially around the cheek and jaw areas that creates sharp definition.
If overweight: When a dramatic body gains weight they tend to see it show up in their hip and upper thigh area. It does not usually show up in the upper torso. For more information on weight gain patterns and some mid-to-plus size examples of each type, check out this article.
A Dramatic will not have:
An hourglass figure or "double curve" shape
Lush yin facial features like large eyes, full lips, round cheeks
Have a broad quality or bluntness to their bone structure or facial features
Be (or appear) petite or extremely small in stature
Exhibit perfect symmetry
Have short or fleshy limbs
Dramatic Clothing Recommendations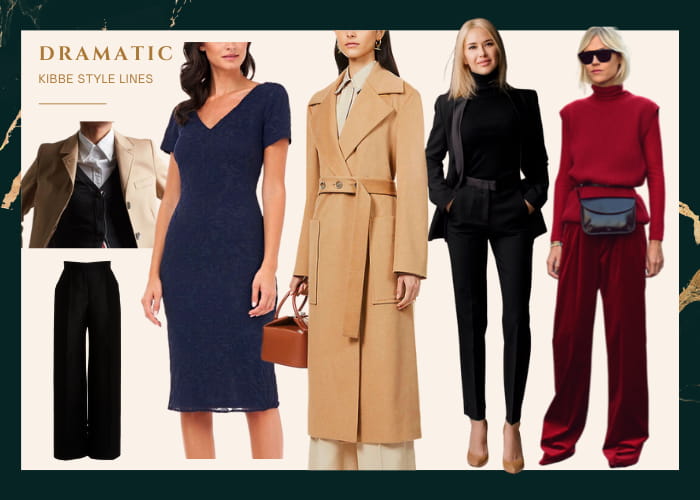 The Dramatic ID needs to embrace their sharpness and therefore their clothing should also have a sharp and geometric feel to it. The Dramatics, in my opinion, are really able to lean into a lot of high-fashion trends. This is not to say that their clothes should be loud or busy because it isn't advantageous for them to look fussy or overdone. The idea here is geometric shapes with sharp edges – angular lines and lots of structure.
Solid colors are essential to your wardrobe because they help showcase the strength of your shape and provide a nice backdrop for your angles. When choosing prints be sure to keep them crisp so as not to lose any definition in your silhouette and to match your Dramatic essence. Likewise, with textures, be careful of anything too blurry or overly soft.
Tailored pieces with long vertical lines and structured fabrics are best. You want to avoid embellishments that add too much detail to your look and avoid color-blocking. In order to honor your vertical line you don't want a lot of "breaks within an outfit". This is why you shine with monochrome colors, dark neutrals, and minimal details.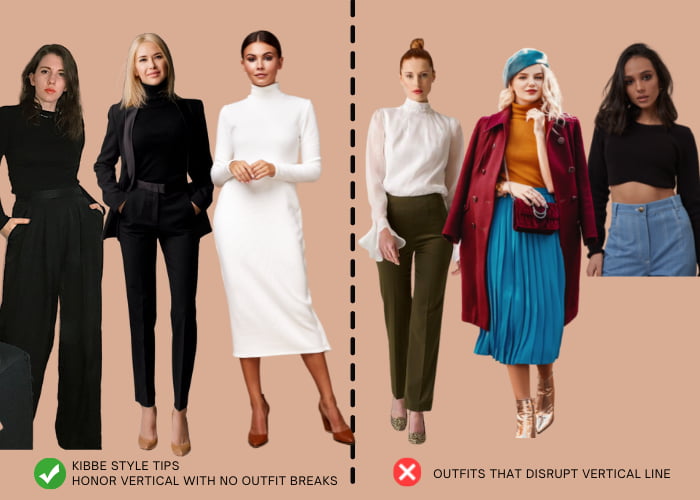 Dramatic Clothing Highlights:
Sharp, crisp prints (polka dots, stripes of any kind), anything high contrast. You can also try contemporary prints with irregular shapes as long as they have clear lines
Crisp solids and dark neutrals work well
Geometric shapes with sharp angles – tailored pants, skirts, vests/ blazers, crisp and tailored shirts.
Square, sharp shoulders look great on you
Clean, angular necklines
Anything tailored
Fabrics that hold their shape, heavy-weight
Avoid: Oversized or overly draped clothing as it will lose definition in your silhouette which you want to avoid at all costs! The Dramatic really does need clean lines so anything too busy tends not to work well for them.
Soft Dramatic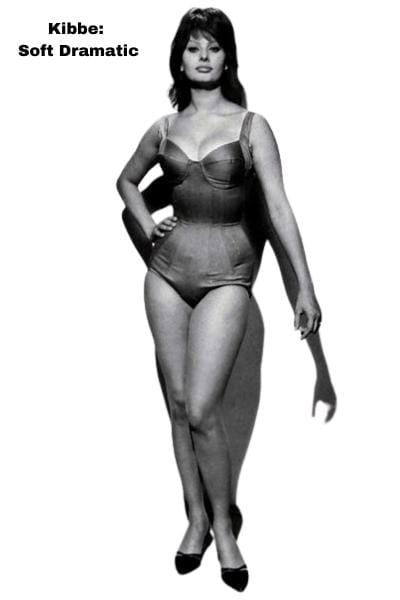 The Soft Dramatic is characterized by bold yang with a pronounced yin undercurrent.
This is usually exhibited by a yang bone structure with yin flesh and facial features.
Kibbe describes you as bold, charismatic, and creative (yang) while also having a sensual, and charming essence (yin). You are dramatic first and foremost and your romantic undercurrent should be used to soften your look and add in a bit more glamour.
Answers: If you took the quiz, your answers will be predominantly A (especially in the bone structure section) with some D or E answers under flesh and facial features.
Height: The Soft Dramatic has a strong vertical line which means you will be moderate to tall. Often 5 ft 5 inches and over.
Body Type: The soft dramatic has a fleshy body type, generally speaking. The bust and hip regions are typically fleshy (unless ultra-thin), particularly in the case of women (remember men can be typed too!). They have long legs and arms, which may get fleshier in the upper arm and thigh regions without activity. The waist is usually somewhat slender and defined.
Bone Structure: Remember your bone structure is yang and dramatic so it can best be described as large and angular. You have long limbs, big hands, and feet (may be lengthy or narrow, or wide). The SD facial bones are prominent or sharp (nose, cheekbones, jawline). You may consider yourself delicate if your bone structure is narrow (particularly the shoulders, hands, feet, wrists, or ankles), which isn't true. Your long vertical line and extreme length overpower any "narrowness".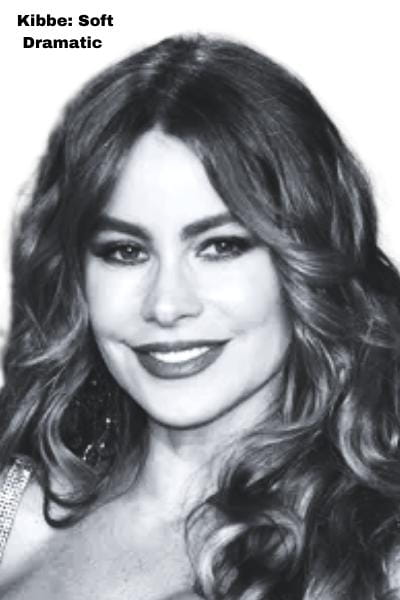 Facial Features: The Soft Dramatic (SD) definitely has a captivating face. With their sharp bone structure they often have sharp noses, chiseled jawlines but with large eyes, full lips, and fleshy cheeks. This creates what Kibbe describes as " Full, lush, sensual, and exotic."
If Overweight: When the SD gains weight, it tends to show up in the fleshiest parts of their body: the bust, hips, waist, upper thighs, and upper arms. It can also sometimes be seen in their face. If you want to learn more about Kibbe weight gain patterns and some mid-to-plus size examples of each type, check out this article.
A Soft Dramatic will not:
Have a boyish or "straight" figure
Have delicate bone strucutre
Have small hands and feet (in relation to their own bodies, not others)
Have short limbs
Look or be overly petite or small in stature
Have delicate facial features
Have overly symmetrical facial characteristics or body type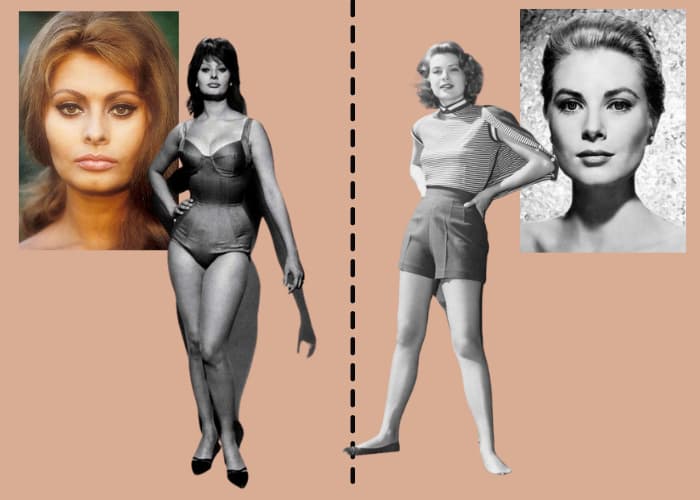 Soft Dramatic Clothing Recommendations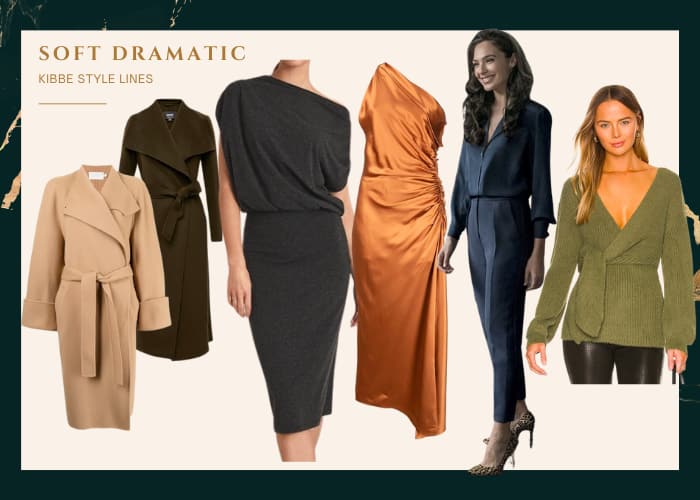 Your silhouette should always be bold and sweeping; Kibbe refers to your style essence as Diva Chic. You can achieve this with a focus on strong vertical lines as well as draping, gathering, or tucking in the right places.
In order to achieve this, you will be focusing on keeping a "T" silhouette when dressing. This honors your shoulder line and your vertical line. Light-weight fabric will be key in accomplishing the lines of the SD, because you want to highlight your frame and yin undercurrent. Stiff or unbending fabrics or sharp seamlines will disrupt your romantic flair.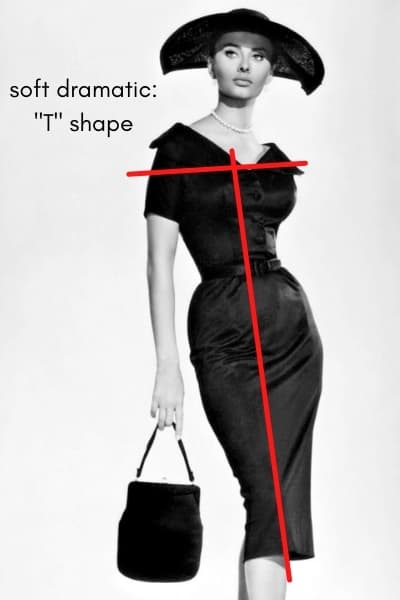 Your prints should be bold and oversized, focusing on florals, tropical leaves/prints, abstract geometrics, or any other shapes that are large in scale yet fluid to compliment the softness of this body type. Your use of color should always have strong contrast and be bold. You shine in color combinations that pair brights with darks. You want a polished color palette that doesn't feel meek.
Your accessories should be oversized with strong shapes. Think big earrings, large necklaces, statement bracelets, and anything glitzy.
The SD style lines could best be described as long, lean, with soft edges. We want to honor your vertical first, but not sharpen your yin undercurrent (which is where the rounded edges, seams, and soft lapels come into play). Draped fabrics and jersey fabrics can help you do this as well.
For more Soft Dramatic style guidelines and outfit ideas, check out this article.
Soft Dramatic Clothing Highlights:
Soft, draped fabrics are always best.
Soft-edged geometrics or abstract prints.
Ornate detail should be very oversized and plush (shirring, gathers, bows).
Lightweight knits with draped necklines, like cowl necklines
Lightly structured or unconstructed jackets and coats
Elongated and draped dress with shoulder emphasis
Long, straight pants that are not stiffly tailored.
Avoid: Sharply tailored clothing (shoulders). Plain clothes (no detail). Delicate, fussy fabric or trim. Narrow silhouettes with delicate detail. Skinny, ribbed knits. Rough textured knits and stiff fabric that has "sharp" seamlines.
Flamboyant Natural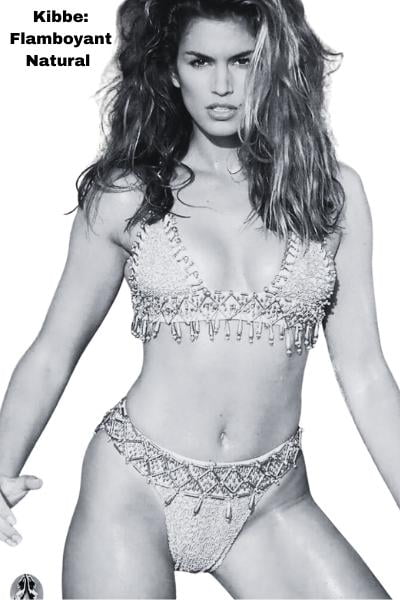 The Flamboyant Natural (FN) is described as strong yang with blunt edges.
Physically you are broad, long, and angular. Remember one outlier trait does not mean you don't fit the FN family. So take a holistic approach when you type yourself and look at your overall yin/yang balance.
In order to embrace your strong yang and blunt edges, Kibbe tells you to embrace a "free spirit chic" style essence. But, don't think that means you are "boho". Here's a more detailed guide on the Flamboyant Natural to give you some modern interpretations of their style lines.
Answers: If you took the quiz and believe you are a Flamboyant Natural, your answers will be predominantly B with some A answers possible under bones.
Height: A lot of supermodels are in the FN family, so don't get hung up on terms like broad or width. The FN has a long vertical line and is usually moderate to very fall. Starting at 5 ft 5 inches and going up.
Body Type: The FN is straight and angular but with broad qualities not sharp ones. Limbs tend to have a musculature quality to them. The bust and hips are typically flat or straight (unless extremely overweight).
Bone Structure: The FN bone structure is large and angular, with blunt edges. The bones are broad and square, with a wide, strong shoulder line. Long arms and legs are common because of the strong vertical line. Large hands and feet (usually somewhat broad, but they can also be narrow; with long fingers and toes). Broad or prominent facial features (nose, cheeks, jaw) that have a blunt not sharp quality to them.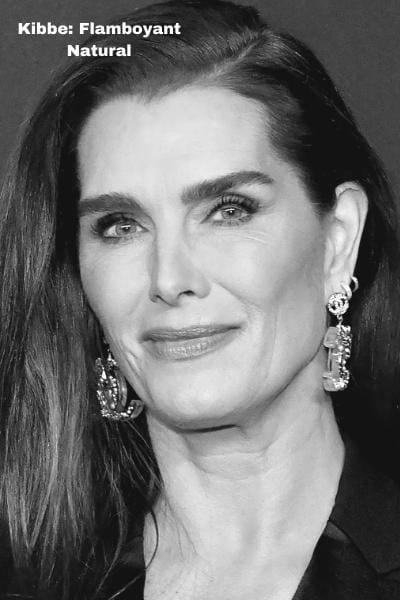 Facial Features: The FN face is defined as broad, blunt, and open. The eyes may be big and open or straight and tiny. Lips will be straight and somewhat thin. Unless they are overweight, cheeks will usually be taut.
If Overweight: The body gets square and stocky, while the face grows fleshy and puffy. The majority of extra weight will be accrued in the waist region, or in extreme weight gain from the waist down. If you want to learn more about Kibbe weight gain patterns and some mid-to-plus size examples of each type, check out this article.
A Flamboyant Natural Will Not:
Have a curvy bust and hip-line or a voluptuous silhouette
Have an hourglass figure
Have delicate facial features ( no small or sharp bones overall)
Have exotic facial features ( overly lush lips, doll-like eyes)
Be ( or look) extremely petite
Have symmetrical prominence in any of the three categories: bone structure, body flesh, and facial features
Have sharp or extremely narrow bone structure
Flamboyant Natural Clothing Recommendations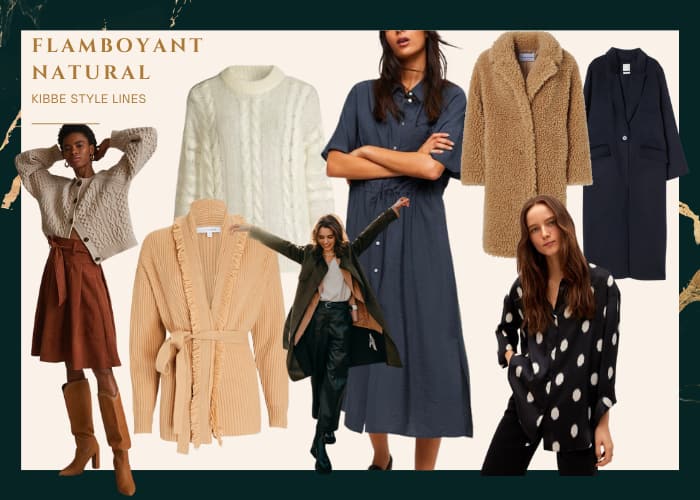 The Flamboyant Natural is recommended to embrace bold geometrics with rounded edges so that they highlight their vertical, but with ease to accommodate their naturally blunt edges (and mimic this in their clothes).
They should work with unconstructed silhouettes, that have bold, sweeping lines (Kibbe loves this term). They should be elongated and straight but also have a relaxed, unconstructed outline.
Similar to the Soft Dramatic you will embrace the "T" silhouette as well, but in a softer iteration. This shape will honor your shoulder line and verticality but will not be form-fitting like with the SD.
Loose oversized garments are great for your ID because you have the vertical and shoulders to hold them up and not look swallowed by the flowing fabric. Wide trousers, chunky textured knits, and long coats all work well with your ID. As well as shoulder seams that feel broad and extended but not sharp. And necklines work best when they are loose, open, and not confining (in appearance or comfort).
Want silhouette examples and modern FN outfit ideas? Check out this guide.
Flamboyant Natural Clothing Highlights:
Unconstructed jackets. Relaxed cuts with broad padded shoulders are best. Length should be from the top of the thigh down (never shorter).
Oversized detail is best: large lapels or no lapels, big roomy pockets, easy double-breasted styles (worn open).
Jumpsuits can work for your body shape, especially more casual ones that honor your shoulder line
Pants should be simple and straight (tapered but not tight) or very full and sweeping in cut with an extra-long hemline.
Skirts should be long and straight but not severe.
Blouses should be loose and roomy with relaxed construction (no sharp shoulder seams or sharp notes)
Avoid: Overly tailored pieces. Flouncy, delicate, ultra-shirred, or glitzy styles. Severe, symmetrical skirt cuts. Tailored or overly fitted jackets. Fitted pants.
Natural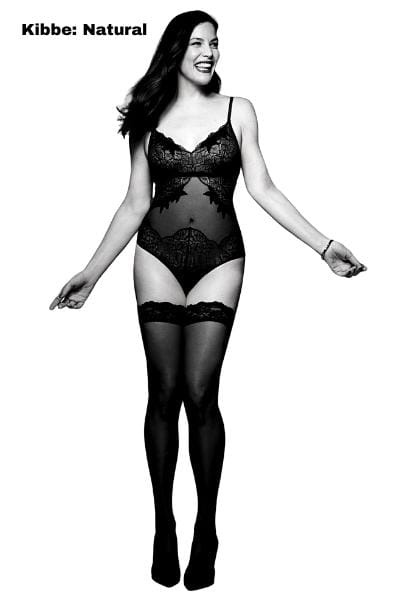 The Natural ID is characterized by soft yang.
soft yang: symmetrical balance of the classic and the sharp-edged Yang of the dramatic
They have a straight and slightly muscular body type with a slightly broad bone structure and wide facial features that tend to have a blunt quality. This creates what Kibbe refers to as "soft yang" and describes the pure Natural as bold and direct but never "sharp, cool, or aloof".
And he characterizes the Natural's style lines as "girl next door chic", although I wouldn't get hung up on that language because the most important thing when following his recommendations is honoring the entire body and essence. Not necessarily dressing the like "girl next door" movie trope, so don't be dismayed!
Answers: If you took the quiz and are leaning towards a Pure Natural ID, then you most likely have predominantly B answers throughout the entire quiz.
It is worth noting that Kibbe himself has veered away from some of the "pure" IDs like the pure Natural and Pure Classic. While they are rarer, I personally believe they exist and it's important to differentiate them between the other Natural IDs. So if you are on the fence between the pure natural and another type, the best way to narrow it down is to try the style lines of each and see which suits you best.
Height: The Natural ID has a moderate to slightly tall height, usually up to 5 ft 8 inches
Body Type: The pure Natural has a straight and muscular body type. Also described as lean and even slightly lithe. They often have flat hips and a somewhat flat bustline. Slightly long arms and legs. Long-waistedness is possible.
Bone Structure: The Natural ID has a bone structure feels slightly straight. It can be slightly angular but has blunt edges (as opposed to sharp or severe). Broad shoulders are common. Facial contours are blunt angular (nose, jawline, cheekbones). Hands and feet are moderately sized to slightly large and can be squarish.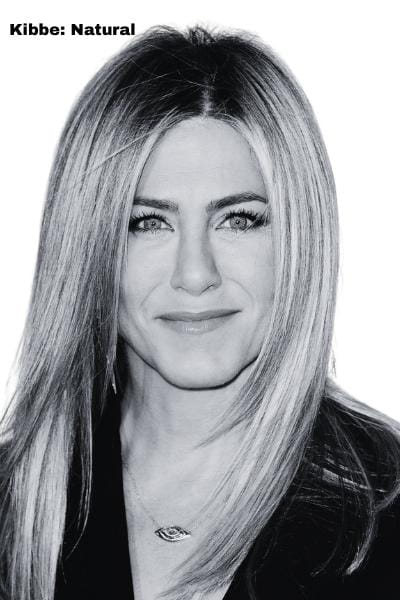 Facial Features: The Natural has facial features that are slightly broad, blunt, or irregular. They often have moderate to small eyes and can have taut cheeks. Their facial features are somewhat wide (open). It's common to see straight, slightly thin lips.
If Overweight: Your body will stay straight (rather than developing curves) when you gain weight. Excess weight tends to make you appear square because it widens your midsection. Extreme weight gain gives you a very stocky appearance. If you want to learn more about Kibbe weight gain patterns and some mid-to-plus size examples of each type, check out this article.
A Natural will not:
Have an hourglass shape
Be extremely petite or extremely tall
Have prominent or overly exotic features
Have symmetrical, evenly-spaced features
Have sharp features
Have a boyish thin figure
Natural Clothing Recommendations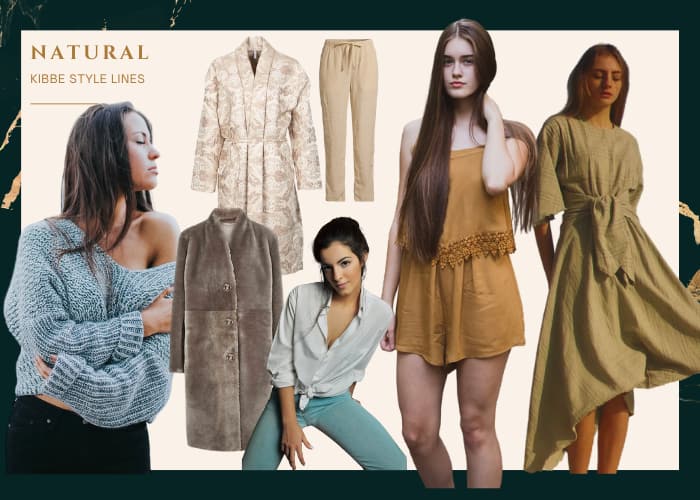 We want to honor your soft yang with your clothing, so a relaxed, straight line is the outline of your overall look. The Natural should have a softly tailored shape and always embrace unconstructed pieces.
Unlike the Flamboyant Natural, your outline should be slimmer and fairly narrow. And you want to have a loose, easy essence to your clothing.
Simplicity works best for you and details should be kept minimal. Simple necklines and soft-edged shoulders or jackets honor your pure ID. And all softer fabrics fit seamlessly into your style essence, especially any type of knitwear. Textured fabrics and "natural" fabrics like raw silks, linens, and soft leathers are fantastic and fit well into your ID's aesthetic.
Overall, your ID has an affinity for an artful mix of patterns, textures, and colors, and does best with this vibe, over a more "polished" or glamourous vibe.
Natural ID Style Line Highlights:
Clothing lines should be relaxed and straight
Silhouette should be softly tailored and unconstructed
Fairly narrow and slim shape
Asymmetrical elements can keep your outfit more unconstructed
Textured fabrics and soft fabrics are your sweet spot. As well as any "natural" fabrics- suede, soft-leather, linen etc.
Slightly elongated lines for your tops and jackets. Unconstructed shapes with open necklines and (soft-edge)shoulder pads are good choices.
Simple straight skirts
Minimal detail pants but in a wide variety of styles including jeans, cropped, cuffed/un-cuffed, drawstring, or straight-leg.
Almost all style of sweaters work well for you
Simple, minimalist accessories
Soft-edged geometric prints and funky prints in irregular shapes work well. Moderate to slightly larger scale is best.
Avoid : Flouncy styles. Severely tailored styles. Sharp or angular detail. Ornate, intricate trim. Overly delicate fabrics and textures with trim (fur, feathers). Any frilly detail such as ruffles or lace overlay is not for you!
Soft Natural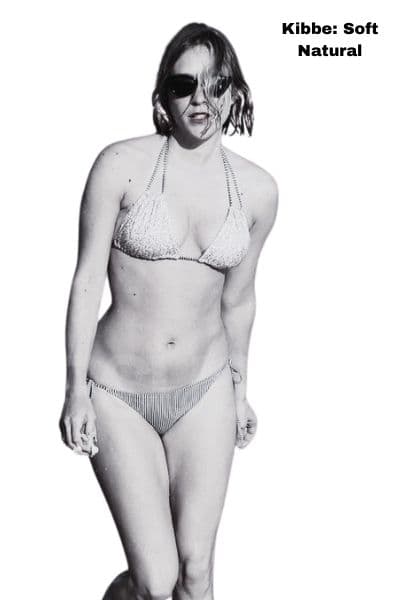 The Soft Natural is identified by Soft Yang with a yin undercurrent.
The Soft Natural has a basically angular bone structure but with your yin undercurrent that shows up in a fleshy body type and full facial features (eyes, lips, cheeks).
Kibbe calls you "spontaneously direct, open, logical, fresh and totally unaffected, although this is softened by an artistic sensitivity and a radiant charm that is wonderfully appealing."
He loves a flowery description ; )
Ultimately, he says the soft natural should strive for an appearance described as "Fresh and Sensual Lady" playing into your fresh feminity and soft, flowing silhouette.
Answers: If you took the quiz and are leaning towards a Soft Natural your answers will be mostly B, with several D or E answers
Height: The SN body type is moderate to slightly small; up to 5 feet 7 inches.
Body Type: The Soft Natural tends to have a body type that is described as slightly soft, fleshy. A somewhat small waist that is in proportion to their bust and hips. Because they have some curves, they can give a slight hourglass shape (but not extremely so). Upper arms and thighs are slightly fleshier.
Bone Structure: The SN has slightly angular bones. Slightly wide, square, or broad shoulders (don't let this scare you away from this ID, this is in relation to your other features, it's not calling you "big" or "wide"). Moderate to somewhat short limbs (slightly leggy appearance is also possible). Face features are slightly blunt, small, and irregular (nose, cheekbones, and jawline). Hands and feet are modest in size and fleshiness, or they may be a bit smaller and broad.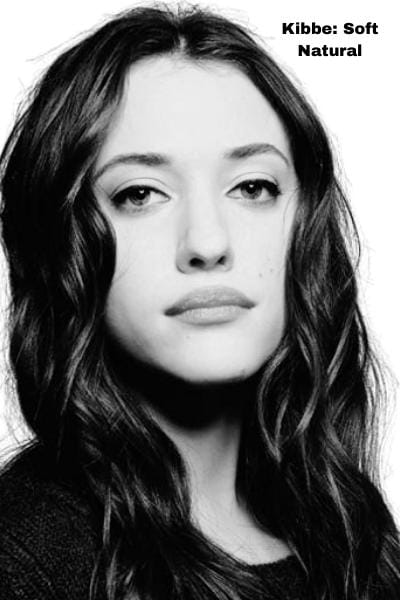 Facial Features: Typically the Soft Natural has facial features that are full and rounded. They can have round eyes, full lips, and softer cheeks. The nose is typically small and wider or somewhat irregular (blunt or wide).
If Overweight: When the SN gains weight the waist thickens, and the body becomes extremely soft and fleshy. The upper arms, thighs, and hips accumulate most of the weight and cellulite. Curious about more weight gain patterns and want to see some mid-to-plus size examples of each type, check out this article.
A Soft Natural Will Not:
Have a straight body type
Have extremely sharp features or bone structure
Be extremely tall
Have extremely broad or large bone structures
Be symmetrical in facial features and body type
Soft Natural Clothing Recommendations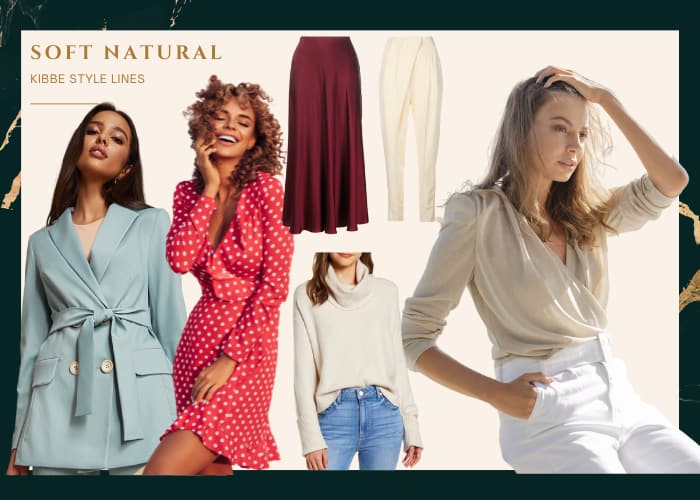 If you are Soft Natural, your clothing should be light and flowing. You want to take the flowing lines (similar to the pure Natural) but add some slight waist definition.
Relaxed lines with subtle draping, especially in bias cuts that can gently hug your curves will look excellent on you. We want mostly unconstructed shapes but they shouldn't be so loose that you lose the slight shaping your yin undercurrent needs.
Asymmetrical or irregular curves also work well on your body and honor your romantic undercurrent (yin).
Soft textures and anything tactile, nubby, or natural works well and harmonizes well with your soft yang.
For jackets, keep them unconstructed and soft but they must show off your waist. Lightweight and slightly draped pants, with a trace of soft detail or elaborate trim (gathers, shirring, delicate pleats) should be worn.
Soft Natural Clothing Highlights:
Unconstructed silhouette with some shaping in the waist
Relaxed lines with subtle drape
Details should be loose, delicate, and creative. Antique or earthy details work especially well for the SN
Colors should vibrant and rich. Avoid dull, monochrome and head-to-toe darker tones
Soft textures with plush or rough finish
Skirts should have a soft outline
Pants should be lightweight and slightly draped (no strict tailoring)
Sweaters (especially lighter ones) work really well for you
Don't overdo accessories, a little goes a long way on the SN
Dresses should be soft and flowing, yet free and unstructured. In a full, flared silhouette, they should be loosely defined at the waist. You could also experiment with draped and clingy in a straighter silhouette
Avoid: Sharp, severe, or extremely tailored silhouettes. Silhouettes that are too symmetrical. Overly Fitted looks, and wide, shapeless looks.
Dramatic Classic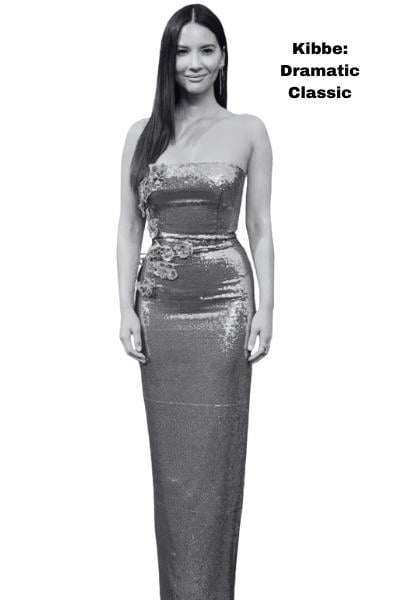 Dramatic Classic is characterized by a yang bone structure with a balanced yin/yang in flesh and facial features.
You are first and foremost a classic, but you do have a dramatic undercurrent which shows in your slightly angular edges.
Kibbe describes you as "controlled, refined, elegant and calm with an added dash of the powerful, the majestic, the charismatic". And these descriptions should go towards the general sense of your ID. Remember this is not directly a "body type" system, but an "image identity" system.
Answers: If you took the quiz and think you may be a Dramatic Classic, your answers will be mostly C, with some A or B answers. To qualify for this ID your flesh and facial features should be balanced between the extremes of yang and yin while your bone structure should lean more yang (A answers).
Height: Because you are part of the classic family, moderation and balance are key. So your height is moderate up to 5 ft 7 inches.
Body Type: When at an "ideal" (Kibbe's words, not mine) weight, your body type will be fairly trim and compact. You can also appear slightly muscular. Your bustline, waist, and hips are in equal proportion to one another but can appear a bit more straight. Occasionally a slightly short-waisted appearance is possible. Legs and arms are usually average or just a little longer. Your body can appear to radically change if you gain weight, which is an illusion because your bone structure remains unchanged.
Bone Structure: The DC bone structure is symmetrical, with somewhat angular edges. The body is straight and slightly wide. Shoulders are tapered or slightly square, with a tendency to be narrow. Hands and feet are rather squarish. Facial contours (jawline, nose, cheekbones) are somewhat sharp, angular, or square.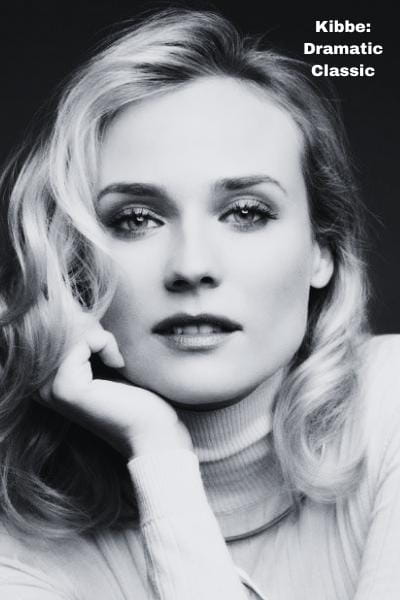 Facial Features: Because you are first and foremost a classic, DC's often have moderate to large eyes, and moderate lips.
If Overweight: Excess weight is immediately apparent and collects from the waist down. You most likely gain weight in your hips and thighs. Around the bustline, you generally don't gain weight. The more weight you gain, the more your body will adopt a traditional pear shape.
If you want to learn more about the Kibbe weight gain patterns and see some mid-to-plus size examples, check them out here.
A Dramatic Classic Will Not:
Have extremely long arms or legs
Have extremely exotic or lush facial features
Have extremely large hands or feet
Have extremely large bone strucutre
Have delicate bone structure
Have delicate hands or feet
Have a boyish figure
Have an hourglass figure
Since you are part of the classic family, your ID will be about moderate sizes and symmetry. And specifically angular edges, since you are a DC.
FULL Dramatic Classic Style Guide and Outfit Ideas, here.
Dramatic Classic Clothing Recommendations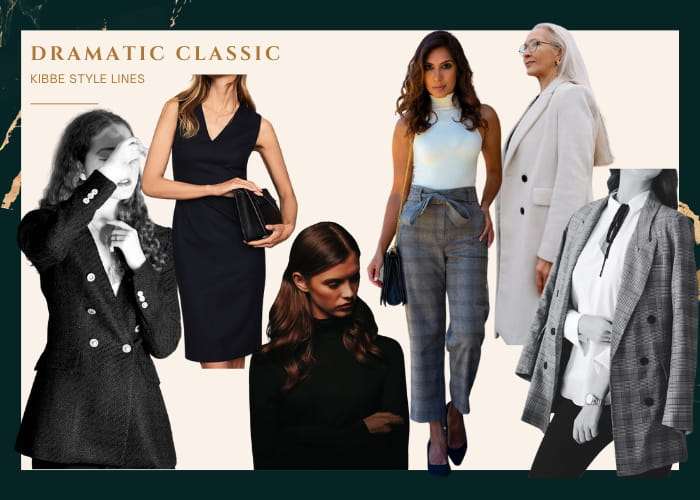 The Dramatic Classic needs to embrace its Classic Family and its dramatic influence. They look best in a silhouette that is always trim, and that has sharp edges. You are all about clean and sleek lines.
Elongated draping works, and even better if it has a strong, defined shoulder. We want crisp edges to our outfits and should incorporate a strong vertical and diagonal line.
For the shape of your silhouette, you can think about an upside-down triangle. The widest line would be at your shoulders and narrow at your waistline.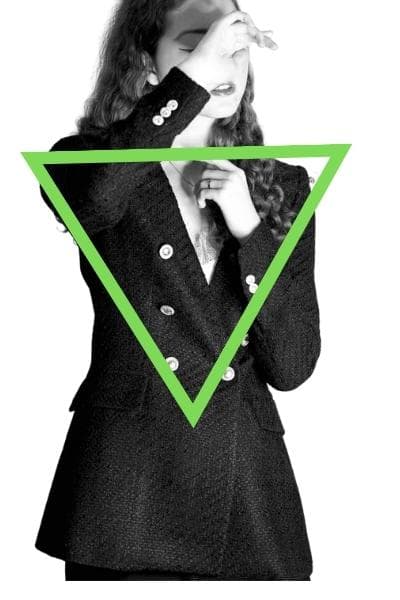 Moderate weight fabrics and matte finishes should be the core of your wardrobe. And shinier fabrics should be used sparingly.
Details should be crips and geometric with sharp edges. And cleanly tailored necklines are an easy addition. And jackets will be an essential piece to your wardrobe. They should generally be crisp, tailored, with sharp shoulders, some waist definition, and give an elongated look.
And for pants, you'll want simple-tailored styles with pleats or even reminiscent of men's tailored trousers. Elegance and clean lines are key.
Dramatic Classic Style Highlights:
Trim and tailored with sharp edges
Elongated line
Focus on vertical and diagonal lines
Moderate weight fabrics, matte-finishes
Crisp, tailored, and geometric with sharp edges for any details
Jackets should be crisp and tailored with a strong shoulder line
Skirts should be straight and narrow
Simple tailored pants are best (or men's inspired styles)
Elegant, light-weight sweaters
Tailored, sleek and narrow dresses
Sharp edges/seams are critical
Bold and sophisticated colors. Neutrals and deep colors are great and showcase your elegant simplicity
Avoid: Flouncy lines, clingy or ornate pieces, or anything to intricate will not work for a DC. Horizontal lines, or anything unconstructed, wide, or boxy will overwhelm your balance. Severe lines that have no tapering will also be unflattering. Be wary of anything that is symmetrical that doesn't have those sculpted edges you need to honor your dramatic influence.
Classic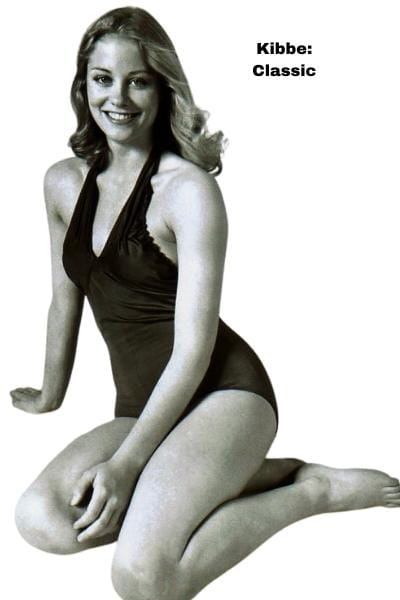 The Pure Classic ID has completely balanced yin/yang.
You exude inner refinement and Kibbe calls your style goals "Sophisticated Lady". You have a perfectly symmetrical bone structure with even, moderate features that are individually a blended mix of yin/yang.
Kibbe has more recently refined his system and questioned the existence of the pure classic. As it requires so much symmetry and balance, most people don't naturally have this. However, I think it's possible to fit into the Classic Family or resonate with the Classic style lines, so I'm still including the pure types (even if they are rarer).
Answers: If you believe you are a pure Classic your answers from the quiz will be almost all C's throughout all sections.
Height: Your height is moderate, often between 5 ft 4 inches and 5 ft 7 inches
Body Type: As a pure Classic you have an evenly proportioned bust, waist, and hips. You can have a slightly lithe or sinewy musculature look. Moderate (to slightly long) limbs (but balanced).
Bone Structure: The Classic will have a symmetrical bone structure with a tendency towards slight sharpness. They can be slightly angular or slightly straight with tapered shoulders. They will have moderate feet and hands.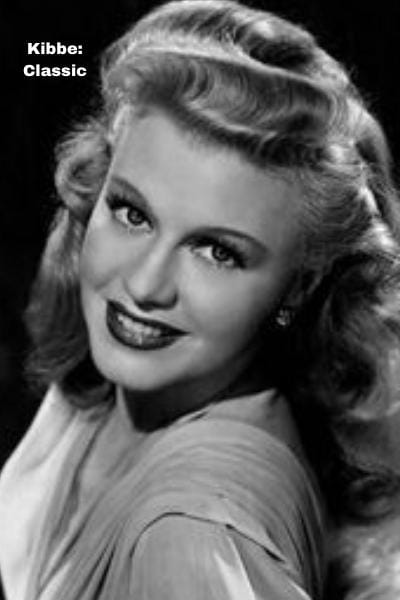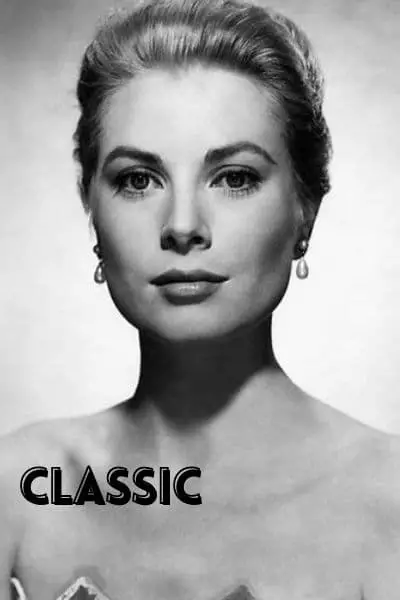 Facial Features: Your face will be evenly spaced and symmetrical with a chiseled aspect to it.
If Overweight: If you gain weight your body will remain symmetrical and your weight will usually be evenly distributed. For more information on weight gain patterns and examples, check out this post.
A Pure Classic Will Not:
Be extremely tall
Have large bone structre or large hands/feet
Have exotic features
Have prominent features
Have delicate features
Be extremely petite
Have an hourglass shape
Have full or lush facial features ( like full lips, fleshy cheeks or extremely large eyes)
Classic Style Recommendations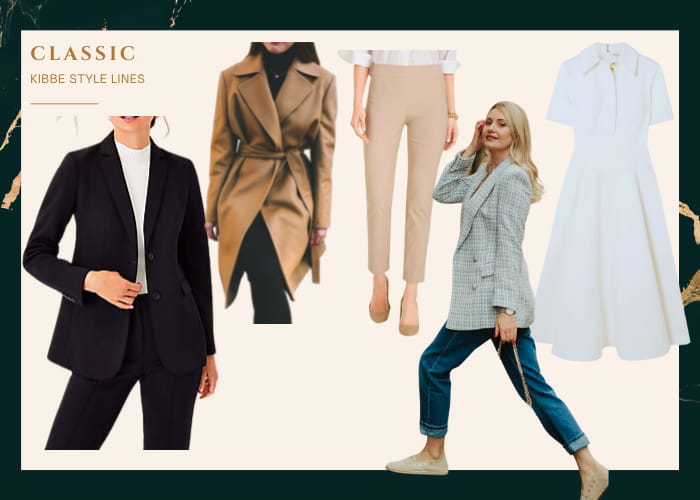 Your style lines need to honor your shape and symmetry, so we want to avoid any extremes. Keep your silhouettes and outlines smooth and symmetrical with a focus on controlled, even edges. You can try straight lines or smoothly curved lines, or softly tailored or slightly flowing. But it shouldn't be overwhelmingly tailored or flowing.
A clean, unbroken silhouette is essential and references your elegant essence. You want to be sure to pay attention to the "head-to-toe" look and make sure it's blended and balanced.
Symmetry is the key to (as I've mentioned). Whether you opt for slightly geometric or slightly curved, be sure to blend the same shapes together in your look.
Details should be clean, minimal, and simple enough to provide an elegantly understated edge. It should not attract attention to itself; rather, it should work in tandem with the garment's smooth visual line.
Classic Style Highlights
Symmetry is key to all your silhouettes
Details should be clean, simple, and minimal
Slight, crisp shoulder padding and clean, tailored necklines work best
Symmetrical lapels, tailored pleats, crisp gathers
Beautiful, luscious fabrics work for you but they should moderate in weight. If they are light-weight they should be in constructed or tailored pieces
Jackets should be narrow and tailored with a smooth outline (standard length)
Clean, tailored pants with minimal detail
Elegant silks or soft cotton blouses that have smooth tailored lines
Smooth, clean-lined skirts
Elegant, softly tailored, slim widths with understated waist emphasis for dresses
You should use color to accentuate your blended visual line. Monochrome schemes work well, or anything that blends together as to not break up your line. You want the tones to blend together and not contrast one another
Avoid: Extremely sharp silhouettes, flouncy silhouettes, and anything that has a wide or unconstructed look.
Soft Classic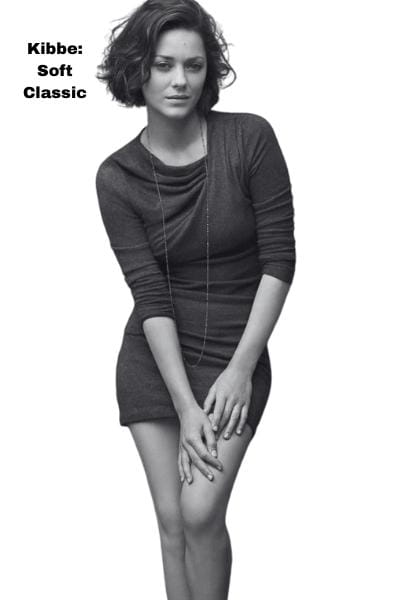 The Soft classic is characterized by a balanced bone structure with yin influence in flesh and facial features.
The Soft classic has a symmetrical bone structure with slightly rounded edges or a yin influence that softens their flesh and facial features.
Kibbe describes you as "controlled, elegant, and calm with an added refined touch of understated femininity and gracious sophistication".
And it should be noted that you are first and foremost in the Classic family and any romantic influence should be used to add a bit of softness to your look but should not be so overwhelming to overpower your elegance.
Answers: If you have taken the quiz and believe you are a Soft Classic your answers will be mostly C with some D or E answers in flesh and facial features sections. In order to be a SC, your bone structure needs to be balanced and your body/face will have some yin influence.
Height: Your height will be moderate, up to 5 ft 6 inches.
Body type: Your body will tend towards slight fleshiness, and can be somewhat rounded. Soft arms, thighs, and waistline. Bust, waist, and hips are equally proportioned. Arms and legs may be moderately short (in relation to height).
Bone Structure: Your bone structure will be symmetrical, with smooth or just slightly rounded edges. It can be straight and a bit delicate. Can be small and somewhat wide with soft edges (but not square). The shoulder is tapered or sloped gradually. The facial features are rather small and wide (nose, cheekbones, and jawline). Hand and feet generally measure moderate to small with a slightly wide look.
Facial Features: Your face will be soft and full, with a somewhat fleshy look. You often have large eyes, soft cheeks, full lips. But overall your face will be symmetrical and evenly spaced.
If Overweight: Your body will become very soft and your face will become very fleshy. The waist will be the first to lose definition and excess weight gain can give you a "thickish" look. For more on kibbe weight gain and larger examples, see this article.
A Soft Classic Will Not:
Have angular bone strucutre
Have large bone structure
Have prominent or exotic facial features
Have a muscular or boyish look to their figure
Have a true hourglass shape (specifically the waspish waist)
Be tall or extremely petite
Be small-boned with extremely delicate hands or feet
Soft Classic Clothing Recommendations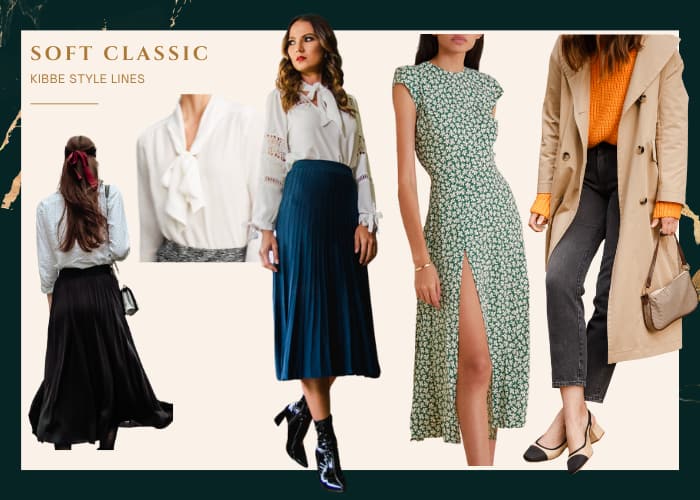 The Soft Classic ID needs to embrace smooth, soft, symmetrical silhouettes with slight shaping to honor their balance and yin influence. Clean lines that are unbroken will be essential to your overall look.
Gently flowing lines that flare or "swirl" work as well. And smooth, horizontal or diagonal draping can honor your yin influence nicely.
We want to embrace your understated sophistication and your refined femininity. Kibbe states " We always like to see just a bit of the charmer, the enchantress, the alluring angle (visually expressed through the soft touches and rounded or flowing shapes), without upsetting the basic foundation of the traditional, the elegant, the everlasting (which is visually expressed through your use of controlled lines and softly understated tailoring). " So be wary of adding too much glamour or romantic influences as it can look gaudy on your elegant frame.
Fabrics can be light to moderate and will drape or flow without being overly clingy. You can opt for slightly matte or slightly shiny but avoid any extremes.
And details should be smooth and symmetrical with rounded shapes or slightly intricate edges. Your details will soften your look.
Clean soft necklines and a slight definition of the shoulders works well for you.
Soft Classic Style Highlights:
Soft, curved shapes with rounded edges
Symmetrical shapes that flow gently
Clean lines that are unbroken
Smooth, horizontal, or diagonal draping
Light-to-moderate weight fabrics, with a slight matte or slight sheen
Detail should be smooth and symmetrical
Jackets should be softly tailored with curvy shaping that gently shows off your waist (short to moderate lengths)
Skirts should be smooth and gently flowing and if straight it should be in a lightweight fabric
Pants should be lightweight material and in a softly tailored style with a hemline just below the top of the ankle
Soft, elegant blouses with gentle edges/seams
Smooth, soft sweaters that are generally lightweight
Flared dresses with waist definition that are graceful and elegant
Avoid: Overly ornate or intricate lines, wide or unconstructed silhouettes, severe straight lights or sharp edges, straight lines with no shaping or flow, overly crisp pieces, or fitted silhouettes with "staccato lines", and harsh geometric silhouettes.
Flamboyant Gamine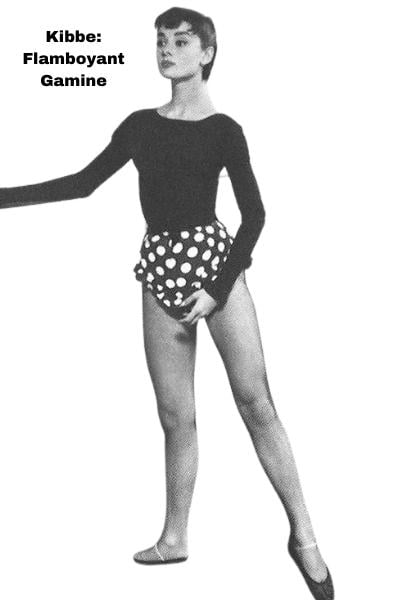 The Flamboyant Gamine (FG) is a combination of opposites with extra yang.
You have an angular shape that is yang in shape but yin in size (height). But overall you have a yang dominance.
You are a gamine first with a dramatic undercurrent. You exude yang energy that is dynamic but a yin youthfulness and freshness.
Your overall silhouette will be made up of a yang shape that is angular, straight, and geometric. And Kibbe clarifies that you are not "too short" but simply "not tall" and clarifies this to mean you need to throw out the traditional style handbook and embrace a "rules are meant to be broken" approach with your style. We will dive into this more soon.
Answers: If you have taken the quiz and believe you are a FG you will have an almost even mix of opposite extremes, so A and E answers mostly, and potentially some B answers.
Height: Kibbe's original text says that Flamboyant Gamines are 5 ft 6 inches and under. However, he has typed Audrey Hepburn as FG and she is 5 ft 7. So be sure to evaluate all the categories carefully if typing yourself as a FG.
Body Type: The Flamboyant Gamine has very defined musculature unless they are overweight. They tend to have a lean and strong appearance with a straight silhouette. This means a flat bust and hip line (unless overweight). They can also have a leggy appearance (or "coltish").
Bone Structure: FG's have square shoulders and slightly wide bones and are broadly angular. They have large hands and feet in proportion to their height and if they are petite their hands and feet can be wide, square, and short. Their facial contours (nose, jawline, cheekbones) can be slightly sharp or broad. In proportion to their height, they can have long arms and legs. However, if they are petite, their arms and legs can be slightly squarish.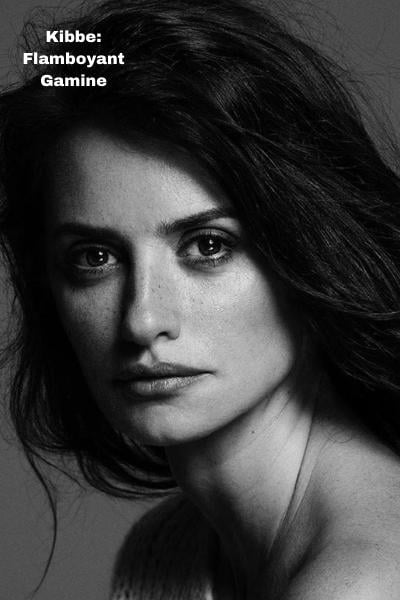 Facial Features: FG's usually have a broad or long facial shape that can be very round or even slightly oblong. They often have extremely large eyes. The facial flesh tends to be taut unless they are overweight. Their lips range from moderate to full.
If Overweight: They tend to get stock or square. Any excess weight gain will appear from the waist down, and not really above. Their arms and legs will become thick, as will the waist and hip area. Their face can also get a puffy or fleshy appearance. For more on kibbe weight gain patterns and mid-to-plus size examples, check out my article, here.
A Flamboyant Gamine Will Not:
Be tall
Have overly exotic faical features (except large eyes)
Have overly delicate bone structure with small hands/feet (rememeber this is in proportion to their height)
Have an hourglass figure, waspish waist, curvy hips or bustline (even if they gain weight)
Have symmetrical body or facial features
Flamboyant Gamine Clothing Recommendations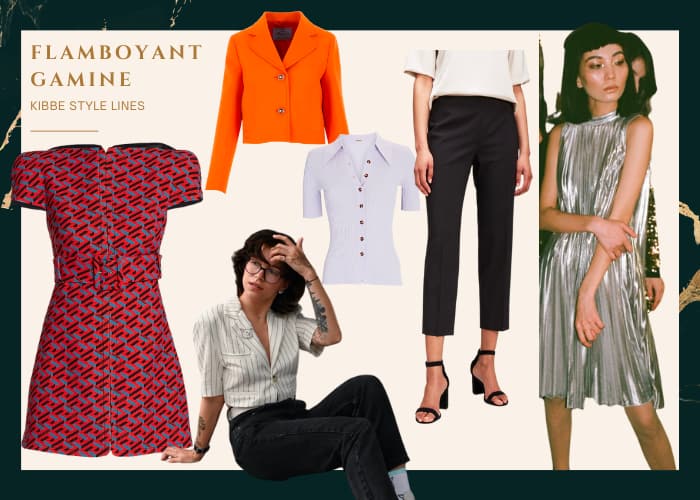 Kibbe wants you embrace your combination of yin/yang with extra yang and have a style he refers to as "Sassy Chic".
Your style recommendations are all based on broken, staccato silhouettes, sharply outlined edges, and broken boxy outlines. Angular detail will also be an important part of your wardrobe; like piping on jackets, sharp lapels, or contrast trim.
In order to create "broken lines" you want to pair two different pieces on your top and bottom, but keep a boxy silhouette.
Fabrics should have a slight crispness and should be lightweight to moderate. And for jackets or coats, you could opt for a heavier or rougher textured fabric. And your zesty style can have notes of ultra-shiny. metallic, or opposite texture to create interest. However, your base outfit should be in a matte or duller fabric to create balance.
For accessories keep it irregular, asymmetrical, and angular. Everything from boxy handbags, chunky jewelry works. It should be a head-to-toe look that has spunk, zest, and bright energy.
Overall details should be ultra colorful, irregular, or asymmetrical with an angular or sculpted quality to them.
Flamboyant Gamine Style Highlights:
Broken, staccato silhouettes
Broken boxy outlines
Sharply outlined edges
Severely straight lines or softly straight lines
Asymmetric and irregular shapes, short and wide geometrics
Light to moderate fabrics with some crispness
Sculpted details that are ultra colorful, asymmetrical, irregular
Separates work really well for you
Jackets should be short and boxy- they should emphasize a shorter horizontal line
Straight skirts that are short and slim
Pants should be short and show the ankle and be tailored in a men's style. You could also try skin-tight pants as well.
Narrow, sculpted with a simple neckline work best for your blouse style
Dresses should be tailored, short, and sculpted.
Colors should be electric, bold, and vibrant. Sharp color contrast works well for you
Avoid: All shapeless silhouettes, unbroken silhouettes, overly draped or flowing lines, symmetrical outlines, or intricate/ornate details. Monochrome does not work well for you.
Gamine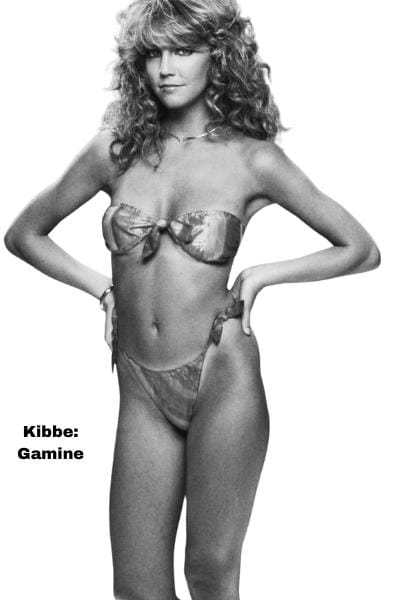 The pure Gamine is an even combination of yin/yang opposites.
Physically they have a yang body type and bone structure that is straight and narrow and sharp. However, they are yin in size because they are petite and their facial features have yin qualities like being full and rounded.
This creates an equal combination and maintains a natural contradiction that plays into their style needs. And both sides need equal importance and expression in your overall look.
Answers: If you took the quiz and are considering a Gamine ID, then your answers will be an even mixture of opposites, most often A and E answers.
Height: 5 ft 5 inches and shorter
Body Type: The Gamines have a lithe and lean body that tends towards sinewy musculature. It is also straight in shape. This is exhibited through a flatness in the bust and hips (except if overweight). Can be slightly short-waisted. Can also have a leggy or coltish appearance.
Bone Structure: The pure Gamine can be seen with angular, sharp, and narrow bone structure. Sometimes it is even defined as "delicate". They often have square or tapered shoulders that lean towards a narrow appearance over a wide one. The facial contours ( nose, jaw, cheekbones) are delicately sharp. Their arms and legs tend to be long. And their hands and feet tend towards narrowness and range from small to moderate in size.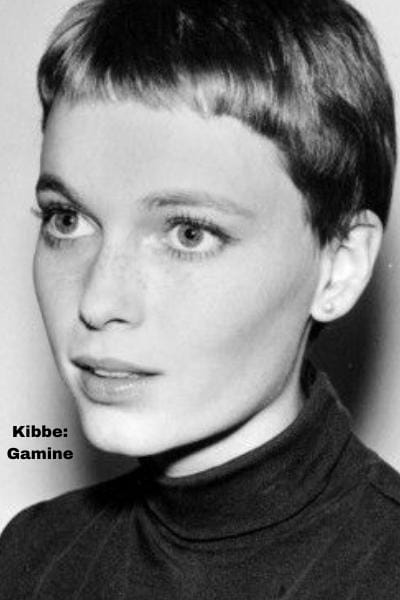 Facial Features: They have large eyes and generally taut cheeks and facial flesh. Their lips are usually narrow or straight (as opposed to full), and they are moderate to thin in size.
If Overweight: When a pure Gamine gains weight it shows up in the hip and waist areas and very rarely above the waistline. When they gain a lot of weight, their bodies tend to get a square or stocky appearance as opposed to curvy. For more info on kibbe weight gain patterns and mid-to-plus size examples of each type, check out my article here.
A Pure Gamine Will Not:
Be over 5 ft 5 in ( and usually is more petite than this height)
Have extremely large bone structure
Have exotic or prominent facial features (except large eyes*)
Have large hands and feet
Have an hourglass figure with a waspish waist, and "double curve"
Have symmetrical body types or facial features
Gamine Clothing Recommendations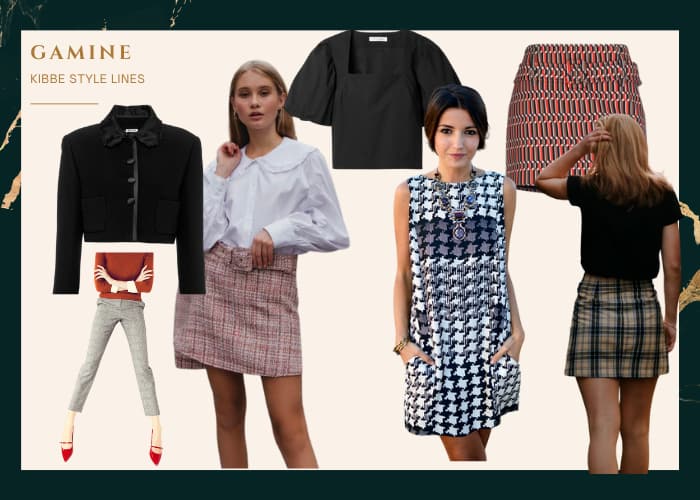 Because a Gamine is equal parts yin and yang, they need precision, fitted, and crisply tailored pieces and small, sharp geometrics.
Your overall outline should be sharp, straight, and staccato. This represents both your yang ( sever lines with sharp edges) and your yin ( the broken, staccato outline). Using short horizontal lines and short vertical lines can be very effective.
You should try straight, sharp, short, and narrow hemlines or short-cropped and fitted jackets. Sharp edges, extreme tailoring, and construction work well for jackets and separates.
Lots of details help define your look as well. Sharp necklines, small tailored details, and crisp lapels should be integrated for balance. Details help you achieve your animated everesence and should be small, sharp, and abundant.
Colorful separates with details (as mentioned above) can be fantastic on a Gamine. As well as very tailored, slim dresses with sharp edges.
When you pick colors you should opt for bold and sassy. Never go with monochrome styles- as they do you no favors.
Gamine Style Highlights:
Sharp, straight staccato
Severe lines with sharp edges paired with a broken, staccato outline
Short vertical lines and many short horizontal lines
An overabundance of details to complement the fitted silhouette
Fabric must always be crisp and hold a defined shape
Short, cropped, fitted jackets with sharp edges; collar, lapel, and cuff details are encouraged
Straight, short, and narrow skirts
Sharply tailored pants with short lengths are best, as are skin-tight pants
Sharp-edged, crisp, and tailored blouses in smooth fabrics
Very tailored, slim dresses with sharp edges
Bold and sassy colors. Pop of color accessories work well and don't be afraid to break your line with color
Avoid: Longer hemlines, One long line of solid color (especially darker tones), wide-line silhouettes, flowing lines, smooth lines, oversized or unconstructed shapes, symmetrical looks, or ornate silhouettes.
Soft Gamine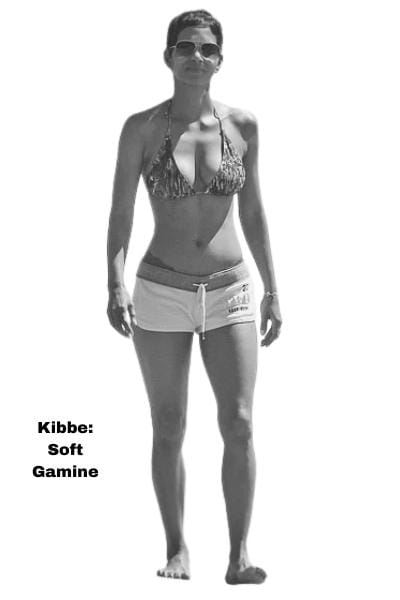 The Soft Gamine is a combination of opposites (yin/yang) with extra yin.
The SG exhibits their yin in their petite size, curvy flesh, and rounded features, but has a slight yang/angular bone structure. Essentially this makes you a Gamine with a romantic undercurrent.
Kibbe describes you as "yang in inner energy (your drive, charisma, and strength) with a secondary yin evident in your youthful freshness and bubbly charm".
He describes the SG style as "Spitfire Chic" and we will get into the details on that soon. But, first, let's make sure your SG ID fits…
Answers: If you've taken the quiz and you are leaning towards a SG ID then your answers will be an even mix of opposite extremes which means mostly A and E answers. And you will also likely have a few D answers in there as well.
In order to fit the SG ID you need to have a yang dominant bone structure (more A answers there) and your flesh and face will see more E and D answers.
Height: Usually very petite. Under 5 ft 5 inches
Body Type: The Soft Gamine has a curvy and soft body that tends to be fleshy. They have some natural waist definition and a curved bustline and hips. Their arms and legs (especially upper arms and upper thighs) look soft and fleshy.
Bone Structure: The Soft Gamine bone structure will be delicate and small but still slightly broad and angular. Their shoulders are square or tapered and typically have some angular edges. Their facial bones are considered delicately broad, (nose, cheeks, and jawline), and can have a bit of angularity. In proportion to their heigh, their arms and legs tend to be short-ish.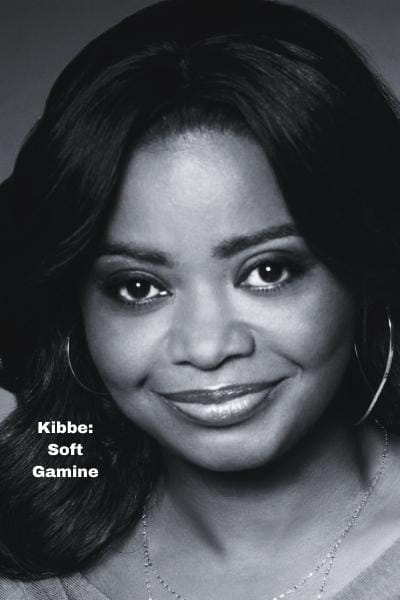 Facial Features: They are known for their doll-like facial features including saucer-like eyes, round/fleshy cheeks, and full lips. The overall face shape can be very rounded bu tit can also have a slightly sharp or slightly strong jawline shape.
Note: Be wary of what you consider "full lips". It's really easy with the prevalence of "Kylie Jenner" lips and fillers to have a distorted view of full lips.
If Overweight: The Soft Gamine body gets very rounded and you will see the weight gather in the bust and hips. Their arms and thighs can also get very soft. Their face can get a fleshier appearance as well. Kibbe notes it is common for SG's to feel overweight (even when they aren't) because of their shorter limbs and rounded shape. I have a whole article on kibbe weight gain patterns and mid-to-plus size examples, here.
A Soft Gamine Will Not:
Be Tall
Have a rail-thin apperance
Have an extremely straight body type
Have large or broad bone structure
Have large hands or feet
Have sharp bone structure
Be symmetrical in bone structure, facial features or body type
Soft Gamine Clothing Recommendations :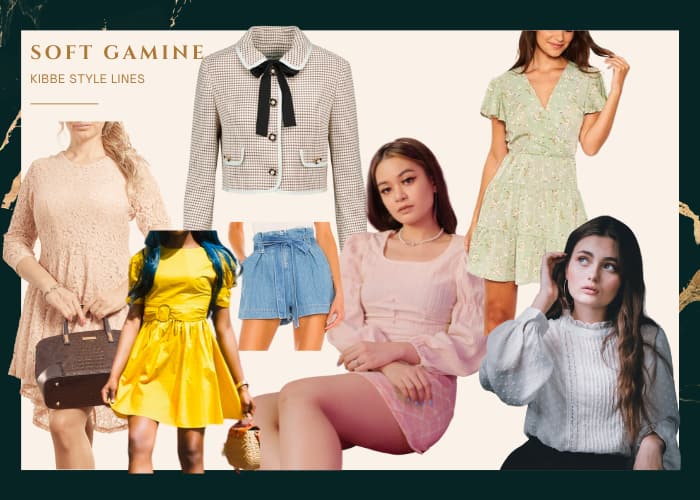 When choosing your style lines you need to honor your yin/yang combination and your yin influence. You are a gamine with a romantic undercurrent.
This means you will do well with an animated, staccato silhouette but with broken, curved lines to honor your added yin.
Because of your shape, you can wear sharply tailored outlines, especially at the waist, collar area, or cuffs. Small, draped lines with tapered edges also work well for you.
Overall we want your silhouette to be feminine, fitted, and "small". In addition to those staccato lines, we want some waist emphasis for your yin undercurrent. Your shapes are going to be rounded (yin) but they are kept close to the body and crisp and formed (not flowy). And sharp edges around the shoulders or tapered sleeves work well for you.
Prints are going to be a great addition to your wardrobe. Color-contrast or outline prints are best and play into your animated spirit. You can even try print mixing.
Fabrics that are lightweight and crisp and can be easily tailored but still have some movement/drape are best for your yin/yang combination. As are light textures.
Trim and excess details are great ways to express your SG essence. Including shoulder details, curved necklines, and crisp collars. Applique, topstitching, and contrast trim can also be effective.
Soft Gamine Style Highlights:
Animated, staccato silhouette
Broken curved lines
Sharply tailored outline (especially as waist, collar, cuff)
Small, bouffant lines with crisp edges
Small, draped lines with tapered edges
Lightweight, crisp fabric that can be tailored but still have some drape/movement
Details should always be animated, lively, energetic. Trim is great
Separates can be used in a "head-to-toe" ensemble approach
Jackets should be short with lots of detail and trim and always show the waist
Skirts should be short, trim, and shapely
Pants should be cropped, and show the ankle, and have a shapely look. Skin-tight pants work as well
Sweaters with ribbed trim work well (especially when fitted at waist and collars)
Soft and draped blouses with fitted necklines and cuffs
Dresses should have a defined waist with crisp cuffs, necklines and can have intricate detail
Bright and sparkling colors. Sharp color contrast works well
Avoid: Monochromatic color schemes, all-neutral looks, geometric silhouettes, wide or unconstructed pieces, soft and flowing shapes, symmetrical silhouettes, all elongated lines, all strong horizontal lines, all smooth lines, and severe straight lines.
Theatrical Romantic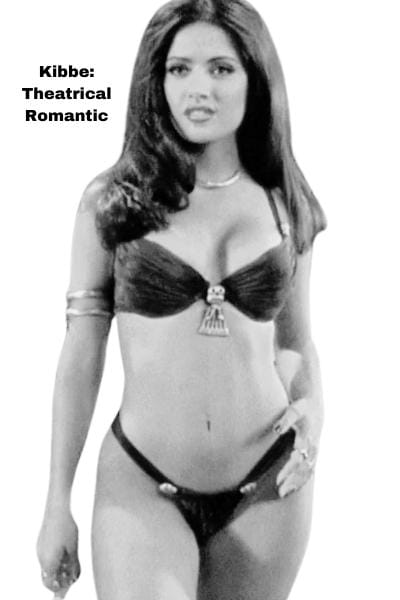 The Theatrical Romantic (TR) is best characterized by a soft yin with a slight yang undercurrent.
This is displayed through a yin foundation that is dominant through your delicate bone structure, soft body type, and delicate/full facial features. Your yang undercurrent comes through in your bone structure with a slight sharpness (this can also sometimes be seen in the eyes, lips, and cheeks).
You are a romantic with a dramatic undercurrent. But, first and foremost a romantic. And Kibbe describes your style goals as "Femme Fatale Chic". More on that soon, but let's confirm you fit the TR ID.
Answers: If you have taken the quiz and are leaning towards a Theatrical Romantic ID you answer will be predominantly D or E, with some possible A answers.
In order to qualify for the TR, you should look for yin dominant answer in your flesh and facial features ( D's or E's) and have some yang influence in your bone structure ( some A answers)
Height: Moderate to petite, usually 5 ft 5 inches and under.
Body Type: The Theatrical romantic will have a soft and voluptuous body type, but it will look trim and smallish (not wide or bulk). They will have an hourglass figure with a curvy bustline, hips, and waspish waist. They also have a tendency towards soft/fleshy arms and legs.
Bone Structure: The TR bone structure will be small and delicate but with slightly sharp edges ( shoulders, cheekbones, jawline, or even nose). In proportion to their heigh they have small hands and feet. Typically their facial bones are small, slightly sharp, and have a delicate quality to them.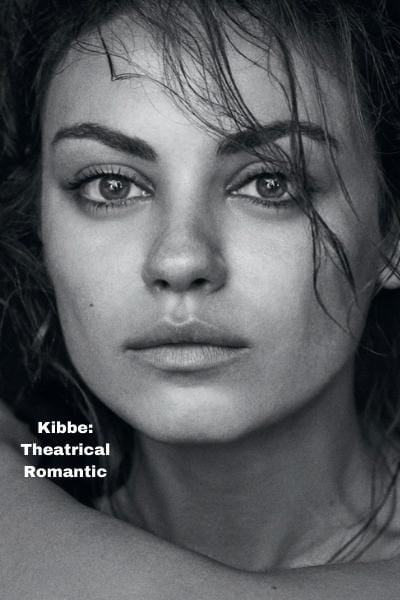 Facial Features: They will have soft and lush facial features. They often have large, luminous eyes that can be slightly upturned and can be considered "bedroom eyes". They also have full, luscious lips and soft cheeks.
If Overweight: The TR will remain hourglass in shape with a defined waist even when they gain weight. Their upper arms and thighs and face can get fleshier with weight gain. For mid-to-plus size examples of each type and more on the Kibbe weight gain patterns of each ID, check out this article.
A Theatrical Romantic Will Not:
Be extremely tall
Have wide or large bones
Have large hands or feet
Have extremely prominent facial bones or features
Have small, narrow eyes
Have thin, straight lips
Have a boyishly straight figure devoid of a waist
Theatrical Romantic Clothing Recommendations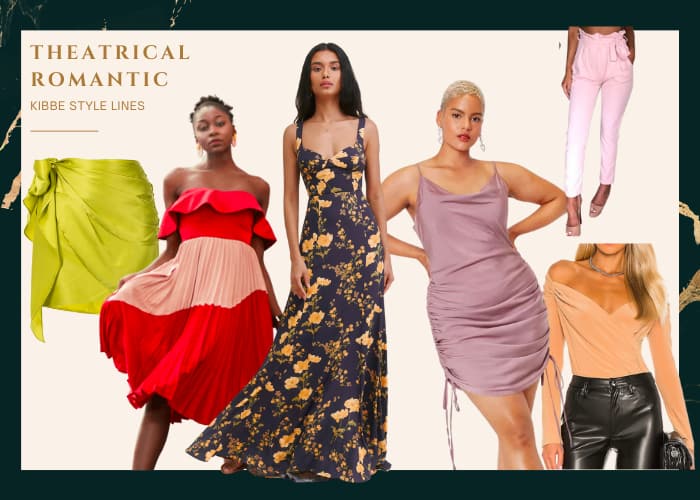 Let's recall that the Theatrical Romantic is a Romantic with a dramatic undercurrent. Your silhouettes should emphasize your curves, show off your waist, and honor your hourglass shape. However, we need to add some sharpness to honor that yang influence and that can be done with sharply defined waists and sharp-edged shoulders.
Silhouettes with tapering at the wrists, hem, and knee also work well. But because you are part of the romantic family, you want to keep your lines curvy, and your shapes rounded and ornate. You should always be striving for full head-to-toe outfits with sophisticated, glamourous vibes.
Fabric choice is important for the TR as you need lightweight, drape-able fabrics that create soft fluidity and showcase your hourglass figure. Soft textures, sheer fabrics, and shiny fabrics also work well and play into your romantic essence.
Details and accessories are important for the Theatrical Romantic. Details should be delicate, lavish, ornate, and intricate. Bows, lace, ruffles, and sparkles are all great additions that Kibbe suggests.
Your necklines should be soft, draped, shirred, or gathered. And shoulder details work well, but make sure they are not too sharp.
Theatrical Romantic Style Highlights
Silhouettes should show off your hourglass shape, emphasize your curves and sharply define your waist
Shoulders should/can be padded
Tapering at the wrist, hemline, and knees is encouraged
Lines should be draped, flowing, soft, clingy, ornate, and intricate
Lightweight, drape-able fabrics or Soft textured fabrics
Details should be ornate, delicate, intricate, and lavish
Sleeves should taper at the wrist
The waistline should always be emphasized
Jackets should be short and nip in at the waist (peplums are great)
SKirts should be soft and shapely or flowing with an uneven hem
Pants need to be soft and draped. It is also recommended they be shorter and end around the ankle ( I think this is debatable).
Dresses need to be feminine and shapely, with waist emphasis and intricate detail
Colors should be bright and lush and have a soft watercolor blend or elegant mix. You can try pastels but should avoid dark color dominant outfits
Avoid: Head-to-toe dark or neutral looks, all severe silhouettes, oversized or unconstructed silhouettes, overly straight shapes, all tailored looks, sharp lines, wide or horizontal lines, and all vertical lines that hide your waist.
Romantic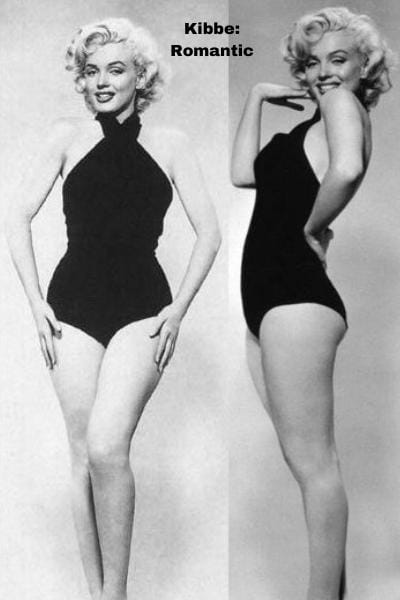 The pure Romantic is characterized by extreme soft yin or lush yin.
Everything about your body, from your bone structure, flesh, and facial features exude a soft round quality with a sweet radiance and magnetic essence.
Remember that one trait deviating from the below description does not disqualify you from being a romantic, as long as it doesn't disrupt your lush yin dominance.
Kibbe describes the Romantic style goals as "Dream Spinner" and we will get into clothing recommendations shortly. First, let's confirm the pure Romantic ID is the right fit.
Answers: If you took the quiz and think you fit under the pure Romantic ID, you will have answers that are predominantly E throughout all sections.
Height: Your height is usually moderate to petite. Usually 5 ft 5 inches and under
Body Type: The Romantic body type is voluptuous, soft, with an hourglass figure. They have a curvy bustline, hips, with a small waist ( in proportion to their other curves). They often have fleshy legs and arms.
Bone Structure: The Romantic has a delicate and smallish bone structure, but it is also usually wide. They have rounded or sloped shoulders. and small hands and feet (that can look wide). Their facial bones are also small and delicate but may be lush or somewhat wide (nose, cheekbones, jawline). Kibbe warns that if your bone structure is lush or slightly wide that it can be deceiving and you may incorrectly think of yourself as having a large bone structure. The shortness of your limbs and the small hands and feet offset any width and give you a more delicate look.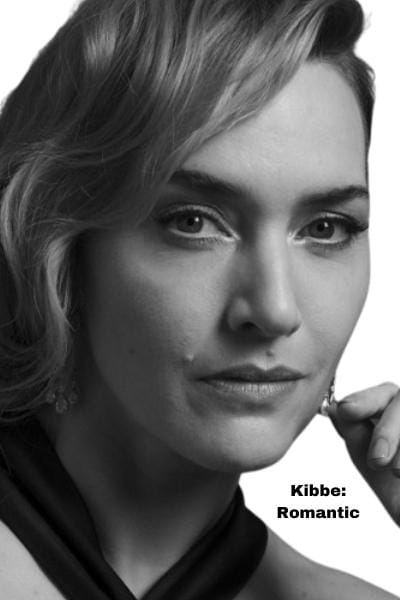 Facial Features: The Romantic facial features are lush, full, and sensual (rounded). They often have large, luminous eyes, full lips, and fleshy cheeks.
If Overweight: When the Romantic ID gains weight they only get more rounded in shape and their face gets more "full". I have more information on Kibbe weight gain patterns and plus size examples, here.
A Pure Romantic Will Not:
Be extremely tall
Have large bone structure
Have large hands and feet
Have a boyish figure
Have a straight figure
Have angular or sharp facial features
Have a prominent nose or angular chin
Be symmetrical
Romantic Clothing Recommendations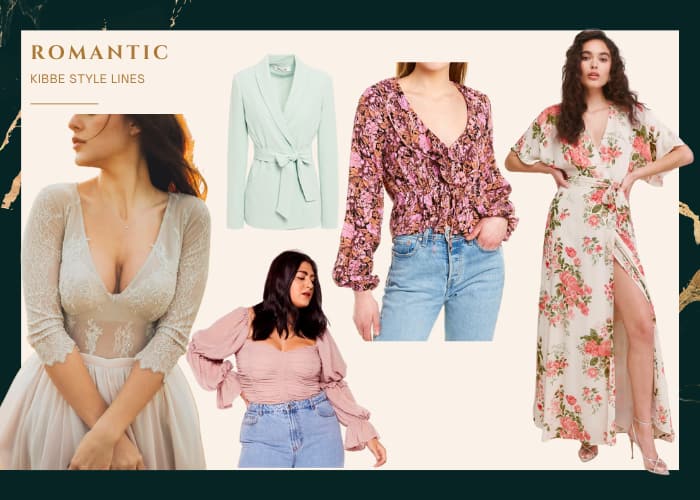 The Romantic ID needs to embrace their curves and roundness and always honor their hourglass figure.
You can do this by always having soft and flowing silhouettes that highlight your lush curves and always include waist emphasis (that means they should be fitted). Gentle draping is a great way to accomplish this.
Your ID benefits from lightweight fabrics that drape easily, and soft woven fabrics. Sheer fabrics, ultra-soft, and ultra-shiny fabrics can also help you achieve romantic style lines.
Details need to be soft, intricate, and detailed and have a feminine essence to them. Soft pastels, watercolors, and luscious brights work best for your wardrobe. But you can also opt for rich, luxuriously blended colors to highlight your lush feminity. Pale neutrals can be used as a nice accent- this would include white, taupe, bone, or even dove gray).
Romantic Style Highlights:
Soft, flowing silhouettes that showcase your lush curves
Waist definition is essential, always!
Gentle draping everywhere
Lightweight fabrics that drape easily, soft woven fabrics
Skirts should be kept full and flowing with soft gathers at waist. You could also try a "tulip" silhouette skirt
Pants should always be soft, draped, and show off your curves
Soft, draped blouses with sophisticated flounces or details
Soft, fluffy knitwear
Feminine, flowing dresses with waist emphasis, flouncy skirts, and ornate detail
Watercolor palettes, soft pastels, or rich blended colors. You can use pale neutrals as accents
Avoid: Dark, monochromatic color schemes, all severe silhouettes, boxy or unconstructed lines, or horizontal lines, all straight lines with angular edges, all vertical lines that obstruct your waist definition, and anything all tailored.

Wow, if you're not already deep in a Kibbe rabbit hole, after this article you are well on your way.
Let's review! By now you should have an idea of where you fall on the Kibbe spectrum of yin/yang, and have narrowed down your ID.
If you are struggling to narrow yourself down from two or three ID's I suggest you start trying the style lines for each ID and take photos of your outfits. From a photo, you can more strategically access if the outfit is flattering or not.
Furthermore, I want to say that I personally see the Kibbe system as a great way to look at your body type more extensively and to understand why certain style lines really shine. That being said, I don't think it should be used as a strict rule book.
The further you go in your style journey, the more you will understand your style lines, and your style essence and be able to strategically deviate from it and incorporate new trends.
So, embrace your Kibbe body type. But don't forget the most important piece of that puzzle is you!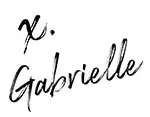 That was… A LOT! Pin the below image so you always have this resource for Kibbe types and style refinement!