Summer is right around the corner, the days are the longer, the weather balmier and we are ALL ready to enjoy some time outside.
Look back on those summer photo albums from when were little and I bet you rocked some really cute summer outfits. Ruffles, probably. Prints, definitely. And a coordinated set, why not?
But somewhere along your fashion journey you found a more subdued style and stuck to it. I get it, with work and life to balance sometimes jeans and a tee is all you can manage. Or maybe your work office attire drags you down and takes all the fun out of fashion.
Well, summer is the time to re-invigorate your fashion passion. You don't have to worry about layering a million coats on to stay warm, there isn't a foot of snow to contend with and breaking your neck in a pair of heels on a treacherous path of ice is a thing of the wintery past.
So, that being said- where do you start for fun summer fashion trends 2020?
You should start with this post, it has a rundown of all the popular summer trends for 2020. That will give you a good idea of what you should expect to see and how to choose which trends you personally want to tackle, embrace, or straight up reject.
Remember, fashion is about you and showing your best self. It's a form of communication and should reflect your best self.
If you struggle with adopting new trends or haven't found your fashion voice, try this 10-day fashion challenge to expand your style and push your fashion boundaries.
[eltdf_button size="medium" type="" text="Join the 10-day fashion challenge" custom_class="" icon_pack="font_awesome" fa_icon="" link="https://gabriellearruda.com/10-day-fashion-challenge" target="_self" color="" hover_color="" background_color="" hover_background_color="" border_color="" hover_border_color="" font_size="" font_weight="" margin=""]
Stylish Summer Outfit Ideas for 2020 and how to wear them
we may earn a commission from you clicking a link in this post, at no additional cost to you, full affiliate policy.
The Slip Dress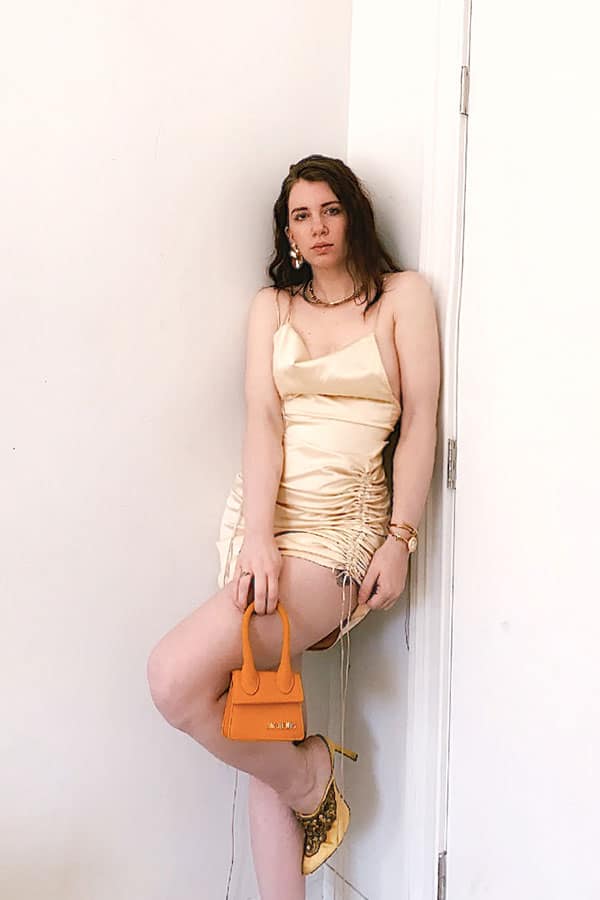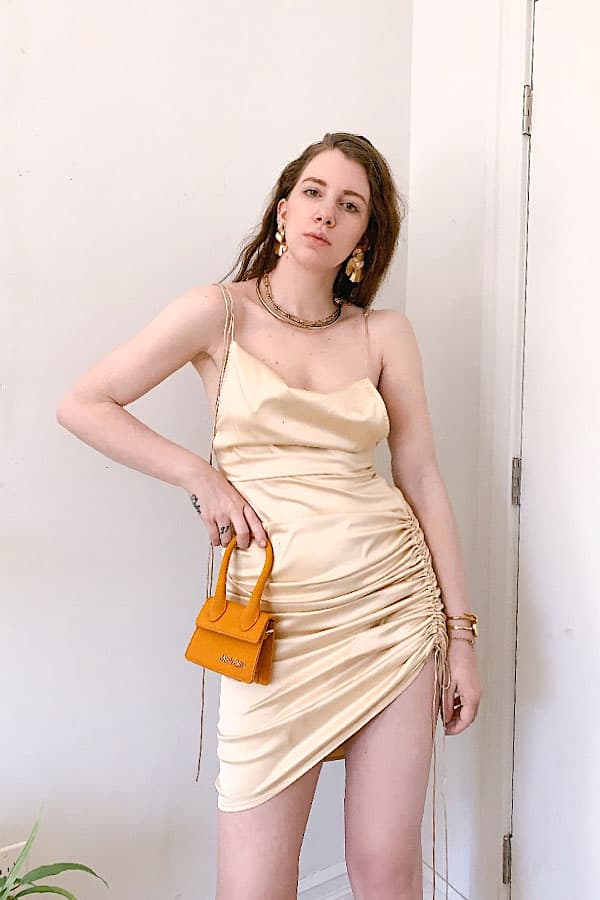 Slip dresses are an easy way to make a summer evening. They are effortless, chic, and super on-trend. Add a micro-bag and you are good to go with a fashion A+.
related: How to wear a slip dress IRL
Micro bag trend, what is it, and how do I try it?
Casual Summer Jumpsuit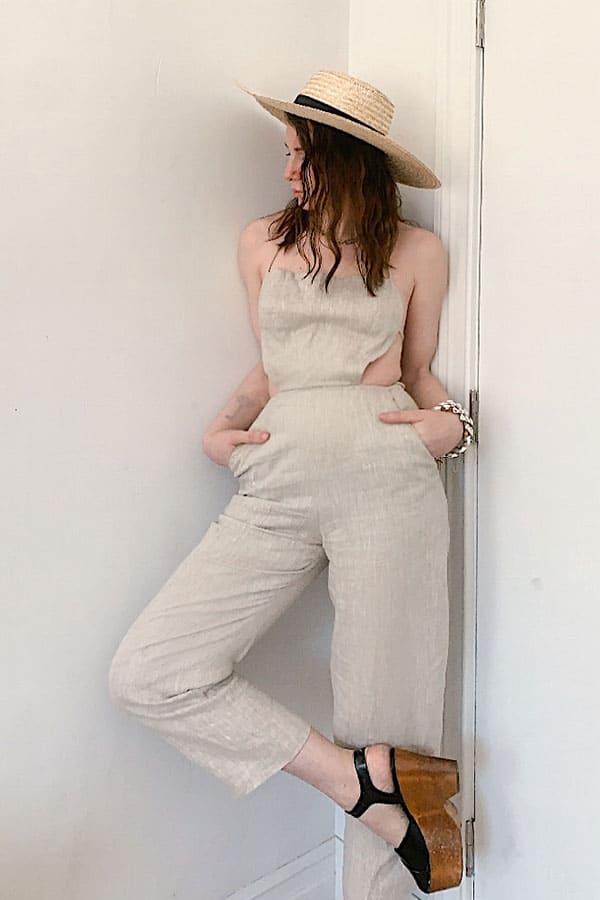 A chic jumpsuit is an easy way to look fashionable in the summer months. It's an outfit cheat because all you have to do is add a few accessories and you have created a perfectly effortless look.
related: how to own the casual jumpsuit trend
Flirty Summer Dress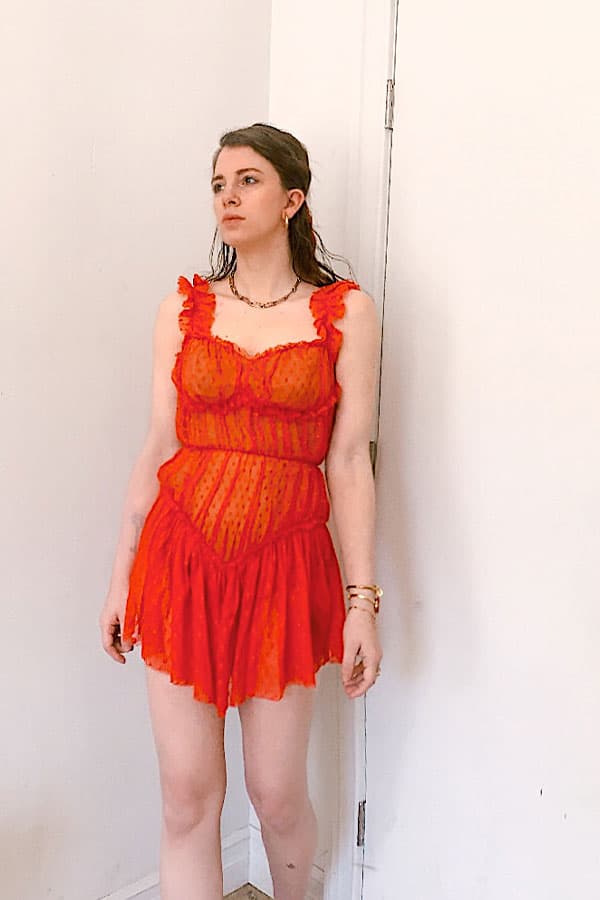 Ready to get your date-night outfit on and up your flirting game? Well, a chic and flirty summer dress is the way to conquer any date or crush with ease.
Fun fact: The red dress effect is a term used to describe the trigger effect it has on a man's mind when they see a woman in a red dress over any other color. Think about Neo in the Matrix when he is entranced by a woman on the street in a red slinky dress. Apparently men interpret the red dress (or even red t-shirt) as women who are "more sexually receptive" and therefore more attractive. It is also linked to fertility.
So get that sexy summer dress in red if you really want to attract your crushes eye or simply reinvigorate your passion with your SO.
Cool Summer Outfit / Edgy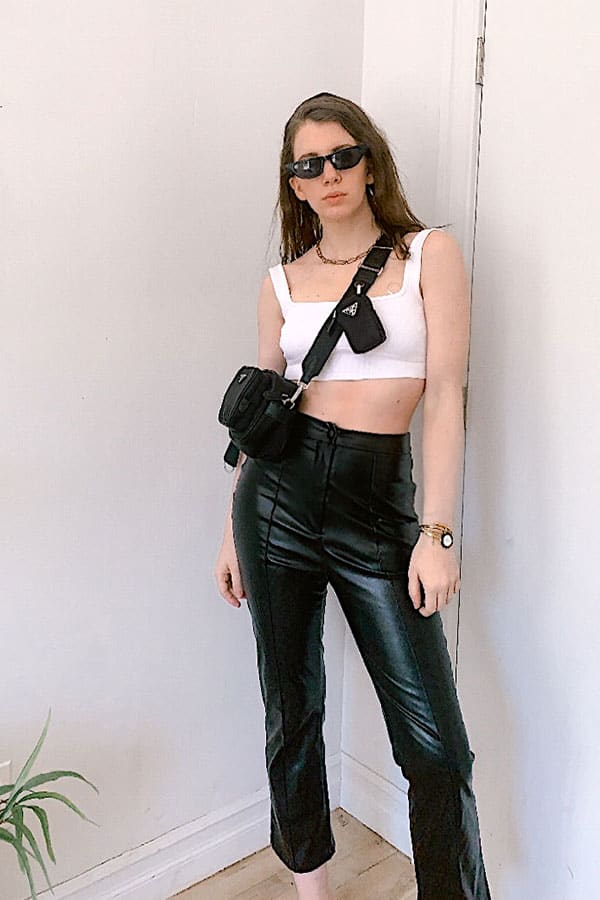 Leather pants for summer? Girl, you're crazy. But, actually leather pants or leather Bermuda shorts are a great option for summer evenings or cooler days. Depending on the humidity level you can totally get away with them. Add a crop top to lighten the look and a cool utility bag and you are on your way to fashion influencer status level of cool.
related; Leather outfit ideas that will make anyone look so cool
Oversized Blazer Monochromatic Look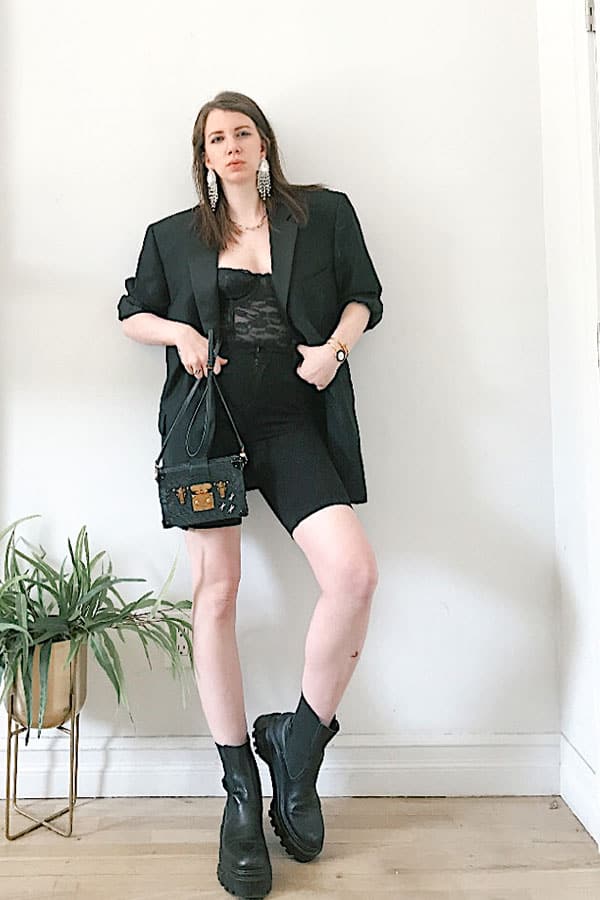 Oversized blazers should just take home the fashion trophy title for MVP for 2020. Oversized blazers are still going to be majorly chic for summer and maybe it's just the New Yorker in me but pairing it as a monochromatic outfit makes it look extra chic. If all black is too much, try all white or tan, or even all red. This summer outfit idea is filled with possibilities.
related: Elevate your style with the oversized blazer
How the heck do I wear a monochromatic Outfit
Summer Jeans Outfit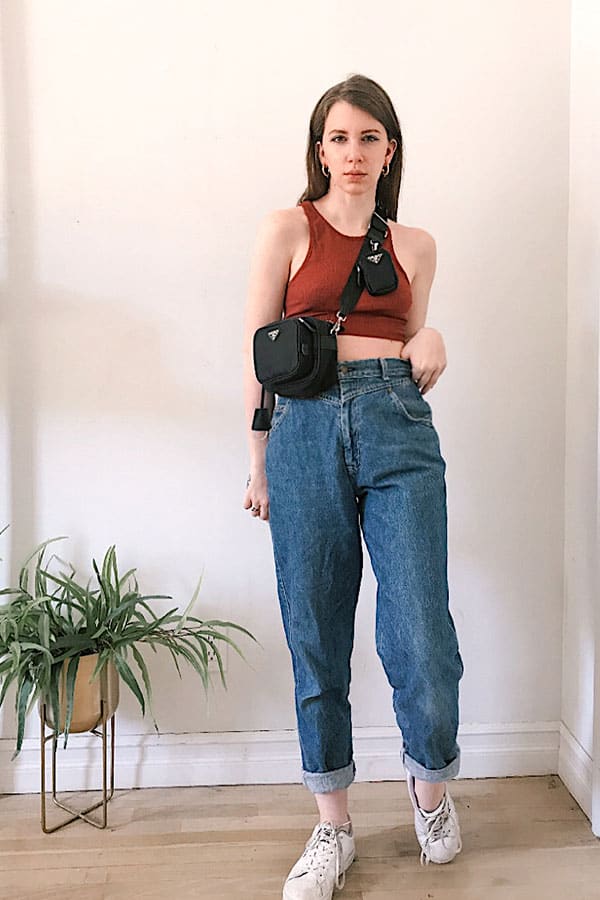 Ok, so it's summer and you just want a bit of a break from fashion but still want to look stylish? This summer jeans outfit is the answer to your query. The crop top is chic and paired with a super trendy item like the Utility Bag, it makes the outfit look intentional. The classic low top sneaker is a big shoe trend for 2020, too. By adding some trendy details to a basic outfit you create a "complete look" and avoid looking like you didn't try. We want effortless chic, not " did you even shower" before you came out.
related: How do I wear a crop top as an adult?!
The BEST non-see-through white jeans for every body type
Shoe trends for 2020, what is in, and what is out.
Bermuda Denim Shorts + Military Inspired Pieces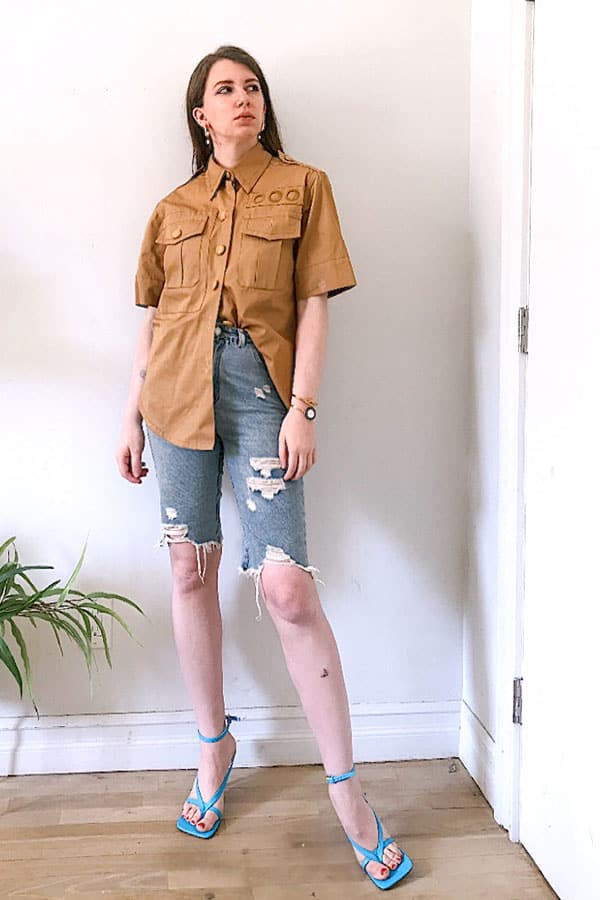 These are two separate trends but actually pair very well together. Bermuda denim shorts are going to be the "it" denim shorts for summer 2020. They pair well with so many other styles and are a more elevated denim short iteration. Adding a slightly masculine, military-inspired piece elevates this look and the fitted shorts and heels balance it out perfectly.
Related: Bermuda Denim Shorts, Your Ultimate Guide
How to rock the square-toe heel trend. Hint: It's easier than you think
The Elegant Slip Dress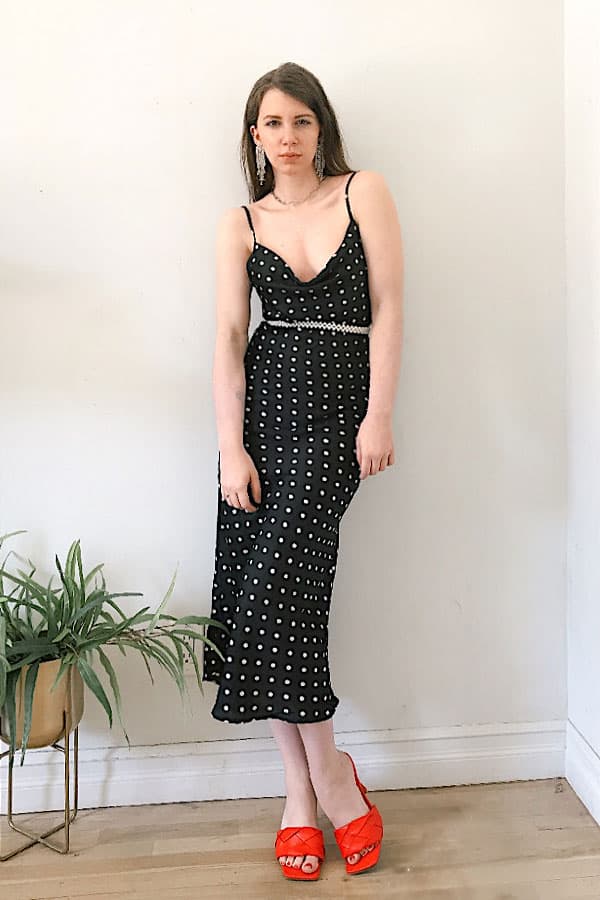 We talked about slip dresses already, but that was a more "sexy" iteration of the slip dress. You can also go MIL approved slip dress for all those Sunday brunches, elite day excursions, or if you simply want to look classy AF.
Since this is a longer silhouette adding a belt helps highlight my shape and draws attention to my waist. This definition can be helpful when you are wearing a midi slip dress.
Bike Shorts + Trendy Pieces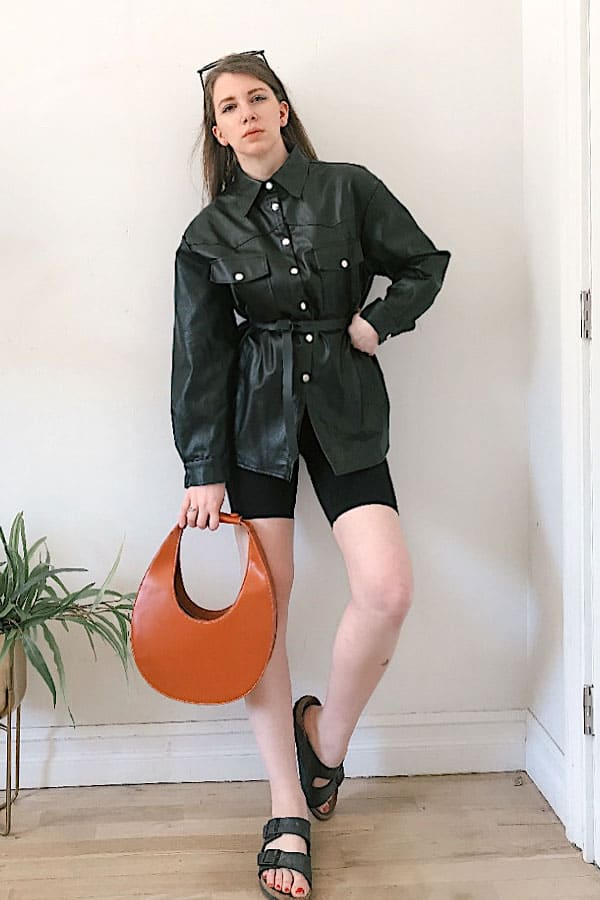 Bike shorts are hanging around for another season, and they are a great way to create a nice "backdrop" for an outfit. The focus in this outfit is the leather shirt, but obviously I need something underneath it. The bike shorts provide coverage but don't pull attention away.
The circle or moon bag is also a big style trend for summer 2020.
related: Style 101: how to hone your fashion voice
Bike shorts, the ins, and outs of this controversial trend.

What summer outfits will you be trying in 2020? I hope this list of cute summer outfit ideas has given you a jumpstart on your fashion A-game.
Don't know where to start with it all? Join my newsletter for weekly style tips and a direct line to my email where I welcome questions or fashion quandaries of all sorts. Sign up below:
Now, put your sunscreen on, grab your favorite summer outfit and go enjoy the warm rays of sunshine and plentiful froze with friends.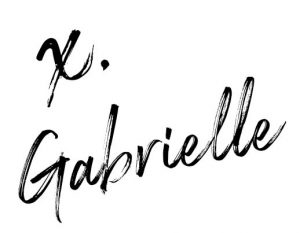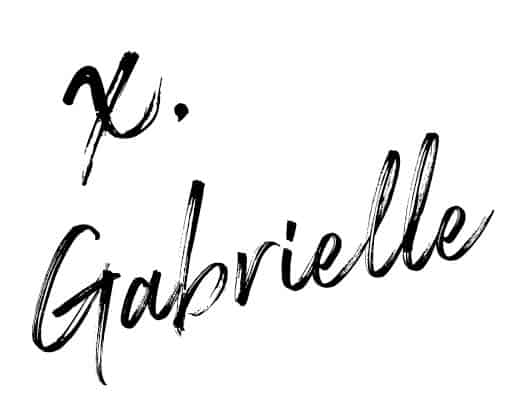 Pin this for reference so you always have a chic outfit in your back pocket for summer