Can you believe it? The flowers are blooming, it's no longer dark at 4 pm and these spring fashion trends are ready to be released out into the world. It's been a rough year, to say the least. You deserve to get your fashion groove on and exude the utmost confidence with these TOP spring trends.
Before you go, fashion is indeed cyclical but it also tends to build upon last season. So check out the winter fashion trends, here, to see more trends that will surely carry on into spring and summer.
Do you struggle with fashion and your closet is an overwhelming mess? Check out my Craft the Closet of Your Dreams Playbook to curate a closet you love and find the style you were always meant to have.
TOP spring fashion trends 2021
Retro Sweaters
we may earn a commission from you clicking a link in this post, at no additional cost to you. full affiliate policy, here. As an amazon associate we earn on qualifying purchases. thanks for your support!
Retro inspired sweaters, and fuzzy trimmed sweaters will continue to see a trend surge in spring 2021. Brands like House of Sunny and Lisa Says Gah have the most popular versions of this spring trend.
Here are some great budget options:
Eyelash Knits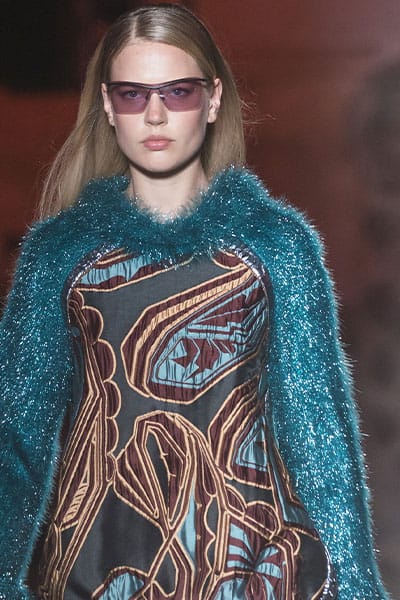 Remember those fuzzy knit scarves women used to wear in the 90's and early aughts? Well, that knit is called an eyelash knit. Which is basically a novelty yarn that has strands (that resemble eyelashes) that jut out every few stitches. It can almost look "fur like".
Cardigan sets will continue to be popular, so you could opt for a eyelash knit cardigan set to satisfy both trends.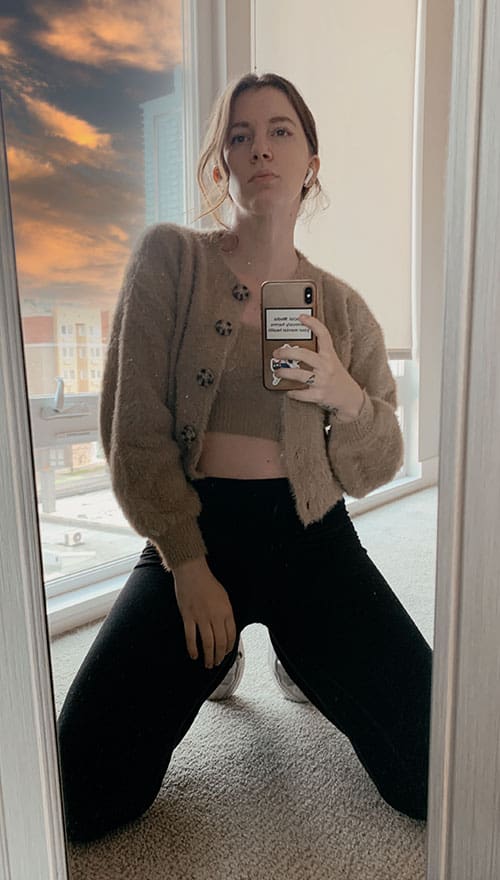 related: how to wear flare leggings
Colorful Cardigans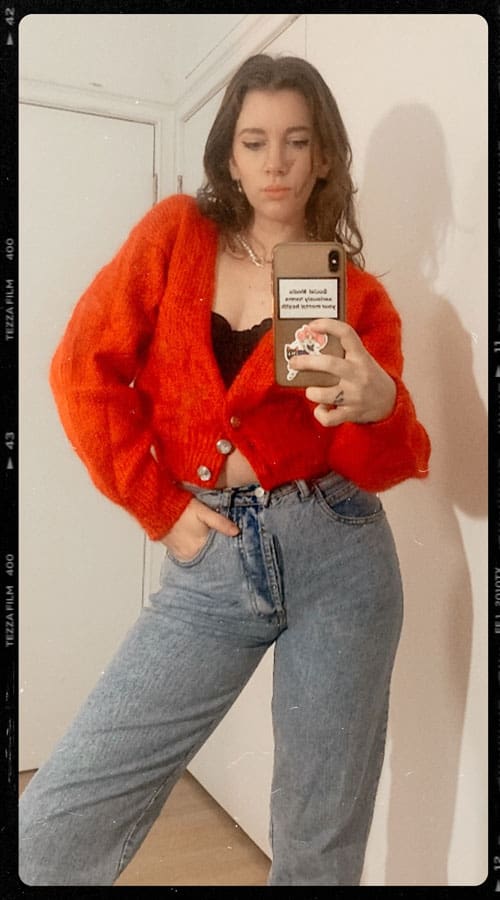 Generally speaking, we have seen a major resurgence in knitwear and colorful knitwear. So don't be afraid to get a bright colored or pastel cardigan out for an easy take on spring fashion trends. This will add interest to any simple outfit.
Crochet / Elevated Crochet
Crochet has also been a huge fashion trend. We saw this in our winter fashion trends roundup, and celebrities like Harry Styles rocking cool crochet sweaters.
And if you love the JW Anderson cardigan that Harry Styles wore, they have graciously given out the pattern so you can make your own. Click here for the pattern.
Crochet has also been elevated. With chic crochet tops like the one below.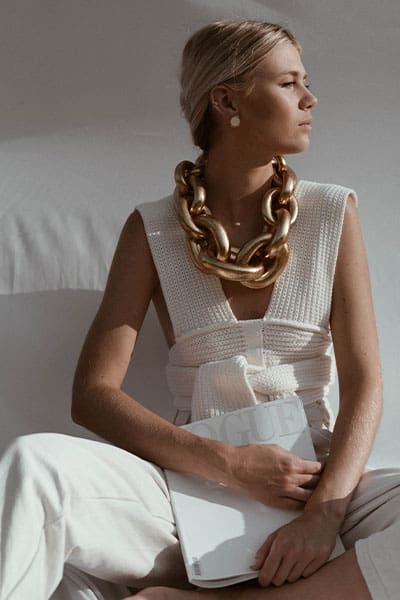 Bell Sleeves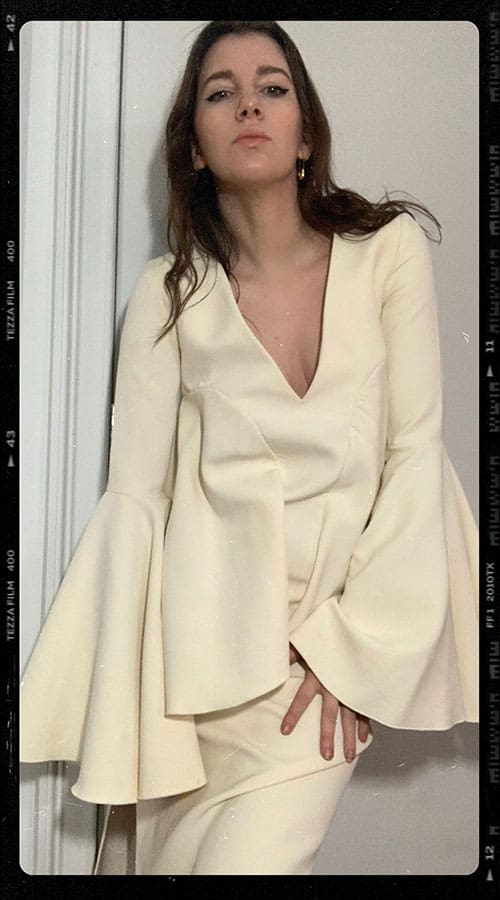 We are seeing a lot of resurgence from the 60's and 70's fashion styles, and bell sleeves are definitely going to be making an appearance.
micro trend watch: Extra Long sleeves (a la the 90s) will also be popular.
Netted Pieces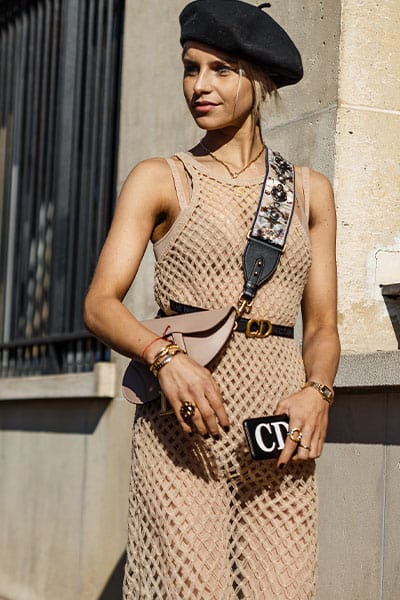 We saw that netted fashion was popular on the last Burberry runway show, and it will continue on into spring 2021.
A netted dress is probably the easiest way to wear this trend, and it definitely makes a statement. Add a leotard or bike shorts/bra underneath and go out and tackle the world.
With a bold trend like this, for everyday wear, try and keep your accessories minimal so that it doesn't veer too over the top.
Trotter and Boston Style Bags
Retro bags are coming in hot! All those 90s and 2000 designer bags that have been slowly trickling into the fashion scene over the last two years, will hit their peak this year.
While Dior saddlebags really had a moment last year, for spring fashion 2021 we will be seeing the Dior trotter bag and the vintage Celine Boston bags being coveted.
High-Neck Muscle Tees / Mock Turtleneck Tanks
Mock turtleneck tanks are sure to be a spring staple. The twist on this trend that may be more of a micro tend is the high neck muscle tees. These tees are looser than a traditional mock turtleneck and don't necessarily have a seam around the neck.
Baby-Doll Poof Dresses
A return to all this girly is definitely a spring fashion trend. And the Selkie dress has made a big splash. Not only has it gone viral on Tiktok, but the dress itself is only available for pre-order, currently. If you don't want to wait, I found a few left here.
But, it is is a MAGICAL dress. And I highly endorse this spring fashion style. Be the main character in this spring fashion moment.
Retro Prints and Gingham
Ginham is always a great choice for spring. And while psychedelic prints will be popular, we will also see retro plaids, flower prints, and pastel prints taking over the fashion scene.
Printed and Colorful Tights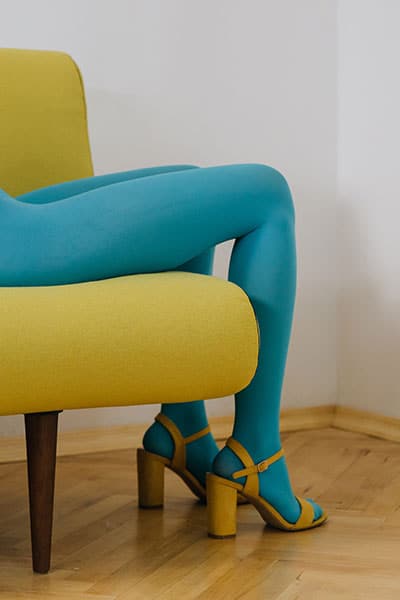 Retro printed tights and colorful tights will be the perfect addition to all those mini skirts we will be seeing for spring. Think retro flower tights, paisley tights, and high-saturation tights. Adding a bit of color through tights is a great way to add some springtime vibes to any look. Tights are a spring staple to help you transition into temperate weather without freezing.
Gap Sweatshirts
I'm pretty sure Emma Chamberlain has single handedly created a few major trends this year (including flare leggings).
She was also one of the style icons to start repping the classic Gap sweatshirts. If nike sweatshirts were representative of quarantine, the Gap sweaters will be the "it sweatshirt" of spring 2021. Shop them, here.
Psychedelic Prints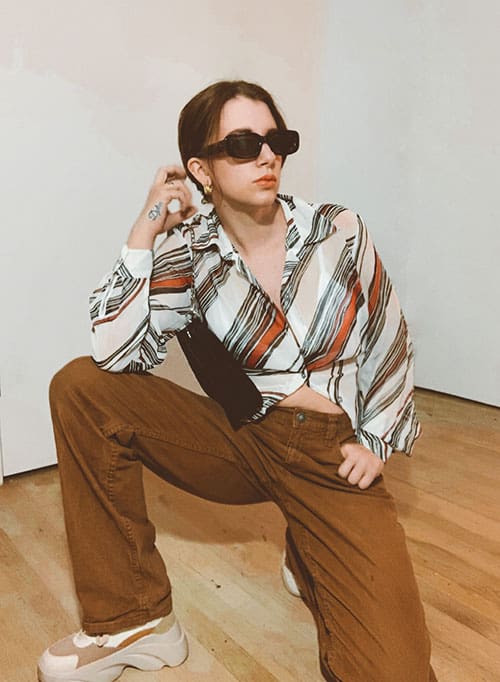 Let's get a groovy vibe on and try integrating some psychedelic prints. My favorite way to wear this trend is in a fitted shirt. For more on the fitted, open blouse trend, check out this post.
Keyhole/Cut out tops
For the past 6 months cut out tops have been having a moment. And this moment will continue into spring 2021. We will also being seeing keyhole tops and dresses throughout the season and into summer.
Lace up tops also fall into this same category.
Craft Style Jewelry
Chic and crafty!? It can be done! Crafty style jewelry is going to be a go-to accessory this season. While gold link necklaces and gold necklace layering will continue to be popular, we will see more colorful and beaded jewelry popping up.
TREND NOTE: A beauty trend we will be seeing A LOT of is winged eyeliner.
Acrylic / Lucite Rings
Retro and colorful acrylic rings are definitely going to be a major jewelry trend this spring. Think odd shapes, 70's style plastic rings, and the like. Use one ring to add a bit of quirky color to your outfit, or deck out your whole hand if this is your jam.
My favorite rectangle rings are here. And I love these curved rings.
Corsets
Maybe we have all watched too much Bridgerton, or perhaps Tiktok just made this fashion trend happen. But corsets are going to be huge for spring. I find the easiest way to wear corsets is to pair them with items from an opposite category. In the look above I wear them with baggy jeans and an oversized jacket. For more outfits like this one, check out my post on how to get Bella Hadid's style.
BEST affordable corsets:
Royalty Aesthetic / fleeing the castle dresses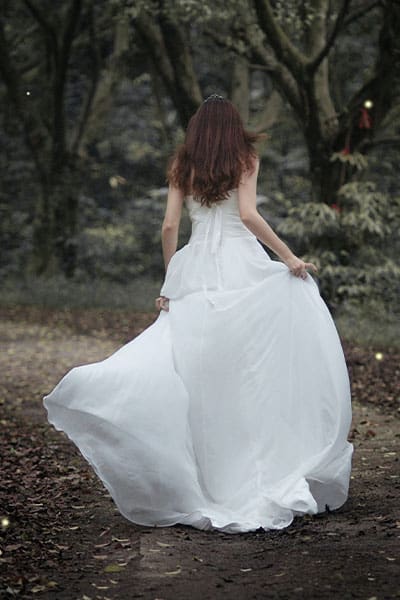 First cottagecore fashion was popular, then light/dark academia, and now the royalty aesthetic. Think of women fleeing a castle in a gown and tiara. I'm not sure how we will see this fashion trend play out, but it is definitely a style aesthetic, so I thought I should mention it. And if you have any formal events that involve wearing a ballgown, I'm excited for you to be able to live this out in real life.
Simple Black Face Mask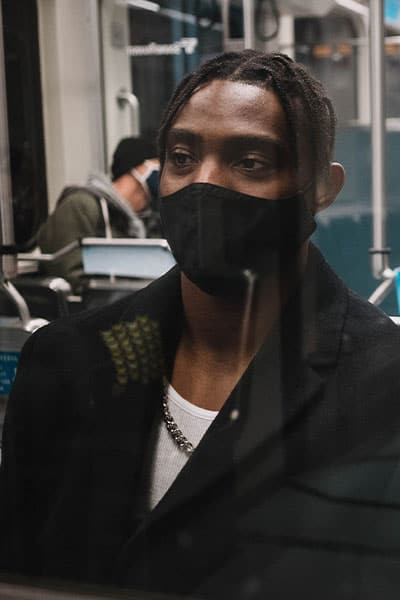 For spring 2021, face masks are probably going to be a part of everyday life still. And while trendy and unique masks will still be great for special occasions, I think the simple black face masks will be the go-to mask style.
They go with everything, and keep the focus on your stellar outfit. These are my favorites.
Pastel Tones
Spring color trends will definitely include pastel tones. Think mint and sea foam green, light lilac, and a washed out bubblegum pink. If you're not a color person add a pastel accessory like a pastel handbag or bucket hat for a perfect spring touch.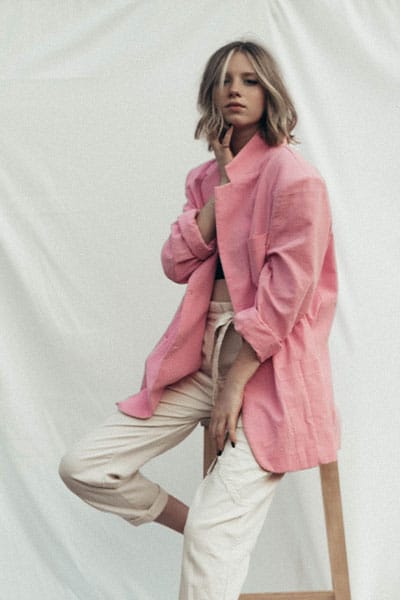 Folk inspired Coats
Nicole Kidman's coats in The Undoing deserve to have their own spotlight. We will definitely see an uptick in folk inspired coats. These coats can help transition you from winter to spring and add an element of drama to your style.
For this trend, think of rich jewel tones, paisley prints, and even crushed velvet. A relaxed silhouette or robe coat will capture the trend well.
Fur bags (faux)
In winter we saw furry bucket hats rise to unprecedented heights. And in spring we will see furry bags. They add a trendy element to any outfit and remarkably can fit well with almost any personal style.
Madonna-Style Bras
Madonna made them famous, but these bras were actually (structurally) developed in the 1940's during the second world war. (source)
Women were entering the production lines and these bras offered "extra protection".
I love wearing these bra tops as a "crop top" and layering a blazer or a fitted blouse over them
Bra Tops (in general)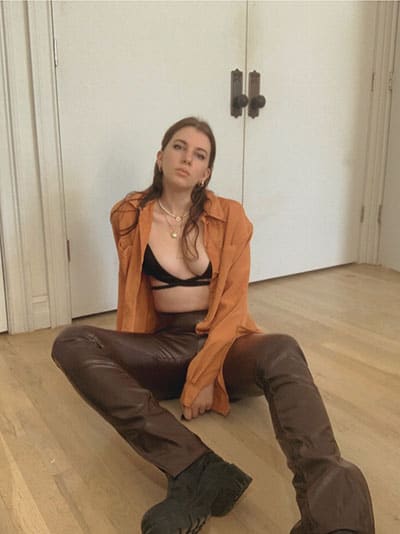 All bra tops, in general, will be popular for spring. And the popular tie around tops and bralettes will maintain their popularity. This top works well with the open blouse trend, too.
related: how to wear a crop top as an adult
Low-Rise Pants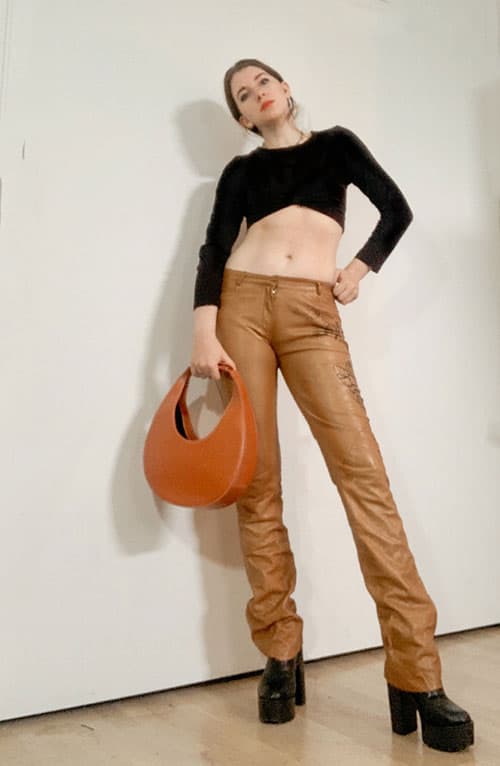 Everyone who hates ab workouts fainted when low rise pants came back into style. But, they are going to be around for at least another season. While they won't be my go-to style, I do love a leather version of them.
related: leather pant outfit ideas
Oversized Trenches / Coats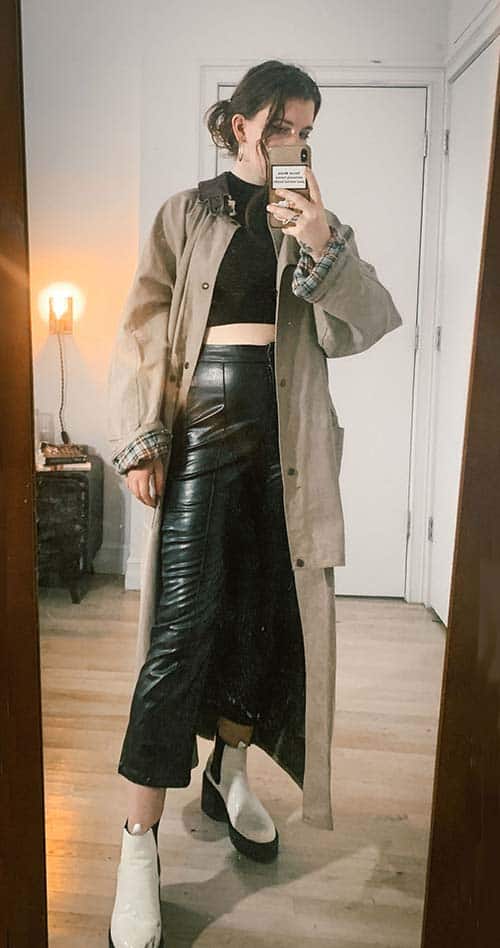 The elevated sophistication of an oversized trench makes them the perfect spring coat. Trench coats are always popular during the transitional seasons, and Loewe and Victoria Beckham have made the oversized silhouette the go-to option.
Wide-leg Khakis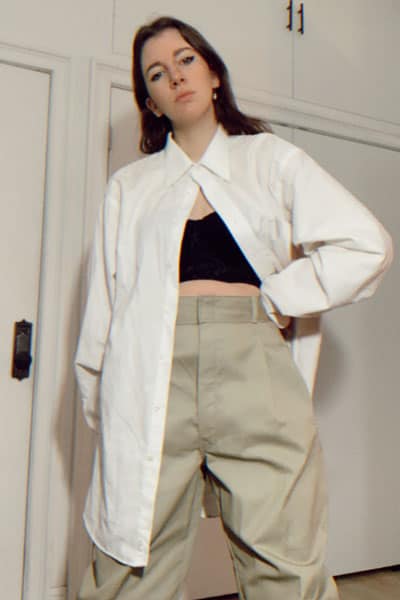 Thanks to ultra chic brands like Hermes and The Row, we will be seeing wide leg khakis be a pant trend. They are able to be worn with any style. If you have a minimalist style they pair well with a simple tank and delicate gold jewelry. If you prefer modern streetwear, you could wear them with your oversized windbreaker and a crop top.
These pants can do it all!
Men's White Button Downs
Men's white button downs are one of my holy grail fashion items. I wear them all year round. For how to wear menswear as a female, check out this post.
You can a men's white button down as a layering piece, as a dress, under a blazer, or with another popular fashion trend, the sweater vest.
Green Color Trend
Green is having a moment this spring. Pretty much anything green will work to satisfy this trend. My favorite option is a trendy, yet comfortable green dress. You can pair it with some chunky boots or loafers and some simple hoops and you will be the essence of a Pinterest baddie.
Adding touches of green in your accessories is also a great way to elevate a simple jean outfit. And green prints (especially retro prints) will be popular as well.
Bright Florals
Florals for spring? Well, duh. But for spring 2021 there will be an emphasis on high saturation print florals. Like what we have seen from Christopher John Rodgers and Tom Ford.
A lot of the florals seem to be larger scale as well.
Windbreakers
Windbreakers will be a must-have item, especially if you like the more oversized fashion trends or Bella Hadid's style. So when all your puffer coats are too warm, transition them out for an oversized windbreaker.
Brown Color Trend
Brown, brown, brown. The forgotten color is having its time in the sun. Whether you opt for a monochrome brown outfit, a brown leather blazer, or a chic brown handbag, it is a color you need to integrate into your wardrobe.
related: how to wear the brown color trend
Baggy Jeans
While straight leg jeans will continue to be popular, baggy jeans are holding their own too. For more ways to wear baggy jeans, check out the full post here.
90's layering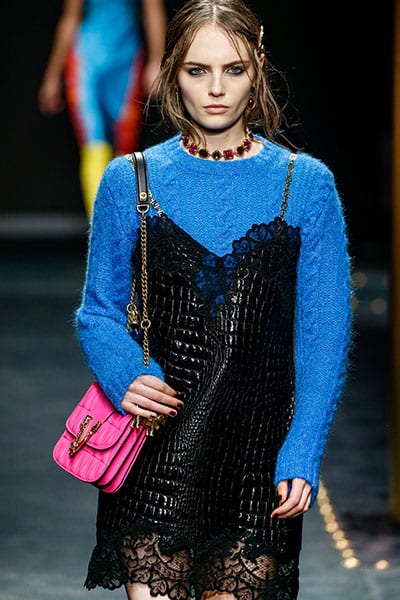 Layering a la Rachel Green and the 90's will be a popular and functional styling technique. Love that spring dress but it's a bit too chilly- try adding a long sleeve sweater or top underneath. This also works well with slip dresses.

And for every trend post I write, I always end with a sort-of disclaimer. There are A LOT of trends on this list, and we will see a lot of the trends from the winter trends list continue on into spring as well.
But, a list like this is not supposed to make you go out and buy a whole new wardrobe or feel intimidated. Instead, treat these top spring trends as a brainstorming list. From there, pick out a few that you are most drawn too and try those out first.
It usually takes at least 2-3 tries before you really get the hang of integrating a new trend into your style. But, if you aren't feeling it move on to another trend.
Adding small elements of these trends to your outfit (think a pair of green sunglasses, or a pastel top) will dramatically increase your style.
So embrace these spring trends, but don't feel the need to try them ALL.
You're at a candy shop of fashion trends, pick your favorite flavors and enjoy them.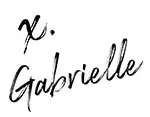 SO MANY trends. Pin the below image so you have these trends on speed dial whenever you need them 😉