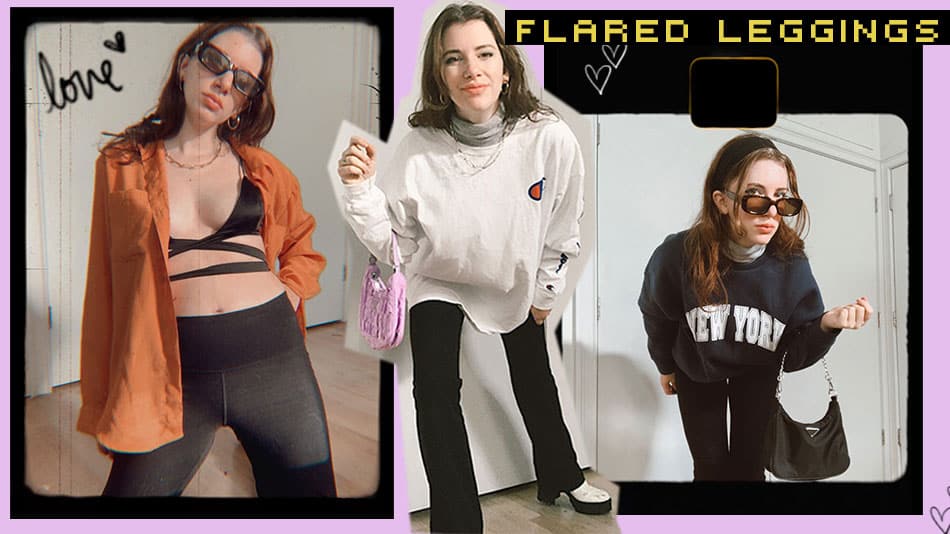 Flare leggings, yoga pants, or jazz pants- whatever you want to call this trend, it is making people have feelings. While Emma Chamberlain might have single handedly brought flare leggings outfits into the mass fashion stratosphere, the fashion world has actually been prepping for the yoga pants revival.
Not only have split ankle leggings been trending since early 2020, but we have also seen a huge resurgence in y2k and 2000 style fashion. So it was only a matter of time before the beloved (and hated) flare leggings came knocking on our closets to be let in.
Are flare leggings in style in 2020?
Yes, flare leggings (also referred to as the OG yoga pant) are definitely trending in 2020. This y2k fashion trend is one of many seeing a big surge in the style world right now. They are comfortable, flattering, and currently super trendy. Add them to your wardrobe for an instant fashion boost, and try the following flare leggings outfits for even more fashion reach.
What do you wear with flare leggings?
Well, flare leggings are pretty versatile. They are innately a casual piece, but because they help elongate your legs and create a perfect outfit foundation, they can be dressed up or down. Pair them with similar aughts fashion trends like a crop top, cardigan, or a layered look with an oversized sweatshirt. Or, you can pair them for a night out by adding a more structured piece on top like a fitted blouse or oversized blazer.
As long as you mind your proportions, flare leggings outfits will be an easy win this season.
What Shoes do you wear with flare leggings?
Flare leggings are having a big fashion moment right now. The shoes that pair easiest with flare leggings are:
1. Classic sneakers
2. platform shoes (mules, boots, 70's style heels)
3. Doc Martens
4. Athletic sneakers (if you're going casual with your look)
5. Ankle boots
6. 70's style clogs
9. chunky sole boots
Avoid pointy heels with the flared legging as that particular shape of heel has a hard time being dressed down with sweats/athleticwear and tends to look "off".
we may earn a commission from you clicking a link in this post, at no additional cost to you. full affiliate policy, here. as an amazon associate, we earn a commission from qualifying purchases
Do you struggle with fashion and your closet is an overwhelming mess? Check out my Craft the Closet of Your Dreams Playbook to curate a closet you love and find the style you were always meant to have.
My Favorite Flare Leggings (including the ones I'm wearing)
Whatever you call them, whether they are a brand new experience for you or a nightmare creeping in from your adolescence, give these pants a chance. I got my flare leggings for under $20 (special sale) and have worn them countless times. They are worth a try, even if it's a potentially short-lived fashion trend.
But, let me tell you, people have feelings about black flare leggings.
can't believe the tik tok teens have just discovered yoga pants and they're calling them flared leggings I hate it here

— jodie (@jodieegrace) October 15, 2020
Flare Leggings Outfits
Flare Legging Outfit Idea (aka the Emma Chamberlain outfit)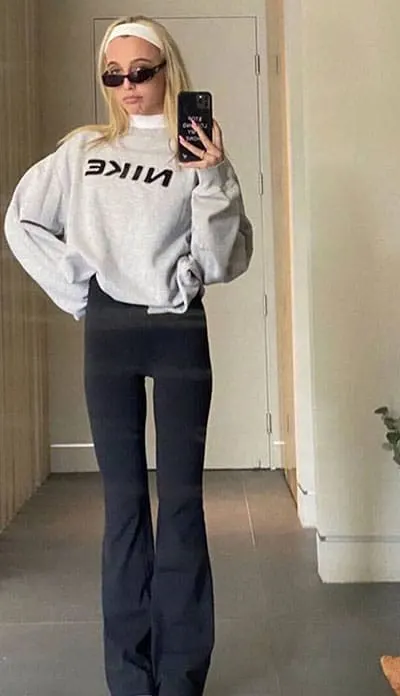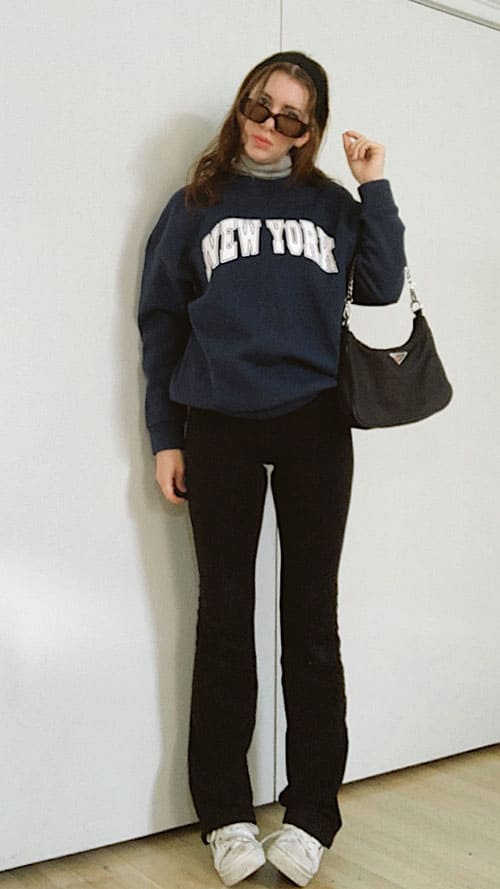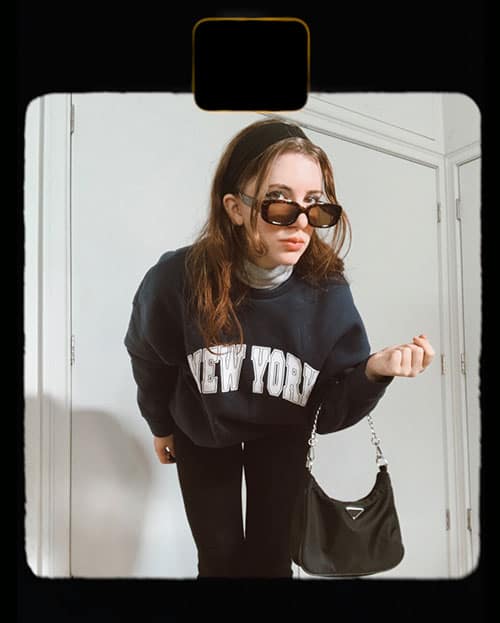 Ok, should we just call this the Emma Chamberlain outfit? Because she pretty much broke the internet (at least the fashion internet) with this look.
The elastic headband is a big hair accessories trend for 2020/2021. And, the layered turtleneck and oversized sweatshirt makes the look feel intentional.
Add classic sneakers, or a pair of chunky docs to finish this look off. It's perfect for a day out shopping, hanging with your friends, or a casual brunch.
Flare Leggings Outfit Idea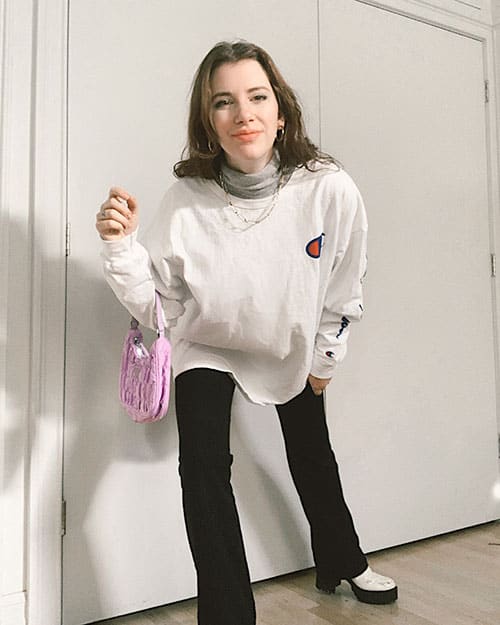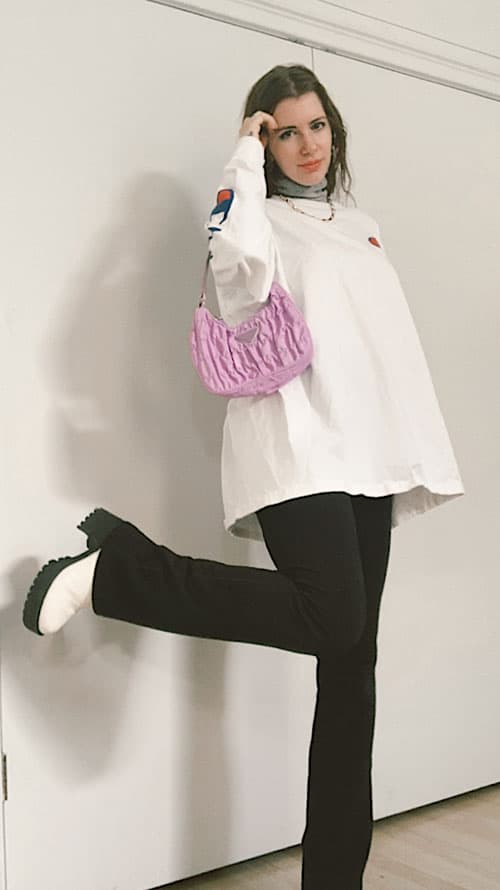 Oversized clothing is a big trend for 2020, and it's not just because we have all been overeating and staying home this year.
This is a nice alternative to the first black flare legging outfit if you want a lighter look or a more y2k outfit.
I love a great platform boot with a flare black legging as it helps elongate your legs and makes the outfit balanced. Avoid having too "small" of a shoe (avoid a ballet flat or thin sandal) as that will have a dated look. A great chunky boot or chunky heel is my preferred option.
I love this look for a day of shopping, running errands, hanging with your best gal pals, or a movie night with your person. It's comfortable, effortless, and on trend.
NOTE: add a few trendy accessories, like layered gold necklaces and/or a small baguette style bag to make this outfit intentional and not feel "lazy".
Flare Leggings Outfit Idea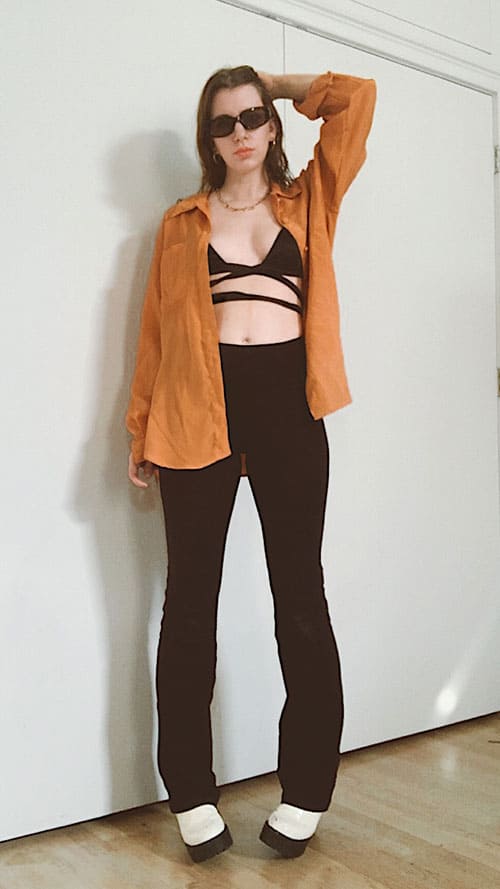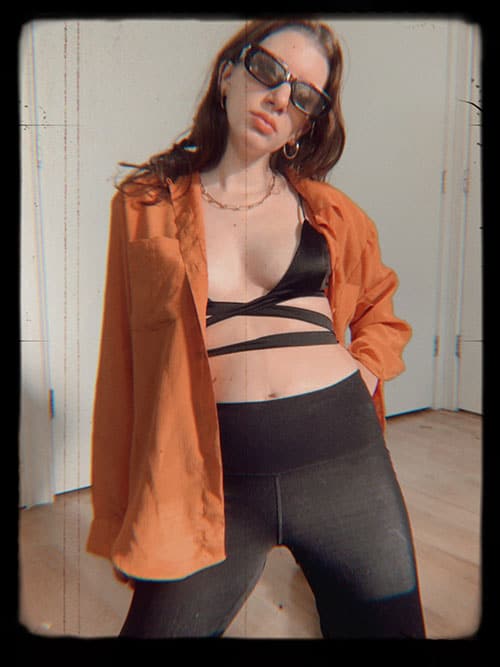 When I was wearing the bootcut leggings at 11, I had no idea I would be wearing them in such a sexy way years later.
But flare leggings outfits don't have to be frumpy! A bra top with strings (like mine) or a crop trop with strings (another trend) is an easy way to add a bit of sexiness to your outfit. Add a fitted blouse to your look for the perfect layering piece.
related: The fitted blouse trend that every style icon is wearing
This is the perfect look for going out to a bar with friends, a party, or even just a night of dancing. Abba songs encouraged.
Flare Leggings Outfit Idea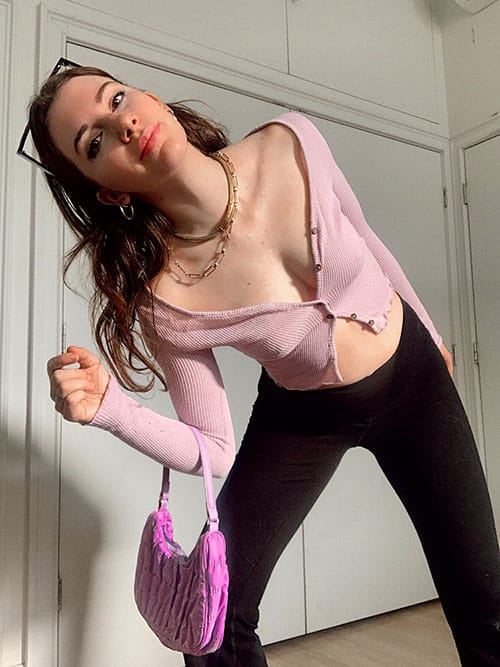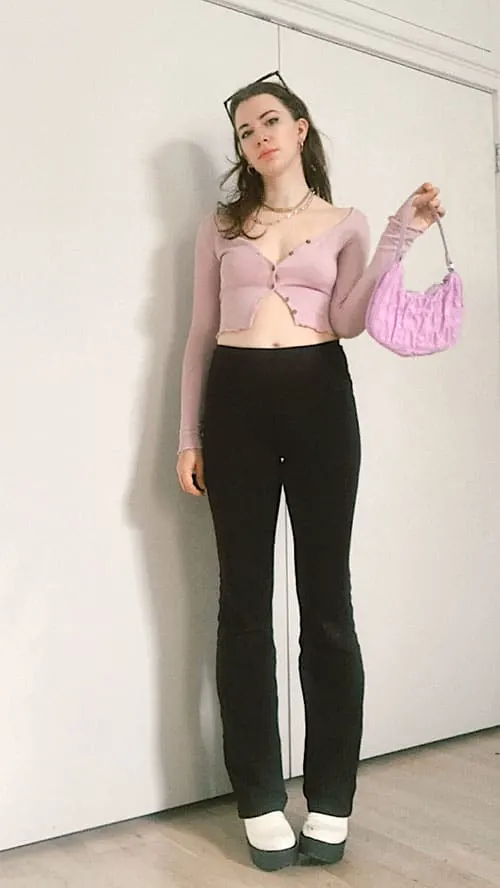 The cropped cardigan is another piece that is having such a moment right now. From matching cardigan sets, to cute barely there cardigans like this one, they are an easy pairing with the flare leggings.
related: winter fashion trends you NEED to know about
This is a pretty simple outfit. The matching bag and cardigan makes the outfit look more thought out, and the simple (yet trendy) accessories elevate this outfit from loungewear to outside the house approved.
I love this look for brunch with your girlfriends, going thrifting, or even just a hangout with friends at the park.
Flare Leggings Outfit Idea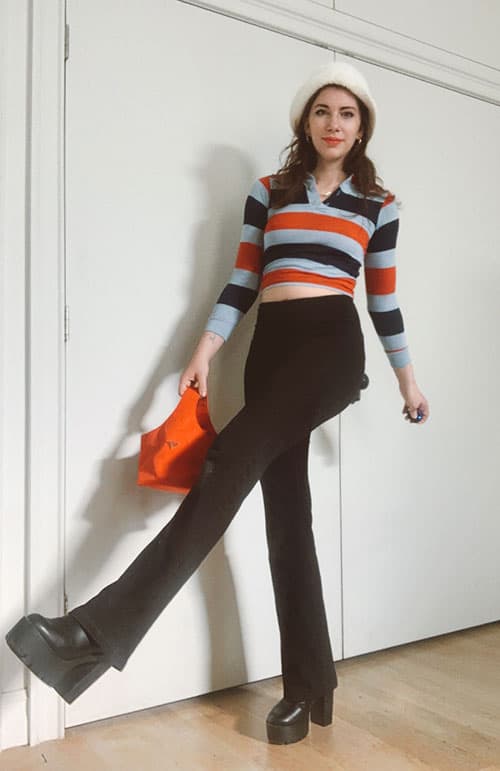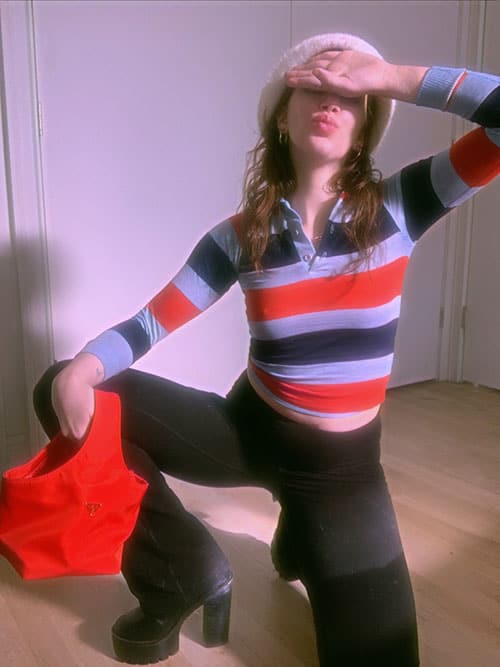 Want to know one of the easiest ways to wear flare leggings? Embrace the trendiness. Flare leggings are definitely a major trend, and they pair nicely with other sideline trends.
So grab a bucket hat, and a fitted polo and just dive right into a trendy look. Will you wear this outfit in a year? Probably not. But, you will look killer in it right now.
related: Bucket hats are cool, here are some outfit ideas
I think the fun and contemporary look of this outfit would be perfect for a concert, adventure in the city, or grabbing a beer with friends.
Flare Leggings Style TIP:
Flare leggings also come in prints as well. But the easiest way to style a flare legging outfit is to keep one element in your outfit solid. So if you choose black flare leggings, add a print or fun color in your top. If you go with printed flare leggings, keep the top more minimal or solid. Using this style tip you will keep your outfit from being unfocused and scattered.
Flare Leggings Outfit Idea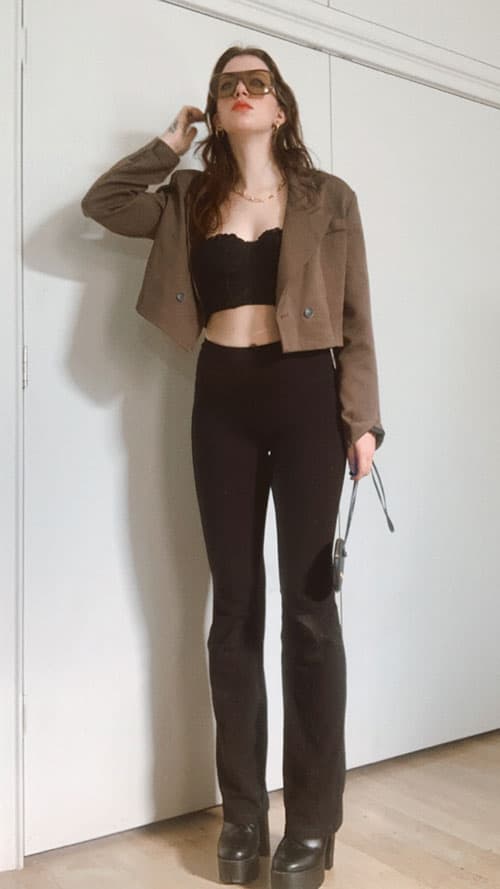 Here's a great way to add a bit more flirtiness to your look, and make it date night appropriate. This flare leggings outfit has a cropped blazer and corset on top, with heeled platform boots to keep your legs looking long, and your evening look on point.
The subtle femininity and peak of skin makes this the most comfortable look you could wear on a date. Add some soft curls to your hair and a trendy bag and you are good to go!
Flare Leggings Outfit Idea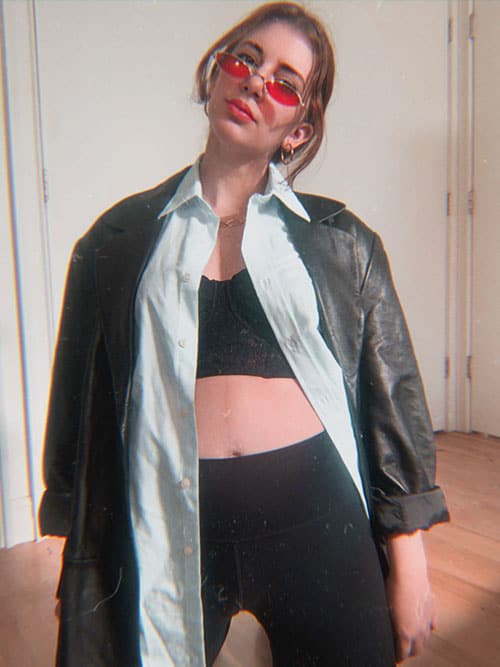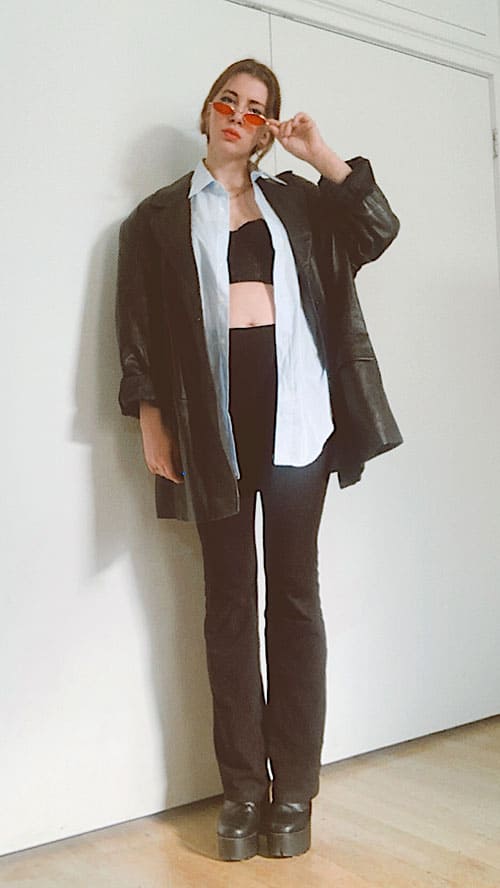 Adding menswear is one of my favorite style hacks as a fashion lover. Mens pieces add a nice counterpoint to your outfit and balance out the fitted pieces in your look.
The fitted corset top and flare leggings are balanced nicely by the mens short sleeve shirt and the oversized leather blazer.
related: Leather blazers, the item you need in your closet this season
If you want to take this outfit a step further, add a flashy or trendy pair of sunglasses to the look. Click here for some affordable y2k sunglasses/accessories.
Flare Leggings Outfit Idea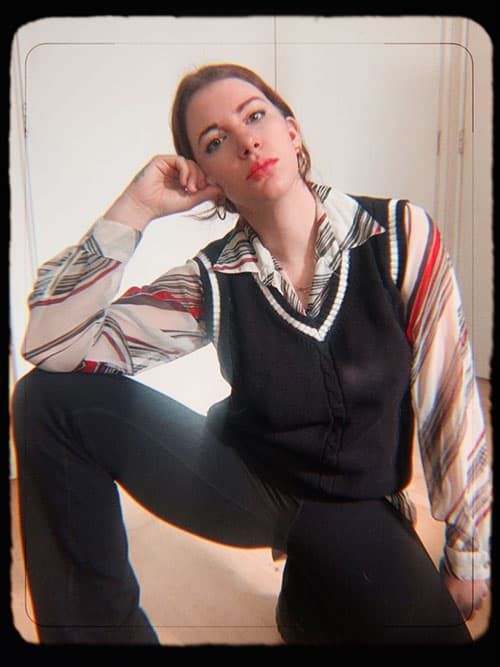 When creating outfits with flared leggings, we are all about adding more trends in the look. Sweater vests are a popular fashion item right now and they look chic layered over a fitted blouse with flared leggings.
related: how to rock the sweater vest trend
Throw your hair up with a claw clip, and grab a fun 70's fur lined coat and you are ready to tackle the day.
This outfit is great for lunch dates, perusing your favorite boutique, or just looking mysterious in a bookstore waiting for a cute guy to notice you 😉
Flare Leggings Outfit Idea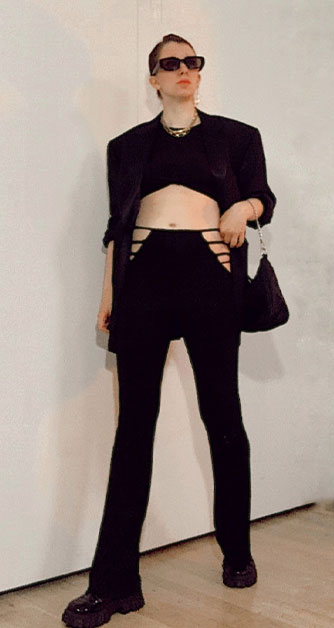 While black flare leggings are probably the easiest to style, printed flare leggings, and cut out flare leggings are also trending.
This outfit was inspired by Bella Hadid, and you can find more outfit inspiration from her, here.
Monochromatic dressing is an easy way to simplify a trendier outfit and tone down the "loudness" to your look. This outfit appears elevated because it is all black.
So what have we learned? Honestly, there is not a fashion trend that won't make a comeback eventually.
While you may not be ready to get your juicy tracksuits back out (or maybe you already have?!), go embrace the flare legging trend. You have to love a fashion trend that is easy to pull off, comfortable, and gram worthy.
You'll definitely need these outfit ideas after you dig out those flare leggings from your mom's house. Pin the below image, it'll help 😉