Whether you're planning a trip to NYC or a native to this fair city, you need to know the best boutique shopping in nyc.
I know all those amazing museums, musicals, and events are on your list, but you cannot forget to check out the coolest boutiques and vintage stores in new york. NYC (and Brooklyn) have some of the best shopping experiences in the world.
Not only will you find unique items at these cool NYC boutiques, but just perusing these boutiques is a unique experience (not to mention Instagram-worthy).
The Best Boutique Shopping in NYC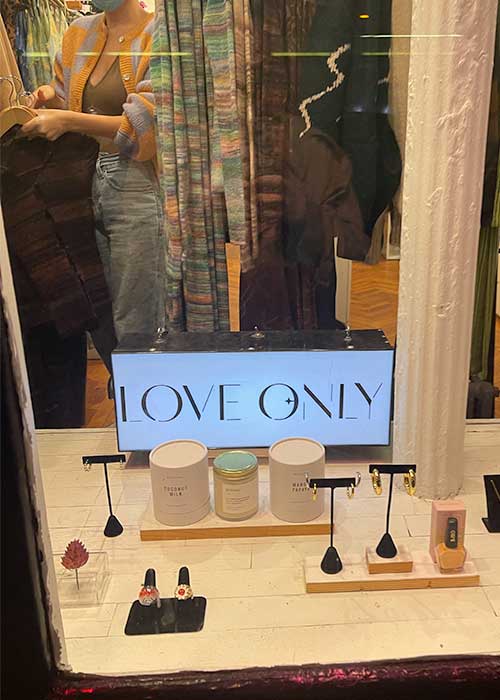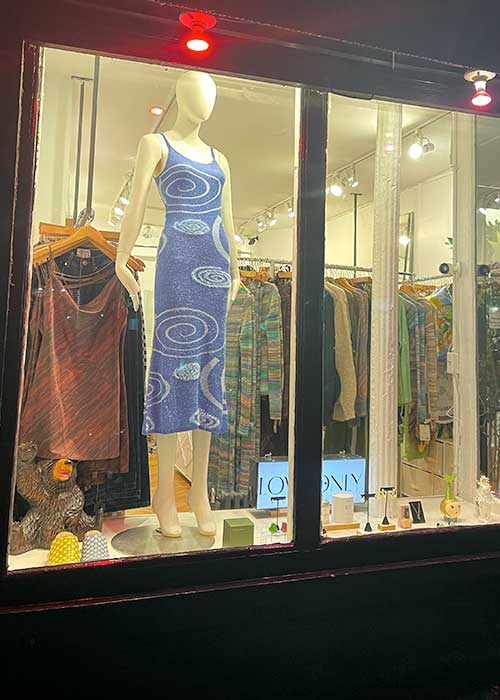 Filled with cult clothing brands like House of Sunny and Paloma Wool; they have great jewelry and unique pieces.
I love their shop to add a bit of interest to my wardrobe. Pick up a pair of cool printed pants or a unique knit sweater and you're ready for Brooklyn nightlife.
They have two locations- one in the East Village and one in Williamsburg, but both have similar pieces.
Funky, eclectic pieces you won't find just anywhere. A favorite with style influencers like Devon Lee Carlson. With prices starting around 130 and up, the individuality and one of a kind style of each piece is well worth the occasional splurge.
This cool Brooklyn boutique has an amazing jewelry collection you won't find anywhere else. It's a great place to buy your alt friend or partner a gift.
Their unique jewelry includes things like a "cunt" necklace", an amazing selection of rings, and they also have a small collection of apparel that every alt girl (or boy) would love.
I personally love the "cunt" necklace and their zodiac necklaces. (but they aren't for everyone, so fair warning!)
Japanese beauty supply store
A full supply of japanese face masks, beauty products, and great false lashes. Plus you can find all those viral Japanese beauty products you've been lusting over.
The chicest home decor store; it has all those cool unique candles and trendy decor pieces you see all over instagram.
If you want to add some uniqueness to your apartment, love living rooms like Emily Ratajkwoski or Memphis School of design, this boutique will help you get it!
related: The COOLEST unique candles to spice up your home
Huge selection of cool girl brands like house of sunny and lisa says gah. Very cool outerwear pieces and the jewelry selection is something you need to check out!
A charming and curated selection of clothing in soho. Chic world pieces, less trendy than some of the previous boutiques mentioned.
This east village boutique is a minimalist dressers dream. With elevated, unique jewelry pieces and clean cut (yet stylish) apparel pieces, it is a great destination. Independent designers and higher end labels are found here.
Also known for a killer vintage denim collection!
A little bit Wes Anderson style, a little bit Bridgette Bardot. This unique boutique has everything from chic berets to the most perfect outerwear pieces.
With superior styling and a unique point of view, these wearable yet high style pieces are a must add to your wardrobe.
This curated boutique has accessories, bags and decor items. But the unique part is that everything is made from women-owned business across Africa.
Pick up a chic item for your home that is sure to be unique and impactful.
This Upper East side staple is another gem for designer consignment stores. With proper authentication and an amazing selection, it is worth making a stop in. A great place to find a statement dress that no one else will be wearing!
This is a curated (duh) boutique by Christian Siriano that is within two floors of a renovated brownstone. The visuals are to die for and it showcases many brands across the home decor and fashion categories.
Luxury prices, but still worth perusing for the visuals!
A luxury lovers paradise. Located in a gorgeous landmark building in soho, they carry all your favorite designer brands like Chanel, Celine, and Gucci.
They also have Joanna Czech's private studio in the same building that caters to celebrity clientele. It's four floors of fashion decadence.
An east village gem with an amazing art collection and one of a kind pieces. Sustainable fashion that will really add some interest to your wardrobe.
Prices range on average from $70 to $300 and you can also find some vintage pieces here as well.
Amazing feminist artworks, cool enamel pins, and basically everything you would want from independent designers. Great for a unique gift or to add a little more interest to your home.
And if you're an artist or designer, you can apply to be part of their wholesale community!
The ultimate cool new yorker lifestyle store. With everything from vintage levis, vintage comes de garçon pieces and cool art and candles- this is definitely worth a saturday afternoon shopping trip. The price range is fairly expansive, and because it has so man different styles of items, it can take awhile to get through everything.
Where are all my guys at? This menswear store has all your fashion needs and specializes in Japanese brands. The clothes are wearable yet still unique and is a great place to check out if you want to add some high quality items that have style to your wardrobe. Price range averages from $130-700.
Talk about great curation? Assembly New York has some of the chicest, elevated, and on-trend pieces. Their jewelry collection is to die for; composed of quality, unique designs that will live in your closet for years to come.
They have apparel, scents, and an amazing selection of shoes and accessories
Home to the largest independent designer platform in the USA, Flying Solo is a must try for anyone who wants to find those special fashion pieces.
Unique, artistic, high fashion pieces that will be like nothing you have in you wardrobe.
Want a beautifully curated artistic space featuring the most up and coming and high end designers? Dover street market will not disappoint (other locations in major cities).
View the latest from Molly Goddard, Simone Rochas, and every major new designer on the market. Not to mention, the presentation in the store is to die for- with unique designers having essentially their own art display.
Want to dress like a sophisticated, yet cool, Brooklynite (Brooklyner?). Well Bird (two locations in Brooklyn) is the place to do it.
Not only will you find a carefully selected pieces from big designers like Alexander Wang or Commes de garçon, but you will also find a collection of lesser known brands.
They carry everything from your basic staple sweaters and trousers, to those unique dresses or outerwear you need to make a statement. A must try, in my opinion.
The high end luxury consignment store you have no doubt seen every influencer go to. Their selection of luxury goods and hard to find vintage pieces is unmatched.
Even if you can't afford it, it's worth going for fashion inspiration, some fashion education, and an overall NYC experience.
Another curated, luxury consignment store. Whether you are looking for a luxury piece for an event, or want to sell some of your lesser worn designer pieces, their locations in NYC are worth checking out.
They have a few locations, as well as a dedicated mens shop.
This lower east side boutique has developed a cult-like following in the fashion community. What started as a highly curated store from the latest and greatest independent designers has now grown to include Maryam Nassir Zadeh's own clothing line as well.
Yes, that Frankie Shop. The people who brought the padded t-shirt trend to full scale, has an amazing boutique in NYC (and Paris).
They carry their own line and chic smaller labels as well. Everything from jewelry perfection, to the outerwear that new york dreams are made of, this elevated yet trendy store is a definite must!
A massive shoe wall, brands like Vetements, Bottega Venetta and Acne Studio, this four floor boutique will give you all your fashion wishlist items.
Elevated, high end design with a chic minimalist design sensibility.
This vintage store is bought by the pound (not individually priced items), and has a lot of great 80's style pieces. They also have some great menswear- like Carhartt jackets and more.
Everyone's favorite, super affordable, massive thrift store. It takes some digging but you can find a gold mine of cool pieces from any of their locations.
My favorite location is this one. You can also find my favorite thrifting tips and a haul from L train here.
A large curated vintage shop that has just about every fashion category. You can find everything from cool trousers, graphic tees, vintage slips, and amazing wool jackets. The prices range from $30-$250 depending on the item.
Be sure to block off time to go through each rack because there are a lot of hidden gems. It has a lot of inventory for the space size, so you really need to dig!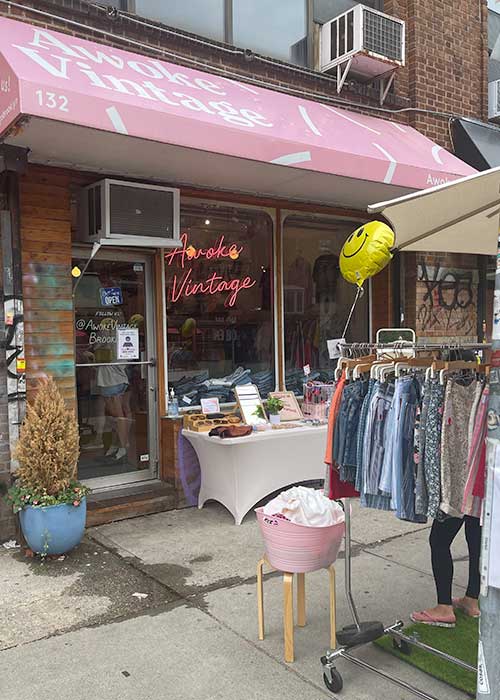 With three separate locations throughout Williamsburg and Greenpoint, Awoke Vintage will surely be along your path at one point.
They have amazing sunglasses, great vintage Levi's, and the trendiest set of accessories to choose from.
Got these Spitfire sunglasses from them and they have been my go-to this summer.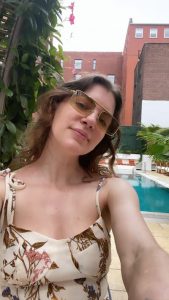 This is your ultimate guide to the coolest boutique shopping in NYC. Don't miss out on bringing a one-of-a-kind item back from your trip, or just adding a bit of spice to your wardrobe.
So grab your tickets to the MOMA, experience your local latte, and start exploring these cool NYC boutiques.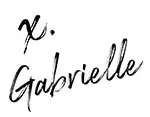 ALSO: Feel free to leave any stores I missed in the comments, there are so many amazing trendy, cool NYC boutiques; let's help everyone explore them!
Pin the below image so that you always have these boutiques on hand 🖐