Winter is coming, and you need to get your closet ready and I'm here to help you with this winter style guide. Cold temperatures are no excuse to live in sweatpants and not go outside.
We all love those cozy fireside moments, but what happens when *gasp* you have to go to work, or a family event, or even a cocktail holiday party?
Be prepared, and get your winter fashion under control with this extensive guide.
** we may earn a commission from you clinking the links in this post at no additional cost to you, for the full affiliate policy, click here.
What You Need in Your Closet for Winter
1. Staple Coat: A coat that goes with almost anything AND keeps you warm. Think wool fabric, neutral tone, ideally longer in silhouette.

2. Cashmere Sweater- You will live in this and it will keep you chic and toasty

3. Fleece Lined Tights- Thank me later, these change the game for style and winter combos
4. Fleece-lined boots- they are warm and chic and on-trend

5. Waterproof boots- not all super toasty fleece-lined boots will also be waterproof. It's good to have both so that you have options for the weather and your outfit

6. A go-to pair of jeans- The style of this item may fluctuate but, a good pair of jeans is your saving grace for winter

These are some of my favorites this season. For the more cropped style jeans, opt for knee-high boots under to stay warm.
7. Scarf- A fashionable scarf is a layering essential. It will not only keep you warm it will add more depth to your outfit

8. Beanie- the right beanie is chic and adult… It will also keep you so much warmer when those blizzards start to hit
9. Turtleneck- when done properly, these are chic and so useful! The affordable option below is especially great for layering!
10. Gloves- tech-friendly and looking chic (no one likes pulling their glove off to check their Instagram or answer that phone call). And these are an amazing price!
11. Layering pieces- This can include cardigans, blazers, and even leather or military jackets. They are for under your coat, but over your shirt/sweater/tee. They add way more flexibility to your looks. AND they allow you to transition from difference temp environments with ease. (you probably already have some of these options in your closet). Try repurposing a spring jacket as a layering piece for a budget-friendly option.
12. Puffer coat- So everyone needs a slightly sportier version of their winter coat. This is good for casual events, hitting the slopes, or when the temps really demand it.
Here is the oh so popular Amazon Coat that has gone viral:
---
How To Style:
Here are some examples on how to style these pieces in a chic and fashionable way
And if you need even more inspiration- check out my Pinterest board "winter fashion" to get a growing board of inspiration. Be sure to follow me on Pinterest too!
ADD PICTURE WITH TIP
Note with coats it best to size up. This will make it easier to layer and I always think things look more fashionable when they are slightly oversized as opposed to too tight.
Don't be afraid to try different layering structures. I love throwing a shorter (less warm) jacket over my neutral staple coat. It is a great way to stay even warmer and add more depth to an outfit. Add different layers to an outfit is key to looking sharp. For more ideas on that check out this post on winter finds under $100.
Proportions that work: (a key to mastering the winter style guide)
Proportions in fashion are key. They take your look from amateur to style icon if you do it right. Proportions can essentially be refined down to where is your body being cut up- or where are each of the clothing pieces ending on your body.
Think about different types of jeans- high waist, mid-rise, low rise… Of course, each type of rise has its heyday in fashion but how you style each of these jeans should change based on the fact the waistband is hitting a different part of your body. It can be as simple as tucking or untucking your blouse, but fashion is about small tweaks that make a huge difference.
To be clear, everyone has slightly different body proportions. The three most basic ways to refine them is as follows:
Short torso with longer legs

Balanced upper and lower body with a short middle body

Long torso with shorter legs
You don't always need to highlight your waist, but I think it's important for balance to highlight one portion of your body. This not mean skin has to show, it just means defining an area of your body.
For example, the image draws your attention to the full sleeve shoulders. But, the reason this look is so elegant despite having a lot of drama, is the waist and legs are defined. Until you are more proficient at experimenting with trends, too much fabric usually equals frumpy instead of chic.
View this post on Instagram
Proportions Rule- Something to keep in mind when dealing with proportion is never to cut yourself exactly in half. That will not only make your body appear shorter, but your outfit will appear more frumpy.

Opt for thirds.

Meaning that the hems (or bottom edge) of each garment don't hit you at 50% of your height, but rather instead at 33%, 66% or 99A%.

Once you learn to master this you can break it down further or play with things more easily (like in 6ths).
]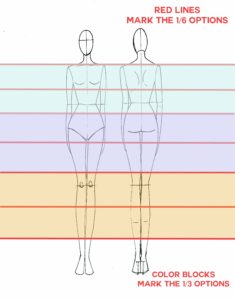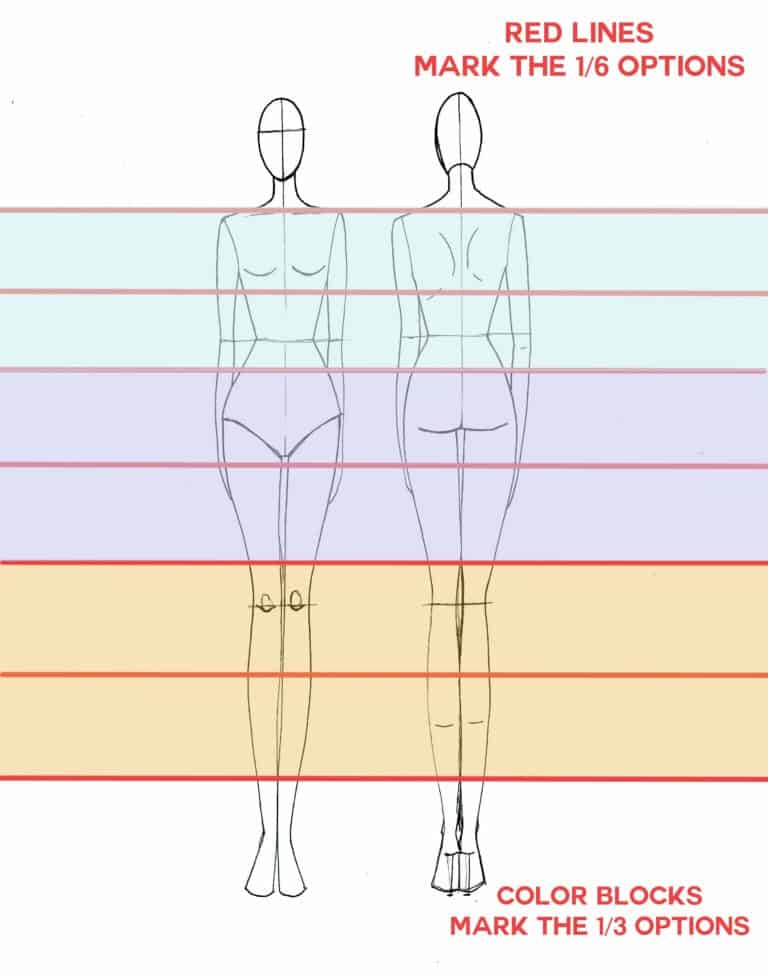 The golden ration says that we gravitate and find the 2/3 and 1/3 proportion most visually pleasing. So if you are really struggling with this concept, start there. Generally speaking, this would be the colorful blocks in the above photo. They do not hit exactly at any "joint"… Meaning, they do not hit exactly at the waist or exactly at the knee or ankle. The goal is to not break up our bodies to strictly. Also, keep in mind these lines are a general guide- the more you know your own proportions and the more you experiment the more flexible these guidelines become.
Elongating yourself is key and either iteration of the 2/3 to 1/3 (whether the 1/3 is at the top or bottom) will work.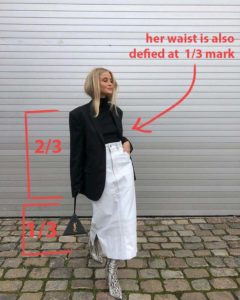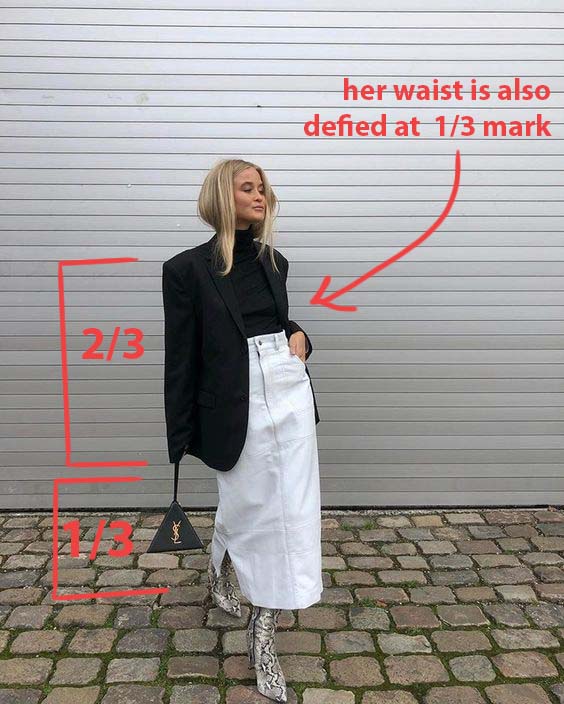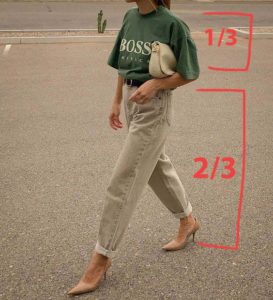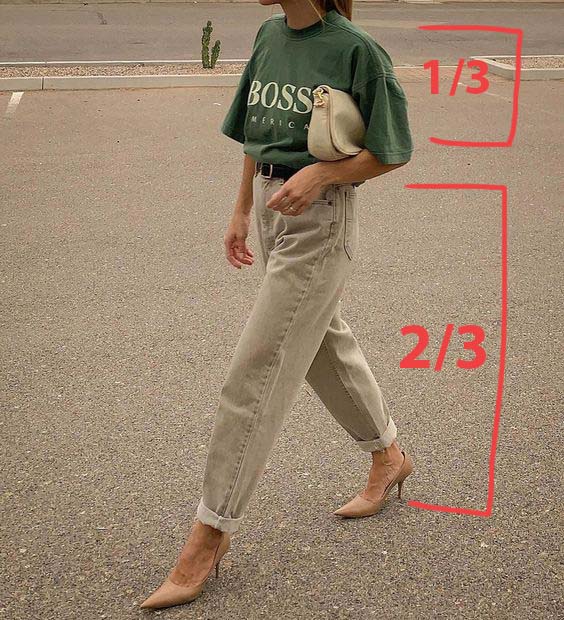 What should I wear when I'm going to ______ during winter months-
Office:
A great office look comprises of the following items: A pair of jeans or slacks, and an oversized blazer over a tee shirt and ankle boots. Pair this with a neutral, long staple-coat. And an oversized scar.
Daytime Event
A great outfit for a daytime event during the winter months would be a cashmere sweater, a pair of jeans, waterproof ankle boots (check above list for chic options), and a leather jacket and scar. If it's really cold out you can double layer the leather jacket OVER your staple coat.
Evening Out
A great evening outfit during winter months would include a long sleeve midi dress with knee-high boots underneath. Add a statement coat over it and you are good to go.
**** A great option with this outfit is an over the knee boot or a knee-high boot. They keep you so much warmer than a traditional ankle boot and if you are wearing a dress but opt not for fleece-lined tights, (sheer tights instead) these boots will be an acceptable compromise.
Fancy Outfit
A great fancy outfit during the winter months would be an evening gown with a faux fur coat over and a pair of heels with tights. Chances are the shoes will barely show but the tights should keep your legs warm and the heels will hopefully only be worn to and from the car.
Family Gathering
A great outfit for a family gathering during the winter months would be a slightly oversized sweater with a midi-length skirt and knee-high boots underneath. You can throw any jacket or double-layer coats over this look. Again, there are even great waterproof options for knee-high boots for those slushy snow days.
Or you could opt for a simple tonal look. Opt for something like navy pants, a navy sweater, and a black or navy coat over. You can pair this with boots or loafers- depending on the weather.

Investment

Pieces versus Statement Trends For Winter Style
What is worth investing in?
cashmere sweater – you will wear it for years to come, and it is a great layering staple
a classic coat– you will wear this thing probably 90% of the winter, let's make sure it will keep you warm and last.
a warm scarf– it's an accessory that never goes out of style and will make the outfit.
classic, waterproof boots– there is nothing worse than cold feet, and during those colder months, your feet and your style will thank me. Plus, let's not ruin all our other shoes trying* to make them winter-appropriate.
What should I be frugal on?

a statement coat- Statement coats can be an amazing option in winter, but they are not your go-to coats. So try Zara, H&M, or even vintage stores to get fun colored coats, prints, or even a unique silhouette. These coats are great for nights out, or when you need a little something extra.
boots that are cool but not wearable daily- There will be days where you don't need a waterproof boot for winter. And on these days, it's nice to switch it up and have an extra option.

They look cute, and they make your outfits more diversified.
beanies – I love a quality beanie, this one is my favorite.

But honestly, I don't spend more than that on them because the likelihood I lose them is high.

With this affordable option, I can buy a few different colors and not stress if I left it on the subway or at the office.
How to wear dresses in winter: Your Winter Dress Style Guide
Ok- the first thing to deal with is how are you going to keep your legs warm. Depending on the temps, I suggest either knee-high or over the knee boots for slightly more temperate days.. You can opt for a pair of sheer tights with the boots if necessary, but the idea is to keep it weather appropriate for the mid-range or fluctuating temp days.
OR for those really cold months, you need to get yourself a pair of fleece-lined tights, THESE are my favorite.
Next, you need to consider the general silhouette. If it is a cami dress, you can add a tee shirt or turtleneck underneath. I know you're thinking- that's not quite "modern"?! But, it can be- just check out the inspiration below.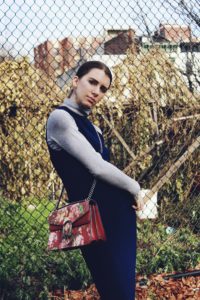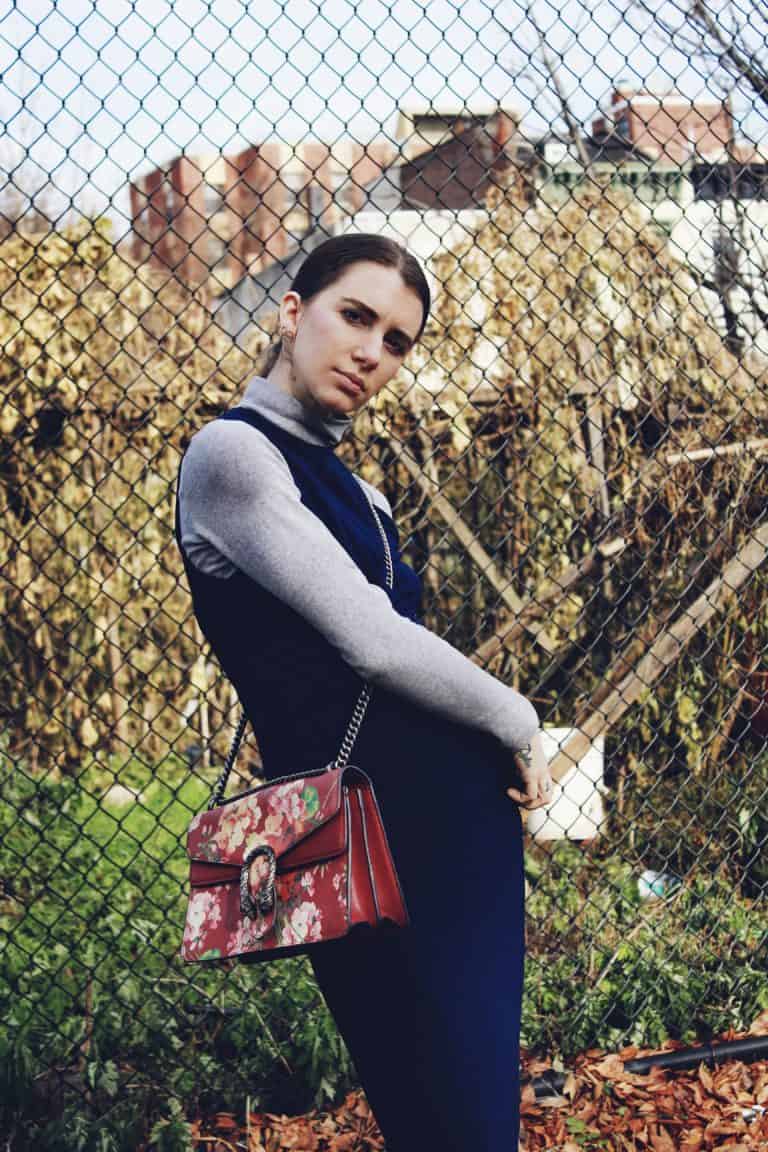 All dresses can handle layering if you keep your proportions in mind. Adding a blazer over your dress or even a military or leather jacket is a great way to make it comfortable for colder months.
Also if your dress has a lot of volume, opt for a more cropped jacket or cardigan. This will keep the look feminine and balance it out correctly,
TIP: Oh, and invest in some of this stuff. It will save you from static cling and your dress looking like it's glued to your legs…. Not a chic look.
If it's really really frigid out, I'm looking at you single-digit temps, then layering pieces underneath is key.

This can be a general rule for outfits but especially dresses.

Now don't try to do this with a skin-tight dress, or else you will verge on looking like a cased sausage. But a dress that has any slight bit of breathing space will work great with the following layering options: (the below items all have heattech, so they are extra warm!)

And, if you feel like your dress is getting lost with all these layering pieces on top, don't be afraid to add a belt to the mix.

You can belt the dress underneath the blazer, or you can belt it over the blazer and cinch the dress/blazer together. A good belt can get you far in life.
Also, there is nothing that says you can't treat a dress like a skirt and throw a sweater over it. A cute slip dress with a chunky sweater over it creates an instant cool-girl vibe.
And if you're really adventurous, you can even pair a dress over a pair of pants or jeans. However, I strongly advise a full-length mirror and a constant check-in with the proportions of this look.
Curious about how to dress for seasonal events or holiday parties? Subscribe here to get notified when that post will go live!
And if you need more help understanding your fashion choices and implementing trends, I have an amazing (AND FREE) style guide for you, just click

here.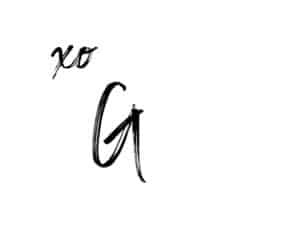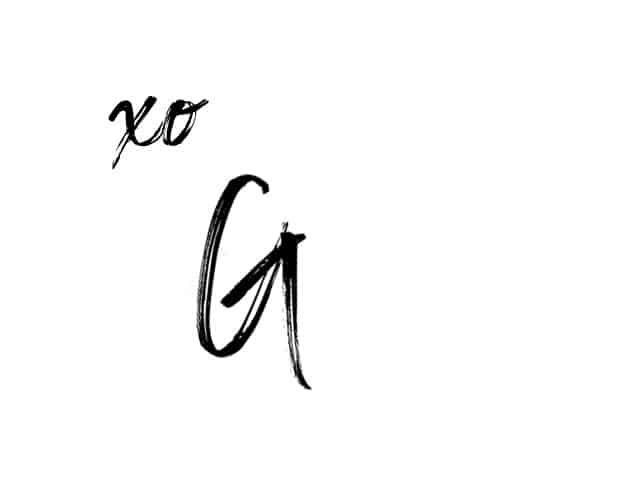 P.S. PIN THIS for reference