Everyone wants to be a French girl.
Well, I should clarify. Everyone wants to have the effortlessly chic style of a french girl. And believe it or not, that does not involve wearing a beret and eating croissants on a daily basis.
French girl style is one of the most sought after moods in the fashion industry and there is no reason why you can't try to add a bit more Parisian flair to your everyday outfits.
So what makes french girl style so enviable?
French girl style is effortless, yet put together, and makes you want to buy a one-way French air ticket and buy a chic flat in Le Marais.
But, we have responsibilities, lives, and a bank account that would not appreciate this spontaneous move. However, french girl fashion is actually doable anywhere in the world, if you just remember these style tips.
French Girl Style Tips
Let's break down how french girls look so put together:
1. They wear trends but keep the other elements of style more classic.
2. Keep the focus on one element, for this post we will be focusing on the blazer.
3. Don't be afraid of oversized articles of clothing, you can balance them out with the other items you are wearing
4. Complete your look, the devil is in the details.
5. Classic colors, a pop of print or interest, and an eye for proportions all help you achieve french girl style.
Ok, so here are the differences between how an American (me) styles an oversized blazer and my french fashion blogger My Trendy Riviera styles a blazer.
American Vs. French Styling Edition: Blazer
Look 1.

Blazer with jeans
FRENCH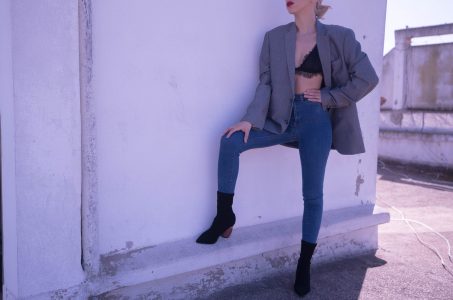 So Cherifi Lisa has paired her classic-gray oversized blazer with jeans, a bralette, and slim boots. [ lingerie as outerwear fashion trend guide]
The oversized blazer is balanced out by the slight peek of skin showing, and the more form-fitting jeans and boots. The balance is crucial to get the french-sophistication.
AMERICAN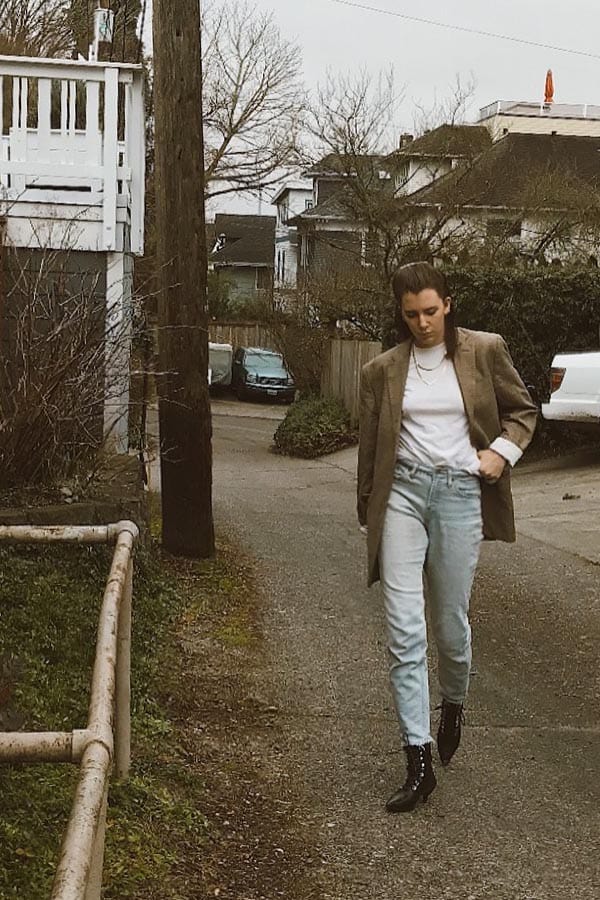 I paired my oversized blazer with a white tee, relaxed slim-fit jeans, and pointy boots. As you can see the blazer and t-shirt are oversized while my outfit too has more body-conscious elements from the waist below.
So, don't shy away from oversized pieces. And if you want more guidance- elevate your style with this one item, the oversized blazer.
Look 2 Blazer as a dress
FRENCH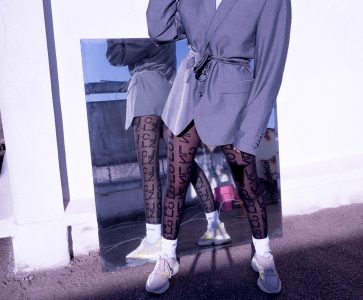 Cherifi Lisa wears her blazer as a dress and creates a nice juxtaposition of classic style and trends.
The tights are classic black, but the element of the print adds a fun detail and interest to the outfit. And the sneaker/sock combo is a big fashion trend currently, and is a nice "surprise element" to the outfit as a whole. It also makes the outfit more casual, and daytime friendly.
AMERICAN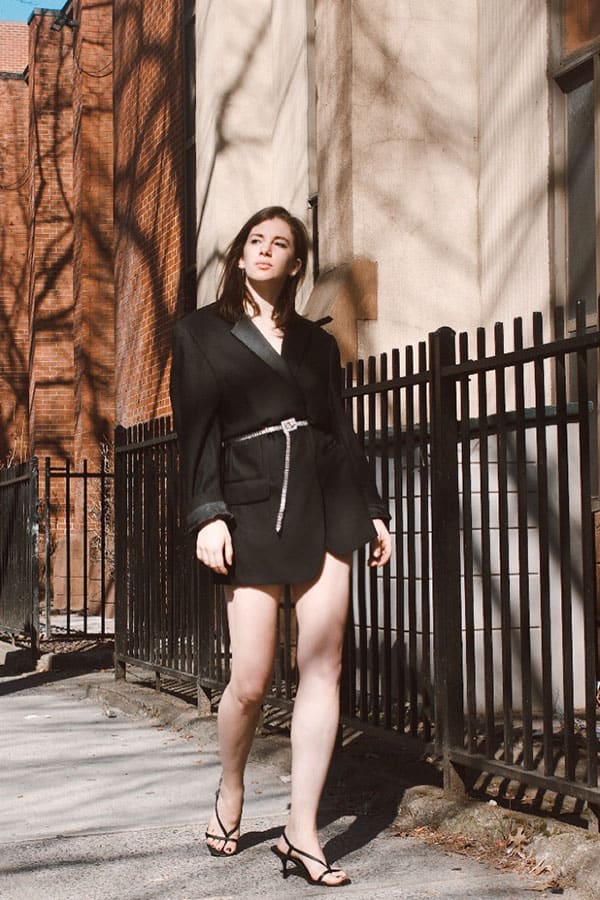 I love wearing blazers as dresses, and I find oversized blazers (men's) are the only ones that flawlessly work for this style.
Because I chose a more formal tux jacket, I paired it with a rhinestone belt and simple strap heels. The one standout accessory for my look is the sparkly belt, and that takes center stage on the classic black blazer.
TIP: If you are wearing your blazer as a dress and plan to belt it, you don't need to button the front, this will create a weird bulge along your mid section. Instead use a saftey pin to secure the one side of the jacket to the other side (past the center seam of your body) and then add a belt to cinch it around your waist.
Look 3 Blazer with pants
FRENCH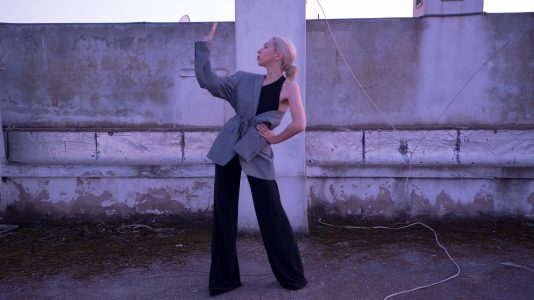 Cherifi Lisa took classic elements, a blazer, and trousers and styled them in a unique way for this look. The unexpected, yet easy styling of this piece is what makes it so covetable.
Keep in mind that the classic color palette and basic textures keep the focus on the off-the-shoulder styling, it becomes very streamlined. If this outfit was done with lots of print and color it would lose the "French girl goals" vibe.
AMERICAN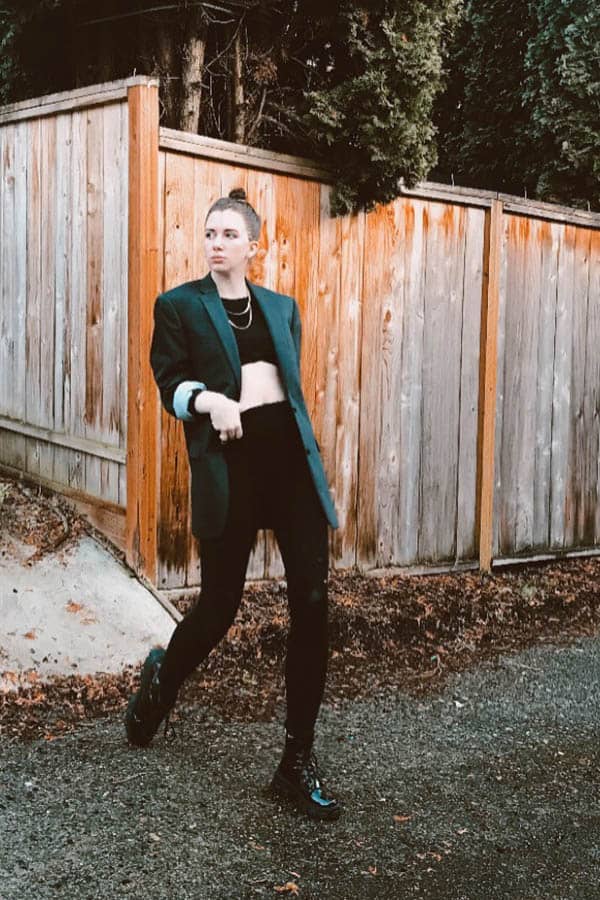 Well, you know Americans love a good legging, so I had to style my oversized blazer with leggings.
The monochromatic element to this outfit keeps it fashion friendly, and the slicked-back hair adds a sophisticated nod to the look.
[ the legging trend you need to know about ]
Other Blazer Outfit ideas
French Girl Style with the blazer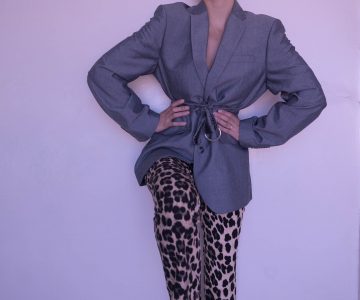 Cherifi LIsa uses the leopard print as a pop of interest, yet it still serves as a neutral print overall. French girl fashion is the epitome of day-to-night and this outfit is a perfect example of this.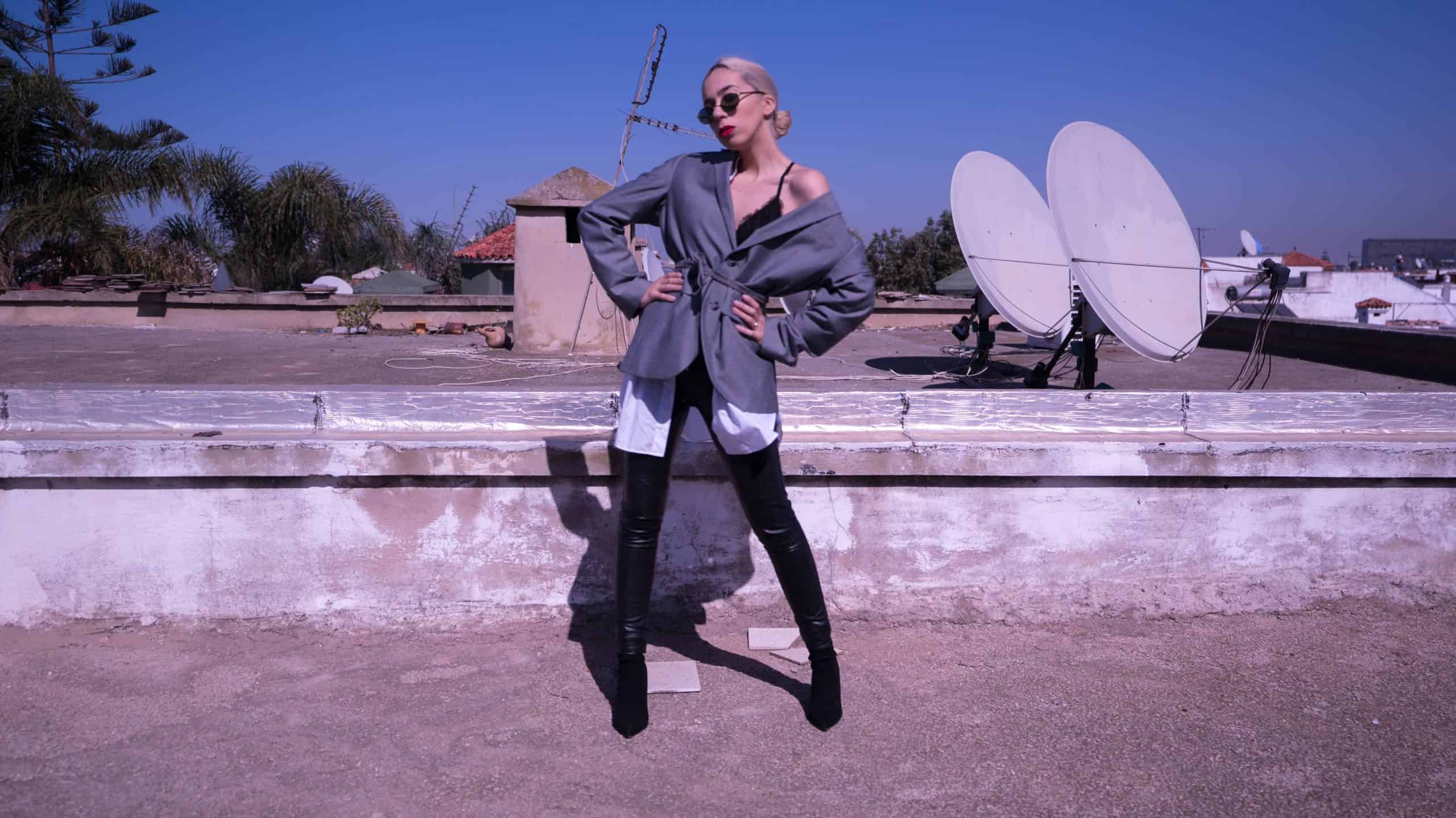 This is a great look for an evening out or date. It's flirty and fun and the layering adds interest.
American Girl Style with the blazer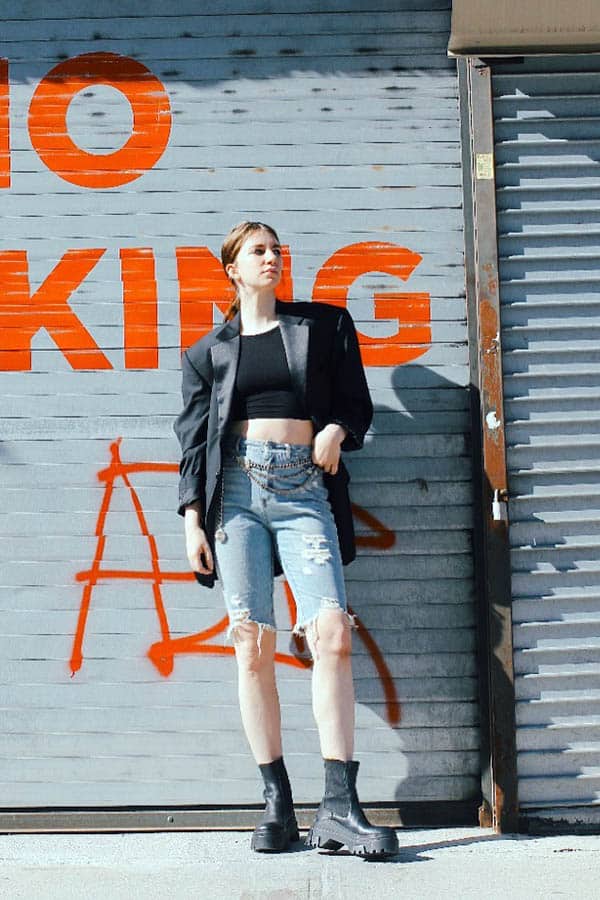 I love the mid-length denim short option. It adds a casual vibe to the blazer look and makes it a perfect option for spring and summer months. The chunky boots and chain belt are the more "trendy pieces" in this look, but the rest of the outfit relies on neutral colors and staple pieces.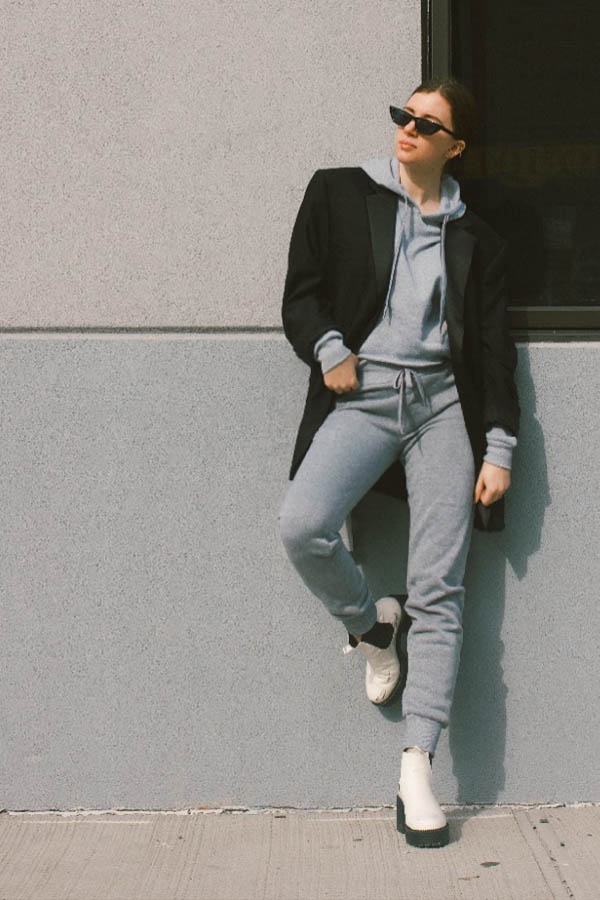 What's THE most American way to style a blazer? WIth sweatpants or joggers, of course. And if you want more info on how to style a blazer with joggers, check out this post.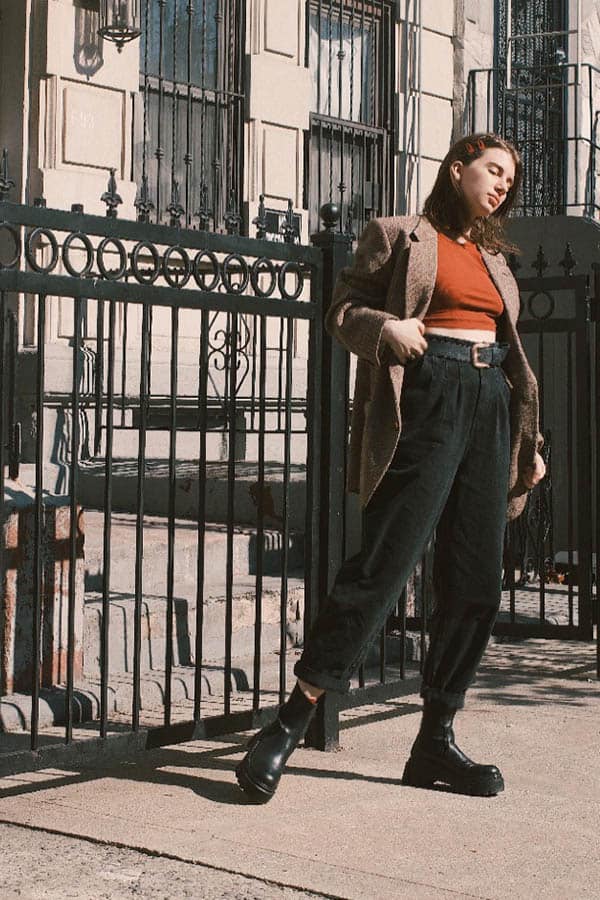 This blazer outfit works because the color palette is neutral except for the rust color. All the colors are also warm tones, so that helps create a congruous look.
** we may earn a commission from you clinking the links in this post at no additional cost to you, for the full affiliate policy, click here.
Shop THE BEST oversized blazers so you too can achieve this covetable style
Also, I've had really great luck sourcing oversized men's blazers from vintage stores. So, if this is something you want to try, read my thrift store shopping guide, here.
Oversized blazers have taken OVER the fashion industry lately, and you know who wore them first? French girls. They know how to style.
So what's the key difference between American and French styles?
American girls, myself included, tend to be "all-in" for trends. When a new trend hits the fashion runways I want it all.
French girls tend to be a bit more level headed and specific with their trend implementation. They take a trend, like the oversized blazer or logo tights, and pair it with classics already in their wardrobe. They focus on keeping a common style voice and spice it up with trends.
American girls sometimes want ALL the things. I mean we did kind of invent logomania, and we are known for our excess.
And while I love jumping on the trend bandwagon, the easiest route to an insanely chic outfit is to adopt the french girl style.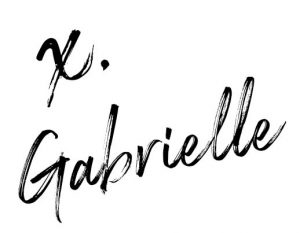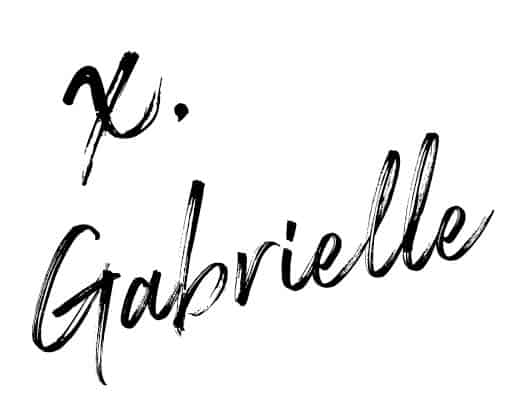 And because you'll never find better examples of how Americans and French girls wear the blazer, you really should pin this….