Summer is here and while the large scale parties might not be in the cards right now, the small bbq's are going to be a featured event for 2020.
BBQ summer outfits are a must-have in your fashion Rolodex and this post will help you figure what your options are for cute bbq outfits.
There's nothing worse than a friend asking you to an event the day of and the outfit you would have worn is dirty, or the jeans you like are just a bit snug right now. So keep these cute bbq outfits in your back pocket.
With the 4th of July just around the corner and restrictions from COVID-19 being slowly lifted, the BBQ (in a confined outdoor space) with close friends and families is sure to be the go-to event of the summer, so here's what you should know.
we may earn a commission from you clicking a link in this post, at no additional cost to you, full affiliate policy (fyi it's real boring)
What do I wear to a summer bbq?
Summer BBQs are usually outdoors in semi-shaded or sunny areas. So you'll want to make sure your outfit is weather-appropriate and comfortable.
You want to avoid spiky heels, dresses that are constricting or too tight, or jeans that don't allow a lot of movement. [ the best (non-see-through) white jeans for everybody type]
Don't forget your sunglasses, because while there will be partly shaded areas, a good portion of the bbq might be in near direct sunlight.
That also reminds me- don't forget your sunscreen! This face sunscreen is my favorite lightweight, effective, and affordable option, because I do not want to age any faster, thank you very much. (and I can only assume you don't either).
Opt for shoes that you can wear in the grass or easily walk in. Spike heels are probably a no-go as well as any high heel that is shaky on unstable turf. I love a lower square toe heel- which is one of the biggest shoe trends right now. [ how to rock a square toe heel]
Because summer BBQs often happen in the afternoon into early evening, you will want a layering piece to throw on just in case it gets colder into the night.
A sun hat or baseball hat (or really a hat that won't make you too hot) is a great summer accessory and can add a lot to your outfits.
Here are the clothing items you should avoid wearing to a summer bbq:
Some of these may seem obvious, but when you're excited and in a rush sometimes your instincts will lead you astray.
No leather. I know leather jackets or shorts are cute, but when you are in the sun for that long, during the humid summer months, you don't want to have to peel that leather off of you.
Depending on the location of the BBQ I would avoid a romper or jumpsuit. While they are so chic, going to the bathroom in them leaves you a bit exposed. And with a gathering of people and probably one available restroom, that would be a hard pass. You don't need someone knocking on the door 15 times while you try to put your jumpsuit back on.
Sweatshirts and hoodies. These are not only too casual for a summer bbq (they often end up looking like you didn't care)- they are way too hot.
As mentioned before, no spiky heels. You don't want to topple down the grass because of your shoes.
Super high waisted denim or shorts that are difficult to sit down in also make the avoid at all costs list. Sometimes with BBQ's you end up sitting on the grass, or bouncing around from table to table. That's a lot of up and down and if your pants are way too high and tight, that will probably start to get old really fast. Plus the point is to eat, as well as enjoy each other, so don't go with skintight pants that will make you feel constrained after enjoying a meal.
Clutch bags are also a no-go unless they have an attachable strap. Often times you are walking holding a drink or plate of food at a summer bbq, you don't have a third arm for a clutch. Ditch it, and keep it practical. Because as much as I love a fashion moment, I do not love trying to juggle a clutch, a plate, and a drink only to end up with gin and tonic spilled down my outfit.
Head to toe dark colors are also a no-no. If you have long black pants with a black top on you will overheat. So if you want to do a monochrome outfit, make sure you have some skin showing so you have way to cool down in the sun. [ how to master monochrome outfits]
A few tips for summer bbq outfits
Keep it simple- because you will be outside, eating, and moving around you need an easy outfit.

Jewelry is a great way to spice up a simple outfit so don't forget to add a fun pair of earrings or some layered gold necklaces.

[ how to layer gold necklaces like a fashion a lister]

[Maria Tash look for less]

Don't try to turn a bbq into something it is not.

If there is no pool/body of water don't be the person trying to suntan in your bikini.

And if it's a daytime bbq, don't look like you are dressed for a date.

Know the audience and context and dress for that.
A pop of color nail polish is a great way to elevate a simple outfit.

Check out this post

for some trending nail polish colors.
Hair accessories or simple hats are not only functional but also sophisticated.

Check out this post for the best hair accessory trends for 2020.

Don't go too crazy with makeup. You'll be in the sun and possibly even in the water (depending on your location).

If you don't want to go makeup-free, try this "no-makeup" makeup look.
Summer BBQ Outfit Ideas
BBQ Outfit 1: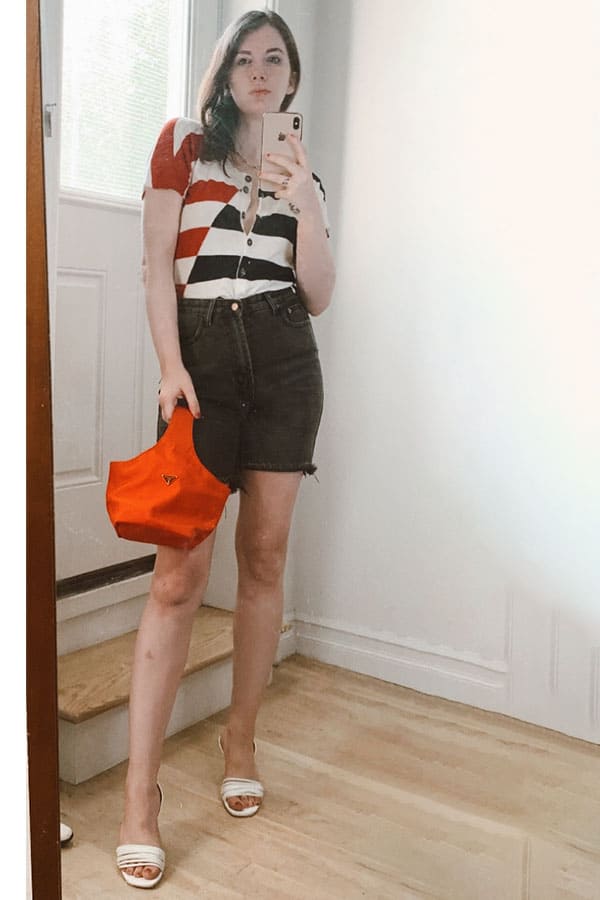 Bermuda Denim Short with short sleeve cardigan
This outfit is great for the Fourth of July. You have a nod towards Americana and the flag colors, but it's not over the top. It's comfortable, on-trend, and the accessories elevate it. Bermuda denim shorts are THE shorts for summer 2020, click here to get the scoop on them.
BBQ Outfit 2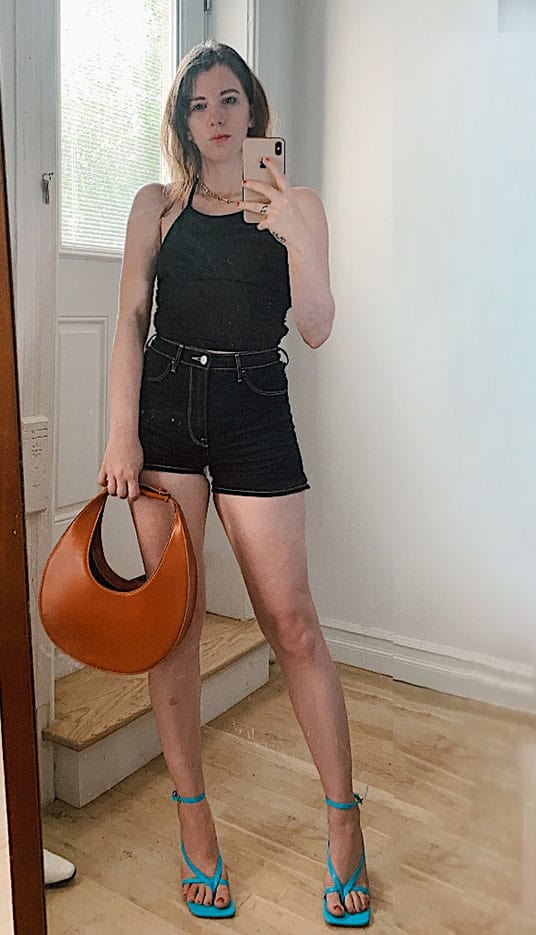 Monochromatic Black Tank and Shorts with comfortable (not sky-high) heels
This outfit is sophisticated because of the monochrome black element. For more tips on how to look expensive and sophisticated no matter your budget- check out this post.
The pop of color in the shoes and the trendy handbag adds some excitement to the look, and the simple hair and makeup completes a perfect summer bbq outfit.
BBQ Outfit 3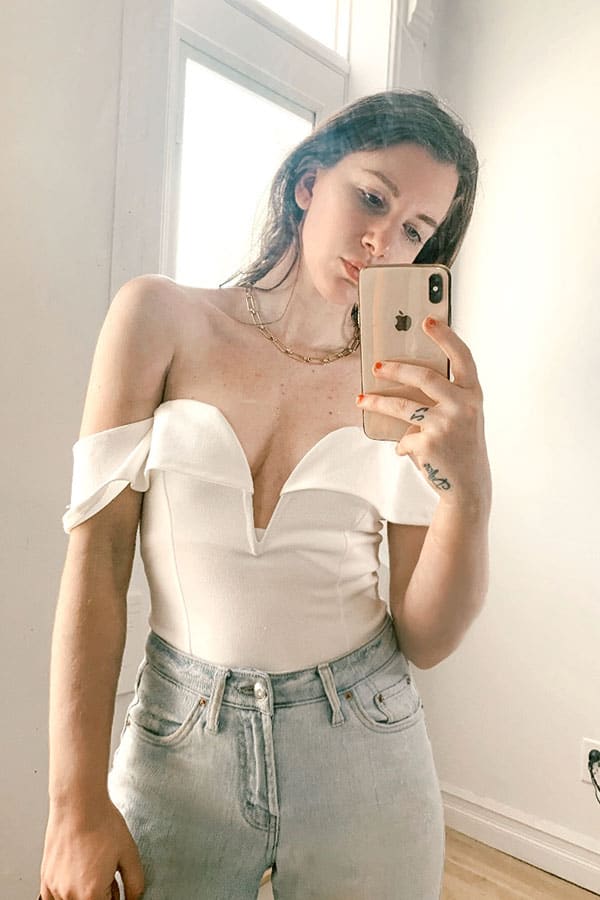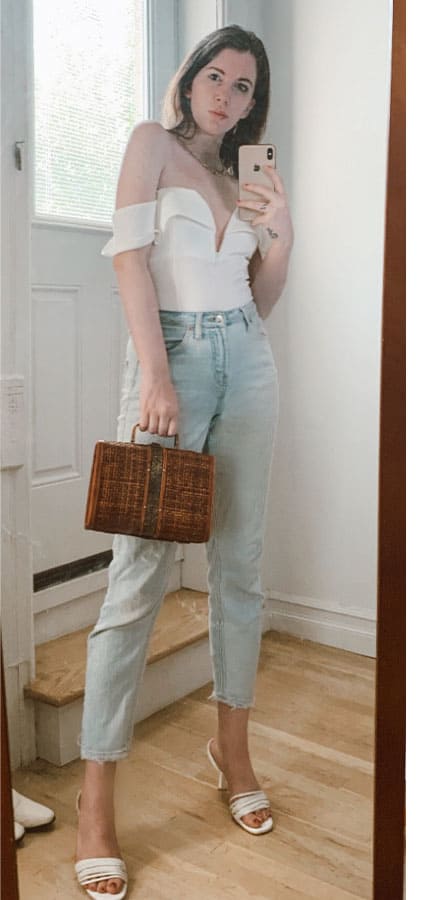 Off the Shoulder bodysuit, mid-rise jeans, and low mules
These jeans are comfortable with some stretch in them, and their silhouette is not too tight. The off the shoulder top, while it appears more romantic and put-together, is actually stretch fabric and very comfortable.
The light colors feel very summer appropriate and will help keep you cool during the duration of the bbq.
This is a great summer vibe, especially if you're trying to catch a summer fling's eye.
BBQ Outfit 4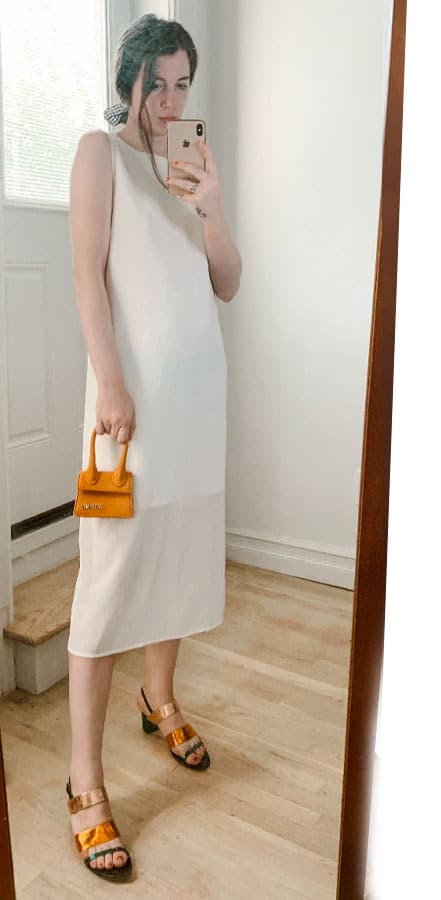 Simple Summer Dress
A sheath dress is an easy summer outfit. Add a cute pair of shoes and a hair accessory and it looks like you put so much more effort into your look than you actually did.
Sheath dresses are great for a summer bbq because they are loose enough to move and avoid overheating, but also look extremely sophisticated.
BBQ Outfit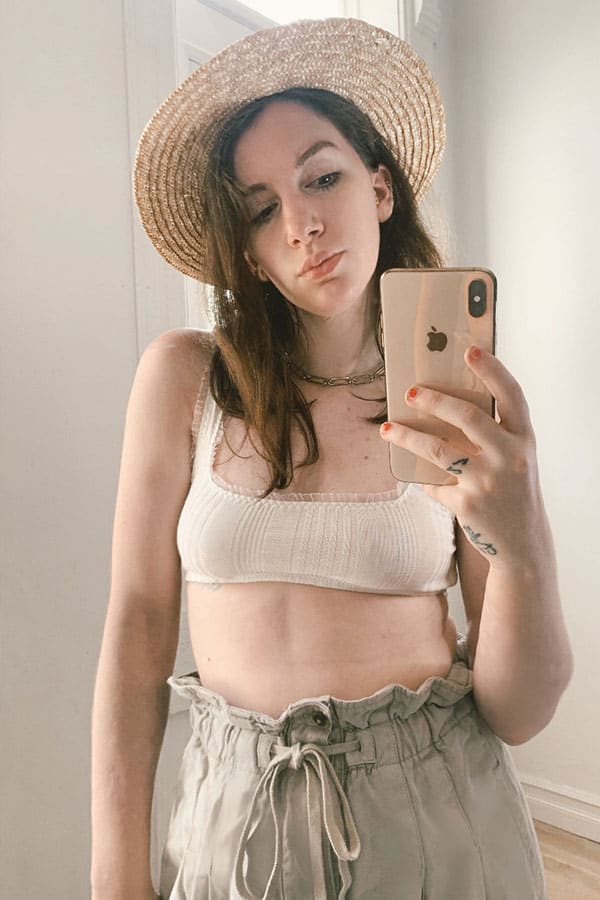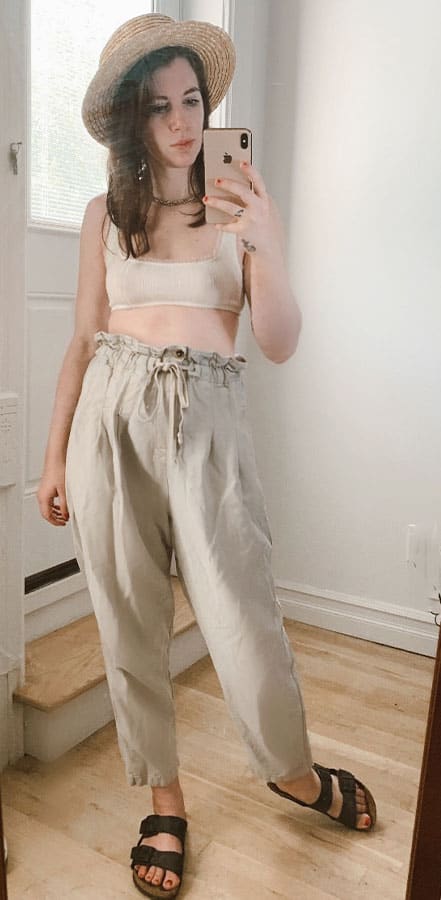 Casual Trouser, Crop Top, Birkenstocks, and sun hat
This is a great outfit for a bbq or summer event that involves walking or more activity. The hat makes its sun appropriate, and the tonal look elevates it. Birkenstocks are easy to throw on and off and are comfortable to traverse outside.
BBQ Outfit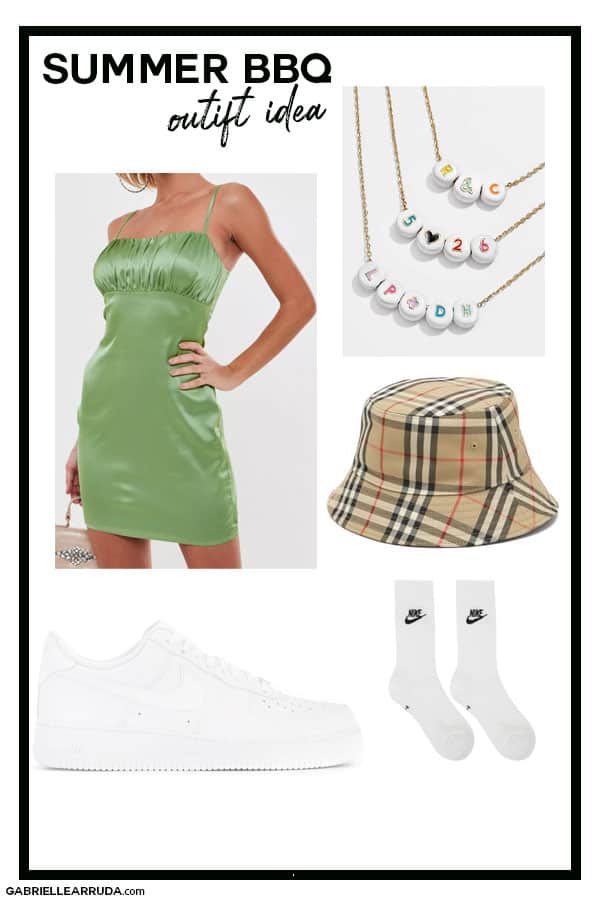 Ruched Bust Cami Dress, Classic Sneaker, Gold Necklace, 90's bag
I actually have already purchased this dress, but I haven't received it yet. This gathered bust cami dress is perfect for summer events. It's trendy, chic, and weather appropriate. I can't wait to wear it. Keep the accessories simple and I love pairing a 90's style summer dress with classic white sneakers.

Embrace the sun and your close friends or family with a summer bbq, and make them all jealous at how fabulous you look after quarantine. I'm kidding, kind of.
After such a hiatus from events and people, its definitely nice to show up to the first summer event looking amazing. So try one of these outfit ideas and have endless confidence.
Now, go look like a glowing fashion goddess at your summer bbq.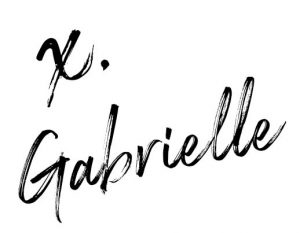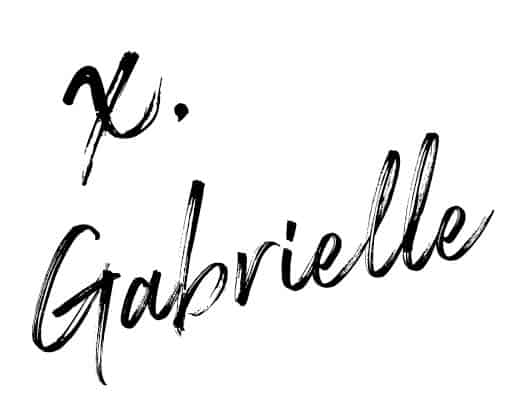 Pin this, because hopefully, you have some safe summer plans coming up that will need outfit ideas