Whether you love or hate the Kardashian clan, you can't help but respect Kendall Jenner's flawless style. Unafraid to take on new trends, every look polished yet modern, and giving us a fresh take on style staples, her looks are always elite.
So if you want to steal her style, here is what you need to know.
We may earn a commission from you clicking a link in this post. And as an amazon associate, we earn on qualifying purchases. Full affiliate policy, here.
What type of style does Kendall Jenner have?
Kendall Jenner's style is trendy with a focus on elevated basics. She is not afraid to go full out with a new trend (like this Saks Potts outfit), especially for evening ensembles. However, for daytime, she is very casual and adopts a classic model-off-duty look. She veers towards straight-leg jeans, crop tops, and easy cami dresses for the majority of her looks. However, in the evening she likes to make a statement and usually adopts a new trend in its fullest capacity.
How do you steal Kendall Jenner's style?
If you want to steal Kendall Jenner's easy-going, yet polished model-off-duty style try adding these items to your wardrobe:
1. Straight-leg jeans: Kendall's style always consists of well-fitted, medium-wash straight-leg jeans.
2. Crop tops: An easy pairing with your straight-leg jeans would be a crop top. Kendall wears these frequently to help balance out some of her more oversized and baggy pieces.
3. Leather pants: This year we have seen Kendall Jenner rocking a lot of leather pants. She wears both fitted and straight-leg leather pants, mostly in brown and black.
4. Flip flop heels or strappy sandals: Kendall's style has been evolving over the years and her latest shoe choice seems to be flip flop heels or simple strap sandals. They are simple and trendy, so they pair well with a lot of other pieces.
5. Keep jewelry minimal: Kendall isn't known for bold jewelry choices. With the exception of a few evening looks, she keeps her jewelry very minimal. Try a simple gold link necklace or a pair of standard gold hoops.
6. Rectangular sunglasses: These happen to be very popular this year, so it's no surprise we need them to dress like Kendall.
7. Leather blazer/coat: Kendall loves a great leather jacket. We have seen her style everything from a leather trench, blazer, and oversized leather shacket. So don't be afraid to try the leather blazer trend.
8. Shoulder bags: Baguette style bags have been her most worn handbag in 2021, so definitely add a simple 90's style shoulder bag to keep your outfit Kendall-inspired.
9. Cropped white tank: We already discussed her love of crop tops in general, but I would be remiss to not mention how often she wears cropped white tanks. They are versatile, pair well with everything, and are a great foundational outfit piece.
10. Knee-high boots: She loves pairing knee-high boots with long denim shorts or even with a casual dress. They are great for your proportions and can give your outfit a polished finishing touch.
Kendall Jenner Outfit Inspo
Kendall Jenner steal her style 1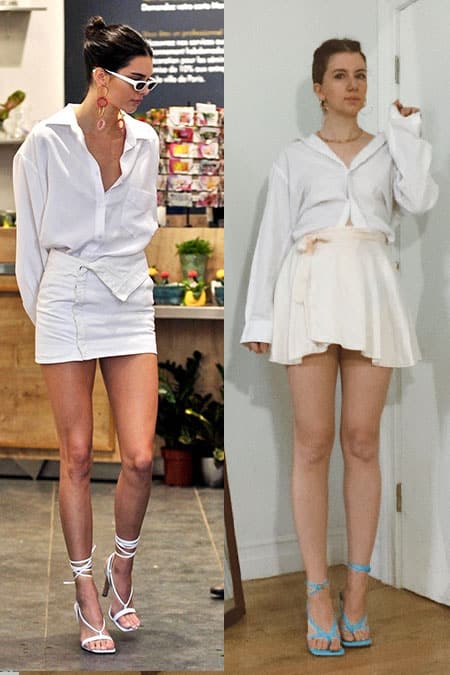 While this outfit is still generally casual, it is more dressed up for Kendall during the day. The white monochrome is an easy way to elevate the look and keep it sophisticated.
This look is perfect for summer events, casual dates, or even brunch with your friends.
The way she styled her oversized men's shirt is using a style hack called the french tuck, and you can learn more about that here.
Kendall Jenner Steal Her Style 2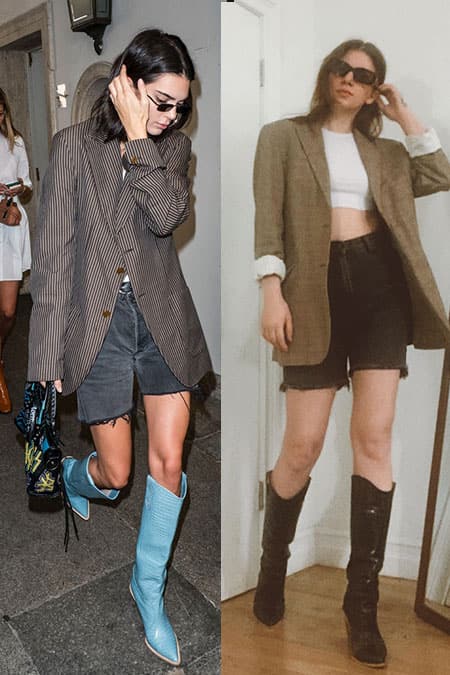 Kendall is a big fan of the long denim short trend. This is a great example of how she balances an outfit to feel easy-going, yet trendy and flattering.
Her oversized blazer and long denim shorts are balanced by the fitted tank and knee-high boots. If you try this look, be sure to watch the proportions of your knee-high boots and your longer denim shorts. You want a good chunk of leg showing in between the two to be most flattering. And if you are petite, I would opt for an ankle boot instead.
Kendall Jenner Steal Her Style 3
Once again, Kendall shows us how to do trendy fashion right. Between the floss leggings, and the leather trench, she definitely has a stylish look. However, the monochrome color palette and the slicked-back hair make it feel elevated and focused.
She often pairs trendy items with basics to keep the outfit from looking overwhelming. So if you're trying a new trend, try a simple color palette and add some elevated basics into it to avoid an erratic look.
related: how to master monochrome
Kendall Jenner Steal Her Style 4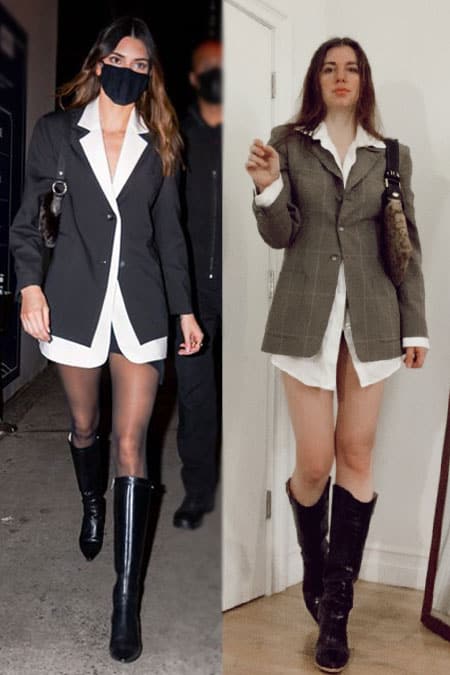 I love the use of the 90's style fitted blazer in this look paired with the oversized men's shirt worn as a dress.
Some of my favorite outfits (both on Kendall and myself) involve men's pieces, and if you want to learn more about styling men's pieces, check out this post.
Another Kendall-style secret is to keep your hair and makeup simple. Her hair is almost always down or in a slicked-back bun. And her makeup is usually the no-makeup makeup look that so many models love.
If your oversized shirt isn't quite long enough, throw on a pair of short booty shorts to provide some extra coverage and avoid any unintentional flashing.
Loving all this model off-duty style content? Check out these posts:
Kendall Jenner Steal Her Style 5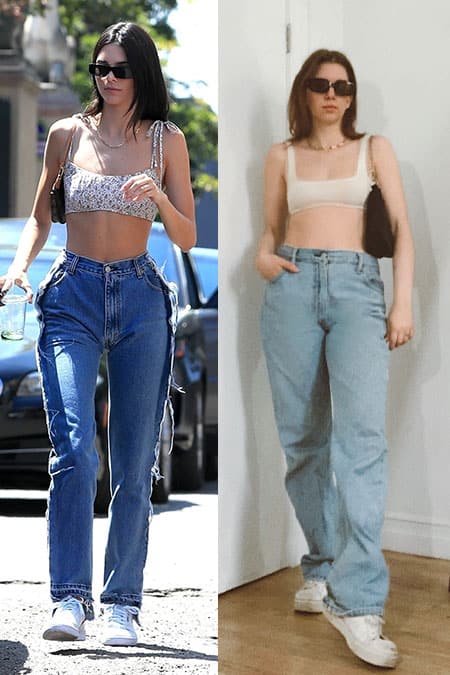 Model street style would not be complete without a great pair of straight-leg jeans. A flirty crop top and jeans is a model outfit go-to for good reason.
This look is perfect for spring or summer outings, brunch dates, shopping, or just hanging with friends. It can seamlessly transition to a casual evening out, and looks flirty but like you didn't try too hard 😉 .
And once again, we see her opt for a 90's style shoulder bag. It's an easy handbag that carries your necessities, adds a bit of flair, without being cumbersome. These are my favorite affordable options.
Kendall Jenner Steal Her Style 6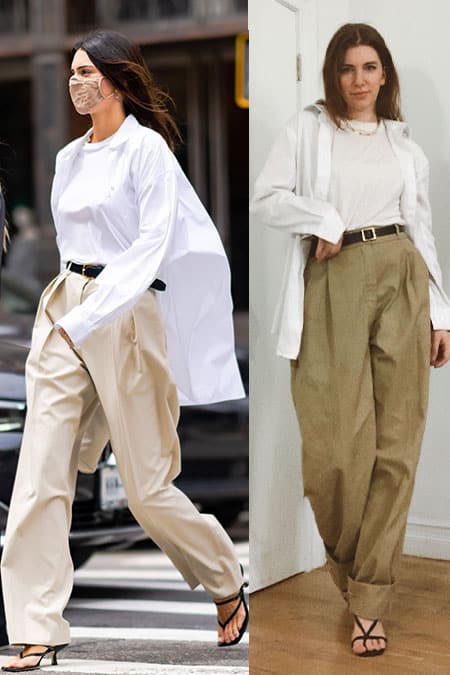 Now, I wish I could afford to wear head-to-toe The Row like Kendall Jenner. But this is a great example of how well-fitted basics can be elevated and don't have to cost a fortune.
While this look has a lot of oversized/baggy pieces, the feminine heel and the belt highlighting her waist make it feel feminine and chic.
You could also try a fitted bodysuit instead of the t-shirt if you want a bit more body definition.
Kendall Jenner Steal Her Style 7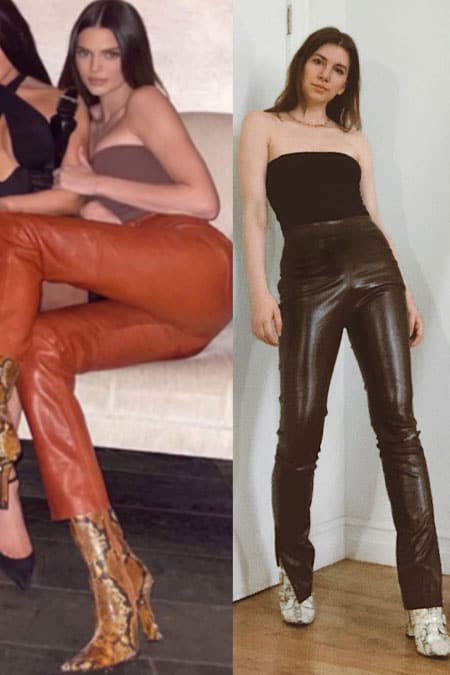 This is a great look for a date or night out. It's flirty without being overly fussy.
When trying to master Kendall Jenner's style it isn't necessary to copy it exactly, in fact, you shouldn't. You need to take the inspiration and transform it to work with your closet, style, and body shape.
I didn't have the warmer brown tone pieces, so my look has a darker shade. And if you're not a fan of strapless, you could opt for a bodysuit like these instead:

Kendall Jenner Steal Her Style 8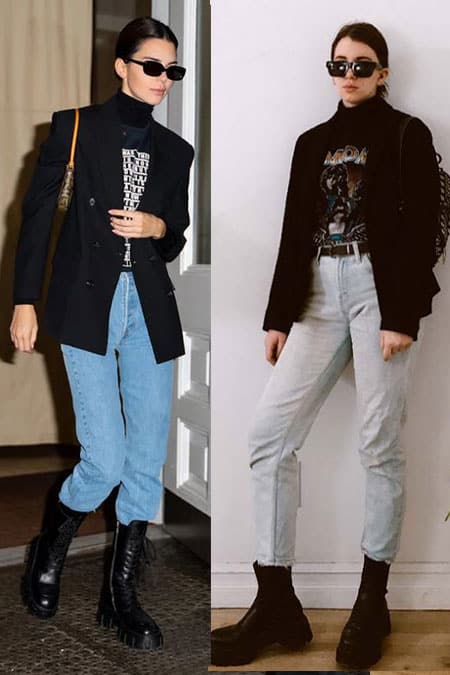 Don't be afraid to layer up those basics when stealing Kendall's style. The turtleneck, t-shirt, and blazer add phenomenal depth to this outfit and make it appear much more intentional.
By this point, you should be convinced that you need straight-leg jeans, a shoulder bag, and a great pair of sunglasses to master her style.
Kendall Jenner Steal Her Style 9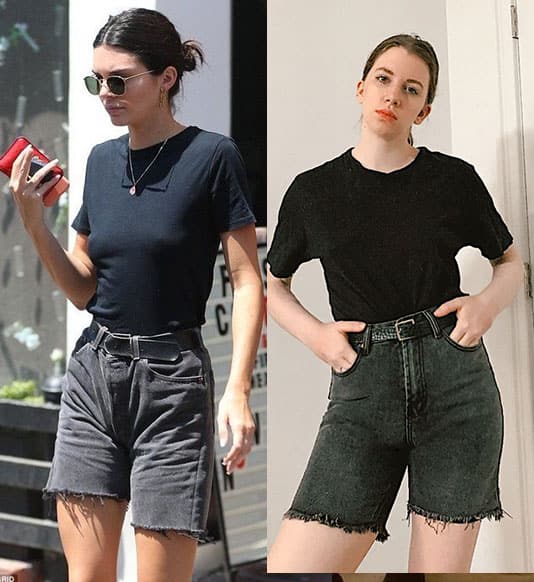 I love this simple look for daytime in the spring or summer. The long denim shorts and simple t-shirt feel easy and flattering.
These are my favorite long denim shorts to master this Kendall look.
Kendall Jenner Steal Her Style 10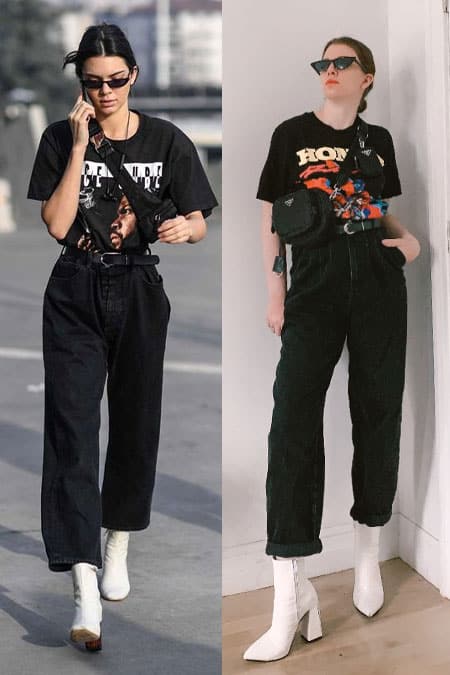 Never underestimate a great baggy t-shirt with jeans. This Kendall style inspo is an easy look to recreate and works with practically every body type.
Be sure to tuck the oversized t-shirt in to keep your proportions ideal, and add a heeled pair of boots to elevate your look.
What type of Levi's does Kendall Jenner Wear?
What type of leggings does Kendall Jenner wear?
When Kendall Jenner isn't sporting her favorite denim, she is often seen in the ALO airlift legging and sports bra. She is also in the Alo campaign.
Kendall Jenner Look For Less
Here are some Kendall Jenner style staples for under $100.

There you have it! You should now be able to dress like Kendall Jenner, and take inspiration from her trendy, casual style.
If you struggle with your style and don't have a closet that supports your style goals, check out my Craft the Closet of Your Dreams Playbook. It's a proven step-by-step guide to finding your style goals, auditing your closet, and achieving the style you want in real life. (not just on your Pinterest board).
Now go rock a Kendall inspired fit and embody that elite style energy.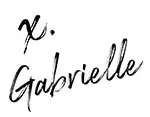 Pin the below image so you can always access Kendall's updated style